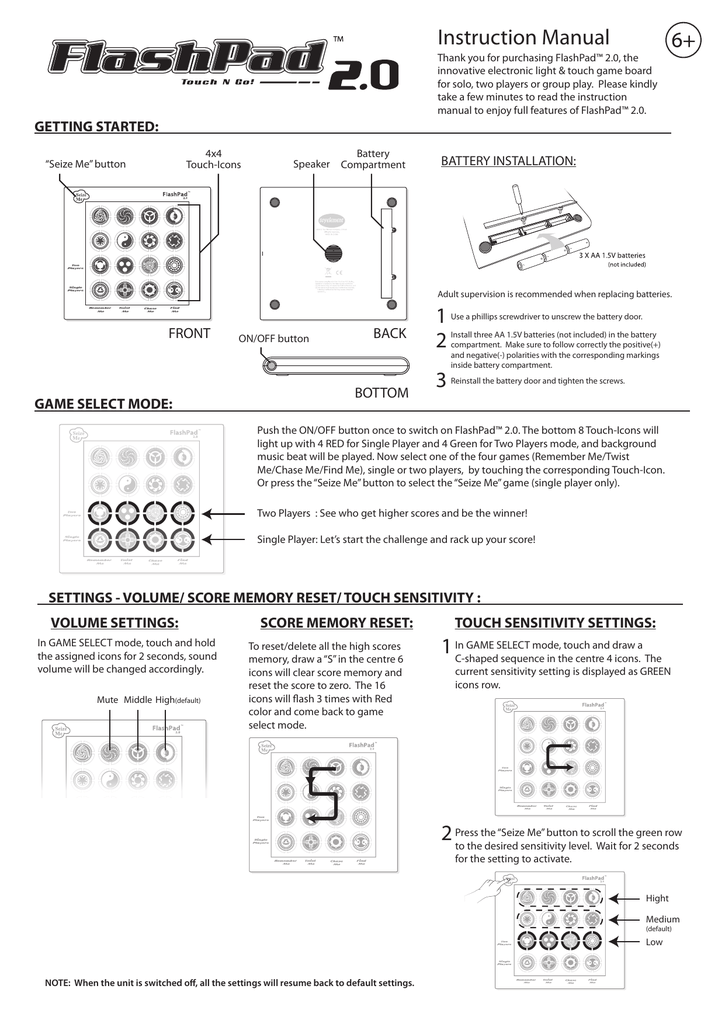 Instruction Manual
Thank you for purchasing FlashPad™ 2.0, the
innovative electronic light & touch game board
for solo, two players or group play. Please kindly
take a few minutes to read the instruction
manual to enjoy full features of FlashPad™ 2.0.
GETTING STARTED:
4x4
Touch-Icons
"Seize Me" button
Speaker
Battery
Compartment
BATTERY INSTALLATION:
Two
Players
Single
Players
Adult supervision is recommended when replacing batteries.
Remember
Me
Twist
Me
Chase
Me
Find
Me
FRONT
GAME SELECT MODE:
ON/OFF button
BACK
BOTTOM
1
2
3
Use a phillips screwdriver to unscrew the battery door.
Install three AA 1.5V batteries (not included) in the battery
compartment. Make sure to follow correctly the positive(+)
and negative(-) polarities with the corresponding markings
inside battery compartment.
Reinstall the battery door and tighten the screws.
Push the ON/OFF button once to switch on FlashPad™ 2.0. The bottom 8 Touch-Icons will
light up with 4 RED for Single Player and 4 Green for Two Players mode, and background
music beat will be played. Now select one of the four games (Remember Me/Twist
Me/Chase Me/Find Me), single or two players, by touching the corresponding Touch-Icon.
Or press the "Seize Me" button to select the "Seize Me" game (single player only).
Two Players : See who get higher scores and be the winner!
Single Player: Let's start the challenge and rack up your score!
SETTINGS - VOLUME/ SCORE MEMORY RESET/ TOUCH SENSITIVITY :
VOLUME SETTINGS:
In GAME SELECT mode, touch and hold
the assigned icons for 2 seconds, sound
volume will be changed accordingly.
Mute Middle High(default)
SCORE MEMORY RESET:
To reset/delete all the high scores
memory, draw a "S" in the centre 6
icons will clear score memory and
reset the score to zero. The 16
icons will flash 3 times with Red
color and come back to game
select mode.
TOUCH SENSITIVITY SETTINGS:
GAME SELECT mode, touch and draw a
1 InC-shaped
sequence in the centre 4 icons. The
current sensitivity setting is displayed as GREEN
icons row.
the "Seize Me" button to scroll the green row
2 Press
to the desired sensitivity level. Wait for 2 seconds
for the setting to activate.
Hight
Medium
(default)
Low
NOTE: When the unit is switched off, all the settings will resume back to default settings.
GAME INSTRUCTION:
Remember Me
Twist Me
Memorize and repeat the growing light up icons sequence by
touching all the RED icons in sequence, SKIP the GREEN icons.
Chase Me
TOUCH AND HOLD THE YELLOW ICONS ONE BY ONE. As the
game proceeds, the number of Yellow icons will increase.
Find Me
Touch all the light up RED icons within the 2 seconds time
limit, skip the GREEN icons. As the game proceeds, the number
of RED and GREEN icons in each stage will increase.
Seize Me
All the 16 icons on the game panel will light up and find the
hidden bomb which is randomly assigned.
Single Player: Find the hidden bomb from one of the 16 icons.
Two Players: There are 4 stages to go with different numbers
of bomb you need to find: 1st stage have 4 bombs; 2nd have 3
bombs; 3rd have 2 bombs; 4th have 1 bomb. In each stage,
Player 1 and Player 2 take turn to find the hidden bomb(s).
CHECKING THE HIGHEST SCORE:
Touch the icons which is different from the pattern during
the lightshow. The more different icons you can seize, the
more scores you get!
To check the highest score of a specific game, press and hold
the corresponding game icon and the "Seize Me" button for 3
seconds. Then you will hear : "High Score XXX" for the
corresponding game and return to game select mode again.
For "Seize Me" game, press and hold "Seize Me" button for 3
seconds in order to read the highest score of this game.
BATTERY SAFETY INFORMATION:
- Batteries should always be replaced by an adult. - Do not mix old and new batteries. - Do not dispose of battery in fire. Battery may explode or leak as a result. Rechargeable batteries are to be removed from the toy before being charged(if removable). - Rechargeable batteries are only to be charged under adult supervision(if
removable). - Different types of batteries or new and used batteries are not to be mixed. - Only batteries of the same or equivalent type as recommended are to be used.
- Batteries are to be inserted with the correct polarity. - Exhausted batteries are to be removed from the toy. - The supply terminals are not to be short-circuited. - Remove
batteries from the toy before prolonged storage. - Non-rechargeable batteries are not to be recharged. - Disposed of used batteries properly. - Do not mix alkaline,
standard(Carbon-Zinc), or rechargeable(Nickel-Cadmium or Nickel Metal Hydride) batteries. - Please retain this information for future reference.
FCC/EMC REQUIREMENTS:
This device complies with part 15 of FCC rules. Operation is subject to the following two conditions: (1) this device may not cause harmful interference, and (2) this device must
accept any interference received, including interference that may cause undesired operation.
Note : This equipment has been tested and found to comply with the limits for a Class B digital device, pursuant to Part 15 of the FCC Rules. These limits are designed to provide
reasonable protection against harmful interference in a residential installation. This equipment generates, uses and can radiate radio frequency energy and, if not installed and
used in accordance with the instructions, may cause harmful interference to radio communications. However, there is no guarantee that interference will not occur in a
particular installation. If this equipment does cause harmful interference to radio or television reception, which can be determined by turning the equipment off and on, the
user is encouraged to try to correct the interference by one or more of the following measures:
- Reorient or relocate the receiving antenna.
- Increase the separation between the equipment and receiver.
- Connect the equipment into an outlet on a circuit different from that to which the receiver is connected.
- Consult the dealer or an experienced radio/TV technician for help.
Warning: Changes or modifications to this unit not expressly approved by the party responsible for compliance could void the user's authority to operate the equipment.
Toy Element Company Limited
Unit 1202, 12/F, Energy Plaza,
92 Granville Road, Tsim Sha Tsui East,
Kowloon, Hong Kong
©2012 All rights reserved.
MADE IN CHINA
If at any time in the future you should need to dispose of this
product please note that waste electrical products should not
be disposed of with household waste. Please recycle where
facilities exist. Check with your local authority or retailer for
recycling advice.(Waste Electrical and Electronic Equipment
Directive)
Product and colors may vary.
Please keep and read the provided packaging as it contains important information.
Conform to product safety standard ASTM F963-08 and EN71 regulatory requirements.
Please retain this information for future reference.
Before use remove and dispose of any plastic bags and any other packaging
and keep them out of reach of children.

* Your assessment is very important for improving the work of artificial intelligence, which forms the content of this project