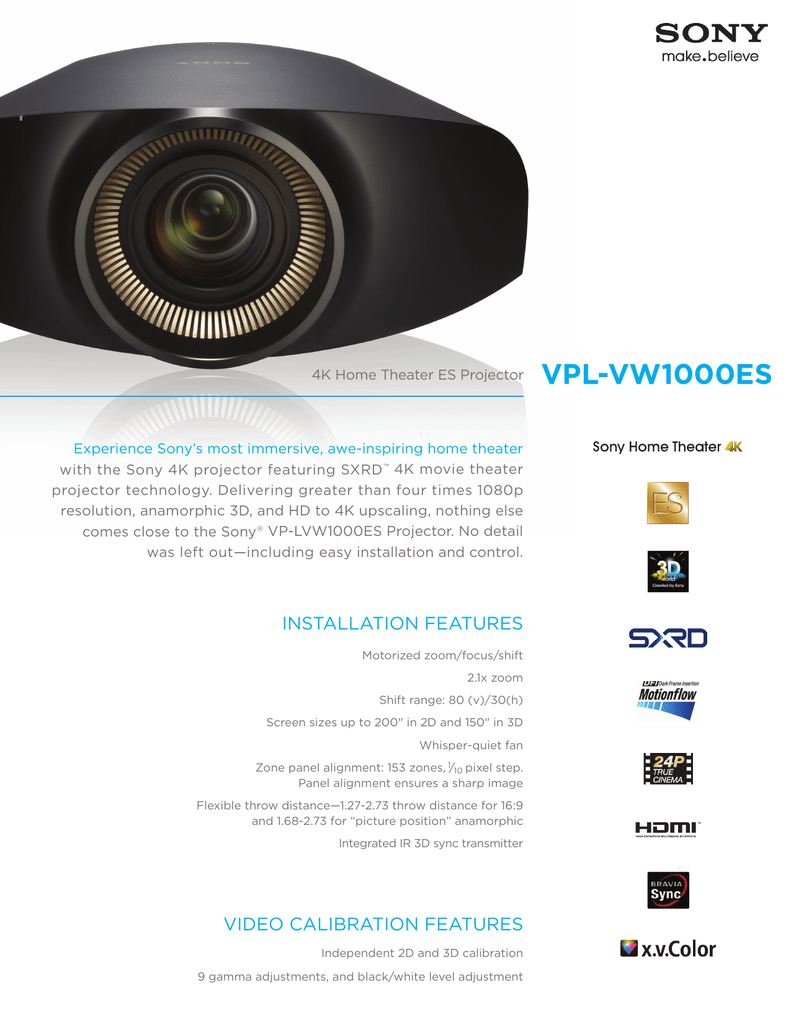 4K Home Theater ES Projector
Experience Sony's most immersive, awe-inspiring home theater
with the Sony 4K projector featuring SXRD ™ 4K movie theater
projector technology. Delivering greater than four times 1080p
resolution, anamorphic 3D, and HD to 4K upscaling, nothing else
comes close to the Sony® VP-LVW1000ES Projector. No detail
was left out—including easy installation and control.
Installation Features
Motorized zoom/focus/shift
2.1x zoom
Shift range: 80 (v)/30(h)
Screen sizes up to 200" in 2D and 150" in 3D
Whisper-quiet fan
Zone panel alignment: 153 zones, 1/10 pixel step.
Panel alignment ensures a sharp image
Flexible throw distance—1.27-2.73 throw distance for 16:9
and 1.68-2.73 for "picture position" anamorphic
Integrated IR 3D sync transmitter
Video Calibration Features
Independent 2D and 3D calibration
9 gamma adjustments, and black/white level adjustment
VPL-VW1000ES
Specs
3D Features
Inputs and Outputs
• Active 3D ready1—supports frame packing,
side-by-side, and over-under formats
• Two HDMI® inputs, various analog inputs
• 2D to 3D upconversion2
• Supports Sony's new, lighter, rechargeable glasses
with integrated polarizing filter
Control Features
• Control over RS232 or IP with feedback
• Control4® Certified/AMX Device Discovery Beacon/
Creston Integration Partner
• 3D glasses brightness adjustment
• 3D effect adjustment
• Includes two pairs of rechargeable Sony 3D glasses
optimized for front projection, TDG-PJ1, and associated
USB charger
• Lens cover opens and closes automatically
when projector powers on and off
• Elevated Standard "ES" brand/support
Video Features
Dimensions
• 4K resolution of 4096x2160
• 3-year warranty, including special tech support hotline
• HD to 4K "Super Resolution" upscaling
• 20.5"(W)x8"(H)x25 1/4"(D)
• 1,000,000:1 dynamic contrast
• Weight: 44 lbs
• New Silicon X-tal Reflective Display SXRD Panels
for deeper blacks
™
• Brightness of 2,000 ANSI lumens
• Wide color gamut—including DCI and Adobe RGB
• Motionflow™ technology with dark frame insertion
• Advanced Auto Iris 3
• Supports Deep Color and x.v.Color™
• All-range crisp focus (ARC-F) lens
• Noise reduction—mosquito and block
• 24p True Cinema
1. Requires 3D content, 3D player, 3D glasses, and HDMI® cable (at least 10.2 Gbps).
2. Simulated 3D image will vary based on source content.
©2011 Sony Electronics Inc. All rights reserved. Reproduction in whole or in part without written permission is prohibited. Features and specifications are subject to change without notice. Sony, the Sony make.
believe logo, the 3D World Created by Sony logo, SXRD and its logo, Motionflow, the 24P True Cinema logo, BRAVIA, x.v.Color and its logo are trademarks of Sony. HDMI is a trademark of HDMI Licensing LLC.
All other trademarks are trademarks of their respective owners.

* Your assessment is very important for improving the work of artificial intelligence, which forms the content of this project