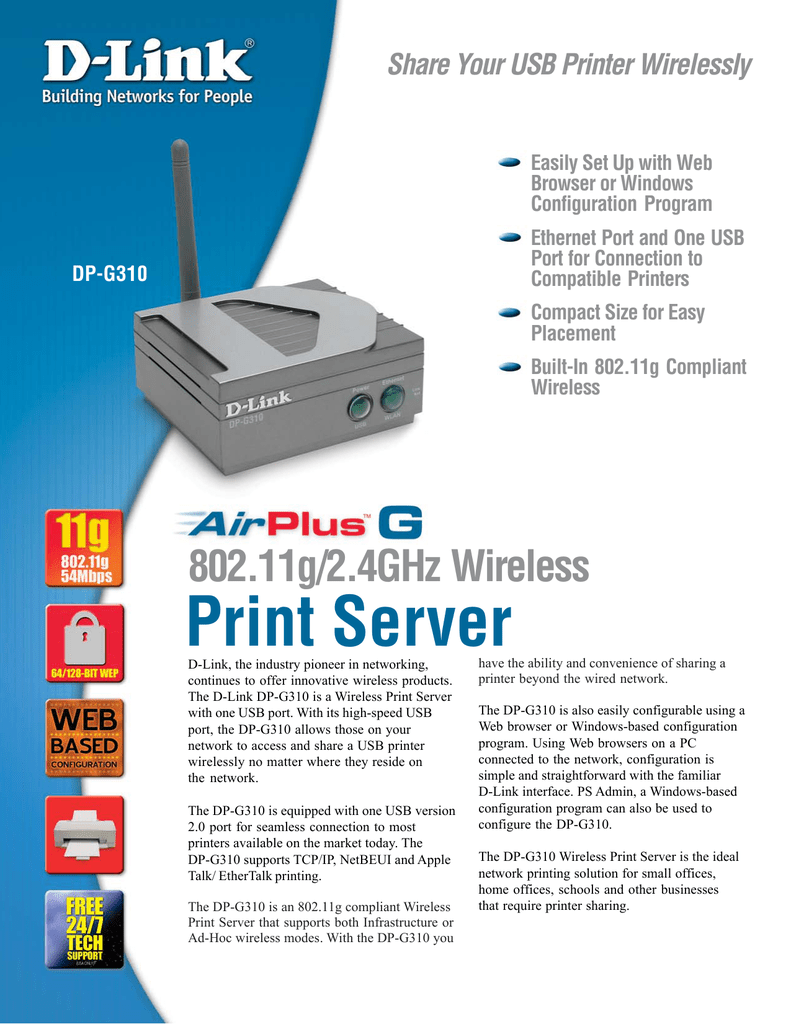 Share Your USB Printer Wirelessly
Easily Set Up with Web
Browser or Windows
Configuration Program
Ethernet Port and One USB
Port for Connection to
Compatible Printers
DP-G310
Compact Size for Easy
Placement
Built-In 802.11g Compliant
Wireless
802.11g/2.4GHz Wireless
Print Server
D-Link, the industry pioneer in networking,
continues to offer innovative wireless products.
The D-Link DP-G310 is a Wireless Print Server
with one USB port. With its high-speed USB
port, the DP-G310 allows those on your
network to access and share a USB printer
wirelessly no matter where they reside on
the network.
The DP-G310 is equipped with one USB version
2.0 port for seamless connection to most
printers available on the market today. The
DP-G310 supports TCP/IP, NetBEUI and Apple
Talk/ EtherTalk printing.
The DP-G310 is an 802.11g compliant Wireless
Print Server that supports both Infrastructure or
Ad-Hoc wireless modes. With the DP-G310 you
have the ability and convenience of sharing a
printer beyond the wired network.
The DP-G310 is also easily configurable using a
Web browser or Windows-based configuration
program. Using Web browsers on a PC
connected to the network, configuration is
simple and straightforward with the familiar
D-Link interface. PS Admin, a Windows-based
configuration program can also be used to
configure the DP-G310.
The DP-G310 Wireless Print Server is the ideal
network printing solution for small offices,
home offices, schools and other businesses
that require printer sharing.
802.11g/2.4GHz Wireless
SPECIFICATIONS
Standards
• IEEE 802.2
• IEEE 802.3
• IEEE 802.3u
• USB 2.0
• USB 1.1
Port
• 10/100 Mbps Fast Ethernet
• USB 2.0 Port
Data Transfer Rate
54Mbps
Transport Protocols
• TCP/IP
• NetBEUI
• AppleTalk / EtherTalk
TCP/IP Protocols
Supported
• BOOTP
• SNMP
• Telnet
• TFTP
• FTP
• LPD
• RARP
• DHCP
Diagnostic LEDs
• Power
• Link/Activity
• USB
• WLAN
Power Input
• External Power Supply
• DC 5V, 2.5A
Dimensions
• L = 3.54" (90mm)
• W = 3.19" (81mm)
• H = 1.57" (40mm)
Weight
0.32 lbs (147g)
Operating Temperature
0°C to 50°C
Storage Temperature
-25°C to 55°C
Humidity
• 5% to 95%
• non-condensing
Warranty
3 Year
Management
SNMP
MIBs
MIB-II (RFC 1213)
D-Link Systems, Inc. 17595 Mt. Herrmann Fountain Valley CA 92708-4160 www.dlink.com
© Copyright D-Link Systems, Inc. 2004. All rights reserved. D-Link® is a registered trademark of D-Link Systems, Inc.
Other trademarks or registered trademarks are the property of their respective manufacturers or owners.
Price and specifications are subject to changes without notice. See inside package for warranty details.
* 24/7 Tech Support is available only in USA.
The D-Link DP-G310 is a Wireless Print Server with
one USB port. The DP-G310 will let you share a USB
printer among computers connected to a home or
small office network.

* Your assessment is very important for improving the work of artificial intelligence, which forms the content of this project