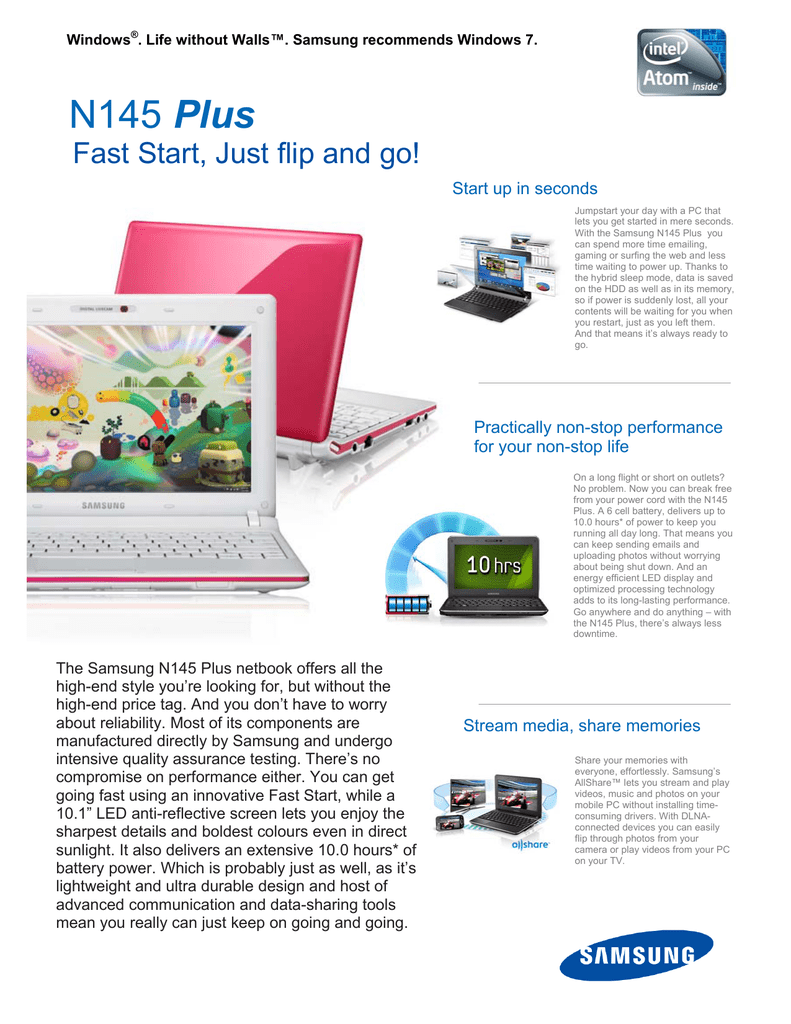 Windows®. Life without Walls™. Samsung recommends Windows 7.
N145 Plus
Fast Start, Just flip and go!
Start up in seconds
Jumpstart your day with a PC that
lets you get started in mere seconds.
With the Samsung N145 Plus you
can spend more time emailing,
gaming or surfing the web and less
time waiting to power up. Thanks to
the hybrid sleep mode, data is saved
on the HDD as well as in its memory,
so if power is suddenly lost, all your
contents will be waiting for you when
you restart, just as you left them.
And that means it's always ready to
go.
Practically non-stop performance
for your non-stop life
On a long flight or short on outlets?
No problem. Now you can break free
from your power cord with the N145
Plus. A 6 cell battery, delivers up to
10.0 hours* of power to keep you
running all day long. That means you
can keep sending emails and
uploading photos without worrying
about being shut down. And an
energy efficient LED display and
optimized processing technology
adds to its long-lasting performance.
Go anywhere and do anything – with
the N145 Plus, there's always less
downtime.
The Samsung N145 Plus netbook offers all the
high-end style you're looking for, but without the
high-end price tag. And you don't have to worry
about reliability. Most of its components are
manufactured directly by Samsung and undergo
intensive quality assurance testing. There's no
compromise on performance either. You can get
going fast using an innovative Fast Start, while a
10.1" LED anti-reflective screen lets you enjoy the
sharpest details and boldest colours even in direct
sunlight. It also delivers an extensive 10.0 hours* of
battery power. Which is probably just as well, as it's
lightweight and ultra durable design and host of
advanced communication and data-sharing tools
mean you really can just keep on going and going.
Stream media, share memories
Share your memories with
everyone, effortlessly. Samsung's
AllShare™ lets you stream and play
videos, music and photos on your
mobile PC without installing timeconsuming drivers. With DLNAconnected devices you can easily
flip through photos from your
camera or play videos from your PC
on your TV.
Windows®. Life without Walls™. Samsung recommends Windows 7.
N145 Plus Specifications
Range
Model Name
Part Number
EAN Barcode
N Series
N145P Corby Pink
NP-N145-JPM2UK
8806071128504
Operating System
Genuine Windows® 7 Starter
Processor
Intel® Atom™ Processor N450 (1.66GHz)
with 512KB Cache
Main Chipset
Memory
System Memory
Memory Slot
Display
Graphics
LCD
Graphics Processor
Graphics Memory
Sound
Multimedia
Storage
Communication
I/O Port
Sound Features
Speakers
Integrated Camera
Hard Drive
Optical
Modem (RJ11)
Wired Ethernet LAN (RJ45)
Wireless LAN
WWAN
Bluetooth
VGA
HDMI
Headphone-out
Mic-in
Internal Mic
PC Card Bus Slot
USB
Multi Card Slot
Dock Port
SIO
DC-in (Power Port)
Input
Security
Power
Physical
Packaging
Software
Keyboard Type
Touch Pad, Touch Screen
TPM
IAMT
Fingerprint Reader
Recovery
Virus
Security
Lock
AC Adapter
Battery
Dimensions (W x D x H mm)
Weight, include standard
battery (kg)
Dimensions (W x D x H mm)
Packed Weight
Warranty
Installed S/W
Other
Intel® NM10
1GB
(1 x 1GB) DDR2 800MHz
1 x Slot SODIMM
10.1" WSVGA (1024 x 600) SuperBright© Non-Gloss LED Display
Intel® GMA 3150 DVMT
128MB Integrated Graphics
HD (High Definition) Audio
Mic Noise Suppression
SRS 3D Sound Effect
3W Speakers (1.5W x 2)
0.3 Mega Pixel Livecam
160GB SATA
----10/100
802.11 b/g/N
----√
--√
√
√
--2 x USB 2.0
4 in 1 Card Reader (SD, SDHC, SDXC, MMC)
----√
84 keys
Touch Pad (Scroll Scope, Flat Type)
------Samsung Recovery Solution
Norton Internet Security 2010 (60 days trial)
BIOS Boot Up Password / HDD Password
Kensington Lock Port
40 Watt
6 Cell Lithium ion (4400mAh) up to 10 Hours*
264 x 188.0 x 25.3 ~ 34.7mm
1.26kg
299 x 116 x 235mm
2.20kg
1 Year Collect and Return
Samsung Recovery Solution, Samsung Magic Doctor,
Easy SpeedUp Manager, Easy Resolution Manager, Magic Keyboard, Adobe Reader,
Easy Display Manger, Easy Network Manager, Samsung Battery Manager,
Cyberlink YouCam, Samsung Update Plus, Battery Life Extender, Google Toolbar,
AnyPC, Game console
---
Design and Specifications are subject to change without notice.
Trademarks of other companies mentioned in these publications are hereby recognized and acknowledged. Celeron,
Celeron Inside, Centrino, Centrino Logo, Core Inside, Intel, Intel Logo,
Intel Core, Intel Inside, Intel Inside Logo, Intel Viiv, Intel vPro, Itanium, Itanium Inside, Pentium,
Pentium Inside, Xeon, and Xeon Inside are trademarks or registered trademarks of Intel Corporation or its subsidiaries
in the United States
* Battery life based on BatteryMark test scores that will vary based on configuration.