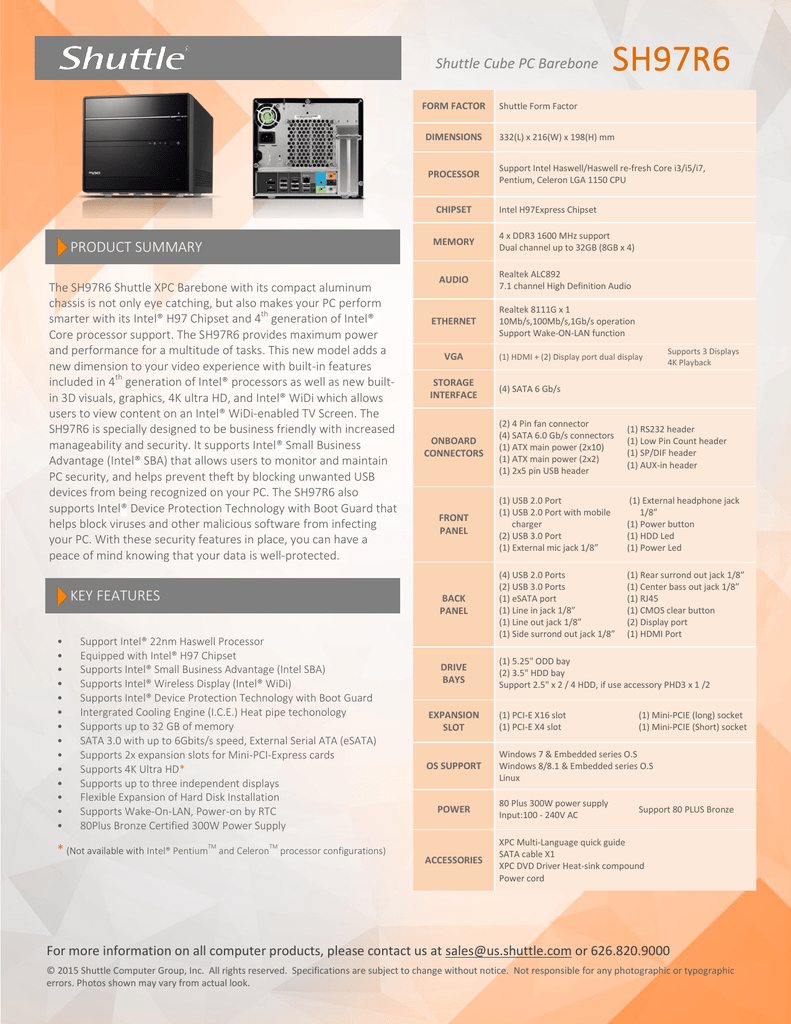 Shuttle Cube PC Barebone
FORM FACTOR
The SH97R6 Shuttle XPC Barebone with its compact aluminum
chassis is not only eye catching, but also makes your PC perform
th
smarter with its Intel® H97 Chipset and 4 generation of Intel®
Core processor support. The SH97R6 provides maximum power
and performance for a multitude of tasks. This new model adds a
new dimension to your video experience with built-in features
th
included in 4 generation of Intel® processors as well as new builtin 3D visuals, graphics, 4K ultra HD, and Intel® WiDi which allows
users to view content on an Intel® WiDi-enabled TV Screen. The
SH97R6 is specially designed to be business friendly with increased
manageability and security. It supports Intel® Small Business
Advantage (Intel® SBA) that allows users to monitor and maintain
PC security, and helps prevent theft by blocking unwanted USB
devices from being recognized on your PC. The SH97R6 also
supports Intel® Device Protection Technology with Boot Guard that
helps block viruses and other malicious software from infecting
your PC. With these security features in place, you can have a
peace of mind knowing that your data is well-protected.
KEY FEATURES
•
•
•
•
•
•
•
•
•
•
•
•
•
•
Support Intel® 22nm Haswell Processor
Equipped with Intel® H97 Chipset
Supports Intel® Small Business Advantage (Intel SBA)
Supports Intel® Wireless Display (Intel® WiDi)
Supports Intel® Device Protection Technology with Boot Guard
Intergrated Cooling Engine (I.C.E.) Heat pipe techonology
Supports up to 32 GB of memory
SATA 3.0 with up to 6Gbits/s speed, External Serial ATA (eSATA)
Supports 2x expansion slots for Mini-PCI-Express cards
Supports 4K Ultra HD*
Supports up to three independent displays
Flexible Expansion of Hard Disk Installation
Supports Wake-On-LAN, Power-on by RTC
80Plus Bronze Certified 300W Power Supply
* (Not available with Intel® PentiumTM and CeleronTM processor configurations)
Shuttle Form Factor
DIMENSIONS
332(L) x 216(W) x 198(H) mm
PROCESSOR
Support Intel Haswell/Haswell re-fresh Core i3/i5/i7,
Pentium, Celeron LGA 1150 CPU
CHIPSET
PRODUCT SUMMARY
SH97R6
Intel H97Express Chipset
MEMORY
4 x DDR3 1600 MHz support
Dual channel up to 32GB (8GB x 4)
AUDIO
Realtek ALC892
7.1 channel High Definition Audio
ETHERNET
Realtek 8111G x 1
10Mb/s,100Mb/s,1Gb/s operation
Support Wake-ON-LAN function
VGA
STORAGE
INTERFACE
(1) HDMI + (2) Display port dual display
Supports 3 Displays
4K Playback
(4) SATA 6 Gb/s
ONBOARD
CONNECTORS
(2) 4 Pin fan connector
(4) SATA 6.0 Gb/s connectors
(1) ATX main power (2x10)
(1) ATX main power (2x2)
(1) 2x5 pin USB header
(1) RS232 header
(1) Low Pin Count header
(1) SP/DIF header
(1) AUX-in header
FRONT
PANEL
(1) USB 2.0 Port
(1) USB 2.0 Port with mobile
charger
(2) USB 3.0 Port
(1) External mic jack 1/8"
(1) External headphone jack
1/8"
(1) Power button
(1) HDD Led
(1) Power Led
BACK
PANEL
(4) USB 2.0 Ports
(2) USB 3.0 Ports
(1) eSATA port
(1) Line in jack 1/8"
(1) Line out jack 1/8"
(1) Side surrond out jack 1/8"
(1) Rear surrond out jack 1/8"
(1) Center bass out jack 1/8"
(1) RJ45
(1) CMOS clear button
(2) Display port
(1) HDMI Port
DRIVE
BAYS
(1) 5.25" ODD bay
(2) 3.5" HDD bay
Support 2.5" x 2 / 4 HDD, if use accessory PHD3 x 1 /2
EXPANSION
SLOT
(1) PCI-E X16 slot
(1) PCI-E X4 slot
OS SUPPORT
Windows 7 & Embedded series O.S
Windows 8/8.1 & Embedded series O.S
Linux
POWER
ACCESSORIES
80 Plus 300W power supply
Input:100 - 240V AC
(1) Mini-PCIE (long) socket
(1) Mini-PCIE (Short) socket
Support 80 PLUS Bronze
XPC Multi-Language quick guide
SATA cable X1
XPC DVD Driver Heat-sink compound
Power cord
For more information on all computer products, please contact us at sales@us.shuttle.com or 626.820.9000
© 2015 Shuttle Computer Group, Inc. All rights reserved. Specifications are subject to change without notice. Not responsible for any photographic or typographic
errors. Photos shown may vary from actual look.

* Your assessment is very important for improving the work of artificial intelligence, which forms the content of this project