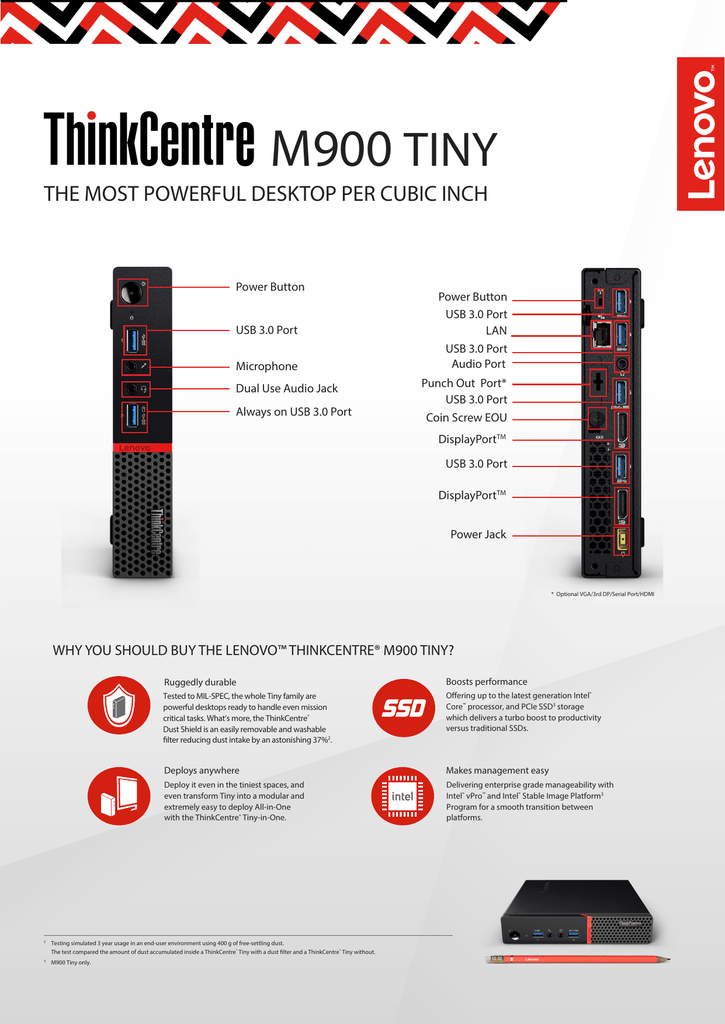 M900 TINY
THE MOST POWERFUL DESKTOP PER CUBIC INCH
Power Button
USB 3.0 Port
Microphone
Dual Use Audio Jack
Always on USB 3.0 Port
Power Button
USB 3.0 Port
LAN
USB 3.0 Port
Audio Port
Punch Out Port*
USB 3.0 Port
Coin Screw EOU
DisplayPortTM
USB 3.0 Port
DisplayPortTM
Power Jack
* Optional VGA/3rd DP/Serial Port/HDMI
WHY YOU SHOULD BUY THE LENOVO™ THINKCENTRE® M900 TINY?
Ruggedly durable
Boosts performance
Tested to MIL-SPEC, the whole Tiny family are
powerful desktops ready to handle even mission
critical tasks. What's more, the ThinkCentre®
Dust Shield is an easily removable and washable
filter reducing dust intake by an astonishing 37%2.
Offering up to the latest generation Intel®
Core™ processor, and PCIe SSD3 storage
which delivers a turbo boost to productivity
versus traditional SSDs.
Deploys anywhere
Makes management easy
Deploy it even in the tiniest spaces, and
even transform Tiny into a modular and
extremely easy to deploy All-in-One
with the ThinkCentre® Tiny-in-One.
Delivering enterprise grade manageability with
Intel® vPro™ and Intel® Stable Image Platform3
Program for a smooth transition between
platforms.
________________________________________________________________________________________________________________
Testing simulated 3 year usage in an end-user environment using 400 g of free-settling dust.
The test compared the amount of dust accumulated inside a ThinkCentre® Tiny with a dust filter and a ThinkCentre® Tiny without.
2
M900 Tiny only.
3
Chipset
CPU
DIMM Support
Graphics
Internal Bays
HDD
ODD
Chipset
Q170
Intel Core i3/i5/i7 CPU
yes
Pentium CPU
yes
Celeron CPU
yes
2 DIMM
yes
4 DIMM
no
Integrated Graphics
yes
802.11 ac with vPRO (WLAN + BT)
2x2
yes
Discrete Graphics
no
802.11 ac (WLAN + BT)
2x2
yes
Dual Graphics support
no
802.11 ac (WLAN + BT)
1x1
yes
Internal bay 1 (HDD)
yes (2.5)
embedded with antenna
yes
Internal bay 2
no
Windows Embedded OS
no
2nd HDD support
yes, via M.2 PCI-E SSD
Windows XP
no
3.5" HDD support
no
Windows Vista
no
2.5" HDD support
yes
Windows 7
yes
HDD support
yes
Windows 8
no, Win 8.1 for driver support
SSD support 2.5
yes
Windows 10
yes
SSHD support 2.5
yes
Warranty max base support
up to 4Y onsite
floppy disk
no
PCM 2.0 Manager / PCM 3.0 as of 2014
Web release only
OPAL drive SSD
yes
ICE 3.0 (cooling engine)
yes
OPAL drive HDD 2.5
yes
Power Manager (DPM)
yes
RAID 0 support
no
DASH 1.1 managability
yes via AMT
RAID 1 support
no
always on USB
yes
ODD standard
no
TPM 1.2 Onboard Discrete Chip
yes
Slim ODD
optional ODD Box
TPM 2.0
optional
ODD Support with Single HDD
yes
ASSETS ID
no
ODD Support with 2nd HDDs
Monitor Suport
with Integrated
Graphics
WLAN Cards
OS support
Warranty
Managability /
Security
1
Firewire IEEE 1394
no
I/O Box Optional
yes
2 Monitors support (independent)
yes
3 Monitors support (independent)
optional
4 Monitors support (independent)
no
no
Smart Card Reader
no
USB 2.0 Rear
Rear
0
Kensington slot
yes
USB 2.0 Front
Front
0
Padlock loop
yes
USB 3.0 Rear
Rear
4
cable lock (Lenovo Security Lock)
optional
Front
2
Chassis Intrunsion switch
onboard default
USB 2.0 Total
0
UL Environmental Gold
yes
USB 3.0 Total
6
EPEAT Gold
yes
USB Total
6
Energy Star 5.2 / 6.0 as of July 2014
USB 3.0 Front
Ports
Ports
SATA connectors
yes
Serial Port 1
Rear
optional
External PSU 65W
Serial port 2 (Rear Com2 Cable)
Rear
no
long idle
RJ45
Rear
yes
VGA 1
Rear
optional
standby/sleep
W
2.37
Display Port 1
Rear
yes
Off
W
1.33
Display Port 2
Rear
yes
E-TEC (Conventional)
kWh/
year
63.1
DVI port
Rear
no
Idle
22
HDMI port
Rear
optional
Operating
24
Audio port
Rear
1
Holder
no
Parallel Port
Rear
no
Colour
Business Black
PS/2
Rear
no
Buzzer
no
PCIe x 16 FH
Rear
0
size in "Liter"
1L
PCIe x 1 FH
Rear
0
keyboard power-on
yes
PCI FH
Rear
0
vPRO support
yes
PCIe x 16 LP
Rear
0
SIPP
yes
Environmental
Chassis
Specific Product
Features
88%
yes (90W for IO box and ODD)
12.39
short idle
13.23
PCIe x 1 LP
0
Legacy PCI support
no
PCI LP
0
8 Military Specs
yes
M.2 2230 slot for wifi
1
Ease of Use Attributes (Tool Less design)
optional
M.2 2280 slot for PCIe/SATA SSD
1 (PCI-E SSD)
Internal Speaker
yes
handset port
Front
1
microphone port
Front
1
WWW.LENOVO.COM
Lenovo reserves the right to alter product offerings and specifications at anytime, without notice. Lenovo makes every effort to ensure accuracy of all information but is not liable or responsible for any editorial, photographic or typographic errors. All images are for illustration purposes only. For full Lenovo product, service
and warranty specifications visit www.lenovo.com. Trademarks: Lenovo, the Lenovo logo, ThinkPad, ThinkCentre, ThinkStation, ThinkServer and ThinkVision are trademarks or registered trademarks of Lenovo. Microsoft, Windows, and the Windows logo are trademarks, or registered trademarks of Microsoft Corporation in
the United States and/or other countries. Intel, the Intel logo, Intel Atom, Intel Core, Intel Inside, the Intel Inside logo, Intel vPro, Intel Xeon Phi, Itanium, Pentium, and Xeon are trademarks of Intel Corporation in the U.S. and/or other countries. Other company, product and service names may be trademarks or service marks of
others. © Lenovo 2015. All rights reserved.

* Your assessment is very important for improving the work of artificial intelligence, which forms the content of this project