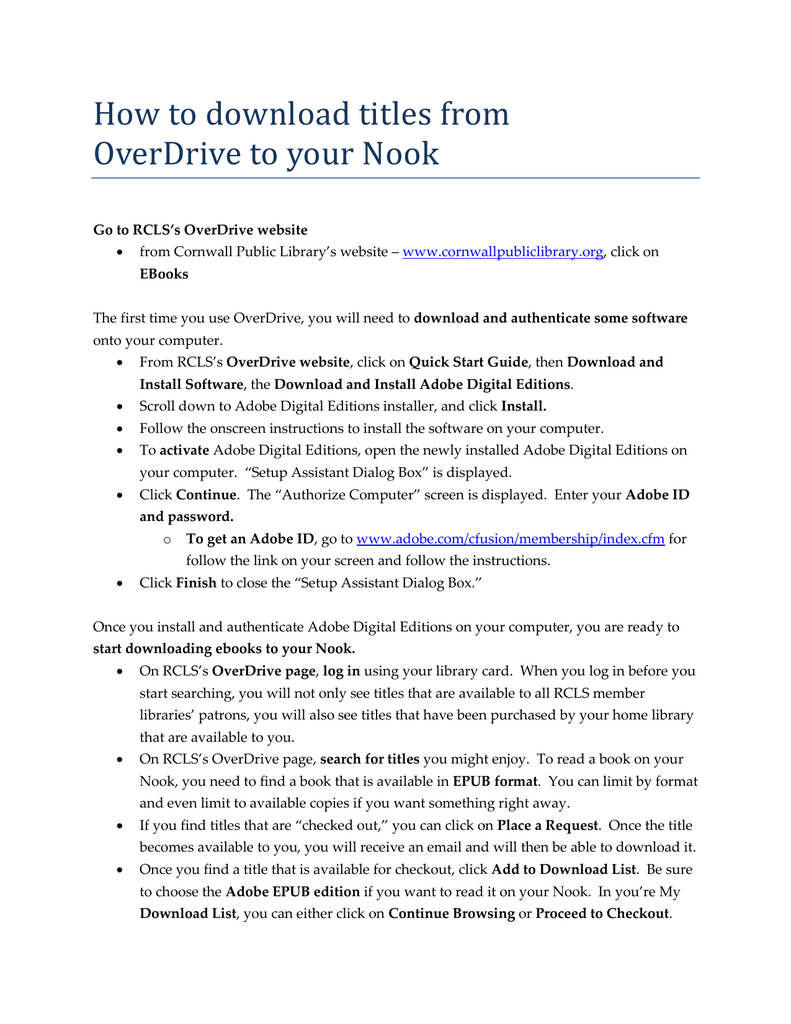 How to download titles from
OverDrive to your Nook
Go to RCLS's OverDrive website

from Cornwall Public Library's website – www.cornwallpubliclibrary.org, click on
EBooks
The first time you use OverDrive, you will need to download and authenticate some software
onto your computer.

From RCLS's OverDrive website, click on Quick Start Guide, then Download and
Install Software, the Download and Install Adobe Digital Editions.

Scroll down to Adobe Digital Editions installer, and click Install.

Follow the onscreen instructions to install the software on your computer.

To activate Adobe Digital Editions, open the newly installed Adobe Digital Editions on
your computer. "Setup Assistant Dialog Box" is displayed.

Click Continue. The "Authorize Computer" screen is displayed. Enter your Adobe ID
and password.
o
To get an Adobe ID, go to www.adobe.com/cfusion/membership/index.cfm for
follow the link on your screen and follow the instructions.

Click Finish to close the "Setup Assistant Dialog Box."
Once you install and authenticate Adobe Digital Editions on your computer, you are ready to
start downloading ebooks to your Nook.

On RCLS's OverDrive page, log in using your library card. When you log in before you
start searching, you will not only see titles that are available to all RCLS member
libraries' patrons, you will also see titles that have been purchased by your home library
that are available to you.

On RCLS's OverDrive page, search for titles you might enjoy. To read a book on your
Nook, you need to find a book that is available in EPUB format. You can limit by format
and even limit to available copies if you want something right away.

If you find titles that are "checked out," you can click on Place a Request. Once the title
becomes available to you, you will receive an email and will then be able to download it.

Once you find a title that is available for checkout, click Add to Download List. Be sure
to choose the Adobe EPUB edition if you want to read it on your Nook. In you're My
Download List, you can either click on Continue Browsing or Proceed to Checkout.

Once you click on Proceed to Checkout, you will see how many downloads you
currently have out and how many more you can check out. You are limited to 8 out at a
time.

Click on Confirm Checkout.

On the Download screen, click Download.

In the window that opens, click OK. Adobe Digital Editions will open up and the book
that you downloaded will display. Now you need to transfer it to the Nook.

To transfer the title to the Nook, attach your Nook to your computer using your USB
cord. In Adobe Digital Editions, go to Library View. You will see your Nook listed in
the left pane.

Click and drag the book from the right pane to your Nook. Adobe Digital Editions will
copy the book to your Nook.
To return your ebook:

In Adobe Digital Editions, you will see the ebook listed in the right pane as an icon.
There is a small arrow in the upper left corner of the book icon. Click this arrow, then
click Return Borrowed Item, then click Return.

You will also need to remove the book from your Nook. Connect your Nook to your
computer and open up Adobe Digital Editions. In Adobe Digital Editions, click on your
Nook, click Item Options (arrow at the top left of the book's icon), click Delete Item,
and click Delete.

* Your assessment is very important for improving the work of artificial intelligence, which forms the content of this project