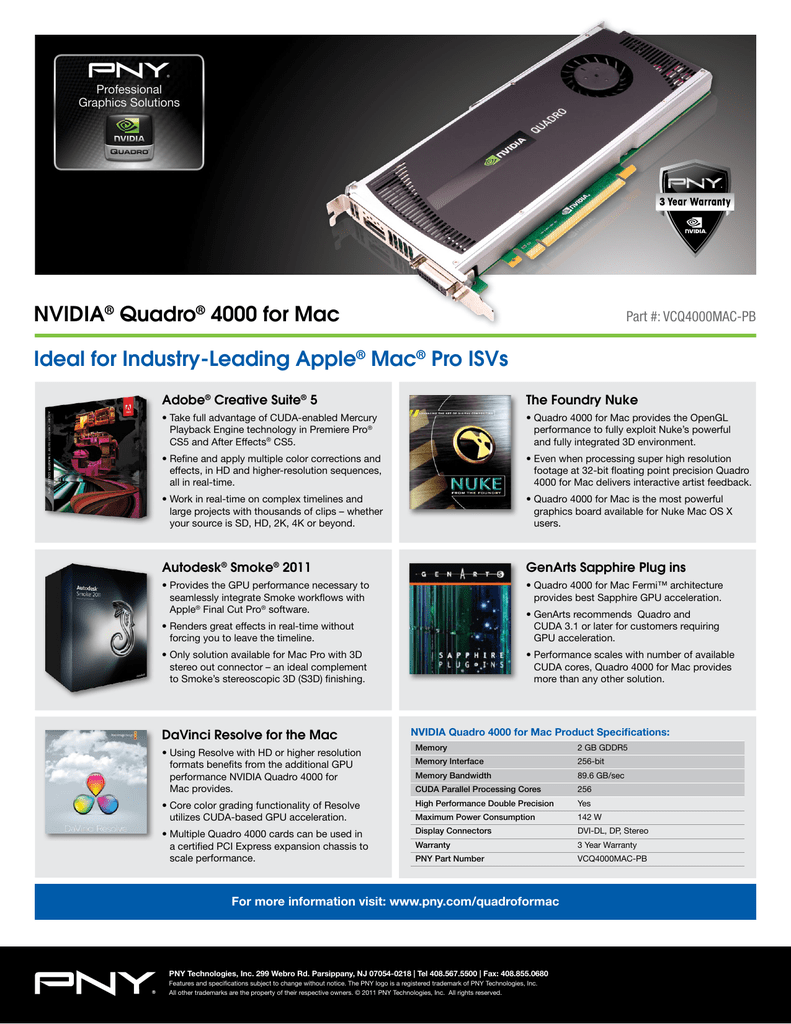 NVIDIA® Quadro® 4000 for Mac Part #: VCQ4000MAC-PB
Ideal for Industry-Leading Apple® Mac® Pro ISVs
Adobe® Creative Suite® 5
The Foundry Nuke
• Take full advantage of CUDA-enabled Mercury
Playback Engine technology in Premiere Pro®
CS5 and After Effects® CS5.
• Quadro 4000 for Mac provides the OpenGL
performance to fully exploit Nuke's powerful
and fully integrated 3D environment.
•R
efine and apply multiple color corrections and
effects, in HD and higher-resolution sequences,
all in real-time.
• Even when processing super high resolution
footage at 32-bit floating point precision Quadro
4000 for Mac delivers interactive artist feedback.
•W
ork in real-time on complex timelines and
large projects with thousands of clips – whether
your source is SD, HD, 2K, 4K or beyond.
• Quadro 4000 for Mac is the most powerful
graphics board available for Nuke Mac OS X
users.
Autodesk® Smoke® 2011
GenArts Sapphire Plug ins
• Provides the GPU performance necessary to
seamlessly integrate Smoke workflows with
Apple® Final Cut Pro® software.
• Quadro 4000 for Mac Fermi™ architecture
provides best Sapphire GPU acceleration.
•R
enders great effects in real-time without
forcing you to leave the timeline.
• GenArts recommends Quadro and
CUDA 3.1 or later for customers requiring
GPU acceleration.
•O
nly solution available for Mac Pro with 3D
stereo out connector – an ideal complement
to Smoke's stereoscopic 3D (S3D) finishing.
• Performance scales with number of available
CUDA cores, Quadro 4000 for Mac provides
more than any other solution.
DaVinci Resolve for the Mac
NVIDIA Quadro 4000 for Mac Product Specifications:
• Using Resolve with HD or higher resolution
formats benefits from the additional GPU
performance NVIDIA Quadro 4000 for
Mac provides.
Memory
2 GB GDDR5
Memory Interface
256-bit
Memory Bandwidth
89.6 GB/sec
CUDA Parallel Processing Cores
256
• Core color grading functionality of Resolve
utilizes CUDA-based GPU acceleration.
High Performance Double Precision
Yes
Maximum Power Consumption
142 W
• Multiple Quadro 4000 cards can be used in
a certified PCI Express expansion chassis to
scale performance.
Display Connectors
DVI-DL, DP, Stereo
Warranty
3 Year Warranty
PNY Part Number
VCQ4000MAC-PB
For more information visit: www.pny.com/quadroformac
PNY Technologies, Inc. 299 Webro Rd. Parsippany, NJ 07054-0218 | Tel 408.567.5500 | Fax: 408.855.0680
Features and specifications subject to change without notice. The PNY logo is a registered trademark of PNY Technologies, Inc.
All other trademarks are the property of their respective owners. © 2011 PNY Technologies, Inc. All rights reserved.

* Your assessment is very important for improving the work of artificial intelligence, which forms the content of this project