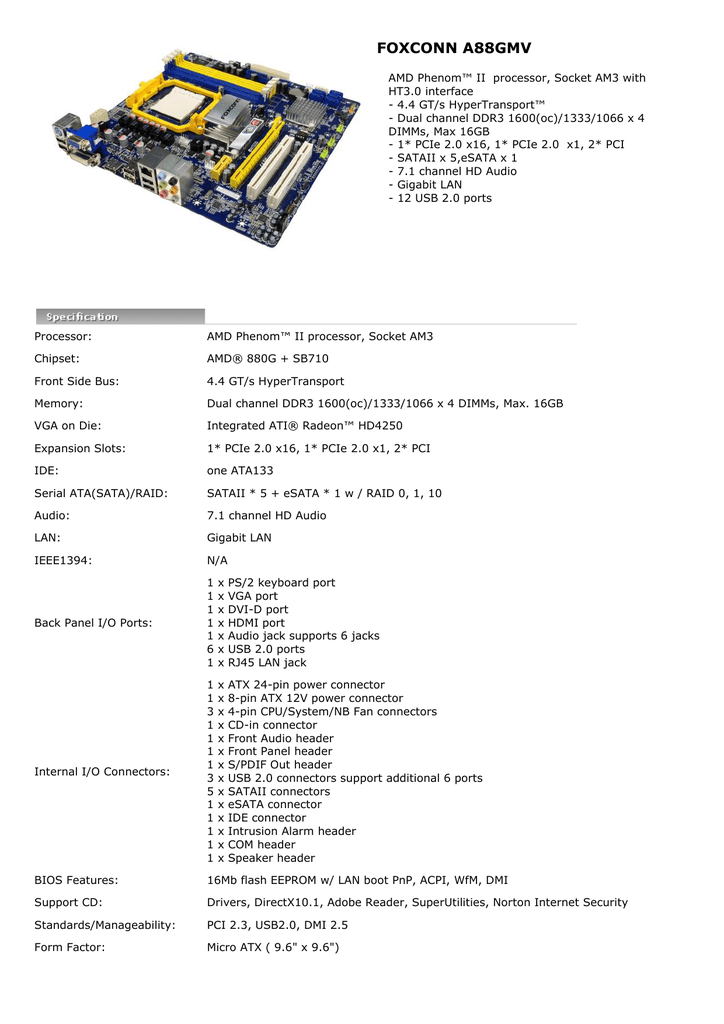 FOXCONN A88GMV
AMD Phenom™ II processor, Socket AM3 with
HT3.0 interface
- 4.4 GT/s HyperTransport™
- Dual channel DDR3 1600(oc)/1333/1066 x 4
DIMMs, Max 16GB
- 1* PCIe 2.0 x16, 1* PCIe 2.0 x1, 2* PCI
- SATAII x 5,eSATA x 1
- 7.1 channel HD Audio
- Gigabit LAN
- 12 USB 2.0 ports
Processor:
AMD Phenom™ II processor, Socket AM3
Chipset:
AMD® 880G + SB710
Front Side Bus:
4.4 GT/s HyperTransport
Memory:
Dual channel DDR3 1600(oc)/1333/1066 x 4 DIMMs, Max. 16GB
VGA on Die:
Integrated ATI® Radeon™ HD4250
Expansion Slots:
1* PCIe 2.0 x16, 1* PCIe 2.0 x1, 2* PCI
IDE:
one ATA133
Serial ATA(SATA)/RAID:
SATAII * 5 + eSATA * 1 w / RAID 0, 1, 10
Audio:
7.1 channel HD Audio
LAN:
Gigabit LAN
IEEE1394:
N/A
Back Panel I/O Ports:
1
1
1
1
1
6
1
x
x
x
x
x
x
x
PS/2 keyboard port
VGA port
DVI-D port
HDMI port
Audio jack supports 6 jacks
USB 2.0 ports
RJ45 LAN jack
Internal I/O Connectors:
1
1
3
1
1
1
1
3
5
1
1
1
1
1
x
x
x
x
x
x
x
x
x
x
x
x
x
x
ATX 24-pin power connector
8-pin ATX 12V power connector
4-pin CPU/System/NB Fan connectors
CD-in connector
Front Audio header
Front Panel header
S/PDIF Out header
USB 2.0 connectors support additional 6 ports
SATAII connectors
eSATA connector
IDE connector
Intrusion Alarm header
COM header
Speaker header
BIOS Features:
16Mb flash EEPROM w/ LAN boot PnP, ACPI, WfM, DMI
Support CD:
Drivers, DirectX10.1, Adobe Reader, SuperUtilities, Norton Internet Security
Standards/Manageability:
PCI 2.3, USB2.0, DMI 2.5
Form Factor:
Micro ATX ( 9.6" x 9.6")
The A88GMV offers enhanced connectivity and entertainment capability, backed-up
backed up by high-performance
high
features and
components. Based on the AMD® 880G and SB710 chipset with an advanced DirectX 10.1 graphics engine with AMD
UVD 2.0 technology. UVD supports Blue-Ray
Ray and HD-DVD
HD DVD content, whilst offloading power and processor-intensive
processor
video decoding from the CPU to the graphics core.Supporting AMD the latest Phenom™II processors with HT3.0
technology.and supports Dual DDR3 1600MHz(overclocking) memory for better
better overall system performance.enabling
support for ATI™ Hybrid graphics technology with integrated Radeon™ HD4250 graphics . The A88GMV is designed
for supporting CoreRelease technology.
Supports socket AM3 processor with HyperTransport™ 3.0 interface,Designed to support
the latest AMD Phenom™ II processors and CoreRelease technology.
HyperTransport™ 3.0 technology provides incredible system agility for improved 3D
graphics performance. HT3.0 provides an aggregate bandwidth of 41.6GB/s which means
much greater data transfer capability between CPU and system.
AMD® 880G chipset with SB710 southbridge
sou
Designed to power your ultimate entertainment PC.
ATI Radeon™ HD 4250 graphics engine
• Supports DirectX 10.1
• Supports AMD UVD2.0 (Unified Video Decoder - a H/W decoder for H.264, VC-1
VC and
mpeg-2
2 video formats)
• Supports HDMI and DVI
ATI™
TI™ Hybrid Graphics
ATI Hybrid Graphics technology automatically improves system performance by enabling
the ability for both discrete graphics and integrated graphics to render simultaneously –
further increasing graphics firepower. With the discrete graphics
graphics card installed, the PC can
be configured to support up to 4 displays with the ATI SurroundView™ feature.
Ready to play Blu-Ray
Blu
& HD-DVD
Onboard ATI Avivo™ HD 1 technology *, an advanced image and video processing system,
improves the playback of Blu-ray™
Blu ray™ and HD DVD content, rivaling high-end
high
HD players even
at 1080i resolution.
1* PCIe x16 & 1* PCIe x1 Gen2.0 slots
PCI Express Gen2.0 technology
technology doubles the available aggregate bandwidth between PCIe
Generation 2 cards and the motherboard. This means a Gen2.0 16-lane
16
(x16) link can
provide up to 16GB/s of bandwidth; 8GB/s in each direction. PCIe Gen2.0 is backwards
compatible, and so existing PCIe
PCIe "Gen1" cards can be plugged into Gen2.0 slots.
Dual-channel
channel DDR3 1600(oc)/1333/1066 MHz memory, 16GB Max.
Enjoy a faster, smoother, more productive computing experience with capacity for up to
16GB
6GB of DDR3 memory!
7.1 Channel HD Audio
8 channel high definition
definition audio delivers a convincing surround sound experience for games
and movies.
Gigabit LAN interface provides for high-speed
high
network connections,
ctions, with a data transfer
rate up to 1000Mb/s - ideal for streaming multi-media
media content online.
5* SATAII connectors provide for fast, reliable and adaptable storage capability.
RAID 0, 1, 0+1
Configure multiple hard drives for enhanced performance or data security.
A total of 12* USB2.0 ports (6 rear-mounted)
rear mounted) allow you to connect a huge range of
devices.
Windows Vista™ Premium Certified
Microsoft Windows Vista™ is designed to dramatically
dramatically improve the computing experience of
every kind of PC user—from
user from people at home who use their PCs for simple web browsing, to
business people who must organize and act on large volumes of data, to scientists who
routinely perform complex mathematical
mathemati
analysis.
Colour-coded
coded EasyPin headers enable quick
quick connection of internal devices.
* The specification and pictures are subject to change without notice. Please check with your supplier for exact offers. Products
Produc may
not be available in all markets.
* All trademarks and logos are the properties of their respective holders.

* Your assessment is very important for improving the work of artificial intelligence, which forms the content of this project