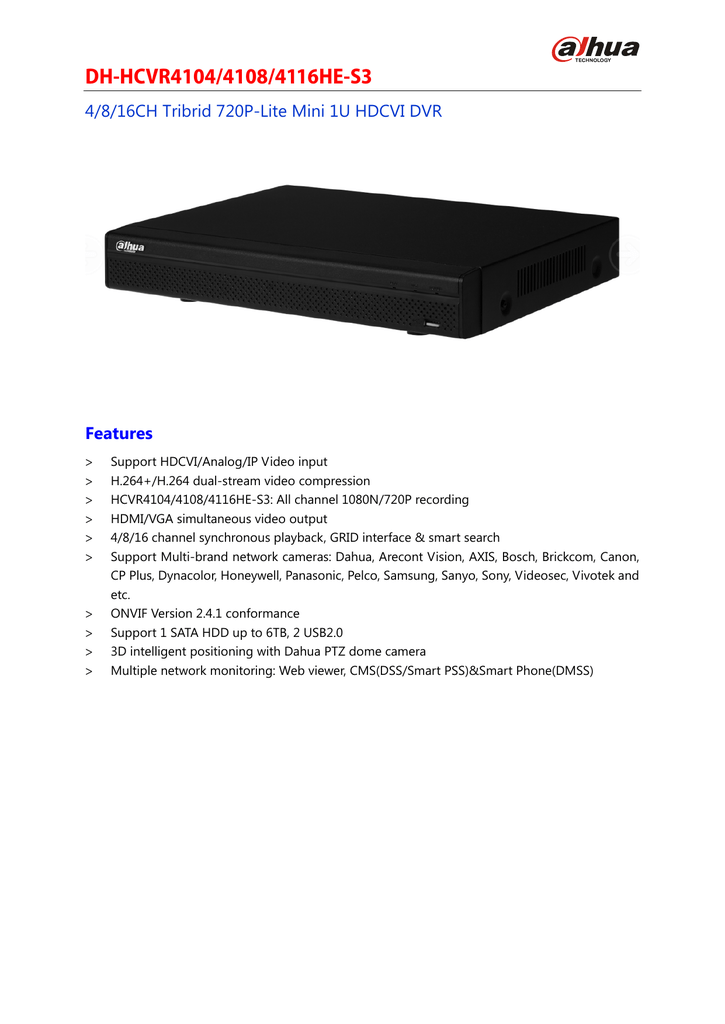 DH-HCVR4104/4108/4116HE-S3
4/8/16CH Tribrid 720P-Lite Mini 1U HDCVI DVR
Features
>
>
>
>
>
>
>
>
>
>
Support HDCVI/Analog/IP Video input
H.264+/H.264 dual-stream video compression
HCVR4104/4108/4116HE-S3: All channel 1080N/720P recording
HDMI/VGA simultaneous video output
4/8/16 channel synchronous playback, GRID interface & smart search
Support Multi-brand network cameras: Dahua, Arecont Vision, AXIS, Bosch, Brickcom, Canon,
CP Plus, Dynacolor, Honeywell, Panasonic, Pelco, Samsung, Sanyo, Sony, Videosec, Vivotek and
etc.
ONVIF Version 2.4.1 conformance
Support 1 SATA HDD up to 6TB, 2 USB2.0
3D intelligent positioning with Dahua PTZ dome camera
Multiple network monitoring: Web viewer, CMS(DSS/Smart PSS)&Smart Phone(DMSS)
DH-HCVR4104/4108/4116HE-S3
Technical Specifications
Model
DH-HCVR4104HE-S3
DH-HCVR4108HE-S3
DH-HCVR4116HE-S3
8 channel, BNC
16 channel, BNC
System
Main Processor
Embedded processor
Operating System
Embedded LINUX
Video
Input
4 channel, BNC
Analog
NTSC/PAL
HDCVI
1080P/720P HDCVI Camera
IP
4+1 up to 2Mp
8+2 up to 5Mp
16+2 up to 5Mp
Input
4 channel, RCA
8 channel, RCA
16 channel, RCA
Output
1 channel, RCA
Two-way Talk
Reuse audio input/output channel 1
Standard
Audio
Display
Interface
1 HDMI, 1 VGA
Resolution
1920×1080, 1280×1024, 1280×720, 1024×768
Display Split
1/4/6
Privacy Masking
4 rectangular zones (each camera)
OSD
Camera title, Time, Video loss, Camera lock, Motion detection, Recording
1/4/8/9
1/4/8/9/16
Recording
Video/Audio
Compression
H.264/G.711
Resolution
1080N(960*1080)/720P(1280×720)/960H(960×576/960×480)/D1(704×576/
704×480)/HD1(352×576/352×480) /BCIF(704×288/704×240)
CIF(352×288/352×240) / QCIF(176×144/176×120)
Record
Rate
Main
Stream:
1080N/720P/960H/D1/
HD1/BCIF/CIF/QCIF(1~
25/30fps)
1*1080N/720P(1~25/3
0fps)+7*(1~12/15fps)
/960H/D1/HD1/BCIF/CI
F/QCIF (1~25/30fps)
Extra
Stream
CIF/QCIF(1~15fps)
CIF/QCIF(1~7fps)
1*1080N/720P(1~25/3
0fps)+15*(1~12/15fps)
/960H/D1/HD1/BCIF/CI
F/QCIF (1~25/30fps)
Bit Rate
1~4096Kb/s
Record Mode
Manual, Schedule(Regular(Continuous), MD), Stop
Record Interval
1~60 min (default: 60 min), Pre-record: 1~30 sec, Post-record: 10~300 sec
Video Detection & Alarm
Trigger Events
Recording, PTZ, Tour, Alarm out, Video Push, Email, FTP, Snapshot,
Buzzer & Screen tips
Video Detection
Motion Detection, MD Zones: 396(22×18), Video Loss & Camera Blank
Alarm Input
4 channel
Relay Output
3 channel
8 channel
16 channel
1/4/9
1/4/9/16
Playback & Backup
Sync Playback
1/4
DH-HCVR4104/4108/4116HE-S3
Search Mode
Time/Date, MD & Exact search (accurate to second)
Playback Functions
Play, Pause, Stop, Rewind, Fast play, Slow play, Next file, Previous file, Next
camera, Previous camera, Full screen, Repeat, Shuffle, Backup selection,
Digital zoom
Backup Mode
USB Device/Internal SATA burner/Network
Network
Ethernet
RJ-45 port (10/100M)
Network Functions
HTTP, IPv4/IPv6, TCP/IP, UPNP, RTSP, UDP, SMTP, NTP, DHCP, DNS, PPPOE,
DDNS, FTP, IP Filter, SNMP, P2P
Max. User Access
128 users
Smart Phone
iPhone, iPad, Android, Windows Phone
Storage
Internal HDD
1 SATA port, up to 6TB
Auxiliary Interface
USB Interface
2 ports(1 Rear), USB2.0
RS485
1 port, For PTZ Control
General
Power Supply
DC12V/2A
Power Consumption
10W(without HDD)
Working
Environment
-10°C ~+55°C / 10%~90%RH / 86~106kpa
Dimension(W×D×H
)
Mini 1U, 325mm×255mm×55mm
Weight
1.5KG(without HDD)
System Connection
*Takes HCVR4116HE-S3 as an example
Dahua Technology Co., Ltd.
1199' BinAn Road, Binjiang District, Hangzhou, China
Tel: +86-571-87688883
Fax: +86-571-87688815
Email: overseas@dahuatech.com
www.dahuatech.com
*Design and specifications are subject to change without notice.
© 2015 Dahua Technology Co., Ltd.