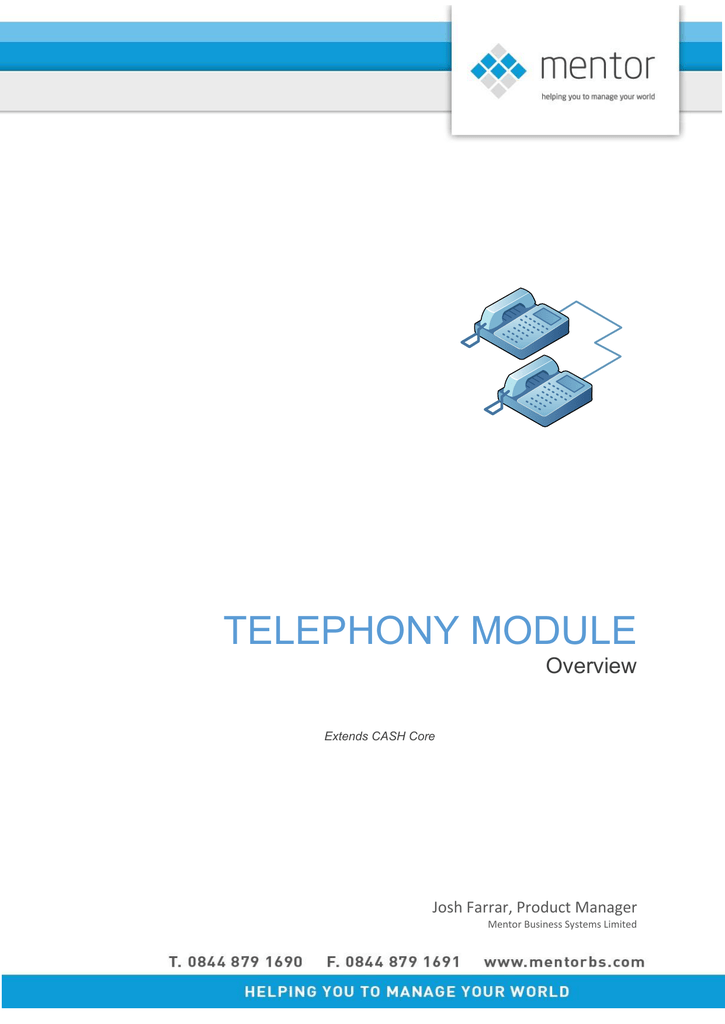 TELEPHONY MODULE
Overview
Extends CASH Core
Josh Farrar, Product Manager
Mentor Business Systems Limited
Introduction
CASH integrates with telephony systems that are TAPI 2 compliant – and most modern digital
exchanges conform to this Microsoft standard. This CTI facility (Computer Telephony Integration) brings
your telephone system and CASH together, working as one, helping you to be more efficient and to give
better customer service.
Setup
In order for CASH to integrate with your telephone system, it needs to hold a few details behind the
scenes – for each CASH user you need to enter their telephone extension number; in this way CASH
knows when there is a call for you.
Incoming Calls
When someone calls to your phone, your telephone exchange informs CASH and provides it with the
CLI (Caller Line Identity) of the caller – i.e. their telephone number. Cash looks up the number in its
database and displays a window in the bottom right
hand corner of your screen.
CASH displays the telephone number of the caller
and looks up the CASH database to find the callers
name, in this case W Fisher & Sons (Tilers) Ltd.
The four icons indicate in which file CASH found
the phone number – in this example, it is both a site
and a customer so both of these icons are lit. The
other icons are for sales enquiries and suppliers.
CASH can also identify engineers calling in and
allows the addition of other contacts so that it can
display the names of others such as
friends/relatives when they call in.
You can now either click on a lit icon or just lift the phone to launch the screen with the full details of
the caller. In this example, CASH will bring up the site details screen.
All of the usual functionality is available – view systems, notes, cabinet – as is log a call for this site.
Outgoing Calls
You can also ask CASH to dial out for you – the red telephone icons beside the phone number fields
performs this task for you. Simply press the button to get CASH to dial the number to the left, then lift
the handset (or press the phone button for your headset). Click on the button again to hang up the call.
Throughout Cash, everywhere there is a phone number, there is now a telephone icon just to the right
– sales enquiries, suppliers, engineers, etc.
Compatibility
To ensure that your existing telephone system is compatible with the CASH CTI module, we have
produced a CTI test program, which we can email to you together with installation and running
instructions. Call Support on 0844 871 1690 (Option 1) to be sent this test program.
Summary
The CASH CTI module integrates CASH with your telephone system, identifying and "screen popping"
incoming callers before you lift the phone and using the CASH database for speed dialling out.

* Your assessment is very important for improving the work of artificial intelligence, which forms the content of this project