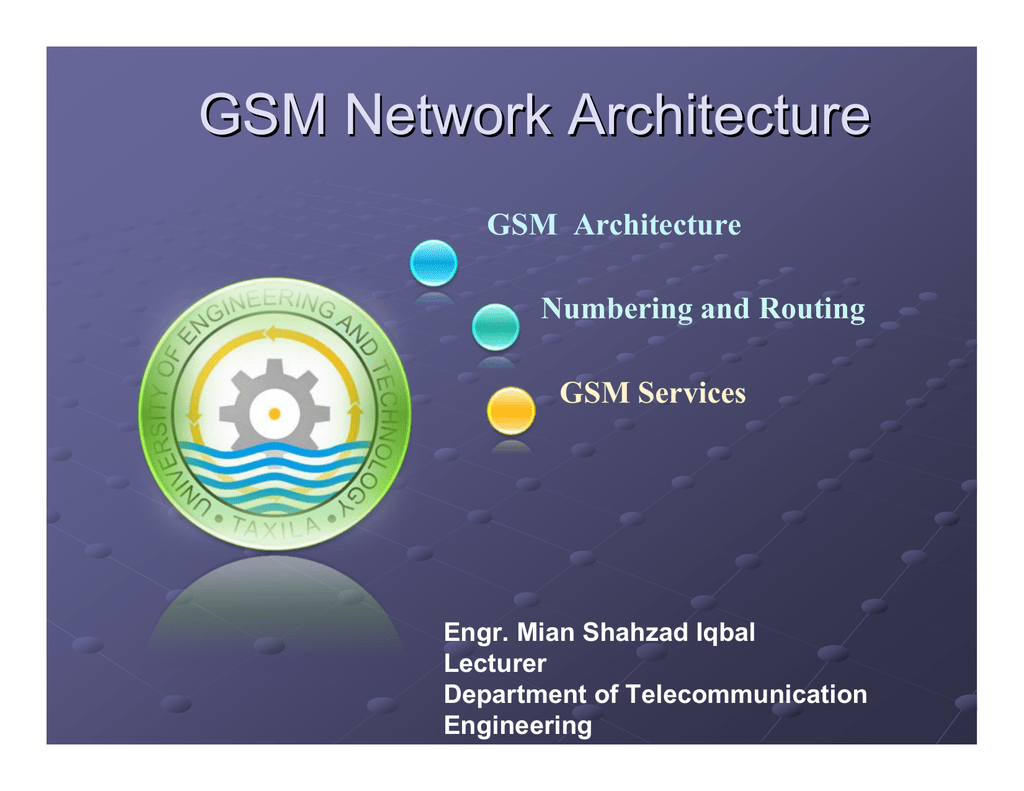 GSM Network Architecture
GSM Architecture
Numbering and Routing
GSM Services
Engr. Mian Shahzad Iqbal
Lecturer
Department of Telecommunication
Engineering
Introduction
Global System for Mobile Communication (GSM)
"
"
"
Anybody – 500 million users (may 2001)
Anywhere – 168 countries (may 2001)
Any media – voice, messaging, data, multimedia
Source: Hillebrand, 1
GSM Architecture
Home Location Register
BTS = Base Transceiver Station
AuC
Network
Management
Center
AuC = Authentication Center
OMC = Operation and Maintenance Center
Equipment ID
PSTN = Public Switched Telephone Network
ME = Mobile Equipment
Subscriber
Identity
Module
ME
B
T
S
Subscriber
Identity
Module
ME
B
T
S
Subscriber
Identity
Module
ME
B
T
S
Visitor Location
Register
Mobile
switching
center
Base station
controller
OMC
Data
communication
network
PSTN
Source: Stallings, 313
Source: Mehrotra, 27
GSM Architecture
MS Transmission
Band : 890 – 915
MHZ
BS Transmission
Band : 935 – 960
MHZ
45 MHz
F1 F2 F1' F2'
1
2
3
4
5
6
7
8
Year Introduced
1990
Access method
TDMA
Channel Bandwidth
200 kHz
Number of duplex
channels
125
Users per channel
8
Speech coding bit
rate
13 kbps
Data coding bit rate
12 kbps
Frame size
4.6 ms
Frequency
SIM (Subscriber Identity Module)
Billions of Calls
Millions of Subscribers
Thousand of Different Types of Telephones
Hundreds of Countries
Dozens of Manufacturers….
•Administrative data
And only one Card: The SIM
•Security data
•Subscriber data
•Roaming data
•PLMN (Public Land Mobile Network
Source: Hillebrand, 369
http://ucables.com/products/simcards/
Subscriber Identity Module
(SIM)
Subscriber Identity Module
"
Contains
phone number (MSISDN)
international mobile subscriber identity (IMSI)
status of SIM
service code
authentication key
PIN (personal identification code)
PUK (personal unlock code)
SIM Cards
SIM cards are embedded with a
microprocessor
"
Stores customer identity information and is
made to fit inside the cellular phone
Memory capacity
"
1K, 3K, 8K, 16K,32K,64K
Mobile Station
Mobile Station
=
SIM Card
Handset
Battery
Global GSM Mobility
Card
The Smart Card to use
GSM
battery
+
+
f153454
2W
jmhfod
kgdjipj
SIM-Card and GSM Mobile
Equipment
SIM-Card
Global GSM Mobility
Card
=
The Smart Card to use
+
Calling line
0609225831
GSM
Contains:
- IMSI
Subscriber knows
Called party number = MS-ISDNPIN
Handset
The SIM-Card Functions
Credit Card Size
µ SIM-Card
Global GSM Mobility
Card
15 mm
The Smart Card to use
25 mm
Permanent data:
- Unique mobile subscriber identity
through IMSI number,
- Authentication parameter Ki,
- Authentication algorithm A3,
- Generating encryption key Kc
algorithm A8.
GSM
Microchip with stored
user information
Removable data:
- Temporary Mobile Subscriber Number,
- Location Area Identification.
Subscriber Identification
IMSI
Nature
International Mobile Subscriber Identity
Mobile Station Integrated Services Digital Network Nb
Conformity with E212
Similar to ISDN,
Conformity with E164/E213
Identify a PLMN
worldwide
MCC
MNC
Meaning
Mobile
Country
Code
Mobile
Network
Code
Nb. digits
3
2
Format
MS - ISDN
Identify the subscriber
of a PLMN
MSIN
H1 H2
x x x ......... x x x
Mobile Subscriber
Ident. Nb
H1 H2 = Identity of HLR
within the home PLMN
max 10
National Significant Mobile Number
CC
NDC
SN
M1 M2
xx xx xx xx
Country
National
Mobile Subscriber
Code
(where Destination (national definition)
subscription Code * M1 M2 = nbr of logical HLR
has been made)
1 to 3
2 to 4
total max 15
*This code does not identify a geographical area
but an operator
MS Classmark
Classmark
Power classes
Revision level (Phase 1, 2, 2+)
RF power
Encryption algorithm (A5/1,A5/2)
Frequency (900/1800/1900)
Short message
Class
GSM
900
1
2
8 W*
3
5W
4
2 W**
5
*
**
GSM
1800
GSM
1900
1 W**
1 W**
0.25 W
0.25 W
4W
4W
0.8 W
Typical value for car mounted
Typical value for handheld
MS (Mobile Station)
ME (Mobile Equipment)
ADVANTAGES OF GSM
Digital
Global
Noise
Robust
Open
Interfaes
Secure
NETWORK ARCHITECTURE
OMS
Operations &
Maintenance Subsystem
NSS
Network Switching Subsystem
MS
Mobile Station
BSS
Base Station Subsystem
BSS (Base Station Subsystem)
BSS Connectivity
NSS (Network Switching Subsystem)
OMS (Operations & Maintenance Subsystem)
The Network In Reality
GSM Network Elements
Handset
BTS: Base Transceiver Station
MSC: Mobile Switching Center
BSC: Base Station Controller
HLR/VLR: Home Location Register/Visiting
Location Register
SIM Card: Subscriber Identity Module Card
Service Centers: USSD, SMS, ...
Base Transceiver Station (BTS)
/ Base Station
Responsible for communication to and from
MHs via air interface
"
MS communicates with the mobile system using a
radio channel to a BTS
BTS comprises radio transmission and
reception devices
"
Including the antennae and signaling processing
specific to the radio interface
BTS separates the speech and control
signaling associated with a MS and sends
them to the BSC on separate channels
Mobile services Switching
Center (MSC)
Responsible for all switching functions
related to call processing
"
Coordinate the setting up of calls to and from
GSM users
MSC is the interface between GSM
network & PSTN (Public Switched
Telephone Network)
Gateway MSC (G-MSC)
• The MSC with an interface to other networks is
called GMSC.
• Network operator may equip all there MSCs with
gateway function or only few.
• MSC that don't have gateway function has to
route call from GMSC.
• GMSC has some additional tasks like call from
outer network enters in GMSC which queries
HLR then forwarded the call to MSC where the
called party is located.
Base Station Controller (BSC)
Monitor and Control several base stations
"
Frequency administration, control of BTSs,
exchange functions
Responsible for all the radio interface
management
"
Channel allocation and release, handover
management
BSC is the interface between MSC and
BTS
"
BSC is connected on one side to several
BTSs and on the other side to the MSC
Home Location Register (HLR)
A database in charge of the management
of mobile subscribers
Contains information of network
subscribers
"
"
Information on teleservices and bearer
services subscription, service restrictions, and
supplementary services
The data stored in HLR is of a semi
permanent nature and does not usually
change from call to call
Visitor Location Register (VLR)
Contains the relevant data of all MSs
currently located in a serving MSC
"
"
The permanent data is the same as data in
the HLR
The temporary data includes
Temporary Subscriber Identity (TMSI)
Location Area Identity (LAI) of an MS
"
VLR allocates mobile subscriber roaming
numbers (MSRNs) for the incoming call
setup
The relation between MSC and
VLR
• Sum of MSC areas determine the
geographical area of any PLMN.
• Each MSC has its own VLR so PLMN can
also be described as the sum of all VLR
areas.
• VLR can serve several MSC but one MSC
always use only one VLR.
Equipment identity register (EIR)
• The separation of subscriber identity from
the identifier of MS also bears a potential
pitfall for GSM subscribers.
• It is possible to operate any GSM MS with
any valid GSM SIM. An opportunity exists
for black market and stolen equipment. •
To combat this problem EIR is introduced to
identify and track such equipment.
EIR (cont)
•
Each GSM phone has a unique identifier IMEI which
can not be altered.
• Like HLR and VLR, the EIR is also a data base
which maintain three lists.
EIR (cont)
• The processes of mobile equipment fallen
dramatically due to great success of GSM
consequently the theft rate reduced. So several
GSM operators have decided not to install the
EIR.
• If the EIR is installed there is no specification
when the EIR should be interrogated. The EIR
may be interrogated any time during call setup
or during location update.
Transcoding rate and adaptation
unit. (TRAU)
• One of the most interesting features of
GSM is TRAU. Its function is the compress
and decompress the speech between
TRAU and MS. Possible location are as
below.
Geographical Network Structure
Location Units
"
"
"
"
"
Cell
Location Area (LA)
MSC/VLR Service Area
PLMN (Public Land Mobile Network) Service
Area
GSM Service Area
Cell Planning
Location Information -GSM Service Area Hierarchy
The area
in which a
subscribe
r can
access
the
network.
GSM Service Area
PLMN Service Area
(one per operator)
MSC/VLR
Location Area
cell
Numbering & Routing
Numbering
Mobile Subscriber ISDN Number (MSISDN)
"
Mapping to Mobile Station Roaming Number
(MSRN) by HLR
International Mobile Subscriber Identify (IMSI)
"
Stored in SIM/HLR
Temporary Mobile Subscriber Identity (TMSI)
"
Assigned by VLR, Stored in VLR
International Mobile Equipment Identity (IMEI)
"
Unique ID to handset, used by air interface
ID-Numbers
MSISDN = CC + NDC + SN
"
"
"
"
MSISDN: Mobile Station ISDN Number
CC
Country Code
NDC National Destination Code
SN
Subscriber Number
IMSI = MCC + MNC + MSIN
"
"
"
"
IMSI
MCC
MNC
MSIN
International Mobile Subscriber Identity
Mobile Country Code
Mobile Network Code
Mobile Station Identification Number
ID-Numbers (cont.)
IMEI = TAC + FAC + SNR + spare
"
"
"
"
IMEI
Internal Mobile Equipment Identity
TAC
Type Approval Code, determined by a
central
GSM/PCS body
FAC
Final Assembly Code, identifies the
manufacturer
SNR Serial Number, uniquely identifies all
equipment within each TAC and FAC
IMEISV = TAC + FAC + SNR + SVN
"
"
IMEISV International Mobile Equipment Identity
and
Software Version Number
SVN
Software Version Number
ID-Numbers (cont.)
MSRN = CC + NDC + SN
"
"
"
"
MSRN Mobile Station Roaming Number
CC
Country Code
NDC National Destination Code
SN
Subscriber Number. In this case, the
address to
the serving MSC
LAI = MCC + MNC + LAC
"
"
"
MCC
MNC
LAC
Mobile Country Code
Mobile Network Code
Location Area Code
ID-Numbers (cont.)
CGI = MCC + MNC + LAC + CI
"
"
CGI
CI
Cell Global Identity
Cell Identity
BSIC = NCC + BCC
"
"
"
BSIC
NCC
BCC
Base Station Identity Code
Network Color Code (3bits)
Base Station Color Code (3bits)
LN = CC + NCD + LSP
"
"
"
"
LN
CC
NCD
LSP
Location Number
Country Code
National Destination Code
Locally Significant Part
ID -Numbers (cont.)
LN = CC + NCD + LSP
"
"
"
"
LN
CC
NCD
LSP
Location Number
Country Code
National Destination Code
Locally Significant Part
RSZI = CC + NDC + ZC
"
"
"
"
RSZI
CC
NDC
ZC
Regional Subscription Zone Identity
Country Code
National Destination Code
length of the Zone code (2 octets)
Routing
Information resident in MS & SIM
"
IMSI, TMSI, IMEI, and misc. information
Routing Information used by Network
"
MSISDN, MSRN
GSM Services and Features
1. Tele Services
2. Bearer Services or Data
Services
3. Supplementary Services
Teleservices
1 - Telephony
Hello
Speaking
Originated
call
1
Speaking
Hello
Terminated
call
1
Teleservices
2 - Emergency Call
Global GSM Mobility
Card
The Smart Card to use
GSM
Do not require a SIM-Card
while "112" is invoked
Emergency
112
Teleservices
3 - Short Message Cell Broadcast
me
ssa
ge
A
ge A
a
s
s
me
me
ssa
ge
B
e
sag
s
e
m
Information
Provider A
A
B
age
s
s
me
ge
a
s
es
m
s
es
m
me s s
age B
B
e
ag
Information
Provider B
A
GSM Network
Teleservices
4 - Short Message
Service
Radio
SMS-MO/ PP
PLMN
SMS-SC
Radio
PLMN
SMS-MT/ PP
Copyright © 1996 Northern Telecom
Teleservices
Alternate Speech and
Fax:
5 - Fax
Automatic
fax:
Teleservices
Embodied
bearer
treatments for
radio transmission
6 - User's Data Call Features
Teleservices
voice
Teleservices
Fax G3, SMS
Cable that
bears data
Data / Fax
kit adaptation
Teleservices
Please leave
a message
after the tone
Busy
7 - Voice Messaging
Forward
to voice
mail box
1
Voice mail
box
GSM
network
You have
3 voices
messages...
Retrieving the voice
messages
Warming up...
Voice
message
server
Bearer Services
Limited to 1,2 and 3 OSI layer
Packet Switched Protocols
Data Rates from 300bps to 9.6kbps
Supplementary Services
Calling Party
CoLP
CLIR
‰ Calling Line Identification
1 - Line Identification
Cnted line
0609173957
presentation
(CLIP)
restriction
(CLIR)
‰Connected Line Identification
presentation
(CoLP)
restriction
(CoLR)
‰ Calling Name Presentation
(CNAP)
Called Party
CLIP
CoLR
Calling line
0609225831
Supplementary Services
2 - Call Transfer and Call Forwarding
Š unconditional
(CFU)
Š on busy
(CFB)
Š on no reply
(CFNRy)
Š on not reachable (CFNRc)
1
2
Supplementary Services
3 - Waiting / Hold and Multi Party
WAIT
1
HOLD
2
1
2
Waiting / Hold:
1
Multi Party:
1
Max = 5
persons
2
2
Supplementary Services
4 - Call Barring
z Outgoing (BAOC)
z Outgoing international (BOIC)
z Outgoing international
except home PLMN country (BOIC-exHC)
z Incoming (BAIC)
z Incoming when roaming outside
(BIC-Roam)
Supplementary Services
5 - Call Completion (CCBS)
NEW
!
BUSY
...
Unable to place
a call.
Speaking
1
2
This call in state
Reinitiate
the call
Ring !
Ring !
1
Idle
SPEAKING
Call is
established
HELLO
1
Speaking
Supplementary Services
Advice of Charge Information (AoCI)
6 - Advice of Charge
information on progress
of the cost of the call
Advice of Charge Charging (AoCC)
Insert a
SIM credit Card
Completion of call
need charging
Intelligent Network Services
Main IN Services:
IN
and
CAMEL
Personal Number
Virtual Private Network
(VPN)
Sponsored Cell & Call
Prepaid Calling
Location Inquiry
Geo Zone
The aim of the CAMEL (Customized Application for Mobile network
Enhanced Logic) is to provide GSM network operators with the ability to
create specific services in their home network, and export these services
to their subscribers when roaming outside the home network.
CAMEL introduces the ability to provide location dependent IN type of
services to mobiles subscribers.
IN Services: Virtual Private
Network
25 c/min 5696
Closed User Group
c
1
4
7
Location & Time
dependant screening
2
5
8
o+
X
Copyright © 1996 Northern Telecom
Copyright © 1996 Northern Telecom
X
3
6
9
*
**
4197
0 #
7PRS8TUV9WXY
GHI
4 5JKL 6MNO
1 2ABC3DEF
Copyright © 1996 Northern Telecom
Corporate Numbering Plan
4446
25 c/min
Wireline Access
Lower rate for on-net calls
4197
c
1
4
7
London
*
Bristol
2
5
8
o+
3
6
9
Copyright © 1996 Northern Telecom
Location & Time
dependant routing
25 c/min
5696
4446
Speed Dialing
50 c/min
924 63256
Copyright © 1996 Northern Telecom
Copyright © 1996 Northern Telecom
Copyright © 1996 Northern Telecom
Las
cos t call
0.50ts $
New
bala
$ 24 nce is
.50
5542 1139 1464 228 99494
VALID DATES
6/91
6/99
SCOOBY DOO
Your account
balance
is $ 24.50
Copyright © 1996 Northern Telecom
Multiple recharging options
Account status
enquiry and
notification
Multiple Tariff Plans
Tariffs using fixed charge, CC, NC, distance, time & day,
roaming charges...
Possible language selection by subscriber
Flexible features for easy
Bulk account loading for easy provisioning
service packaging
Copyright © 1996 Northern Telecom
RANK1ONE
Copyright © 1996 Northern Telecom
IN Services: Prepaid Calling
IN Services: Location Inquiry
The closest restaurants are:
The Wind Jammer
on 132 Flinton Street
Sea food
Phone 55 1968
press 1 to connect
Copyright © 1996 Northern Telecom
The Palace
on 11 Bourke Street
Chinese food
Phone 55 0407
press 2 to connect
Promotional
Information
s:
call #15
Cell dependent information
Direct connection to advertisers
Today's special at
The Anchor is Maine
lobster soup
Be the first ten caller
and get a free cocktail !
Copyright © 1996 Northern Telecom
The Anchor
St Catherine Dock
Phonce 56 2548
Press 2 to connect
Copyright © 1996 Northern Telecom
The closest restaurants are:
The Tower, Tower Hill,
Phone 56 4589,
Press 1 to connect
Possible customization of announcement
directly by the advertiser
Q&A?