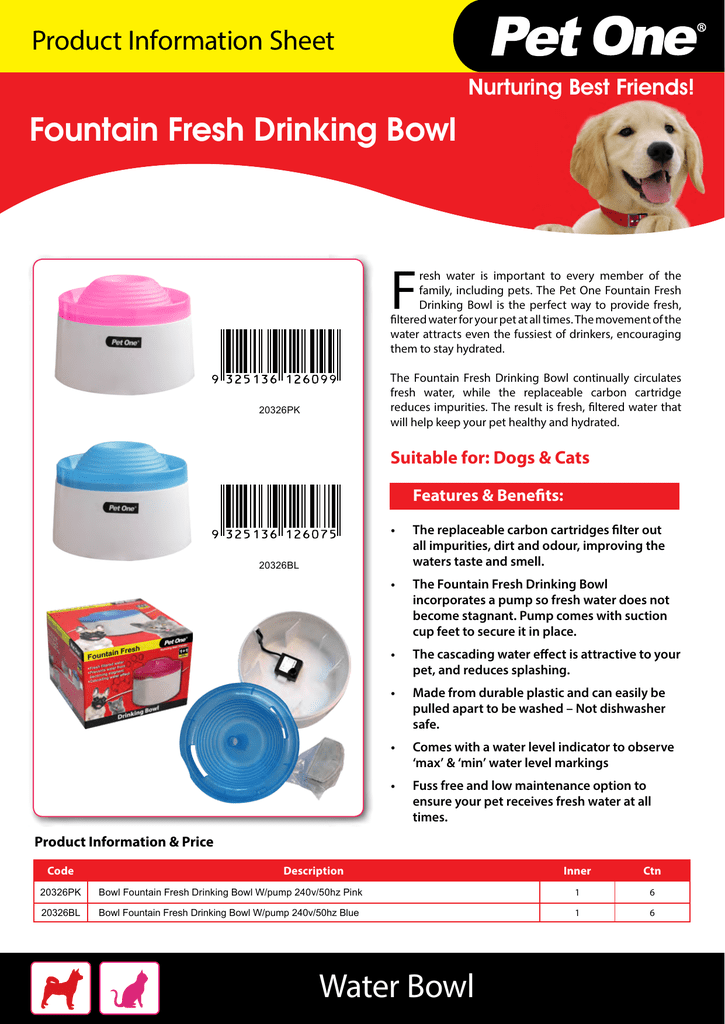 Product Information Sheet
Nurturing Best Friends!
Fountain Fresh Drinking Bowl
F
resh water is important to every member of the
family, including pets. The Pet One Fountain Fresh
Drinking Bowl is the perfect way to provide fresh,
filtered water for your pet at all times. The movement of the
water attracts even the fussiest of drinkers, encouraging
them to stay hydrated.
The Fountain Fresh Drinking Bowl continually circulates
fresh water, while the replaceable carbon cartridge
reduces impurities. The result is fresh, filtered water that
will help keep your pet healthy and hydrated.
20326PK
Suitable for: Dogs & Cats
Features & Benefits:
•
The replaceable carbon cartridges filter out
all impurities, dirt and odour, improving the
waters taste and smell.
•
The Fountain Fresh Drinking Bowl
incorporates a pump so fresh water does not
become stagnant. Pump comes with suction
cup feet to secure it in place.
•
The cascading water effect is attractive to your
pet, and reduces splashing.
•
Made from durable plastic and can easily be
pulled apart to be washed – Not dishwasher
safe.
•
Comes with a water level indicator to observe
'max' & 'min' water level markings
•
Fuss free and low maintenance option to
ensure your pet receives fresh water at all
times.
20326BL
Product Information & Price
Code
Description
Inner
Ctn
20326PK
Bowl Fountain Fresh Drinking Bowl W/pump 240v/50hz Pink
1
6
20326BL
Bowl Fountain Fresh Drinking Bowl W/pump 240v/50hz Blue
1
6
Water Bowl
Product Information Sheet
Specifications
Water Volume (L)
Cord Length (m)
Flow Rate (L/HR)
Wattage
Voltage
2
1.4
150
3.4W
240V ~ 50Hz
Spare Parts
Code
Description
25501C
Carbon Cartridge - Pet One Fountain
Fresh 2pk 501c
25102I
Impeller 102i
Hints & Tips:
• Providing fresh clean water is essential. Infectious agents and diseases
can be transmitted throughout contaminated water sources, and stagnant
water can become ideal breeding grounds for algae and mosquito larvae. By
providing fresh clean water every day, this will lower the risk of disease and
keep your pet happy and healthy.
• For a refreshing treat in summer time, place ice cubes in the bowl for cooler,
refreshing water
• Cats instinctively drink running water! Running water helps feline friends
drink more water which helps prevent urinary tract infections
• To maximise the life of your pump, it is recommended to clean the pump
casing and the impeller every 4 – 8 weeks or earlier if flow has decreased
significantly. Filter cartridges should be replaced every 4 – 6 weeks.
Warnings & Disclaimers:
• Always check water levels in the water bowl and ensure it is at optimum levels. Observe 'max' & 'min' water level markings
on the water level indicator. The water level should never be below the 'min' mark, or damage to the pump may occur.
• It is important to follow the safety guidelines as set out in the instruction manual contained within the packaging of this
product. This product is not intended for use by children or infirm persons without supervision. Young children should be
supervised to ensure that they do not play with kit parts and components.
© Copyright 2014 Pet One
• Do not use the product for reasons other than the intended use. The use of attachments that are not recommended or sold
to the manufacturer may cause the product to be unsafe. This is not recommended.

* Your assessment is very important for improving the work of artificial intelligence, which forms the content of this project