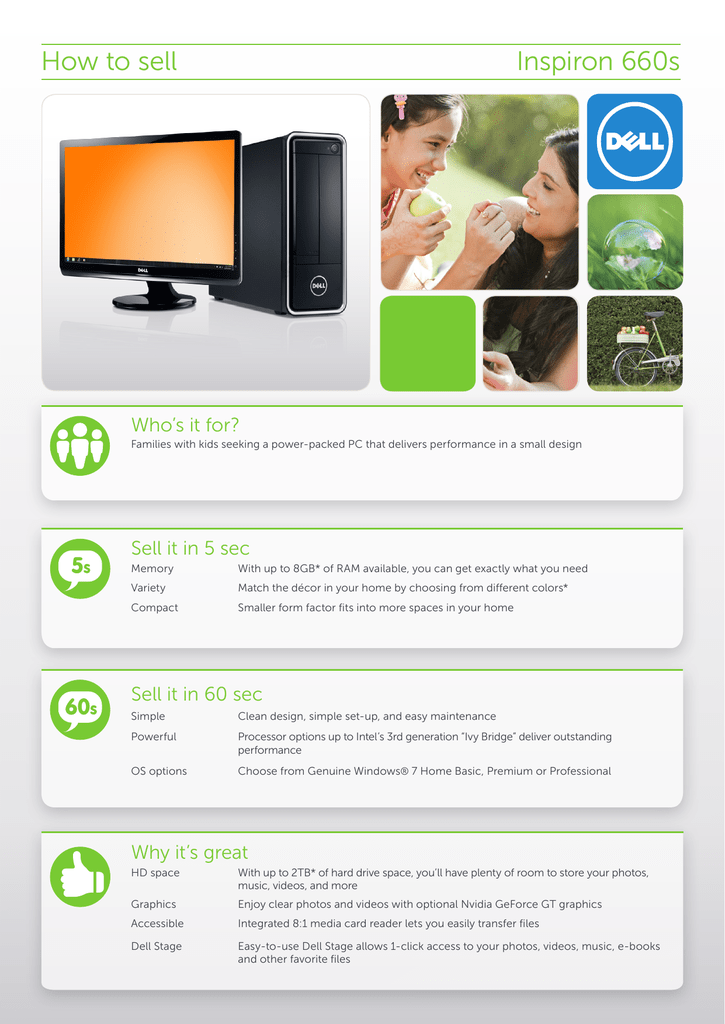 How to sell
Inspiron 660s
Who's it for?
Families with kids seeking a power-packed PC that delivers performance in a small design
Sell it in 5 sec
Memory
With up to 8GB* of RAM available, you can get exactly what you need
Variety
Match the décor in your home by choosing from different colors*
Compact
Smaller form factor fits into more spaces in your home
Sell it in 60 sec
Simple
Clean design, simple set-up, and easy maintenance
Powerful
Processor options up to Intel's 3rd generation "Ivy Bridge" deliver outstanding
performance
OS options
Choose from Genuine Windows® 7 Home Basic, Premium or Professional
Why it's great
HD space
With up to 2TB* of hard drive space, you'll have plenty of room to store your photos,
music, videos, and more
Graphics
Enjoy clear photos and videos with optional Nvidia GeForce GT graphics
Accessible
Integrated 8:1 media card reader lets you easily transfer files
Dell Stage
Easy-to-use Dell Stage allows 1-click access to your photos, videos, music, e-books
and other favorite files
Inspiron 660s: Details
Graphic
options
- Integrated Intel® HD graphics
- Nvidia GeForce 620, 1GB*, DDR3 (ML117, DVI + HDMI)
Processor
options
3rd generation Intel® Core™ i5—3450S
3rd generation Intel® Core™ i5—3330S
2nd generation Intel® Core™ i3—2120
Intel® Pentium® processor G630
Intel® Celeron® processor G460
Memory
2 – 8 GB* DDR3 @ 1333MHz or 1600MHz
Hard drive
1 HDD slot, 3.5-inch SATA, 7200 RPM – with the following size options: 500 GB*, 1TB*, 2TB*
Ports
Back: (2) USB 3.0 + (4) USB 2.0 + HDMI + VGA + RJ-45 (10/100/1000 Ethernet) + (3) audio
Front: (2) USB 2.0 + 8:1 media card reader + mic/headphone
Connectivity
- Dell wireless card (DW1506), 1x1, 802.11 b/g/n
- Dell wireless Intel® Centrino® N 2230 Combo Card, 2x2, 802.11 b/g/n + BT 4.0
Operation
system
Genuine Windows 7® (Home Basic, Premium or Professional)
Show it off
Demonstrate Ivy Bridge processor speed
Transfer files with USB 3.0
1. Run several heavy software applications at the
same time to show processing speed.
2. Run applications on the 660s against a desktop
that has a 2nd-generation (Sandy Bridge)
processor to demonstrate performance difference.
3. Explain the new Intel technologies enabled by the
Ivy Bridge processor.
1. Plug in an external hard drive or flash drive into
one of the USB 2.0 ports.
2. Move several large files onto the drive. Time the
file transfer.
3. Disconnect the device from the USB 2.0 port,
and plug it into one of the USB 3.0 ports.
4. Move the files back to the hard drive. Time the
file transfer.
Accessorize it
Wireless keyboard and mouse
Webcam
Add a wireless mouse and
keyboard to reduce clutter.
Store photos, music and
videos on an external hard
drive.
Additional photos
For illustration only. Actual product appearance may vary. Available colors will vary by location.
MEMORY: GB means 1 billion bytes and TB equals 1 trillion bytes; significant system memory may be used to support graphics, depending on
system memory size and other factors. A 64-bit operating system is required to support 4GB or more of system memory. HARD DRIVE: GB
means 1 billion bytes and TB equals 1 trillion bytes; actual capacity varies with preloaded material and operating environment and will be less.
OPERATING SYSTEM: Microsoft and Windows 7 are registered trademarks of Microsoft Corporation. ACCESSORIES: Products featured above
(keyboard, mouse, webcam) are optional accessories, and may not be available in all locations.
Confidential: Not for public circulation. The information contained in this document has been obtained from publicly available sources, and
is intended for sales personnel training purposes only. While reasonable care has been exercised, Dell is unable to warrant the accuracy of
information concerning third party products or software. All information is correct at time of printing.
Copyright: © 2012 Dell Inc. All rights reserved. This document is for informational purposes only. Dell does not make any warranties, express
or implied, in this summary.

* Your assessment is very important for improving the work of artificial intelligence, which forms the content of this project