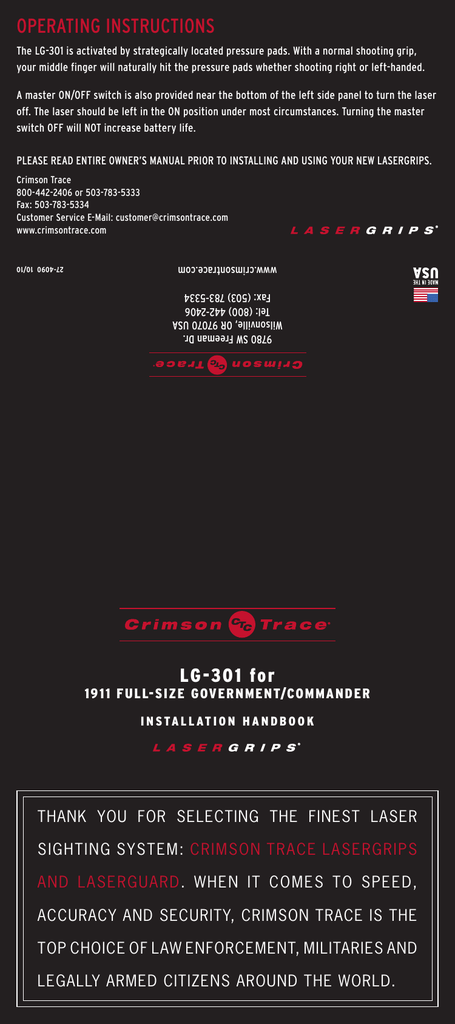 OPERATING INSTRUCTIONS
The LG-301 is activated by strategically located pressure pads. With a normal shooting grip,
your middle finger will naturally hit the pressure pads whether shooting right or left-handed.
A master ON/OFF switch is also provided near the bottom of the left side panel to turn the laser
off. The laser should be left in the ON position under most circumstances. Turning the master
switch OFF will NOT increase battery life.
PLEASE READ ENTIRE OWNER'S MANUAL PRIOR TO INSTALLING AND USING YOUR NEW LASERGRIPS.
Crimson Trace
800-442-2406 or 503-783-5333
Fax: 503-783-5334
Customer Service E-Mail: customer@crimsontrace.com
www.crimsontrace.com
www.crimsontrace.com
27-4090 10/10
9780 SW Freeman Dr.
Wilsonville, OR 97070 USA
Tel: (800) 442-2406
Fax: (503) 783-5334
LG-301 for
19 11 FULL-SIZE GOVERNMENT/COMM A N D E R
I N S TA L L AT I O N H A N D B O O K
THANK YOU FOR SELECTING THE FINEST LASER
S I G H T I N G S Y S T EM: CRIMSON TRACE LASERGRIPS
A N D L A S E R G U A RD. WHEN IT COMES TO SPEED,
ACCURACY AND SECURITY, CRIMSON TRACE IS THE
TOP CHOICE OF LAW ENFORCEMENT, MILITARIES AND
LEGALLY ARMED CITIZENS AROUND THE WORLD.
19 11 F U LL-S I Z E G OV E R N M E N T/CO M M A N D E R
[ LG -30 1 ]
A.
B.
Elevation
Adjustment
Stock
Grip Screw
Laser
Aperture
Windage
Adjustment
Battery
Stock Grip Screw
Battery
Activation Pad
[One on Each Side]
+
-
Stock
Grip Screw
Stock Grip Screw
Master Switch
[Up for "ON"]
Dust Shield
Dust Shield
BATTERIES
Two (2) CR2032 or DL2032 Lithium Cells.
PRODUCT SPECIFICATIONS
BEAM INTENSITY: 5mW peak, 633 nm, Class 3R laser
DOT SIZE: Approximately 0.5 inches diameter at 50 feet
BATTERIES: T wo #2032 lithium batteries;
over four hours of illumination
ACTIVATION: D
ual side activation integrated momentary
pressure pads and master ON/OFF switch
WARRANTY: Three-year full warranty
This product complies with 21 CFR 1040.10
Laser
Aperture
Windage and
Elevation
Adjustment
Activation Pad
[One on Each Side]
INSTALLATION INSTRUCTIONS
1.Make sure firearm is unloaded. Remove magazine and double check that chamber is empty.
(See "Four Basic Rules Of Firearm Safety" in Owner's Handbook.)
2.Remove existing grips. Retain stock screws to be used with Lasergrips®.
3.Place one battery in each Lasergrips panel with positive (+) side up.
4.Install dust guard panels between Lasergrips and frame of pistol.
5. Wrap Lasergrips around frame of pistol. Replace and tighten screws.
6.Attach "Aperture" warning label with the arrow pointing to the laser aperture. Attach laser "Danger"
sticker to outside of pistol.
7.To activate Lasergrips, slide the master ON/OFF switch up to the ON position. The switch is on the
bottom left side of the Lasergrips. Press one of the dual side activation pressure pads located on
either side of the Lasergrips.
8.Confirm that laser and iron sights are in alignment. Laser dot should rest on top of front site post
with correct iron sight picture. Lasergrips are sighted-in at the factory to 50 feet, but can be
fine-tuned to any point of impact by adjusting for windage and elevation. (See Laser Sight Owner's
Handbook for complete sighting information.)
LASER SAFETY LABELING
IMPORTANT: LASER PRODUCTS MUST ONLY BE OPERATED WITH THE SAFETY LABEL APPLIED TO THE FIREARM.
Labels could not be affixed to the product but are supplied and must be installed as indicated below:
A.Attach the "Aperture" warning label with the arrow pointing to the laser aperture.
B.Attach the "Danger" warning label to the outside of the firearm.
Use caution when activating the laser to avoid direct eye exposure, which can result in permanent
eye damage. Follow all precautions as outlined by the firearms manufacturer. Keep this and all firearm
related products locked and secured from children or other unauthorized users.
IF YOUR 1911 HAS AN AMBIDEXTROUS SAFETY, THE RIGHT-SIDE PADDLE NEEDS TO BE SLIGHTLY SHORTENED TO
CLEAR THE LASER HOUSING. SOME MANUFACTURERS MAKE PRE-SHORTENED SAFETIES THAT WILL CLEAR THE
DIODE HOUSING, BUT THESE SHOULD BE FITTED BY A QUALIFIED GUNSMITH.

* Your assessment is very important for improving the work of artificial intelligence, which forms the content of this project