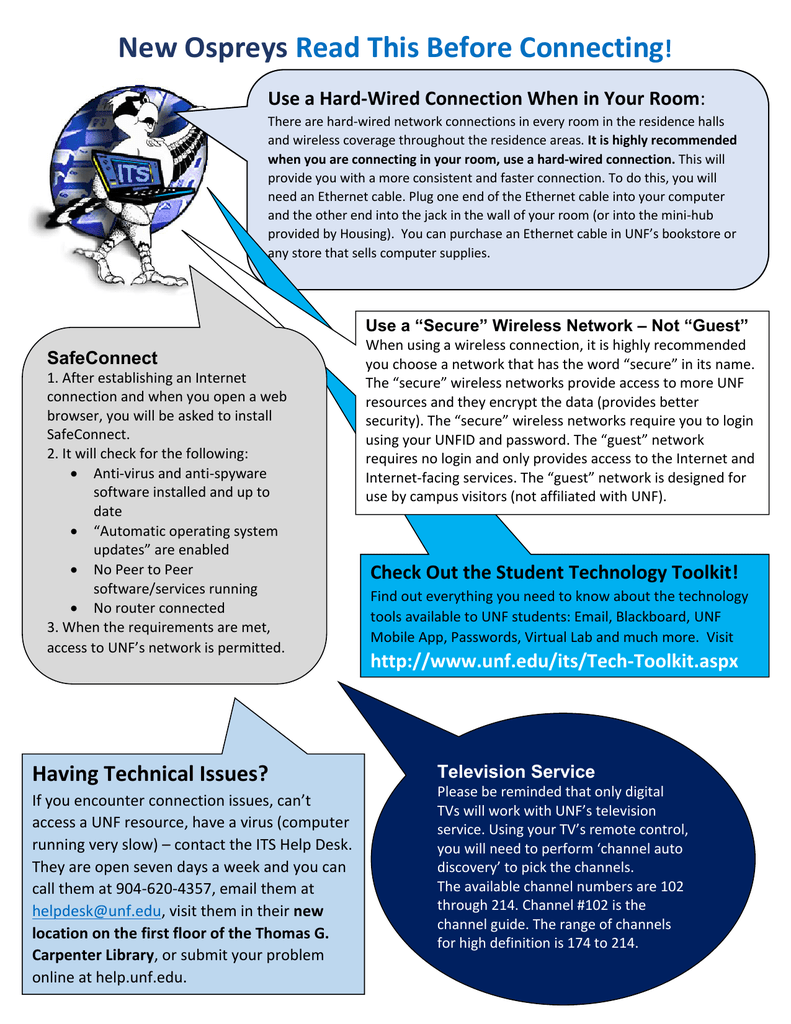 New Ospreys Read This Before Connecting!
Use a Hard-Wired Connection When in Your Room:
There are hard-wired network connections in every room in the residence halls
and wireless coverage throughout the residence areas. It is highly recommended
when you are connecting in your room, use a hard-wired connection. This will
provide you with a more consistent and faster connection. To do this, you will
need an Ethernet cable. Plug one end of the Ethernet cable into your computer
and the other end into the jack in the wall of your room (or into the mini-hub
provided by Housing). You can purchase an Ethernet cable in UNF's bookstore or
any store that sells computer supplies.
Use a "Secure" Wireless Network – Not "Guest"
SafeConnect
1. After establishing an Internet
connection and when you open a web
browser, you will be asked to install
SafeConnect.
2. It will check for the following:
 Anti-virus and anti-spyware
software installed and up to
date
 "Automatic operating system
updates" are enabled
 No Peer to Peer
software/services running
 No router connected
3. When the requirements are met,
access to UNF's network is permitted.
Having Technical Issues?
If you encounter connection issues, can't
access a UNF resource, have a virus (computer
running very slow) – contact the ITS Help Desk.
They are open seven days a week and you can
call them at 904-620-4357, email them at
helpdesk@unf.edu, visit them in their new
location on the first floor of the Thomas G.
Carpenter Library, or submit your problem
online at help.unf.edu.
When using a wireless connection, it is highly recommended
you choose a network that has the word "secure" in its name.
The "secure" wireless networks provide access to more UNF
resources and they encrypt the data (provides better
security). The "secure" wireless networks require you to login
using your UNFID and password. The "guest" network
requires no login and only provides access to the Internet and
Internet-facing services. The "guest" network is designed for
use by campus visitors (not affiliated with UNF).
Check Out the Student Technology Toolkit!
Find out everything you need to know about the technology
tools available to UNF students: Email, Blackboard, UNF
Mobile App, Passwords, Virtual Lab and much more. Visit
http://www.unf.edu/its/Tech-Toolkit.aspx
Television Service
Please be reminded that only digital
TVs will work with UNF's television
service. Using your TV's remote control,
you will need to perform 'channel auto
discovery' to pick the channels.
The available channel numbers are 102
through 214. Channel #102 is the
channel guide. The range of channels
for high definition is 174 to 214.
Quick Tips for Residence Hall Connectivity
- Disable any Bitorrent software before you connect to the network. This
includes bitcoin software.
- Disable P2P updating for any online games and Windows 10.
- Don't hook up a wireless router to the Ethernet port, it won't work!
- Wireless printers are not supported on the residence hall Wifi networks.
- Use Ethernet for any gaming console or multimedia device, you'll get much
less lag.
- Multimedia streaming devices (Roku, Amazon Fire TV Stick, Chromecast) are
not supported on residence hall Wifi networks.
Free Software for Students
UNF provides access to a number of free software programs. All of these programs
will run on both Windows and Mac Computers.
Items such as: Microsoft Office 2013, Microsoft Office for Mac 2016, and Symantec
Endpoint Protection.
Please visit http://tinyurl.com/UNFsoftware for more information.
Virtual Lab
Provide access to free software applications from any computing device –
laptops, desktops, tablets, and smartphones – from any location, at any time.
 From a laptop/desktop – Go to http://vlab.unf.edu, install free app, and
login with UNF ID and password.
 From a mobile device – Go to the App store, download Citrix Receiver,
enter in http://vlab.unf.edu as the address and your UNF ID and
password.




Software Provided
Adobe Master Collection CS6
Microsoft Visio 2013
SPSS Statistics 22
And more!

* Your assessment is very important for improving the work of artificial intelligence, which forms the content of this project