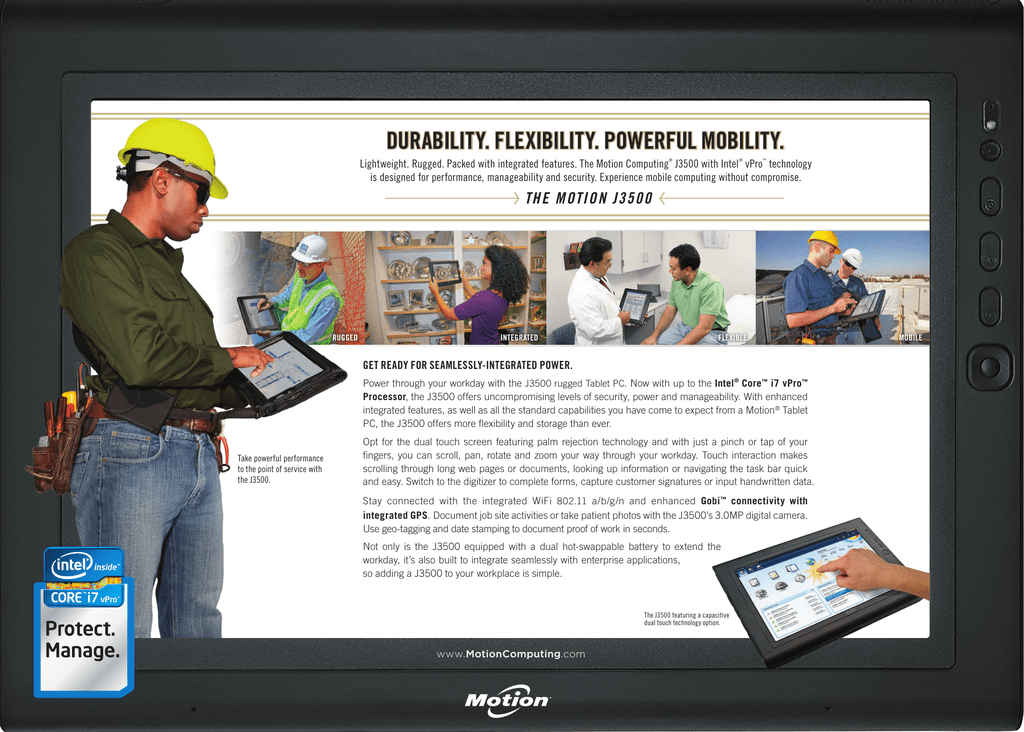 DURABILITY. FLEXIBILITY. POWERFUL MOBILITY.
Lightweight. Rugged. Packed with integrated features. The Motion Computing J3500 with Intel vPro technology
is designed for performance, manageability and security. Experience mobile computing without compromise.
®
®
™
TH E M OTIO N J35 0 0
RUGGED
INTEGRATED
FLEXIBLE
GET READY FOR SEAMLESSLY-INTEGRATED POWER.
Power through your workday with the J3500 rugged Tablet PC. Now with up to the Intel® Core™ i7 vPro ™
Processor, the J3500 offers uncompromising levels of security, power and manageability. With enhanced
integrated features, as well as all the standard capabilities you have come to expect from a Motion® Tablet
PC, the J3500 offers more flexibility and storage than ever.
Take powerful performance
to the point of service with
the J3500.
Opt for the dual touch screen featuring palm rejection technology and with just a pinch or tap of your
fingers, you can scroll, pan, rotate and zoom your way through your workday. Touch interaction makes
scrolling through long web pages or documents, looking up information or navigating the task bar quick
and easy. Switch to the digitizer to complete forms, capture customer signatures or input handwritten data.
Stay connected with the integrated WiFi 802.11 a/b/g/n and enhanced Gobi™ connectivity with
integrated GPS. Document job site activities or take patient photos with the J3500's 3.0MP digital camera.
Use geo-tagging and date stamping to document proof of work in seconds.
Not only is the J3500 equipped with a dual hot-swappable battery to extend the
workday, it's also built to integrate seamlessly with enterprise applications,
so adding a J3500 to your workplace is simple.
The J3500 featuring a capacitive
dual touch technology option.
www.MotionComputing.com
MOBILE
Powerful, Rugged Mobile Computing at the Point of Service
FULLY-EQUIPPED, RUGGED AND ADAPTABLE.
RUGGED AND HIGHLY MOBILE
The J3500 is tough enough to survive harsh mobile work environments,
making your mobile job more productive. For the strongest, brightest, most
viewable display, you can choose Motion View Anywhere Display® and
Corning® Gorilla ® Glass for improved durability.
IP-52 and MIL-STD-810G rated
At only 3.6 lbs (1.6kg),1 the J3500 might seem like a lightweight—but an
internal magnesium frame for structural rigidity, port covers and a rubberized coating for dampening shock help it to meet IP-52 and MIL-STD-810G
standards.
ENSURE A SECURE, ROBUST MOBILE WORK ENVIRONMENT.
Superior bright display with
Corning® Gorilla® Glass durability
Work more safely. Work more securely. And never sacrifice performance.
Improved security features on the J3500 offer the latest advancements to
protect your system. With available Intel® vPro™ technology, IT can remotely
isolate PCs from the network for upgrade or repair, and the security designed
into the PC hardware provides anti-theft capabilities. Work any place at any
pace, confident that your sensitive information is safe.
Up to 128 GB SSD
Sealed ports
3.6 lbs (1.6kg) 1
Hot-swappable battery
Gobi ™ mobile broadband
POWERFUL YET EFFICIENT
Intel ® Core ™ i7 vPro ™ Processor
Intel ® Core ™ i7 Processor
Intel ® Core ™ i3 Processor
Supports Windows ® 7
Up to 4GB of RAM
INDUSTRY-LEADING DISPLAY OPTIONS
Capacitive dual touch
Hydis AFFS+ LED backlit display
View Anywhere ® technology
Corning ® Gorilla ® Glass display protection
ABOUT MOTION COMPUTING
Motion Computing is a global leader in integrated mobile computing solutions,
combining world-class products with services customized for the unique needs of
target vertical markets. The company's enhanced line of rugged tablet PCs, mobile
point-of-care solutions and accessories are designed to increase mobile
productivity while providing portability, security, power and versatility.
US and Canada
1-866-682-2538
For more information and localized websites, please visit:
www.MotionComputing.com
WORKFLOW CUSTOMIZATION WITH J3500 ACCESSORIES
THE J3500 HAS A WIDE RANGE OF DOCKING, MOUNTING & CHARGING SOLUTIONS:
•
Attachable mobile keyboard & USB keyboard
•
FlexDock mountable, desktop docking station with integrated battery charger
•
ReadyDock for storing, charging and securing multiple J3500s
•
Customized cases, straps and vehicle mounts
© 2011 Motion Computing, Inc. All rights reserved. All product information is subject to change without notice. Motion Computing, Motion
and View Anywhere are registered trademarks of Motion Computing, Inc. in the United States and/or other countries. Intel, the Intel logo,
Intel Core, Core Inside and vPro are trademarks or registered trademarks of Intel Corporation or its subsidiaries in the United States and other
countries. All other trademarks and registered trademarks are the property of their respective owners. 003-87-0405 Rev. A00 English
1 Weight
represents approximate system weight measured with one battery, no Bluetooth, no smart card bay, no express card bay, no camera, no WWAN, wide screen
display, WLAN and no pen. Actual system weight may vary depending on component and manufacturing variability.