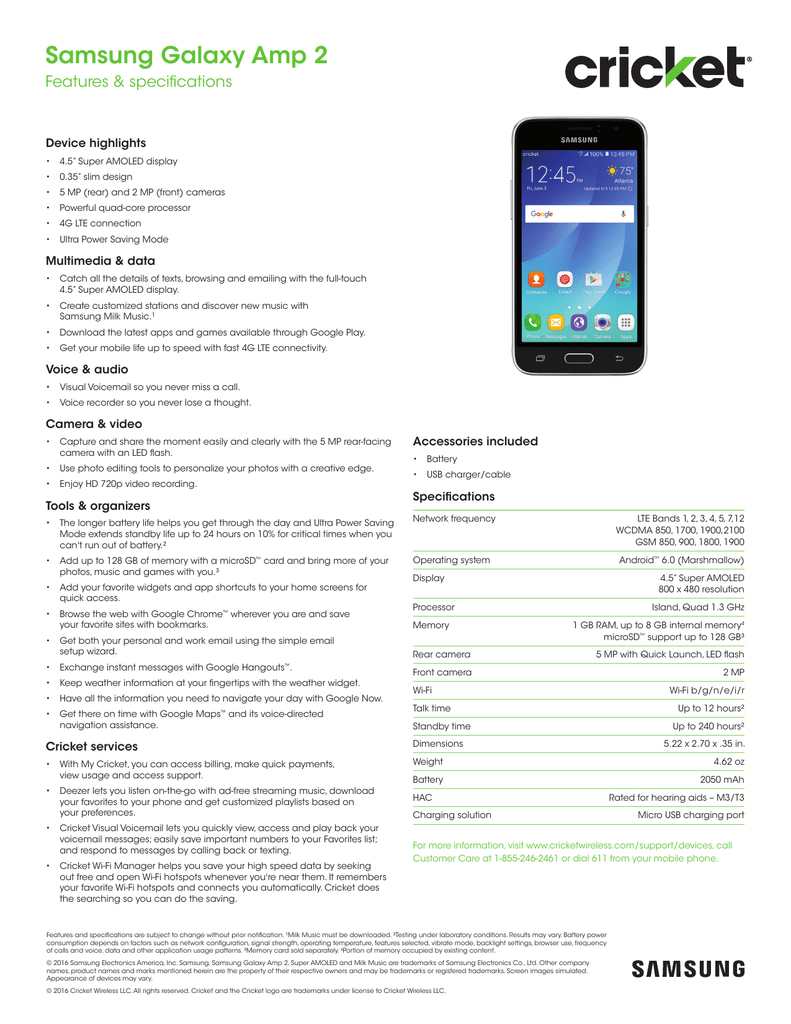 Samsung Galaxy Amp 2
Features & specifications
Device highlights
•
4.5" Super AMOLED display
•
0.35" slim design
•
5 MP (rear) and 2 MP (front) cameras
•
Powerful quad-core processor
•
4G LTE connection
•
Ultra Power Saving Mode
Multimedia & data
•
Catch all the details of texts, browsing and emailing with the full-touch
4.5" Super AMOLED display.
•
Create customized stations and discover new music with
Samsung Milk Music.1
•
Download the latest apps and games available through Google Play.
•
Get your mobile life up to speed with fast 4G LTE connectivity.
Voice & audio
•
Visual Voicemail so you never miss a call.
•
Voice recorder so you never lose a thought.
Camera & video
•
Capture and share the moment easily and clearly with the 5 MP rear-facing
camera with an LED flash.
•
Use photo editing tools to personalize your photos with a creative edge.
•
Enjoy HD 720p video recording.
Tools & organizers
Accessories included
•
Battery
•
USB charger/cable
Specifications
•
The longer battery life helps you get through the day and Ultra Power Saving
Mode extends standby life up to 24 hours on 10% for critical times when you
can't run out of battery.2
Network frequency
LTE Bands 1, 2, 3, 4, 5, 7,12
WCDMA 850, 1700, 1900,2100
GSM 850, 900, 1800, 1900
•
Add up to 128 GB of memory with a microSD™ card and bring more of your
photos, music and games with you.3
Operating system
Android™ 6.0 (Marshmallow)
•
Add your favorite widgets and app shortcuts to your home screens for
quick access.
•
Browse the web with Google Chrome™ wherever you are and save
your favorite sites with bookmarks.
•
Get both your personal and work email using the simple email
setup wizard.
•
Exchange instant messages with Google Hangouts™.
•
Keep weather information at your fingertips with the weather widget.
•
Have all the information you need to navigate your day with Google Now.
•
Get there on time with Google Maps™ and its voice-directed
navigation assistance.
Display
4.5" Super AMOLED
800 x 480 resolution
Processor
Memory
Island, Quad 1.3 GHz
1 GB RAM, up to 8 GB internal memory4
microSD™ support up to 128 GB3
Rear camera
5 MP with Quick Launch, LED flash
Front camera
2 MP
Wi-Fi
Talk time
Standby time
Wi-Fi b/g/n/e/i/r
Up to 12 hours2
Up to 240 hours2
Cricket services
Dimensions
•
Weight
4.62 oz
Battery
2050 mAh
With My Cricket, you can access billing, make quick payments,
view usage and access support.
•
Deezer lets you listen on-the-go with ad-free streaming music, download
your favorites to your phone and get customized playlists based on
your preferences.
•
Cricket Visual Voicemail lets you quickly view, access and play back your
voicemail messages; easily save important numbers to your Favorites list;
and respond to messages by calling back or texting.
•
Cricket Wi-Fi Manager helps you save your high speed data by seeking
out free and open Wi-Fi hotspots whenever you're near them. It remembers
your favorite Wi-Fi hotspots and connects you automatically. Cricket does
the searching so you can do the saving.
HAC
Charging solution
5.22 x 2.70 x .35 in.
Rated for hearing aids – M3/T3
Micro USB charging port
For more information, visit www.cricketwireless.com/support/devices, call
Customer Care at 1-855-246-2461 or dial 611 from your mobile phone.
Features and specifications are subject to change without prior notification. ¹Milk Music must be downloaded. 2Testing under laboratory conditions. Results may vary. Battery power
consumption depends on factors such as network configuration, signal strength, operating temperature, features selected, vibrate mode, backlight settings, browser use, frequency
of calls and voice, data and other application usage patterns. 3Memory card sold separately. 4Portion of memory occupied by existing content.
© 2016 Samsung Electronics America, Inc. Samsung, Samsung Galaxy Amp 2, Super AMOLED and Milk Music are trademarks of Samsung Electronics Co., Ltd. Other company
names, product names and marks mentioned herein are the property of their respective owners and may be trademarks or registered trademarks. Screen images simulated.
Appearance of devices may vary.
© 2016 Cricket Wireless LLC. All rights reserved. Cricket and the Cricket logo are trademarks under license to Cricket Wireless LLC.

* Your assessment is very important for improving the work of artificial intelligence, which forms the content of this project