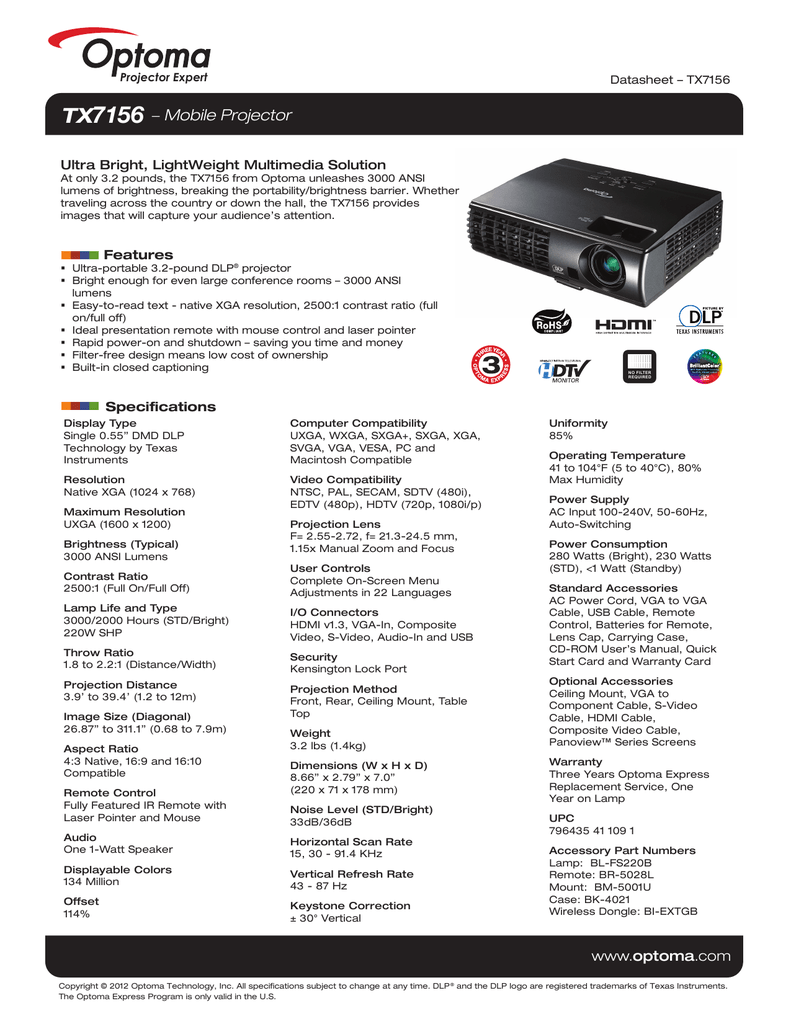 Projector Expert
TX7156
Datasheet – TX7156
− Mobile Projector
Ultra Bright, LightWeight Multimedia Solution
At only 3.2 pounds, the TX7156 from Optoma unleashes 3000 ANSI
lumens of brightness, breaking the portability/brightness barrier. Whether
traveling across the country or down the hall, the TX7156 provides
images that will capture your audience's attention.
Features
 Ultra-portable 3.2-pound DLP® projector
 Bright enough for even large conference rooms – 3000 ANSI
lumens
 Easy-to-read text - native XGA resolution, 2500:1 contrast ratio (full
on/full off)
 Ideal presentation remote with mouse control and laser pointer
 Rapid power-on and shutdown – saving you time and money
 Filter-free design means low cost of ownership
 Built-in closed captioning
NO FILTER
REQUIRED
Specifications
Display Type
Single 0.55" DMD DLP
Technology by Texas
Instruments
Computer Compatibility
UXGA, WXGA, SXGA+, SXGA, XGA,
SVGA, VGA, VESA, PC and
Macintosh Compatible
Resolution
Native XGA (1024 x 768)
Video Compatibility
NTSC, PAL, SECAM, SDTV (480i),
EDTV (480p), HDTV (720p, 1080i/p)
Maximum Resolution
UXGA (1600 x 1200)
Brightness (Typical)
3000 ANSI Lumens
Projection Lens
F= 2.55-2.72, f= 21.3-24.5 mm,
1.15x Manual Zoom and Focus
Contrast Ratio
2500:1 (Full On/Full Off)
User Controls
Complete On-Screen Menu
Adjustments in 22 Languages
Lamp Life and Type
3000/2000 Hours (STD/Bright)
220W SHP
I/O Connectors
HDMI v1.3, VGA-In, Composite
Video, S-Video, Audio-In and USB
Throw Ratio
1.8 to 2.2:1 (Distance/Width)
Security
Kensington Lock Port
Projection Distance
3.9' to 39.4' (1.2 to 12m)
Projection Method
Front, Rear, Ceiling Mount, Table
Top
Image Size (Diagonal)
26.87" to 311.1" (0.68 to 7.9m)
Aspect Ratio
4:3 Native, 16:9 and 16:10
Compatible
Remote Control
Fully Featured IR Remote with
Laser Pointer and Mouse
Weight
3.2 lbs (1.4kg)
Dimensions (W x H x D)
8.66" x 2.79" x 7.0"
(220 x 71 x 178 mm)
Noise Level (STD/Bright)
33dB/36dB
Audio
One 1-Watt Speaker
Horizontal Scan Rate
15, 30 - 91.4 KHz
Displayable Colors
134 Million
Vertical Refresh Rate
43 - 87 Hz
Offset
114%
Keystone Correction
± 30° Vertical
Uniformity
85%
Operating Temperature
41 to 104°F (5 to 40°C), 80%
Max Humidity
Power Supply
AC Input 100-240V, 50-60Hz,
Auto-Switching
Power Consumption
280 Watts (Bright), 230 Watts
(STD), <1 Watt (Standby)
Standard Accessories
AC Power Cord, VGA to VGA
Cable, USB Cable, Remote
Control, Batteries for Remote,
Lens Cap, Carrying Case,
CD-ROM User's Manual, Quick
Start Card and Warranty Card
Optional Accessories
Ceiling Mount, VGA to
Component Cable, S-Video
Cable, HDMI Cable,
Composite Video Cable,
Panoview™ Series Screens
Warranty
Three Years Optoma Express
Replacement Service, One
Year on Lamp
UPC
796435 41 109 1
Accessory Part Numbers
Lamp: BL-FS220B
Remote: BR-5028L
Mount: BM-5001U
Case: BK-4021
Wireless Dongle: BI-EXTGB
www.optoma.com
Copyright © 2012 Optoma Technology, Inc. All specifications subject to change at any time. DLP ® and the DLP logo are registered trademarks of Texas Instruments.
The Optoma Express Program is only valid in the U.S.