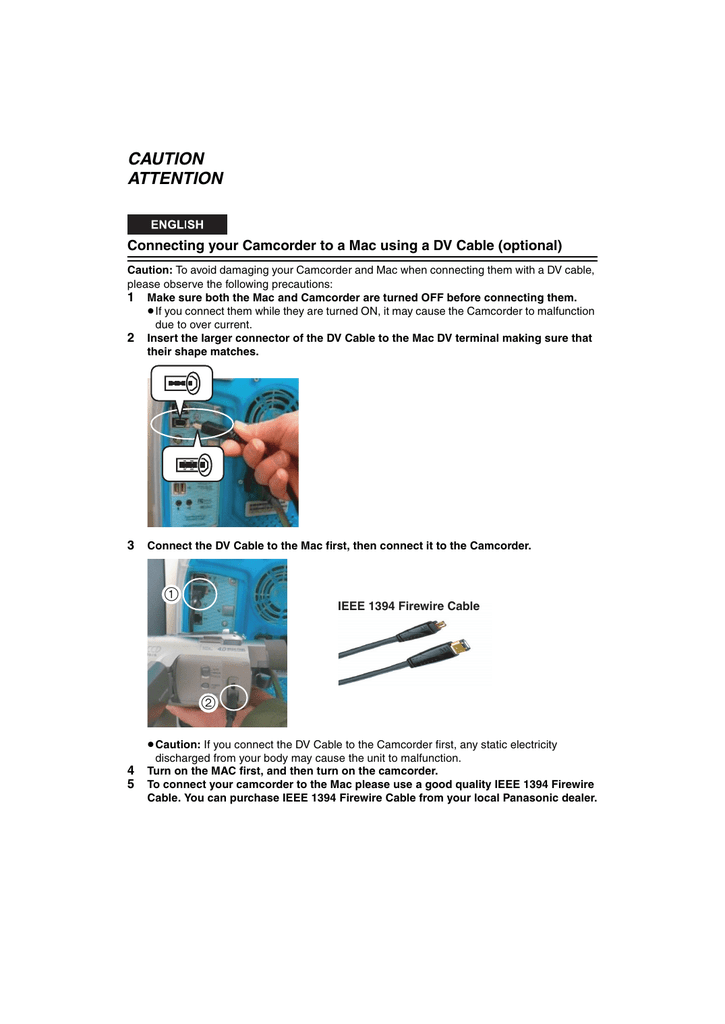 CAUTION
ATTENTION
Connecting your Camcorder to a Mac using a DV Cable (optional)
Caution: To avoid damaging your Camcorder and Mac when connecting them with a DV cable,
please observe the following precautions:
1 Make sure both the Mac and Camcorder are turned OFF before connecting them.
≥If you connect them while they are turned ON, it may cause the Camcorder to malfunction
due to over current.
2 Insert the larger connector of the DV Cable to the Mac DV terminal making sure that
their shape matches.
3
Connect the DV Cable to the Mac first, then connect it to the Camcorder.
1
2
IEEE 1394 Firewire Cable
2
4
5
≥Caution: If you connect the DV Cable to the Camcorder first, any static electricity
discharged from your body may cause the unit to malfunction.
Turn on the MAC first, and then turn on the camcorder.
To connect your camcorder to the Mac please use a good quality IEEE 1394 Firewire
Cable. You can purchase IEEE 1394 Firewire Cable from your local Panasonic dealer.

* Your assessment is very important for improving the work of artificial intelligence, which forms the content of this project