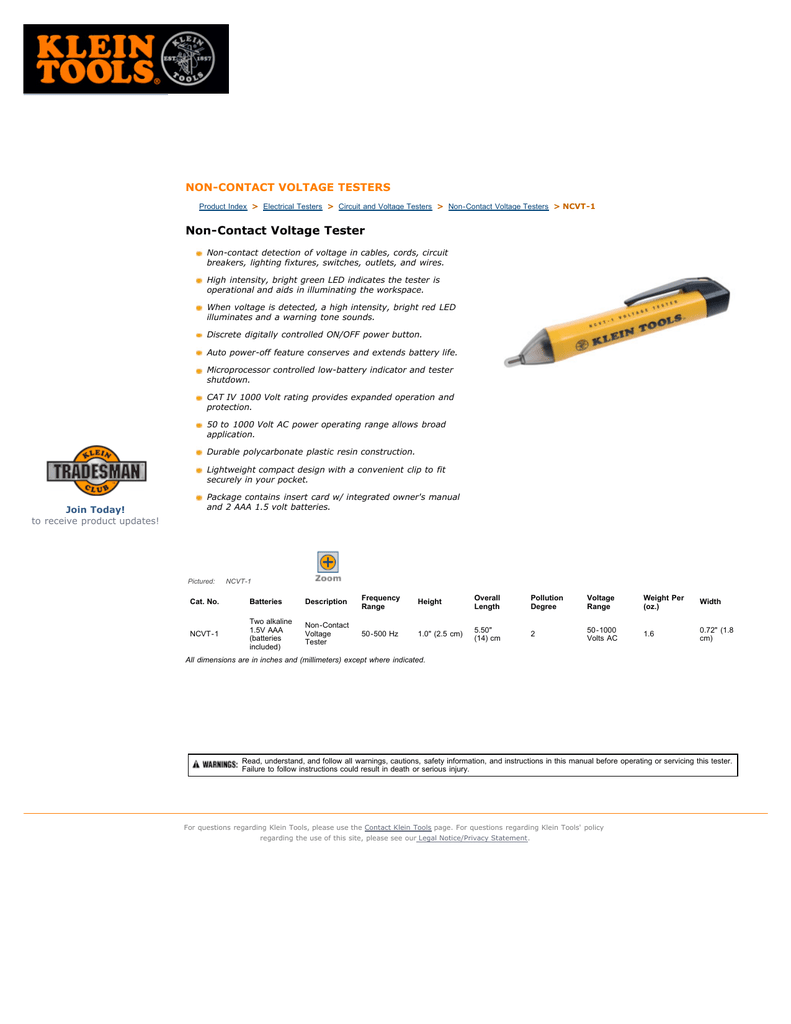 NON-CONTACT VOLTAGE TESTERS
Product Index > Electrical Testers > Circuit and Voltage Testers > Non-Contact Voltage Testers > NCVT-1
Non-Contact Voltage Tester
Non-contact detection of voltage in cables, cords, circuit
breakers, lighting fixtures, switches, outlets, and wires.
High intensity, bright green LED indicates the tester is
operational and aids in illuminating the workspace.
When voltage is detected, a high intensity, bright red LED
illuminates and a warning tone sounds.
Discrete digitally controlled ON/OFF power button.
Auto power-off feature conserves and extends battery life.
Microprocessor controlled low-battery indicator and tester
shutdown.
CAT IV 1000 Volt rating provides expanded operation and
protection.
50 to 1000 Volt AC power operating range allows broad
application.
Durable polycarbonate plastic resin construction.
Lightweight compact design with a convenient clip to fit
securely in your pocket.
Join Today!
to receive product updates!
Package contains insert card w/ integrated owner's manual
and 2 AAA 1.5 volt batteries.
Pictured:
NCVT-1
Cat. No.
Batteries
Description
Frequency
Range
Height
Overall
Length
Pollution
Degree
Voltage
Range
Weight Per
(oz.)
Width
NCVT-1
Two alkaline
1.5V AAA
(batteries
included)
Non-Contact
Voltage
Tester
50-500 Hz
1.0" (2.5 cm)
5.50"
(14) cm
2
50-1000
Volts AC
1.6
0.72" (1.8
cm)
All dimensions are in inches and (millimeters) except where indicated.
Read, understand, and follow all warnings, cautions, safety information, and instructions in this manual before operating or servicing this tester.
Failure to follow instructions could result in death or serious injury.
For questions regarding Klein Tools, please use the Contact Klein Tools page. For questions regarding Klein Tools' policy
regarding the use of this site, please see our Legal Notice/Privacy Statement.

* Your assessment is very important for improving the work of artificial intelligence, which forms the content of this project