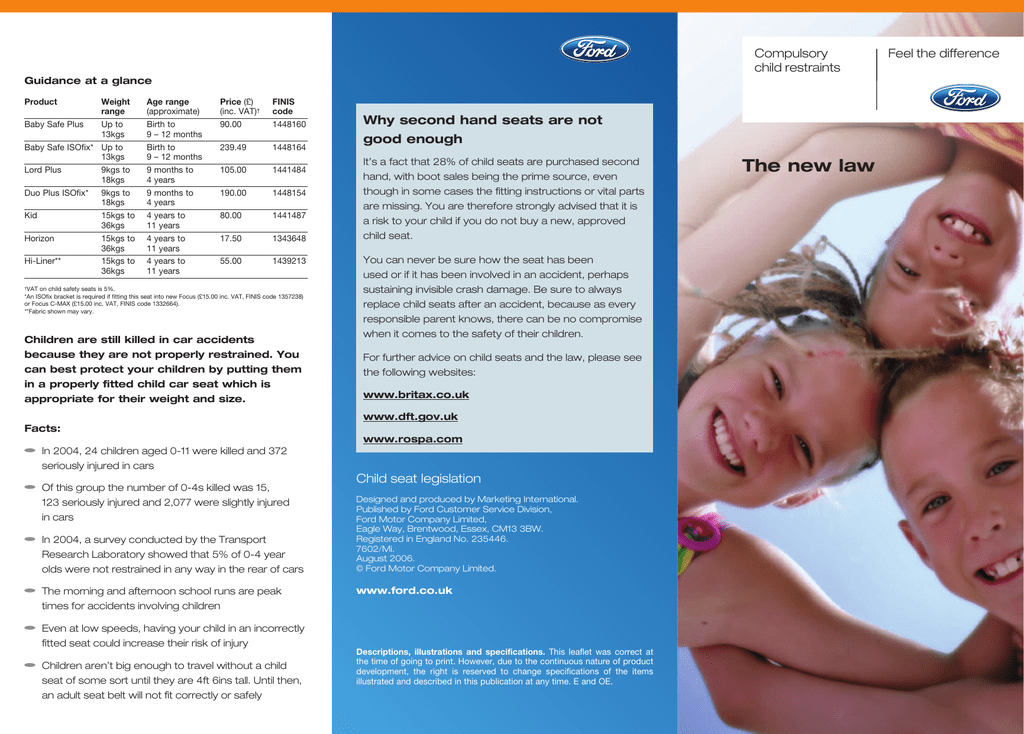 Compulsory
child restraints
Guidance at a glance
Weight
range
Baby Safe Plus
Up to
13kgs
Baby Safe ISOfix* Up to
13kgs
9kgs to
Lord Plus
18kgs
Duo Plus ISOfix* 9kgs to
18kgs
Kid
15kgs to
36kgs
Horizon
15kgs to
36kgs
Hi-Liner**
15kgs to
36kgs
Product
Age range
(approximate)
Birth to
9 – 12 months
Birth to
9 – 12 months
9 months to
4 years
9 months to
4 years
4 years to
11 years
4 years to
11 years
4 years to
11 years
Price (£)
(inc. VAT)†
90.00
FINIS
code
1448160
239.49
1448164
105.00
1441484
190.00
1448154
80.00
1441487
17.50
1343648
55.00
1439213
†VAT
on child safety seats is 5%.
*An ISOfix bracket is required if fitting this seat into new Focus (£15.00 inc. VAT, FINIS code 1357238)
or Focus C-MAX (£15.00 inc. VAT, FINIS code 1332664).
**Fabric shown may vary.
Children are still killed in car accidents
because they are not properly restrained. You
can best protect your children by putting them
in a properly fitted child car seat which is
appropriate for their weight and size.
Why second hand seats are not
good enough
It's a fact that 28% of child seats are purchased second
hand, with boot sales being the prime source, even
though in some cases the fitting instructions or vital parts
are missing. You are therefore strongly advised that it is
a risk to your child if you do not buy a new, approved
child seat.
You can never be sure how the seat has been
used or if it has been involved in an accident, perhaps
sustaining invisible crash damage. Be sure to always
replace child seats after an accident, because as every
responsible parent knows, there can be no compromise
when it comes to the safety of their children.
For further advice on child seats and the law, please see
the following websites:
www.britax.co.uk
www.dft.gov.uk
Facts:
www.rospa.com
a In 2004, 24 children aged 0-11 were killed and 372
seriously injured in cars
a Of this group the number of 0-4s killed was 15,
123 seriously injured and 2,077 were slightly injured
in cars
a In 2004, a survey conducted by the Transport
Research Laboratory showed that 5% of 0-4 year
olds were not restrained in any way in the rear of cars
a The morning and afternoon school runs are peak
times for accidents involving children
a Even at low speeds, having your child in an incorrectly
fitted seat could increase their risk of injury
a Children aren't big enough to travel without a child
seat of some sort until they are 4ft 6ins tall. Until then,
an adult seat belt will not fit correctly or safely
Child seat legislation
Designed and produced by Marketing International.
Published by Ford Customer Service Division,
Ford Motor Company Limited,
Eagle Way, Brentwood, Essex, CM13 3BW.
Registered in England No. 235446.
7602/Mi.
August 2006.
© Ford Motor Company Limited.
www.ford.co.uk
Descriptions, illustrations and specifications. This leaflet was correct at
the time of going to print. However, due to the continuous nature of product
development, the right is reserved to change specifications of the items
illustrated and described in this publication at any time. E and OE.
The new law
Feel the difference
New child restraint legislation
Most parents would agree that their most important
possession is their child. You will be glad to know therefore,
that following tests and fact gathering, the law on using
child restraints in cars and light goods vehicles has
changed, allowing for further protection and safety.
The law change states that all children have to use a
restraint appropriate for their size, and can no longer use an
adult seat belt alone in the front or rear seats if under a
certain height.
The new legislation, enforced in September
2006, states:
a All children under 3 years old must use an appropriate
child restraint when travelling in a car or goods vehicle
(except in a taxi if a child seat is not available)
a Children aged 3 years or more and up to 135cms
(4ft 5ins) in height, must use a child restraint appropriate
for their size when travelling in cars or goods vehicles
fitted with seat belts (few exceptions are permitted)
a Rear-facing baby seats must not be used in seats with
an active front airbag
a All child restraints must conform to modern safety
standards, meaning UN-ECE Regulation 44.04 from
May 2008
a All occupants of cars and goods vehicles must use seat
belts, where provided, and the number of people
carried in such vehicles must not exceed the number of
seats available fitted with seat belts or child restraints (to
apply from May 2009)
Abide by the new law – know your child seats
To guarantee our customers the highest level of protection,
Ford supply child restraints from Britax – the market leader
in its field and a brand you can fully trust. And to make life
easy for you, you can make your legal choice of restraint
from the list below:
Baby Safe Plus / Baby Safe ISOfix*
Baby Safe Plus is for babies weighing up to 13kgs (birth to
9-12 months), or until they can support their own head. It faces
rearwards and fits into the front or rear of the car with a seat
belt. It should never be used in a seat that is protected with an
active front airbag.
Baby Safe Plus /
Baby Safe ISOfix
Lord Plus
Duo Plus ISOfix
Kid
Horizon
Hi-Liner
Baby Safe ISOfix is as Baby Safe Plus but with
ISOfix mounting.
Lord Plus / Duo Plus ISOfix*
These child car seats are for children weighing between
9 and 18kgs (aged 9 months to about 4 years) and have their
own straps. They face forwards and can be fitted in the front
or rear of the car with a seat belt.
Kid / Horizon / Hi-Liner
These forward-facing booster seats are for children weighing
between 15 and 36kgs and can be used in the front or rear of
the car. The Kid and Hi-Liner have adjustable headrests so you
can increase the height as your child grows. The seats lift the
child and position the adult lap and diagonal seat belt correctly
across both their pelvis and shoulder.
Vehicle must have ISOfix fittings for these seats*.
It is anticipated that this new legislation will
prevent around 2000 child deaths and injuries
per year.
When the new seat belt laws were enforced a few years back,
a lot of people didn't make provisions until the last minute. As a
result of this, it was almost impossible to find retailers with any
stock. Don't be caught out this time;
Act now and speak to your local Ford dealer about
child restraints – don't put your children at risk and
don't make illegal journeys.
Fabric may vary to that shown above.

* Your assessment is very important for improving the work of artificial intelligence, which forms the content of this project