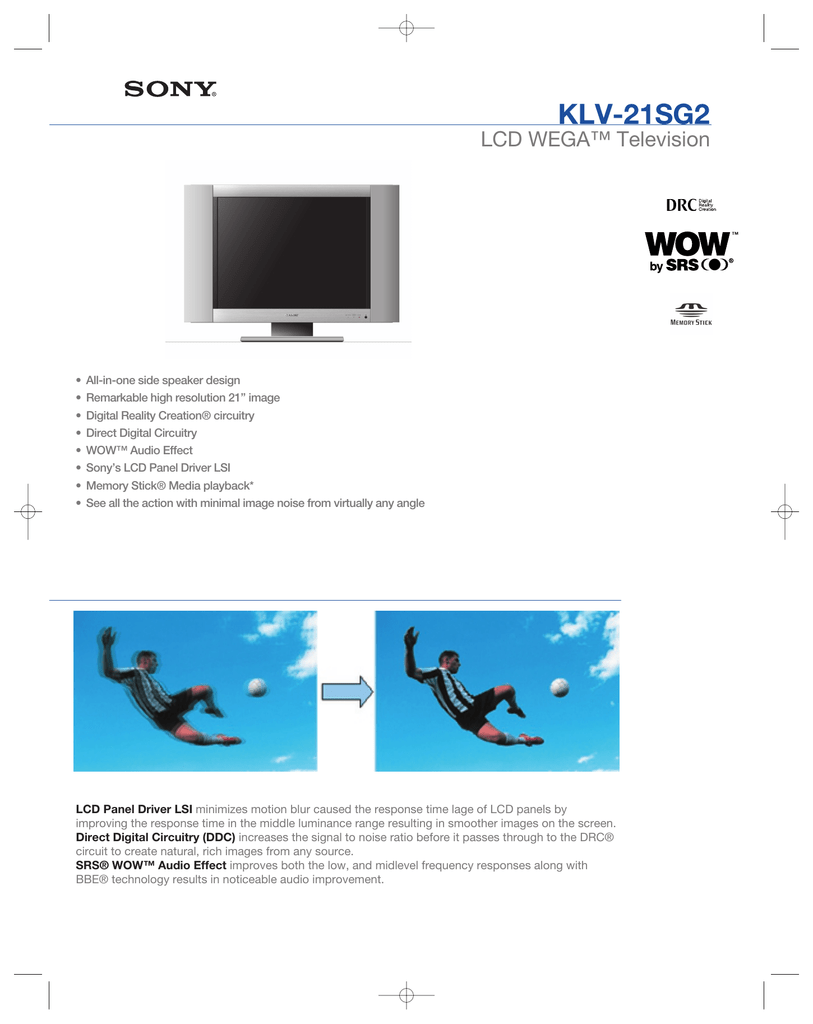 KLV-21SG2
LCD WEGA™ Television
•
•
•
•
•
•
•
•
All-in-one side speaker design
Remarkable high resolution 21" image
Digital Reality Creation® circuitry
Direct Digital Circuitry
WOW™ Audio Effect
Sony's LCD Panel Driver LSI
Memory Stick® Media playback*
See all the action with minimal image noise from virtually any angle
LCD Panel Driver LSI minimizes motion blur caused the response time lage of LCD panels by
improving the response time in the middle luminance range resulting in smoother images on the screen.
Direct Digital Circuitry (DDC) increases the signal to noise ratio before it passes through to the DRC®
circuit to create natural, rich images from any source.
SRS® WOW™ Audio Effect improves both the low, and midlevel frequency responses along with
BBE® technology results in noticeable audio improvement.
KLV-21SG2
LCD WEGA™ Television
Features
General
• TV System: NTSC America TV
Tuner
• Channel Coverage: VHF 2-13
UHF: 14-69
CATV: 1-125
• 3D Digital Comb Filter
• Closed Caption (CC)
• V Chip Parental Control
• 16:9 Enhanced Mode
• Input Signals: 480i, 480p,
720p, 1080i
• On Screen Display (English,
Spanish, French)
• Favorite Channels
• Channel Skip/Add
• Auto Channel Program
• Speed Surf™ Channel Selection
• Picture Freeze
• Sleep Timer (15, 30, 45, 60, 90
Minutes)
• Channel Fix
• Channel Jump
• Dynamic Picture
• Program Pallette™ presets (Vivid,
Standard, Pro)
• Color Temperature (Cool,
Neutral,Warm)
• Closed Caption
• Auto SAP
• Speakers: 4W + 4W Front
Side Mounted
• Audio Out(Fixed/Variable)
• VESA Compliant
Specifications
Weights and Measurements
• Dimensions (630 x 460 x 242mm)
with stand (630 x 404 x 127mm)
w/out stand
• Weight (10.5kg) with stand (13.2kg)
w/out stand
Supplied Accessories
• Operating Instructions (1)
• Remote Control RM-Y1106 (1)
• Batteries (2)
• AC Power Cord (1)
• Registration Card(1)
• Warranty Card (1)
• 75 ohm Coaxial Cable(1)
Sony Electronics Inc.
1 Sony Drive
Park Ridge, NJ 07656
For more information:
Optional Accessories
• Wall Mount Unit: SU-W210
http://www.sony.com/dn
©2004 Sony Electronics Inc. All rights reserved.
Features and specifications are subject to
change without notice. All trademarks
referenced herein are trademarks of Sony or
their respective owners.
*All Sony digital still cameras and camcorders
except models DSCD-700, DSCD-770,
DCR-TRV900 and DSR-PD100A store images
on a Memory Stick in the DCF file format,
which is required for playback on these
projectors. If the image file is renamed or
manipulated, the DCF file format must be
restored before playback is possible. Images
captured on all other digital still cameras and
camcorders will need to be formatted on a PC
to the DCF file format (with third party software
not supplied with the projector) before they can
be viewed.

* Your assessment is very important for improving the work of artificial intelligence, which forms the content of this project