KitSound Clock Dock User manual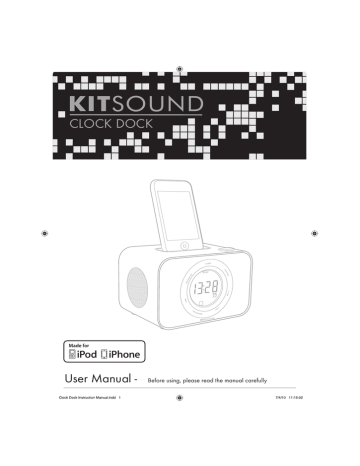 CLOCK DOCK
MON
User Manual -
Before using, please read the manual carefully
Main Features
TOP VIEW
REAR VIEW
• Digital clock and alarm clock - with independent snooze and dimmer function
• Digital tune FM Radio
• White LCD display with blue back light
• Compatible with most iPods, with an integrated universal dock for charging your iPod
• Last station, volume and function memory
• Stereo speakers
• 3.5mm audio AUX input jack connected to any por
table audio device
• 20 station memory presets
• iPhone incoming call alert
• Wake to iPhone/iPod, radio or buzzer
Main Controls
1.
3.
2.
1.
2.
3.
4.
5.
FRONT VIEW
1. DOCK for iPod and iPhone
2. SNOOZE/SLEEP/LIGHT
- Alarm snooze/Sleep selecting /LCD brightness adjustment
3. FM ANT -FM antenna lead
4.
-Power input jack
5. AUX IN -3.5mm auxiliary input jack
Function operation
Power On:
Input DC 5V into the Input Source at the back of the music station, light the display and clock appears, then tap " POWET "
lab.
4.
1.
2.
3.
4.
5.
6.
7.
/MEM/SET
POWER
FUNCTION
/TVOL-/AL MODE
VOL+
/T+
5.
6.
- Play and pause/Memory/Clock setting
- Power on or off
- Mode alternation
- Search-/Last/Backward
- Volume down /Alarm mode
- Volume up
7.
Music Play:
1. IPHONE operation:
The music station will enter to "IPHONE" function directly when power on. Dock iPhone/iPod on the iPod dock,and play
the music from iPhone/iPod.(iPod/iPhone can be charged when the main unit connects to power).
Pause:
Under "IPHONE/IPOD" mode, press "
" for pause. (Note: there is no "
played or paused, but on the iPhone/iPod itself).
- Search +/ Next/Forward
SIDE VIEW
"or "
"on the LCD when iPhone/iPod" is
Music selection:
Press "
/T- "or "
/T+"for music selection when iPhone/iPod is played or paused.
Backward/Forward:
Press "
/T- "or "
/T+"and hold it for backward or forward when iPhone/iPod is played or paused.
iPhone incoming call alert:
When there is an incoming call during iPhone music playing, the music station will stop the music and alternate it into
ringtone.
2 . TUNER operation
1.
1. Built-in quality speaker
Manual Tuner or Automatic Tuner:
Press "
/T- " or "
/T+" for manual tuner, while press "
/T- " or "
/T+"and hold it for two seconds when enter
to automatic tuner. The tuner will stop automatically when get access to channels.
Manual channel memory:
When get acess to the channels by manual, press "
/MEM/SET"and hold for a while. Press "
choose the saving location. 20 channles can be memorized and saved.
/T- "or "
/T+" to
Memory selection:
Press "
/MEM/SET"to alternate the memory channel.
3. AUX operation
Select AUX under power on and input the external music source to AUX, turn on volume and the music is ready.
Volume:
VOL- and VOL+ can be adjusted within 00-20.
Clock setting:
Under standby mode, press "
/MEM/SET" and hold it into clock setting, then there will be clock shining on LCD. Tap
"
/T- "or "
/T+" to set "hour" and tap " /MEM/SET" to set "minute", then press"
/MEM/SET"again to
confirm the setting and resume to clock mode.
Alarm setting:
Under STAND BY mode, press and hold "VOL-/AL MODE" when there will be time displaying and LCD shinning. Tap
"
/T- " or "
/T+" to set "hour",and"VOL-/AL MODE"to set "mimute" and then tap"VOL-/AL MODE" again to
confirm the setting and return to clock mode.
Alarm mode setting:
Tap "
/T- " or "
/T+" and enter into the alarm setting mode(TONE/IPOD/RADIO). Select the mode and tap
"VOL-/AL MODE" to return to clock mode.
SNOOZE:
When Alarm rings, press "SNOOZE" to set up snooze function. Then alarm pauses and will ring again in 9 minutes, if press
"POWER" at this time, the alarm will stop and terminate.
SLEEP:
Press "SNOOZE/SLEEP/LIGHT" under any mode and then start to set the snooze and select
120M-90M-60M-30M-15M-OFF.
LIGHT:
There are three brightness modes of LCD when the unit is in stand-by.
Specifications:
Power supply
DC 5V
AC 100 - 240 V adapter
Tuning system FM
87.5 - 108 MHz
Tuning sensitivity
FM < 20 dB
Frequency response
20 Hz - 20 kHz (aux in)
S/N Ratio
> 60 dB
Audio output
Stereo speaker (1.2 W x 2)
Audio input
iPod dock
3.5 mm auxiliary line in
Specifcations and instructions manual are subject to change without notice.

* Your assessment is very important for improving the work of artificial intelligence, which forms the content of this project