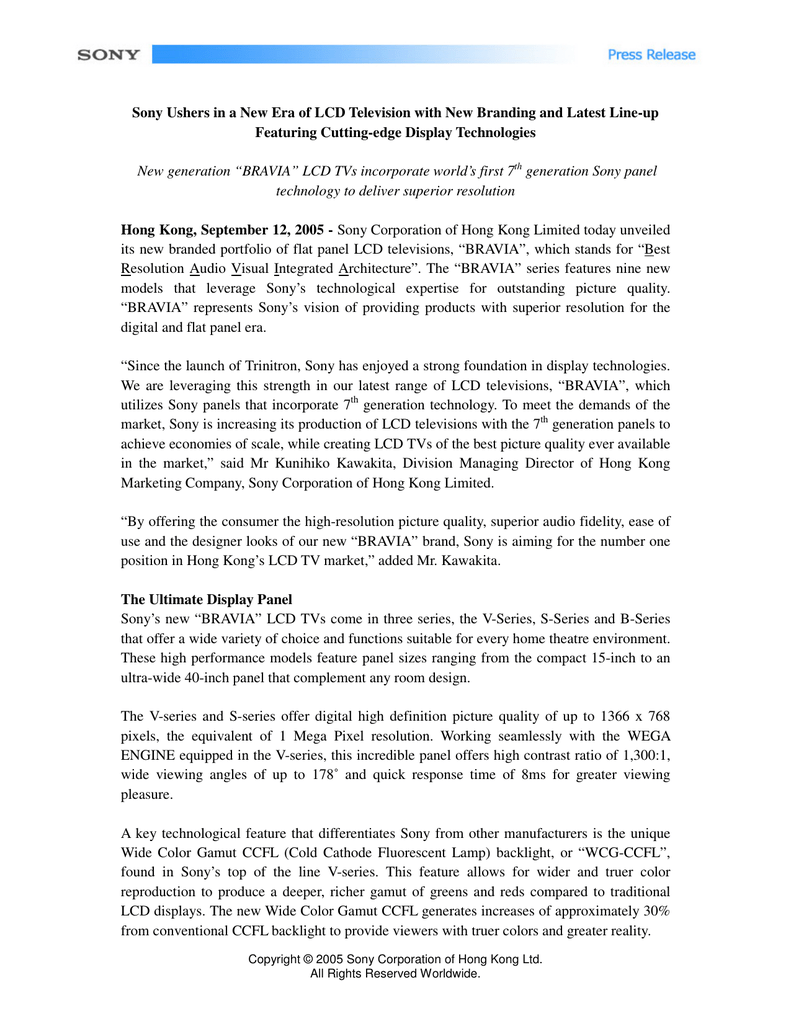 Sony Ushers in a New Era of LCD Television with New Branding and Latest Line-up
Featuring Cutting-edge Display Technologies
New generation "BRAVIA" LCD TVs incorporate world's first 7th generation Sony panel
technology to deliver superior resolution
Hong Kong, September 12, 2005 - Sony Corporation of Hong Kong Limited today unveiled
its new branded portfolio of flat panel LCD televisions, "BRAVIA", which stands for "Best
Resolution Audio Visual Integrated Architecture". The "BRAVIA" series features nine new
models that leverage Sony's technological expertise for outstanding picture quality.
"BRAVIA" represents Sony's vision of providing products with superior resolution for the
digital and flat panel era.
"Since the launch of Trinitron, Sony has enjoyed a strong foundation in display technologies.
We are leveraging this strength in our latest range of LCD televisions, "BRAVIA", which
utilizes Sony panels that incorporate 7th generation technology. To meet the demands of the
market, Sony is increasing its production of LCD televisions with the 7th generation panels to
achieve economies of scale, while creating LCD TVs of the best picture quality ever available
in the market," said Mr Kunihiko Kawakita, Division Managing Director of Hong Kong
Marketing Company, Sony Corporation of Hong Kong Limited.
"By offering the consumer the high-resolution picture quality, superior audio fidelity, ease of
use and the designer looks of our new "BRAVIA" brand, Sony is aiming for the number one
position in Hong Kong's LCD TV market," added Mr. Kawakita.
The Ultimate Display Panel
Sony's new "BRAVIA" LCD TVs come in three series, the V-Series, S-Series and B-Series
that offer a wide variety of choice and functions suitable for every home theatre environment.
These high performance models feature panel sizes ranging from the compact 15-inch to an
ultra-wide 40-inch panel that complement any room design.
The V-series and S-series offer digital high definition picture quality of up to 1366 x 768
pixels, the equivalent of 1 Mega Pixel resolution. Working seamlessly with the WEGA
ENGINE equipped in the V-series, this incredible panel offers high contrast ratio of 1,300:1,
wide viewing angles of up to 178˚ and quick response time of 8ms for greater viewing
pleasure.
A key technological feature that differentiates Sony from other manufacturers is the unique
Wide Color Gamut CCFL (Cold Cathode Fluorescent Lamp) backlight, or "WCG-CCFL",
found in Sony's top of the line V-series. This feature allows for wider and truer color
reproduction to produce a deeper, richer gamut of greens and reds compared to traditional
LCD displays. The new Wide Color Gamut CCFL generates increases of approximately 30%
from conventional CCFL backlight to provide viewers with truer colors and greater reality.
Copyright © 2005 Sony Corporation of Hong Kong Ltd.
All Rights Reserved Worldwide.
Complementing its stunning picture performance is the enhanced sound quality of the new
V-series, which features Sony's S-Master™ full digital amplifier. Both the V-series and Sseries feature SRS™ TruSurround™ audio technology, so even with just two speakers these
televisions provide the most dynamic home entertainment experience.
Full Features Designed for Convenience
The advanced Light Sensor™ in the V-series and S-series automatically detects the brightness
of the surrounding environment and adjusts intensity, constantly maximizing picture quality
for more comfortable viewing. The V-series also features a two-tuner Picture-and-Picture
(PAP) function, allowing consumers to watch two programs simultaneously in separate
windows on the same screen. Picture Freeze is also a common feature in all three series. The
feature freezes a single screen temporarily on a broadcast program while the picture
continues to play in the sub-window to make sure users don't miss a second of the action.
Sony's WEGA GATE™ menu provides an easy graphic user interface with one-button access
to essential TV controls on the V-series and S-series. Consumers can watch their favourite
channels and still enjoy digital picture and video input from an external source through one
convenient interactive interface. Other features include composite, S-video and component
inputs for extensive connectivity across all three series, PC inputs for the V-series and Sseries, and a High-Definition Multimedia Interface (HDMI™) for the V-series.
Order Now
Pre-ordering of the KLV-V40A10, KLV-S32A10 and KLV-S26A10 runs from September 13
to October 2, 2005 at the Sony Style web site: www.sonystyle.com.hk, Sony 24-hour telesales hotline at (852) 2345-2966 as well as Sony Style Hong Kong, Sony Shops and
authorized dealers.
During the above period, customers who place orders for the KLV-V40A10 will receive
either a Sony 17-inch multi-function LCD TV MFM-HT75W (worth HK$5,980) or a wall
mount SU-PW2. Customers who place orders for the KLV-S32A10 will get either a Sony
DVD player DVP-NS50P (worth HK$780) or a wall mount, while the customers buying the
KLV-S26A10 will receive a Sony wireless headphone MDR-IF240RK (worth HK$390).
Suggested retail prices of the KLV-V40A10, KLV-S32A10 and KLV-S26A10 are HK$34,800,
HK$14,800 and HK$10,800 respectively. The "BRAVIA" LCD TV series will be launched
in early October.
For customer enquiries, please contact Sony 24-hour customer service hotline at (852) 23452966.
###
Copyright © 2005 Sony Corporation of Hong Kong Ltd.
All Rights Reserved Worldwide.
Sony LCD TV technical information
1.
1 Mega pixel HD Sony Panel
The V-series and S-series deliver a sharper digital HD picture with 1366 x 768 dot
pixels equivalent to 1 Mega Pixel resolution. The 7th generation Sony LCD panel
offers higher contrast, wider viewing angle and quick response time.
2.
Wide Color Gamut (WCG) – CCFL
With its exclusive WCG-CCFL (Cold Cathode Fluorescent Lighting) backlight, the
V-series is able to produce richer green and red gamut, which are not achievable with
conventional CCFL. It reproduces color approximately 30% more than that of
standard CCFL backlights. This new technology was developed by enhancing Sony's
technologies in displays with a revolutionary luminescence material.
3.
WEGA ENGINE
Available in the V-series, the WEGA ENGINE is an integrated full digital image
integrated processing system. It is compatible with various signal types, including
traditional terrestrial signals and digital high definition signals. The WEGA ENGINE
offers better resolution, less noise for finer images, enhanced realism and higher
contrast.
4.
Picture-and-Picture (PAP)
The V-series incorporates a 2-tuner Picture-and-Picture function that allows viewers
to watch 2 TV programs simultaneously on the same screen. This convenient mode
enables easy surfing of channels without having to miss a single second of both
programs.
5.
Picture Freeze
Available in all series, the Picture Freeze feature freezes motion picture in the main
screen while still displaying ongoing motion picture in the sub-window.
6.
WEGA GATE™
Available on both the V-series and S-series, this simple on-screen guide provides
direct access to TV channels, external inputs and the TV settings menu with the push
of a button. The buttons are designed to maneuver intuitively to perform a variety of
tasks on an ergonomically designed control panel.
7.
TruSurround XT™ by SRS™
TruSurround XT™ and TruSurround™ on the V-series and S-series respectively,
creates a broad, fully immersive sound within the listening area that envelops the
listener. TruSurround XT™ delivers a powerful audio experience with enhanced bass
and better dialogue quality through the sets' high quality speakers.
Copyright © 2005 Sony Corporation of Hong Kong Ltd.
All Rights Reserved Worldwide.
8.
High-Definition Multimedia Interface (HDMI™)
The first industry-supported, uncompressed all-digital high resolution video and
multi-channel audio interface that carries uncompressed audio and video signals
between compatible digital high definition devices and displays on a single cable.
With this V-series users can connect their LCD TV to the HDMI DVD player and AV
receiver.
9.
PC Input
PC Input on the V-series and S-series allows users to connect their PC and display the
PC screen on the TV, which supports various signal types. The screen can be adjusted
to display the same aspect ratio as the PC or stretched to fit the whole screen for full
viewing.
10.
S-Master™ Full Digital Amplifier
A Sony technology, this full digital amplifier delivers high sound quality, is small in
size, and has high power efficiency. Unlike ordinary digital amplifiers, the S-Master
processes all signals digitally, from input to output, consequently delivering pure and
detailed clear sound.
11.
Light Sensor™
The sensor automatically optimizes the brightness setting according to the ambient
light of the surroundings. In a dazzling room, the screen will adjust itself by
increasing the brightness and vice versa when in a dim room to make viewing of the
screen less tiring for the human eye. Available in V-series and S-series.
12.
Flexible Viewing Angle
The screen is able to swivel horizontally to each side. With the exception of KLVV40A10 and KLV-S40A10 (40" models), both the V-series and S-series can tilt
backwards by eight degrees and forward by three degrees. This is extremely useful to
avoid the reflection of light on the screen and to capture the full view of the display,
enabling a flexible viewing angle.
Copyright © 2005 Sony Corporation of Hong Kong Ltd.
All Rights Reserved Worldwide.