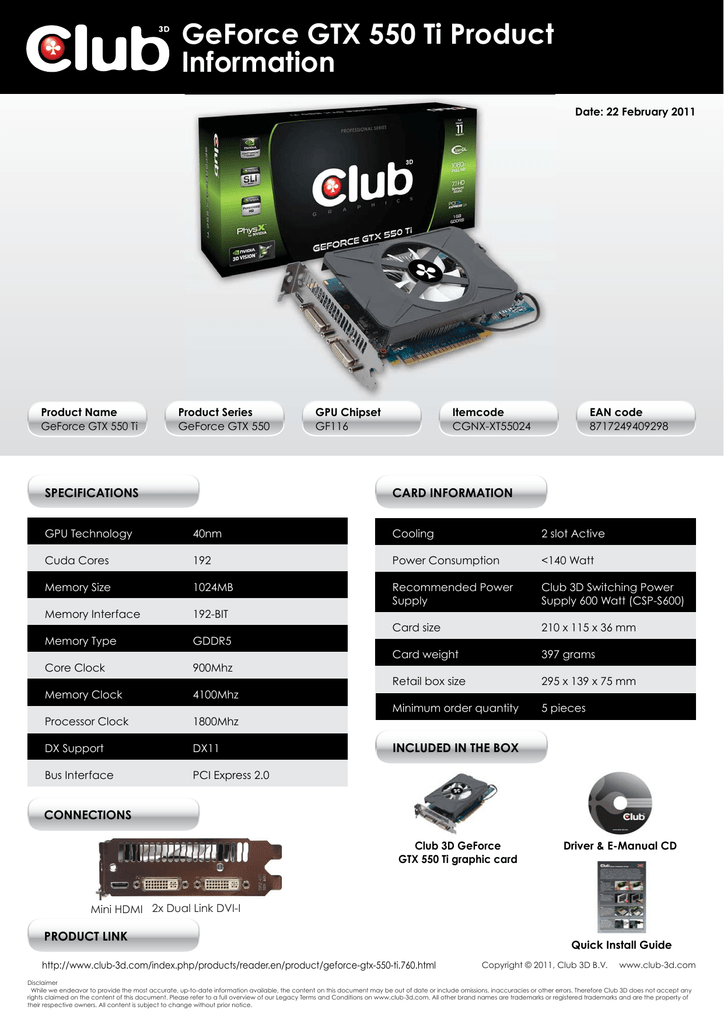 GeForce GTX 550 Ti Product
Information
Date: 22 February 2011
Product Name
GeForce GTX 550 Ti
Product Series
GeForce GTX 550
SPECIFICATIONS
GPU Chipset
GF116
Itemcode
CGNX-XT55024
EAN code
8717249409298
CARD INFORMATION
GPU Technology
40nm
Cooling
2 slot Active
Cuda Cores
192
Power Consumption
<140 Watt
Memory Size
1024MB
Recommended Power
Supply
Club 3D Switching Power
Supply 600 Watt (CSP-S600)
Memory Interface
192-BIT
Card size
210 x 115 x 36 mm
Memory Type
GDDR5
Card weight
397 grams
Core Clock
900Mhz
Retail box size
295 x 139 x 75 mm
Memory Clock
4100Mhz
Minimum order quantity
5 pieces
Processor Clock
1800Mhz
DX Support
DX11
Bus Interface
PCI Express 2.0
INCLUDED IN THE BOX
CONNECTIONS
Club 3D GeForce
GTX 550 Ti graphic card
Driver & E-Manual CD
Mini HDMI 2x Dual Link DVI-I
PRODUCT LINK
http://www.club-3d.com/index.php/products/reader.en/product/geforce-gtx-550-ti.760.html
Quick Install Guide
Copyright © 2011, Club 3D B.V.
www.club-3d.com
Disclaimer
While we endeavor to provide the most accurate, up-to-date information available, the content on this document may be out of date or include omissions, inaccuracies or other errors. Therefore Club 3D does not accept any
rights claimed on the content of this document. Please refer to a full overview of our Legacy Terms and Conditions on www.club-3d.com. All other brand names are trademarks or registered trademarks and are the property of
their respective owners. All content is subject to change without prior notice.

* Your assessment is very important for improving the work of artificial intelligence, which forms the content of this project