Audio(violeta) - cloudfront.net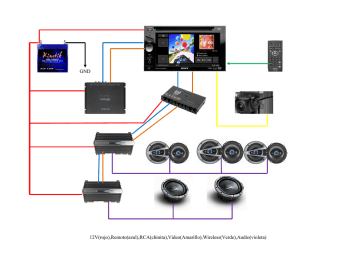 GND
12V(rojo),Remoto(azul),RCA(chinita),Video(Amarillo),Wireless(Verde),Audio(violeta)
Double DIN A/V Center (Model number: XAV-622)
Product Specifications
Capability:CD : DVD/CD-R/RW
Display:Display Technology : TFT (WVGA)Text Displayed : Source, artist, track, playbacktime, menu and clock Aspect Ratio : 17:9
Power:Current Drain : 5 - 7 amps Input Voltage : 12 V DC car battery (negativeground)
Output Power: 52W x4 Watts Max Power -CEA2006 Standard Power Output: 17 WattsRMS per channel into 4 Ohms, 4 channels driven from 20 Hz to 20 kHz with less than
1%THD+N.
Video Features:Color System : NTSC / PAL / SECAM / PAL-M
Amplifier Section:Max power output : 52 watts x 4 at 4 ohms Speaker Impedance : 4-8 Ohms
Convenience:Tilt Range : 0-45° mounting angle
Tuner:FM Usable Sensitivity : 10 dBf
Frequency Response: FM: 20-15,000 Hz
S/N Ratio : 70 dB (mono)
Selectivity : 75 dB at 400 kHz
Stereo Separation : 40 dB at 1 KHz
Weights and Measurements:Dimensions (Approx) Depth : 6.75" (170mm),(Approx) Height : 4" (100mm)
Audio:Band : AM / FM, Digital-to-Analog Converter : 24bit
Equalizer : EQ7: 7 band EQ with +/- 6 dB adjustment at: 63, 160, 400, 1000, 2500, 6300 and 16000 Hz
Format(s) Supported : MP3/WMA/AAC/JPEG/MP4/XviD files
Frequency Response : DVD / CD: 10-20,000Hz
Preout Impedance : 220 ohms
Preout Voltage : 2 volt
S/N Ratio : Audio Power: CEA2006 S/N 80 dBA
Signal-to-Noise Ratio (dB) : DVD/CD Player: 120dB
Station Preset(s): 18 FM / 12 AM
Tuner Frequency Range : FM: Tuner
Frequency Range(MHz): 87.5-107.9
AM: Tuner Frequency Range(kHz): 530-1710
Tuner Type : SSIR-EXA with RDS
Volume Control : Tel/Nav Attenuation Circuitry
Wow and Flutter : Below measurable limit
Convenience Features
CD Text Display: CD/MP3/WMA/AAC data displayed
Dimmer Adjust: Selectable Auto/on/off, Key Illumination: White Key Illumination, On-Screen Clock: 12H
Inputs and Outputs
12V Trigger Output(s): Power antenna
Amplifier turn on Antenna Terminal(s) : AM/FM Antenna InputTerminal
Audio In : Front Aux in with variable level, Front USB input, Sony Bus terminal
Audio/Video Input(s): 1 AUX audio/video input
Rear camera with reverse input trigger
Digital Audio Input(s): -Ability to use all forms of USB devices may vary as not all devices are compatible.
-This unit can be connected to the following iPods. Update your iPod to the latest software before you use it.
-iPod Nano 1st generation*
-iPod Nano 2nd generation (aluminum)
-iPod Nano 3rd generation (video)
-iPod 5th generation (video)*
-iPod Classic
-iPod Touch
-iPhone
-This unit is compliant with MSC (MassStorage Class) and MTP (Media TransferProtocol) type USB devices compliant with theUSB standard.
-This unit cannot recognize USB devices via aUSB hub.
-If you have any questions or problems concerning your unit that are not covered in the owners manual, consult your nearest Sony dealer.
Infrared Port : Wireless remote
RCA Audio Output(s) : Front and Rear/Subselectable RCA pre-amp outputs
Remote Jack : Optional wired remote terminal
USB Port(s) : Front USB - Full Speed
Video:Panel Type : 6.1" TFT Active Matrix LCD Color Monitor, Picture Modes : Normal, Wide, Full and Zoom, Resolution : 800 x 480
Model features:
6.1" Touch Screen Display:High-resolution TFT (WVGA) 6.1" touchscreen display that will inform and entertainyou, making everything easier to control withgesture
command and on-screen touch buttons. Separate audio and video powersupply circuits provide added clarity.
Intuitive Search Features:Use Jump Mode to fast forward through acategory in 10% increments while the ZAPPIN feature can play 6, 15, or 30second intro clips to
help you find a specific song.
Advanced Sound Engine with EQ7:The Advanced Sound Engine uses EQ7equalizer, adjustable LPF/HPF crossovers,Listener Position calibration, Center
SpeakerOrganizer, Rear Bass Enhancer, andDynamic Loudness volume leveler to createan ideal in-car listening environment.
iPod® audio/video playback:Supports audio/video playback on mostiPod®/iPhone® models via RC-202IPV video
USB 1-Wire Connectivity:Connect, charge, and control your Walkmanplayer, most iPod/iPhone devices, orother compatible USB devices via the USB 1-Wire jack on
the front of the unit. You canalso view metadata like song title and artiston the front display.
Plays DVDs/CDs and digital files:Multi-format playback lets you play MP3,WMA, AAC music files, JPEG's or MP4videos.
High-powered Expansion:Whether using the internal 52W x 4 highpower amplifier for your speakers or the 2Volt Front and Rear/Subselectable RCApre-amp outputs to
feed an external amplifier,you can dial in the output for optimum sound.
Radio Data System:Radio Data System (RDS) feature displaysradio broadcast information such as artist and track information when listening to compatible AM/FM
stations.
Front USB and auxiliary inputs:Front auxiliary and USB inputs let youconnect almost any portable audio device to your vehicle's sound system.
SensMe™ App Music Channels:SensMe™ application can organize yourmusic into playlists that perfectly match yourmood, scene and location, making it easier to
choose the music that fits the moment.
Satellite Radio /HD Radio™ Ready:The XAV-622 integrates seamlessly withSatellite Radio and HD Radio™ usingSony Bus adaptors so you can receivedigital satellite
radio or HD Radio broadcasts.
Rear View Camera Compatible:Connect the Sony® XA-800C rear viewcamera (sold separately) for peace of mindwhen backing up, especially with largertrucks or
SUVs.
Kinetik KHC1400 1400W 12 Volt Power Cell
Features
•
AGM Technology
•
Sealed Non-Spillable Design
•
Mount In Any Position
•
Ultra Low ESR
•
More Plates For Stronger Energy Density
•
Higher Voltage Under Load
•
Tightly Packed Cells
•
Superior Heat & Vibration Resistance
•
Weight: 39 lbs.
•
Ah: 60
•
Amps: 1500
•
Dimensions: 9" x 5.3" x 8.1"
Wireless Remote Control (Model number: RM-X170)
Wireless Infared Remote: For Sony AV receivers with RM-X170 wireless remote capability
Replacement battery: Lithium battery CR2025
HD Radio Tuner (Model number: XT-100HD)
•
HD Radio Technology: High-fidelity FM/AM Digital Radio with HDRadio Technology
•
Source Connectivity:Built-in Sony Bus connectivity for externalsources
•
Compatibility:Compatible with most 2005 headunits andlater that are SAT Radio Ready
BLACKMORE 4 BAND PARAMETRIC CAR AUDIO EQUALIZER PREAMPCONTROL FREQUENCYBEQ-960
•
Pre-AMP Control Frequency
•
150hz, 400hz, 2.5khz, 15khz
•
Subwoofer Crossover Frequency 30hz-250hz
•
DC to DC Switching Power Supply
•
Fader Control
•
Subwoofer Level Control
•
Input Selector for Radio or CD With Individual Input Level Control
•
2 Gold Plated RCA for Subwoofer
•
Pre-AMP Output
•
4 Gold Plated RCA for Radio & CD Input
•
4 Gold Plated RCA for Front & Rear Pre-Amp Output
•
Output Voltage 7V RMS THD @ 0.05%
•
110 dB S/N Ratio
•
0-180 Phase Shift Selection Switch
Sony Xplod XM-GTX6040 car amplifier
Product Specification:
General
Product Type Amplifier
Width 15.1 in
Depth 9.9 in
Height 2.2 in
Weight 6.4 lbs
Audio System
Max Output Power / Channel Qty 110 Watts x 4
Continuous Power / Channel Qty 60 Watts x 4
Amplifier Output Details
60 Watt - 4 Ohm - 20 - 20000 Hz - THD 1.0% - 4 channel(s) ¦ 70 Watt - 2
Ohm - 20 - 20000 Hz - THD 1.0% - 4 channel(s)
Response Bandwidth 5 - 50000 Hz
Low Pass Frequencies 80 Hz
High Pass Frequencies 80 Hz
Distortion Factor 0.05%
Amplifier Output 4-channel
Crossover Active crossover
Connections: Connector Type 2 x audio line-in ( RCA phono x 2 ) ¦ Speakers input ¦ Speakers output
Xplōd GTX Series Speakers (Model number: XS-GTX1641)
•
Speaker Type: 6 1/2" 4-Way Speaker
•
Cross-over Type: In-line crossovers
•
Magnet Type: Ferrite / Neodymium magnets
•
Speaker Construction: HOP+Aramid fiber woofer cone, PENmid-range and PEI tweeter
•
Power Handling: 300 Watts Max Power (75 Watts Rated)
Xplod 10" GTR Subwoofer
Product Specifications
•
Power: Power Handling Capacity : 1200 Watts Max,Rated Input : 330 watts
•
Audio Frequency Response : 35 - 1000 Hz, Impedance : 4 Ohms,Sensitivity (db) : 84.5 +/-2dB (1W, 1m)
•
Weights and Measurements:
•
Diameter (Approx.) : 10"
•
Dimensions (Approx) Depth : 5-7/8"
•
Mounting Dimensions (Approx.) : 11" OD,
•
9-1/8" mounting diameter and 5-7/8" mounting depth.
•
Weight (Approx.) : 9 lbs. 5 oz.
•
Speaker Construction: Dimpled lightweight cone to optimize rigidity and increase output with stroke stabilizer rubber surround
Rear View Camera (Model number: XA-R800C)
.
Wide viewing capability:138 degrees horizontal and 92 degreesvertical viewing area.
Convenient Mounting:Flexible mounting options with adjustable tilt,3M camera cable and 5M video cable.
RCA Video output:1/4" color CCD sensorlens with 16:9 aspectNTSC mirror image, 75 ohm output.
See what is behind you as you reverse your car, truck or SUV with this rear view
camera. It's designed for use with compatible Xplōd™ car audio units.
.

* Your assessment is very important for improving the work of artificial intelligence, which forms the content of this project