Toshiba S60 MES-G60 User manual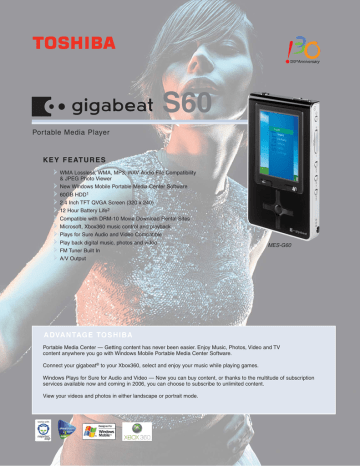 S60
Portable Media Player
K E Y F E AT U R E S
WMA Lossless, WMA, MP3, WAV Audio File Compatibility
& JPEG Photo Viewer
New Windows Mobile Portable Media Center Software
60GB HDD1
2.4 Inch TFT QVGA Screen (320 x 240)
12 Hour Battery Life2
Compatible with DRM-10 Movie Download Rental Sites
Microsoft, Xbox360 music control and playback
Plays for Sure Audio and Video Compatible
Play back digital music, photos and video
MES-G60
FM Tuner Built In
A/V Output
A DVA N TAG E TO S H I BA
Portable Media Center — Getting content has never been easier. Enjoy Music, Photos, Video and TV
content anywhere you go with Windows Mobile Portable Media Center Software.
Connect your gigabeat® to your Xbox360, select and enjoy your music while playing games.
Windows Plays for Sure for Audio and Video — Now you can buy content, or thanks to the multitude of subscription
services available now and coming in 2006, you can choose to subscribe to unlimited content.
View your videos and photos in either landscape or portrait mode.
S P E C I F I C AT I O N S
AUDIO DECODE
SAMPLING FREQUENCY
WMA LOSSLESS,WMA(DRM10),MP3,WAV
8 to 48 kHz (The WMA/MP3 file of the sampling frequency which is not 44.1kHz is changed 44.1kHz for playback.)
BIT RATE
5k to 355k bps(The bit rate changes with audio file formats.)
DRM
WMDRM9 / WMDRM10 (Subscription/Download)
WMA Lossless, WMA:
WMDRM9 / WMDRM10 (Subscription/Download)
MP3
YES
WAV
YES
VIDEO DECODE
WMV
WMV
WMV: WMV V7/V8/V9 Simple Profile- 30FPS, QVGA playback- Bit rate >= 500kb/sec.-Suppotys MSDRM contents"
Photo
JPEG
PMC
Ver 2.0
playsforsure
AUDIO(DOWNLOAD,SUBSCRIPTION)VIDEO(DOWNLOAD,SUBSCRIPTION,RENTAL)
Xbox360 SUPPORT
YES
BATTERY CELL
RECHARGEABLE LI-ION BATTERY 3.7V, 650mAh
CONTINUOUS PLAYBACK TIME (AUDIO and VIDEO)
TBD
FULL-CHARGE TIME
APPROX. 3 HOURS(CHARGING VIA USB OR AC ADAPTER)
BATTERY TYPE
BUILT-IN
STORAGE MEDIA (INTERNAL)
60GB HDD
MAXIMUM RECORDING TIME (AUDIO)(at 128kbps WMA/MP3)
APPROX. 996 HOURS
MAXIMUM RECORDING SONGS (AUDIO)(at 4 Min./song and 128kbps WMA/MP3)"
USED SYSTEM CAPACITY
15,000 SONGS
APPROX. 200MB
COLOR PANEL
2.4inch LOW TEMPERATURE POLYSILICONE TFT
RESOLUTION
QVGA (320x240dots)
COLORS
65,536 COLORS
HEADPHONE / REMOTE / VIDEO out
YES (3.5Φ:L,R,REMOTE/V-OUT)
CRADLE I/O
YES(40PIN I/O)
USB
USB miniAB (USB2.0 HOST/DEVICE)
DC IN
YES (5V/3A MAX.)
FM TUNER
YES
FM FREQUENCY BAND
87.5-108 MHz
NUMBER OF FM STATION / PRESETS
30 STATIONS / PRESETS
AUTO SCAN
YES
MANUAL SCAN
YES (Per. 0.1MHz)
DIGITAL CAMERA BACKUP
YES (MSC & PTP, w/o CRADLE)
Equalizer
YES (7Modes (w/Flat) )
SRS WOW XT
LANGUAGE SUPPORT
3 modes
English, French, German, Japanese, Spanish, Simplified Chinese and Traditional Chinese
POWER VOLTAGE
BATTERY / AC ADAPTAR 3.7V / 5V
DIMENSIONS APPROX.
2.36" x 3.93" x .58"
WEIGHT APPROX.
5.30 oz.
MAX. OUTPUT (AUDIO)
20mW+20mW (16Ω)
FREQUENCY RESPONSE (AUDIO)
20Hz to 20,000Hz
S/N RATIO (AUDIO)
OS
95dB or HIGHER
Windows XP Home Edition, Windows XP Professional, Windows XP Media Center Edition ( Vista )
USB
DC IN
AUDIO LINE OUT
USB miniAB x1 (USB2.0 HOST/DEVICE)
YES(5V/3A MAX.)
YES (3.5Φ:L,R)
USB CABLE
YES(A-miniB)
USB CONVERSION CABLE
YES(miniA-A)
BATTERY
AC ADAPTER
AV CABLE
N/A (NON REMOVABLE TYPE)
YES(MULTI-VOLTAGE)
YES(Φ3.5PIN-RCA PINx3)
HEADPHONE
YES (INNER EAR TYPE for Ottoman)
IMPEDANCE
16 ohms
http://www.tacp.toshiba.com Customer Service: 800.631.3811
Marketing Communications © Toshiba America Consumer Products, L.L.C. 82 Totowa Road, Wayne, NJ
07470 (2006). All Rights Reserved (043/06.04) gigabeat is a registered trademark of Toshiba Corporation.
gigabeat room, Napster To Go and the Napster logo are trademarks of Napster, L.L.C. The Plays for Sure
logo, Windows Media, Windows Mobile and the Windows logo are trademarks or registered trademarks of
Microsoft Corporation in the United States and/or other countries.
Product design and specifications subject to change or modification without notice.
1GB means one billion bytes when referring to hard drive storage capacity.
2 Battery life and number of charge cycles will vary depending on use and settings. Rechargeable battery has a limited service life and may eventually need to be replaced.
*Copy/download time depends on the PC's processor speed, number of tracks being copied from the CD, length of each track and transfer rate. Some CDs may take longer to
transfer, some slightly less.

* Your assessment is very important for improving the workof artificial intelligence, which forms the content of this project