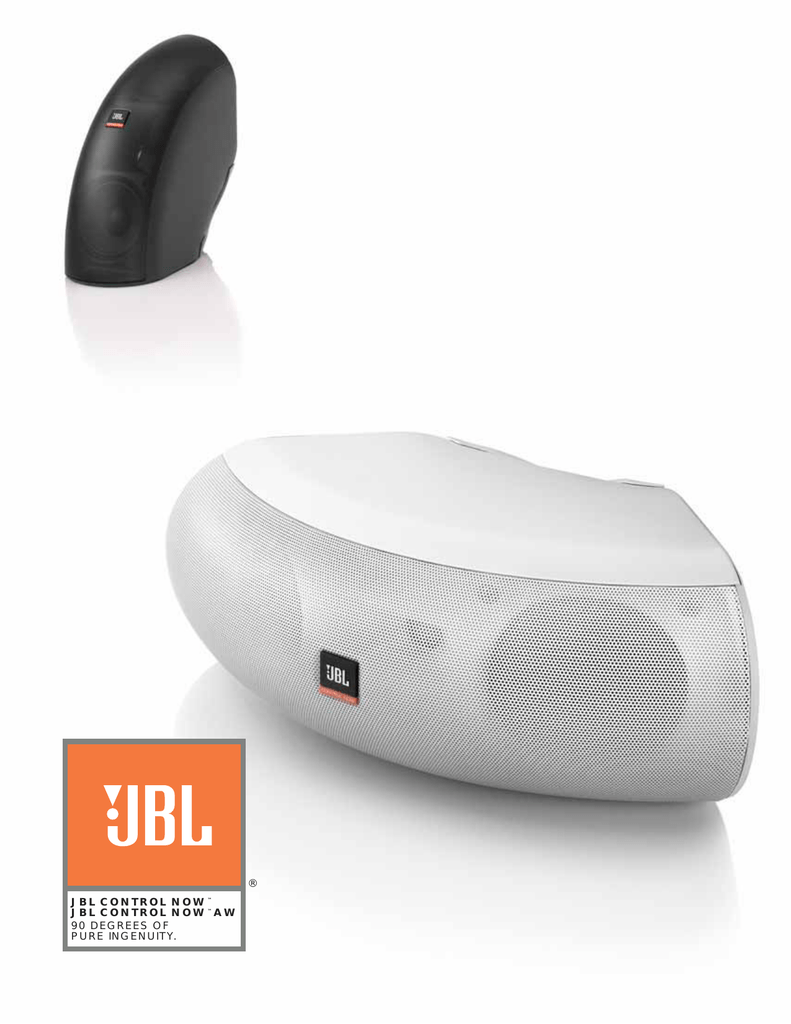 ®
JBL CONTROL NOW
JBL CONTROL NOW™ AW
90 DEGREES OF
PURE INGENUITY.
™
IN A CORNER,
ON A BOOKSHELF,
placed either horizontally or vertically.
between walls, or between a
wall and ceiling.
SOMEONE WAS PAYING ATTENTION IN
GEOMETRY CLASS. LOUD, CLEAR, STUNNINGLY
®
REALISTIC audio reproduction for public spaces and private homes has been the JBL
stock-in-trade for more than 60 years. But in all those years, not even we have ever come up
with anything remotely like the JBL Control NOW speakers. Advanced JBL technologies have
been seamlessly engineered into a unique arced enclosure that makes these speakers perhaps
the most flexible ever developed. Individually, or in a circular or semicircular array of up to four
speakers, there's virtually no place where JBL Control NOW speakers cannot go, and there are
more than a few places where only they can fit. JBL innovation has never been a surprise to
audio professionals and critical listeners. But we're guessing that pretty much no one saw this
speaker coming.
™
ON A WALL,
AS A FOUR-SPEAKER
HORIZONTAL ARRAY,
horizontally, vertically or in a
two-speaker array.
using the optional pole-mount kit.
ON A FLOOR STAND
MOUNTING OPTIONS? The possibilities for mounting single JBL Control NOW
speakers and multispeaker arrays are literally too numerous to list. But just to get you thinking
in the right direction, here are a few options.
360 DEGREES OF LEGENDARY JBL SOUND. Single speakers
may be mounted horizontally or vertically on walls, and in corners between walls or between
walls and ceilings. They can sit horizontally or vertically on a shelf or tabletop. Arrays of two,
three and four JBL Control NOW speakers can be mounted virtually anywhere in any environment – on walls, on ceiling poles, even spanning reverse corners – and can be configured for
either single-channel or single-point stereo use. With included floor stand adapters, they can
work with a multitude of third-party stands. And everything a JBL Control NOW speaker can do,
JBL Control NOW AW speakers can do outdoors.†
Use them in traditional stereo setups, home theaters or whole-house music or background
systems. They deliver evenly distributed sound with minimal distortion at any volume level,
in any listening environment, indoors or out. Media rooms, rec rooms, kitchens, decks,
pool houses, patios – anywhere you want great sound and need installation flexibility –
JBL Control NOW speakers are the high-style, high-performance solution.
SPL vs. ANGLE
Polar plot of SPL vs. angle for a horizontal array of four
Control NOW loudspeakers: Tweeter axes correspond to
45, 135, 225 and 315 degrees. Measurements show
uniformity of coverage across the entire frequency range,
which is due to placement of transducers and high-frequency
directivity control provided by the Bi-Radial horn.
®
All-weather JBL Control NOW AW speaker available
in white.
SPECIFICATIONS
Maximum recommended
amplifier power*:
150W
Power handling:
50W Continuous/300W peak
Frequency response:
80Hz – 30kHz (–6dB)
Nominal impedance:
8 Ohms
Sensitivity:
90dB @ 1 Watt/1 meter
Crossover point:
2kHz
Crossover slope:
18dB/Octave (LF Driver);
36dB/Octave (HF Driver)
LF drivers:
Dual 4" (200mm)
PolyPlas™, shielded
HF driver:
3/4" (19mm) Titanium
laminate, shielded
14-5/16" (364mm)
10-3/8" (262mm)
* The maximum recommended amplifier power rating will ensure
proper system headroom to allow for occasional peaks. We do not
recommend sustained operation at these maximum power levels.
9-7/8" (251mm)
† Please note that while the JBL Control NOW AW is an all-weather
outdoor speaker, it is not waterproof. It should be sheltered from
direct exposure to ice, snow and sustained moisture.
Features, specifications and appearance are subject to change
without notice.
5" (127mm)
PRO SOUND
COMES HOME
™
Harman Consumer Group, Inc.
250 Crossways Park Drive, Woodbury, NY 11797
8500 Balboa Boulevard, Northridge, CA 91329
516.255.4JBL (4525) www.jbl.com
© 2008 Harman International Industries, Incorporated.
All rights reserved.
Part No. CNLIT3/08 Printed in USA
JBL and Bi-Radial are trademarks of Harman International Industries, Incorporated, registered in the United States and/or other countries.
JBL Control Now, PolyPlas and Pro Sound Comes Home are trademarks of Harman International Industries, Incorporated.
Designed, edited and digitally produced by the Harman Consumer Group Marketing & Design Center, Woodbury, NY USA.