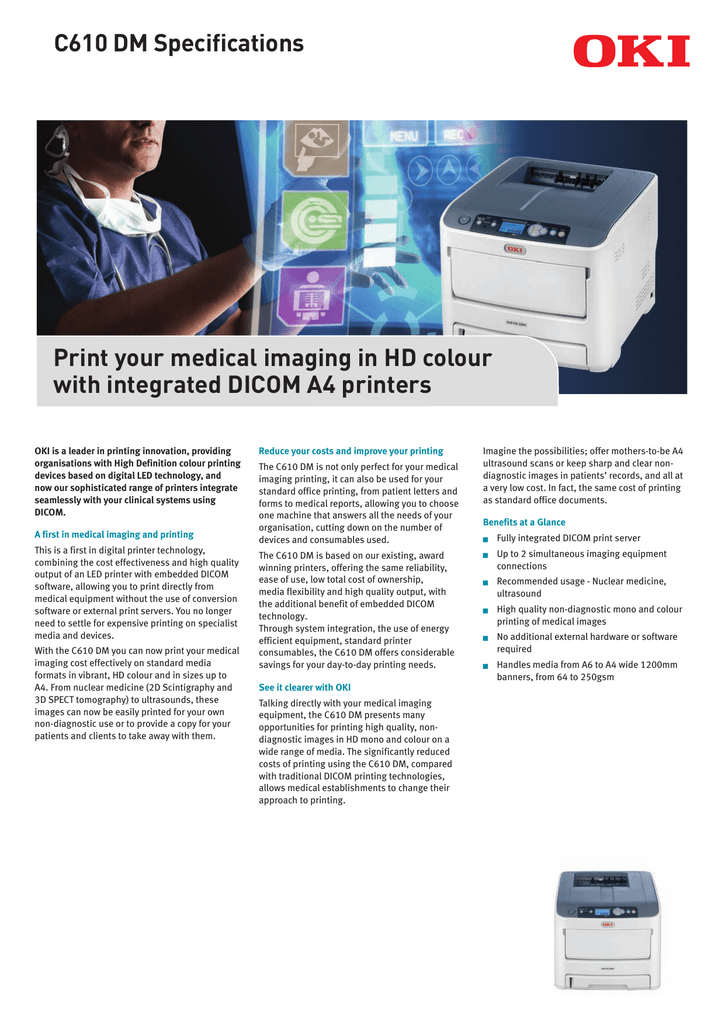 C610 DM Specifications
Print your medical imaging in HD colour
with integrated DICOM A4 printers
OKI is a leader in printing innovation, providing
organisations with High Definition colour printing
devices based on digital LED technology, and
now our sophisticated range of printers integrate
seamlessly with your clinical systems using
DICOM.
A first in medical imaging and printing
This is a first in digital printer technology,
combining the cost effectiveness and high quality
output of an LED printer with embedded DICOM
software, allowing you to print directly from
medical equipment without the use of conversion
software or external print servers. You no longer
need to settle for expensive printing on specialist
media and devices.
With the C610 DM you can now print your medical
imaging cost effectively on standard media
formats in vibrant, HD colour and in sizes up to
A4. From nuclear medicine (2D Scintigraphy and
3D SPECT tomography) to ultrasounds, these
images can now be easily printed for your own
non-diagnostic use or to provide a copy for your
patients and clients to take away with them.
Reduce your costs and improve your printing
The C610 DM is not only perfect for your medical
imaging printing, it can also be used for your
standard office printing, from patient letters and
forms to medical reports, allowing you to choose
one machine that answers all the needs of your
organisation, cutting down on the number of
devices and consumables used.
The C610 DM is based on our existing, award
winning printers, offering the same reliability,
ease of use, low total cost of ownership,
media flexibility and high quality output, with
the additional benefit of embedded DICOM
technology.
Through system integration, the use of energy
efficient equipment, standard printer
consumables, the C610 DM offers considerable
savings for your day-to-day printing needs.
Imagine the possibilities; offer mothers-to-be A4
ultrasound scans or keep sharp and clear nondiagnostic images in patients' records, and all at
a very low cost. In fact, the same cost of printing
as standard office documents.
Benefits at a Glance
g
Fully integrated DICOM print server
g
Up to 2 simultaneous imaging equipment
connections
g
Recommended usage - Nuclear medicine,
ultrasound
g
High quality non-diagnostic mono and colour
printing of medical images
g
No additional external hardware or software
required
g
Handles media from A6 to A4 wide 1200mm
banners, from 64 to 250gsm
See it clearer with OKI
Talking directly with your medical imaging
equipment, the C610 DM presents many
opportunities for printing high quality, nondiagnostic images in HD mono and colour on a
wide range of media. The significantly reduced
costs of printing using the C610 DM, compared
with traditional DICOM printing technologies,
allows medical establishments to change their
approach to printing.
C610 DM - Colour and Mono Printer
Printer
Typefaces
Print speed A4: 34ppm colour, 36ppm mono
Printer fonts
Time to first print 9 seconds colour, 8 seconds mono
Warm up time
Barcode Barcode with Checksum support
up to 60 seconds from power on & up to 35 seconds
from power save
Processor speed 533MHz
Scalable: 87 PCL fonts and 136 PostScript fonts; PCL Bitmap
fonts. OCR-A/B; USPS ZIP Barcode
General Features
Memory Standard RAM: 768MB
Print Quality
Operating temperature/humidity: 10°C to 32°C (17°C to
27°C recommended) / 20% to 80% RH (50% to 70% RH
Environment recommended)
Resolution ProQ2400 Multi-level technology, 1200 x 600dpi, 600 x 600dpi
Enhancements
Auto Colour Balance, Photo Enhance via driver (excludes Mac
and PostScript drivers)
Storage temperature/humidity: -10°C to 43°C, 10% to 90% RH
Power supply Single phase 220-240VAC, frequency 50/60Hz +/-2%
Interface and Software
Connectivity Hi-Speed USB, 10/100-TX Ethernet
DICOM server
Printer languages
Print SCP 3.0, 2 simultaneous printing connections, Unlimited
number of AE Title providing their own parameter set,
Recommended usage for ultrasound and nuclear medicine, A4
paper format
Noise level
Windows 2000 / XP Home / XP Professional (32-bit & 64-bit)
/ Server 2003 (32-bit & 64-bit) / Server 2008 (32-bit & 64-bit)
/ Vista (32-bit & 64-bit) / 7 (32-bit & 64-bit); Mac OS X 10.3.9
- 10.7
Weight3 26kg
Warranty 1 year
Product order number C610 DM: 45079301
Accessories (Order Numbers)
2nd paper tray 44274502
3rd paper tray 44274502
Duplex 01272601
Cabinet 01219302
Consumables (Order Numbers)
Toner cartridges*
Cyan: 44315307; Magenta: 44315306; Yellow: 44315305
(6,000 pages)
Toner cartridges*
Black: 44315308
(8,000 pages)
Color Correct, OKI LPR2, PrintSuperVision.net2, Swatch Utility,
Template Manager2, Web Driver Installer2, Print Control Server2,
Print Control Client, Storage Device Manager2, Gamma Utility,
Profile Assistant, Colour Access Policy Manger2
Image drum** Cyan: 44315107; Magenta: 44315106; Yellow: 44315105;
(20,000 pages) Black: 44315108
Transfer Belt
44341902
(60,000 pages)
Paper Handling
Paper capacity
Fuser Unit
44289103
(60,000 pages)
Tray 1: 300 sheets of 80gsm; Multi-purpose tray: 100 sheets
of 80gsm
Paper capacity
Tray 2: 530 sheets of 80gsm; Tray 3: 530 sheets of 80gsm
optional trays
Operating: 54dB(A); Standby: 37dB(A);
Power save: Background Level
Duty cycle Recommended usage: up to 600 pages/month for DICOM printing
IPv6, 802.1x authentication, SNMPv3, SSL/TLS HTTPS
Advanced networking
encrpytion, Secure Print, Secure Erase, Data encrpytion, MAC
and security
filtering, IP filtering, IPSec
Utility Suite1
Typical: 600W; Max: 1300W; Idle: 100W; Power Save: <15W;
Sleep: 1.2W
Dimensions (HxWxD) 340 x 435 x 546mm
PCL 6 (XL3.0) and PCL5c, PostScript 3 (emulation), SIDM
(IBM-PPR, EPSON-FX), PDF Direct Print v1.7, XPS
All major network protocols supported via ethernet card with
internal web server for printer and network card set-up and
management. TCP/IP: ARP, IPv4/v6, ICMPv4/v6, TCP, UDP,
LPR, FTP, TELNET, HTTP(IPP), BOOTP, DHCP, SNMPv1/v3, DNS,
DDNS, UPnP, Bonjour, WINS, SSL/TLS, SMTP, POP3, SNTP,
Network & protocols
WSDPrint, JetDirect protocols. NetBIOSoverTCP, NetWare
3.x, 4.x, 5.x and 6 with full NDS and NDPS support:- PServer,
RPrinter, NDPS supported via dedicated OKI NDPS Gateway.
AppleTalk:- ELAP, AARP, DDP, AEP, NBP, ZIP, RTMP, ATP, PAP.
NetBEUI:- SMB, NetBIOS. Other: EAP, DICOM Print 3.0
OS Compatibility1
Power consumption
*Toner: A4 pages yield compliant with ISO/IEC 19798. Printer shipped with 2,000 A4 pages.
**Drum: A4 pages average life.
Maximum paper capacity 1,460 sheets of 80gsm
Tray 1: A4, A5, B5, A6; Tray 2/3: A4, A5, B5; Multi-purpose
tray: A4, A5, B5, A6, 10 Envelopes (Com-9, Com-10, DL,
Paper sizes Monarch, C5), Labels (Avery 7162, 7664, 7666), Custom Size:
up to 1,200mm length banners; Duplex: A4, A5, B5, Custom
Size: Width 148-215.9mm x Length 210-355.6mm
Paper weight
Tray 1/2/3: 64 to 220gsm; Multi-purpose tray: 64 to 250gsm;
Duplex: 64 to 120gsm
Duplex Optional
Paper output 250 sheets face down, 100 sheets face up, 80gsm
1
Check local OKI website for latest driver releases and OS compatibility; 2 Windows only; 3 Including all consumables
Consumables Information: For the protection of your printer, and in order to ensure that you benefit from its full functionality, this model has been designed to operate only
with genuine OKI toner cartridges. These can be identified by the OKI trademark. Any other toner cartridge may not operate at all, even if it is described as "compatible",
and if it does work, your printer's performance and print quality may be degraded.
Oki Systems (Polska) Sp. z o.o.
Domaniewska str. 42
02-672 Warsaw
Tel.: +48 (22) 448 65 00
Fax: +48 (22) 448 65 01
www.oki.pl
©2012 Oki Europe Ltd. Oki Europe Ltd. is part of the OKI Electric group of companies. Version 1.0 10/2012.
Specification subject to change without notice. All trademarks acknowledged.