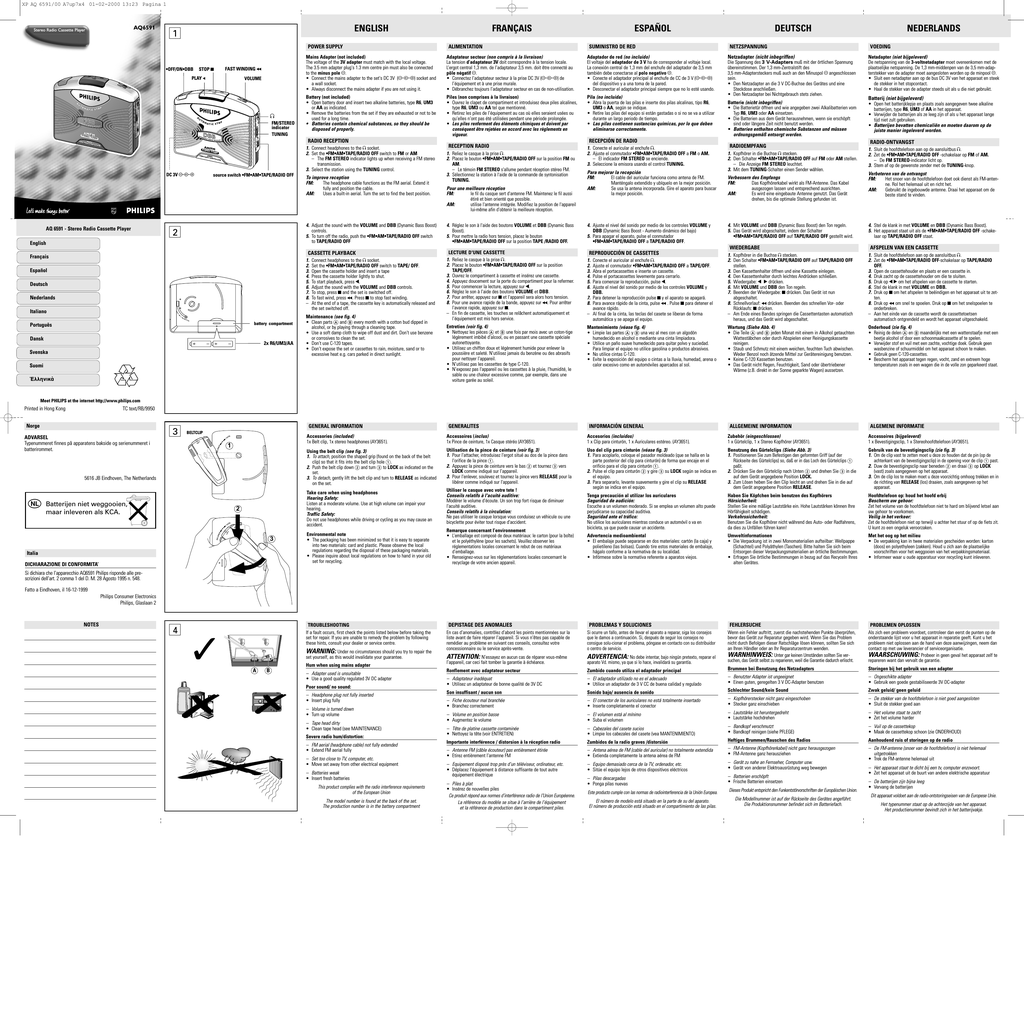 XP AQ 6591/00 A7up7x4 01-02-2000 13:23 Pagina 1
AQ6591
Stereo Radio Cassette Player
ENGLISH
1
POWER SUPPLY
•OFF/ON•DBB
FAST WINDING 5
STOP 9
PLAY (
VO
LU
VOLUME
M
E
VO
M
E
p
160
160
108
108 MHz
MHz
TAPE
RADIO
OFF
104
104
120
120
TUNING
AM
10
10 x
x kHz
kHz
FM
FM/STEREO
indicator
TUNING
FM STEREO
160
160
108
108 MHz
MHz
FM
FM 88
88 92
92 96
96 100
100
70
90
AM
53
70
90
AM 53
104
104
120
120
TUNING
FM STEREO
FM
FM 88
88 92
92 96
96 100
100
70
90
AM
53
70
90
AM 53
AM/F
M
STER
EO TU
NER
LU
AQ 6591 - Stereo Radio Cassette Player
source switch •FM•AM•TAPE/RADIO OFF
Adaptador de red (no incluido)
El voltaje del adaptador de 3 V ha de corresponder al voltaje local.
La conexión central de 1,3 mm del enchufe del adaptador de 3,5 mm
también debe conectarse al polo negativo -.
• Conecte el adaptador principal al enchufe de CC de 3 V (->+)
del dispositivo y a una toma de la pared.
• Desconectar el adaptador principal siempre que no lo esté usando.
Battery (not included)
• Open battery door and insert two alkaline batteries, type R6, UM3
or AA as indicated.
• Remove the batteries from the set if they are exhausted or not to be
used for a long time.
• Batteries contain chemical substances, so they should be
disposed of properly.
Piles (non comprises à la livraison)
• Ouvrez le clapet de compartiment et introduisez deux piles alcalines,
type R6, UM3 ou AA tel que mentionné.
• Retirez les piles de l'équipement au cas où elles seraient usées ou
qu'elles n'ont pas été utilisées pendant une période prolongée.
• Les piles renferment des éléments chimiques et doivent par
conséquent être rejetées en accord avec les règlements en
vigueur.
Pila (no incluida)
• Abra la puerta de las pilas e inserte dos pilas alcalinas, tipo R6,
UM3 o AA, según se indique.
• Retire las pilas del equipo si están gastadas o si no se va a utilizar
durante un largo periodo de tiempo.
• Las pilas contienen sustancias químicas, por lo que deben
eliminarse correctamente.
To improve reception
FM:
The headphone cable functions as the FM aerial. Extend it
fully and position the cable.
AM:
Uses a built-in aerial. Turn the set to find the best position.
4. Adjust the sound with the VOLUME and DBB (Dynamic Bass Boost)
controls.
5. To turn off the radio, push the •FM•AM•TAPE/RADIO OFF switch
to TAPE/RADIO OFF
2
English
CASSETTE PLAYBACK
Français
1.
2.
3.
4.
5.
6.
7.
8.
–
Español
Deutsch
Nederlands
CK
LO
Italiano
R EL
EA
SE
battery compartment
Português
Dansk
2x R6/UM3/AA
Svenska
SUMINISTRO DE RED
Adaptateur secteur (non compris à la livraison)
La tension d'adaptateur 3V doit correspondre à la tension locale.
L'ergot central 1,3 mm. de l'adaptateur 3,5 mm. doit être connecté au
pôle négatif -.
• Connectez l'adaptateur secteur à la prise DC 3V (->+) de
l'équipement et à une prise murale.
• Débranchez toujours l'adaptateur secteur en cas de non-utilisation.
RADIO RECEPTION
STERE
O RA AQ6591
DIO CA
SSETT
E PLA
YER
DC 3V ->+
ALIMENTATION
ESPAÑOL
Mains Adapter (not included)
The voltage of the 3V adapter must match with the local voltage.
The 3.5 mm adapter plug's 1.3 mm centre pin must also be connected
to the minus pole -.
• Connect the mains adapter to the set's DC 3V (->+) socket and
a wall socket.
• Always disconnect the mains adapter if you are not using it.
1. Connect headphones to the p socket.
2. Set the •FM•AM•TAPE/RADIO OFF switch to FM or AM
– The FM STEREO indicator lights up when receiving a FM stereo
transmission.
3. Select the station using the TUNING control.
TAPE
RADIO
OFF
M
AM
10
10 x
x kHz
kHz
AM/F
STER
EO TU
NER
FM
STERE
O RA AQ6591
DIO CA
SSETT
E PLA
YER
FRANÇAIS
Connect headphones to the p socket.
Set the •FM•AM•TAPE/RADIO OFF switch to TAPE/ OFF.
Open the cassette holder and insert a tape
Press the cassette holder lightly to shut.
To start playback, press 1.
Adjust the sound with the VOLUME and DBB controls.
To stop, press 9 and the set is switched off.
To fast wind, press 5. Press 9 to stop fast winding.
At the end of a tape, the cassette key is automatically released and
the set switched off.
Maintenance (see fig. 4)
• Clean parts A and B every month with a cotton bud dipped in
alcohol, or by playing through a cleaning tape.
• Use a soft damp cloth to wipe off dust and dirt. Don't use benzene
or corrosives to clean the set.
• Don't use C-120 tapes.
• Don't expose the set or cassettes to rain, moisture, sand or to
excessive heat e.g. cars parked in direct sunlight.
Suomi
Έλληνικά
DEUTSCH
NETZSPANNUNG
Netzadapter (nicht inbegriffen)
Die Spannung des 3 V-Adapters muß mit der örtlichen Spannung
übereinstimmen. Der 1,3 mm-Zentralstift des
3,5 mm-Adaptersteckers muß auch an den Minuspol - angeschlossen
sein.
• Den Netzadapter an die 3 V DC-Buchse des Gerätes und eine
Steckdose anschließen.
• Den Netzadapter bei Nichtgebrauch stets ziehen.
Batterie (nicht inbegriffen)
• Die Batterietür öffnen und wie angegeben zwei Alkalibatterien vom
Typ R6, UM3 oder AA einsetzen.
• Die Batterien aus dem Gerät herausnehmen, wenn sie erschöpft
sind oder längere Zeit nicht benutzt werden.
• Batterien enthalten chemische Substanzen und müssen
ordnungsgemäß entsorgt werden.
RECEPCIÓN DE RADIO
RECEPTION RADIO
1. Reliez le casque à la prise p.
2. Placez le bouton •FM•AM•TAPE/RADIO OFF sur la position FM ou
AM.
– Le témoin FM STEREO s'allume pendant réception stéreo FM.
3. Sélectionnez la station à l'aide de la commande de syntonisation
TUNING.
Pour une meilleure réception
FM:
le fil du casque sert d'antenne FM. Maintenez le fil aussi
étiré et bien orienté que possible.
AM:
utilise l'antenne intégrée. Modifiez la position de l'appareil
lui-même afin d'obtenir la meilleure réception.
4. Réglez le son à l'aide des boutons VOLUME et DBB (Dynamic Bass
Boost).
5. Pour mettre la radio hors tension, placez le bouton
•FM•AM•TAPE/RADIO OFF sur la position TAPE /RADIO OFF.
LECTURE D'UNE CASSETTE
1. Reliez le casque à la prise p.
2. Placez le bouton •FM•AM•TAPE/RADIO OFF sur la position
TAPE/OFF.
3. Ouvrez le compartiment à cassette et insérez une cassette.
4. Appuyez doucement sur la porte du compartiment pour la refermer.
5. Pour commencer la lecture, appuyez sur 1.
6. Réglez le son à l'aide des boutons VOLUME et DBB.
7. Pour arrêter, appuyez sur 9 et l'appareil sera alors hors tension.
8. Pour une avance rapide de la bande, appuyez sur 5. Pour arrêter
l'avance rapide, appuyez sur 9.
– En fin de cassette, les touches se relâchent automatiquement et
l'équipement est mis hors service.
Entretien (voir fig. 4)
• Nettoyez les pièces A et B une fois par mois avec un coton-tige
légèrement imbibé d'alcool, ou en passant une cassette spéciale
autonettoyante.
• Utilisez un chiffon doux et légèrement humide pour enlever la
poussière et saleté. N'utilisez jamais du benzène ou des abrasifs
pour nettoyer l'appareil.
• N'utilisez pas les cassettes de type C-120.
• N'exposez pas l'appareil ou les cassettes à la pluie, l'humidité, le
sable ou une chaleur excessive comme, par exemple, dans une
voiture garée au soleil.
1. Conecte el auricular al enchufe p.
2. Ajuste el conmutador •FM•AM•TAPE/RADIO OFF a FM o AM.
– El indicador FM STEREO se enciende.
3. Seleccione la emisora usando el control TUNING.
Para mejorar la recepción
FM:
El cable del auricular funciona como antena de FM.
Manténgalo extendido y ubíquelo en la mejor posición.
AM:
Se usa la antena incorporada. Gire el aparato para buscar
la mejor posición.
4. Ajuste el nivel del sonido por medio de los controles VOLUME y
DBB (Dynamic Bass Boost - Aumento dinámico del bajo)
5. Para apagar el aparato, pulse el conmutador
•FM•AM•TAPE/RADIO OFF a TAPE/RADIO OFF.
RADIOEMPFANG
1. Kopfhörer in die Buchse p stecken.
2. Den Schalter •FM•AM•TAPE/RADIO OFF auf FM oder AM stellen.
– Die Anzeige FM STEREO leuchtet.
3. Mit dem TUNING-Schalter einen Sender wählen.
Verbessern des Empfangs
FM:
Das Kopfhörerkabel wirkt als FM-Antenne. Das Kabel
ausgezogen lassen und entsprechend ausrichten.
AM:
Es wird eine eingebaute Antenne genutzt. Das Gerät
drehen, bis die optimale Stellung gefunden ist.
4. Mit VOLUME und DBB (Dynamic Bass Boost) den Ton regeln.
5. Das Gerät wird abgeschaltet, indem der Schalter
•FM•AM•TAPE/RADIO OFF auf TAPE/RADIO OFF gestellt wird.
WIEDERGABE
REPRODUCCIÓN DE CASSETTES
Conecte el auricular al enchufe p.
Ajuste el conmutador •FM•AM•TAPE/RADIO OFF a TAPE/OFF.
Abra el portacassettes e inserte un cassette.
Pulse el portacassettes levemente para cerrarlo.
Para comenzar la reproducción, pulse 1.
Ajuste el nivel del sonido por medio de los controles VOLUME y
DBB.
7. Para detener la reproducción pulse 9 y el aparato se apagará.
8. Para avance rápido de la cinta, pulse 5 . Pulse 9 para detener el
avance rápido.
– Al final de la cinta, las teclas del casete se liberan de forma
automática y se apaga el equipo.
1.
2.
3.
4.
5.
6.
Mantenimiento (véase fig. 4)
• Limpie las partes A y B una vez al mes con un algodón
humedecido en alcohol o mediante una cinta limpiadora.
• Utilice un paño suave humedecido para quitar polvo y suciedad.
Para limpiar el equipo no utilice gasolina o productos abrasivos.
• No utilice cintas C-120.
• Evite la exposición del equipo o cintas a la lluvia, humedad, arena o
calor excesivo como en automóviles aparcados al sol.
NEDERLANDS
VOEDING
Netadapter (niet bijgeleverd)
De netspanning van de 3-voltnetadapter moet overeenkomen met de
plaatselijke netspanning. De 1,3 mm-middenpen van de 3,5 mm-adapterstekker van de adapter moet aangesloten worden op de minpool -.
• Sluit een netadapter aan op de bus DC 3V van het apparaat en steek
de stekker in het stopcontact.
• Haal de stekker van de adapter steeds uit als u die niet gebruikt.
Batterij (niet bijgeleverd)
• Open het batterijklepje en plaats zoals aangegeven twee alkaline
batterijen, type R6, UM3 of AA in het apparaat.
• Verwijder de batterijen als ze leeg zijn of als u het apparaat lange
tijd niet zult gebruiken.
• Batterijen bevatten chemicaliën en moeten daarom op de
juiste manier ingeleverd worden.
RADIO-ONTVANGST
1. Sluit de hoofdtelefoon aan op de aansluitbus p.
2. Zet de •FM•AM•TAPE/RADIO OFF -schakelaar op FM of AM.
– De FM STEREO-indicator licht op.
3. Stem af op de gewenste zender met de TUNING-knop.
Verbeteren van de ontvangst
FM:
Het snoer van de hoofdtelefoon doet ook dienst als FM-antenne. Rol het helemaal uit en richt het.
AM:
Gebruikt de ingebouwde antenne. Draai het apparaat om de
beste stand te vinden.
4. Stel de klank in met VOLUME en DBB (Dynamic Bass Boost).
5. Het apparaat staat uit als de •FM•AM•TAPE/RADIO OFF -schakelaar op TAPE/RADIO OFF staat.
AFSPELEN VAN EEN CASSETTE
1. Kopfhörer in die Buchse p stecken.
2. Den Schalter •FM•AM•TAPE/RADIO OFF auf TAPE/RADIO OFF
stellen.
3. Den Kassettenhalter öffnen und eine Kassette einlegen.
4. Den Kassettenhalter durch leichtes Andrücken schließen.
5. Wiedergabe: 1 2 drücken.
6. Mit VOLUME und DBB den Ton regeln.
7. Beenden der Wiedergabe: 9 drücken. Das Gerät ist nun
abgeschaltet.
8. Schnellvorlauf: 5 drücken. Beenden des schnellen Vor- oder
Rücklaufs: 9 drücken.
– Am Ende eines Bandes springen die Cassettentasten automatisch
heraus, und das Gerät wird abgeschaltet.
1. Sluit de hoofdtelefoon aan op de aansluitbus p.
2. Zet de •FM•AM•TAPE/RADIO OFF-schakelaar op TAPE/RADIO
OFF.
3. Open de cassettehouder en plaats er een cassette in.
4. Druk zacht op de cassettehouder om die te sluiten.
5. Druk op 1 2 om het afspelen van de cassette te starten.
6. Stel de klank in met VOLUME en DBB.
7. Druk op 9 om het afspelen te beëindigen en het apparaat uit te zetten.
8. Druk op 5 om snel te spoelen. Druk op 9 om het snelspoelen te
onderbreken.
– Aan het einde van de cassette wordt de cassettetoetsen
automatisch ontgrendeld en wordt het apparaat uitgeschakeld.
Wartung (Siehe Abb. 4)
• Die Teile A und B jeden Monat mit einem in Alkohol getauchten
Wattestäbchen oder durch Abspielen einer Reinigungskassette
reinigen.
• Staub und Schmutz mit einem weichen, feuchten Tuch abwischen.
Weder Benzol noch ätzende Mittel zur Gerätereinigung benutzen.
• Keine C-120 Kassetten benutzen.
• Das Gerät nicht Regen, Feuchtigkeit, Sand oder übertriebener
Wärme (z.B. direkt in der Sonne geparkte Wagen) aussetzen.
Onderhoud (zie fig. 4)
• Reinig de delen A en B maandelijks met een wattenstaafje met een
beetje alcohol of door een schoonmaakcassette af te spelen.
• Verwijder stof en vuil met een zachte, vochtige doek. Gebruik geen
wasbenzine of schuurmiddel om het apparaat schoon te maken.
• Gebruik geen C-120-cassettes.
• Bescherm het apparaat tegen regen, vocht, zand en extreem hoge
temperaturen zoals in een wagen die in de volle zon geparkeerd staat.
Meet PHILIPS at the internet http://www.philips.com
TC text/RB/9950
Norge
ADVARSEL
Typenummeret finnes på apparatens bakside og serienummeret i
batterirommet.
3
GENERAL INFORMATION
BELTCLIP
CK
LO
T
LIF
RELE
AS
E
Printed in Hong Kong
1
5616 JB Eindhoven, The Netherlands
ñ
2x
R6/UM3/AA-cells
Batterijen niet weggooien,
maar inleveren als KCA.
T
LIF
RELE
AS
E
CK
LO
3
Italia
DICHIARAZIONE DI CONFORMITA'
INFORMACIÓN GENERAL
ALLGEMEINE INFORMATION
ALGEMENE INFORMATIE
Accessories (included)
1x Belt clip, 1x stereo headphones (AY3651).
Accessoires (inclus)
1x Pince de ceinture, 1x Casque stéréo (AY3651).
Accesorios (incluidos)
1 x Clip para cinturón, 1 x Auriculares estéreo. (AY3651).
Zubehör (eingeschlossen)
1 x Gürtelclip, 1 x Stereo Kopfhörer (AY3651).
Accessoires (bijgeleverd)
1 x Bevestigingsclip, 1 x Stereohoofdtelefoon (AY3651).
Using the belt clip (see fig. 3)
1. To attach, position the shaped grip (found on the back of the belt
clip) so that it fits into the belt clip hole 1.
2. Push the belt clip down 2 and turn 3 to LOCK as indicated on the
set.
3. To detach, gently lift the belt clip and turn to RELEASE as indicated
on the set.
Utilisation de la pince de ceinture (voir fig. 3)
1. Pour l'attacher, introduisez l'ergot situé au dos de la pince dans
l'orifice de la pince 1.
2. Appuyez la pince de ceinture vers le bas 2 et tournez 3 vers
LOCK comme indiqué sur l'appareil.
3. Pour l'enlever, soulevez et tournez la pince vers RELEASE pour la
libérer comme indiqué sur l'appareil.
Uso del clip para cinturón (véase fig. 3)
1. Para acoplarlo, coloque el pasador moldeado (que se halla en la
parte posterior del clip para cinturón) de forma que encaje en el
orificio para el clip para cinturón 1.
2. Pulse el clip para cinturón 2 y gire 3 su LOCK según se indica en
el equipo.
3. Para separarlo, levante suavemente y gire el clip su RELEASE
según se indica en el equipo.
Benutzung des Gürtelclips (Siehe Abb. 3)
1. Positionieren Sie zum Befestigen den geformten Griff (auf der
Rückseite des Gürtelclips) so, daß er in das Loch des Gürtelclips 1
paßt.
2. Drücken Sie den Gürtelclip nach Unten 2 und drehen Sie 3 in die
auf dem Gerät angegebene Position LOCK.
3. Zum Lösen heben Sie den Clip leicht an und drehen Sie in die auf
dem Gerät angegebene Position RELEASE.
Gebruik van de bevestigingsclip (zie fig. 3)
1. Om de clip vast te zetten moet u deze zo houden dat de pin (op de
achterkant van de bevestigingsclip) in de opening voor de clip 1 past.
2. Duw de bevestigingsclip naar beneden 2 en draai 3 op LOCK
(vast) zoals aangegeven op het apparaat.
3. Om de clip los te maken moet u deze voorzichtig omhoog trekken en in
de richting van RELEASE (los) draaien, zoals aangegeven op het
apparaat.
Tenga precaución al utilizar los auriculares
Seguridad de audición:
Escuche a un volumen moderado. Si se emplea un volumen alto puede
perjudicarse su capacidad auditiva.
Seguridad ante el tráfico:
No utilice los auriculares mientras conduce un automóvil o va en
bicicleta, ya que puede causar un accidente.
Haben Sie Köpfchen beim benutzen des Kopfhörers
Hörsicherheit:
Stellen Sie eine mäßige Lautstärke ein. Hohe Lautstärken können Ihre
Hörfähigkeit schädigen.
Verkehrssicherheit:
Benutzen Sie die Kopfhörer nicht während des Auto- oder Radfahrens,
da dies zu Unfällen führen kann!
Hoofdtelefoon op: houd het hoofd erbij
Bescherm uw gehoor:
Zet het volume van de hoofdtelefoon niet te hard om blijvend letsel aan
uw gehoor te voorkomen.
Veilig in het verkeer:
Zet de hoofdtelefoon niet op terwijl u achter het stuur of op de fiets zit.
U kunt zo een ongeluk veroorzaken.
Advertencia medioambiental
• El embalaje puede separarse en dos materiales: cartón (la caja) y
polietileno (las bolsas). Cuando tire estos materiales de embalaje,
hágalo conforme a la normativa de su localidad.
• Infórmese sobre la normativa referente a aparatos viejos.
Umweltinformationen
• Die Verpackung ist in zwei Monomaterialien aufteilbar: Wellpappe
(Schachtel) und Polyäthylen (Taschen). Bitte halten Sie sich beim
Entsorgen dieser Verpackungsmaterialien an örtliche Bestimmungen.
• Erfragen Sie örtliche Bestimmungen in bezug auf das Recyceln Ihres
alten Gerätes.
Met het oog op het milieu
• De verpakking kan in twee materialen gescheiden worden: karton
(doos) en polyethyleen (zakken). Houd u zich aan de plaatselijke
voorschriften voor het weggooien van het verpakkingsmateriaal.
• Informeer waar u oude apparatuur voor recycling kunt inleveren.
Take care when using headphones
Hearing Safety:
Listen at a moderate volume. Use at high volume can impair your
hearing.
Traffic Safety:
Do not use headphones while driving or cycling as you may cause an
accident.
2
GENERALITES
Environmental note
• The packaging has been minimized so that it is easy to separate
into two materials: card and plastic. Please observe the local
regulations regarding the disposal of these packaging materials.
• Please inquire about local regulations on how to hand in your old
set for recycling.
Utiliser le casque avec votre tete !
Conseils relatifs à l'acuité auditive:
Modérer le volume d'écoute. Un son trop fort risque de diminuer
l'acuité auditive.
Conseils relatifs à la circulation:
Ne pas utiliser le casque lorsque vous conduisez un véhicule ou une
bicyclette pour éviter tout risque d'accident.
Remarque concernant l'environnement
• L'emballage est composé de deux matériaux: le carton (pour la boîte)
et le polyéthylène (pour les sachets). Veuillez observer les
réglementations locales concernant le rebut de ces matériaux
d'emballage.
• Renseignez-vous sur les réglementations locales concernant le
recyclage de votre ancien appareil.
Si dichiara che l'apparecchio AQ6591 Philips risponde alle prescrizioni dell'art. 2 comma 1 del D. M. 28 Agosto 1995 n. 548.
Fatto a Eindhoven, il 16-12-1999
Philips Consumer Electronics
Philips, Glaslaan 2
NOTES
4
✓
TROUBLESHOOTING
If a fault occurs, first check the points listed below before taking the
set for repair. If you are unable to remedy the problem by following
these hints, consult your dealer or service centre.
WARNING: Under no circumstances should you try to repair the
set yourself, as this would invalidate your guarantee.
Hum when using mains adapter
A
B
– Adapter used is unsuitable
• Use a good quality regulated 3V DC adapter
Poor sound/ no sound:
✗
✗
1
C-120
– Headphone plug not fully inserted
• Insert plug fully
– Volume is turned down
• Turn up volume
– Tape head dirty
• Clean tape head (see MAINTENANCE)
Severe radio hum/distortion:
– FM aerial (headphone cable) not fully extended
• Extend FM aerial fully
– Set too close to TV, computer, etc.
• Move set away from other electrical equipment
– Batteries weak
• Insert fresh batteries
This product complies with the radio interference requirements
of the European Union
The model number is found at the back of the set.
The production number is in the battery compartment
DEPISTAGE DES ANOMALIES
PROBLEMAS Y SOLUCIONES
En cas d'anomalies, contrôlez d'abord les points mentionnées sur la
liste avant de faire réparer l'appareil. Si vous n'êtes pas capable de
remédier au problème en suivant ces conseils, consultez votre
concessionnaire ou le service après-vente.
Si ocurre un fallo, antes de llevar el aparato a reparar, siga los consejos
que le damos a continuación. Si, después de seguir los consejos no
consigue solu-cionar el problema, póngase en contacto con su distribuidor
o centro de servicio.
ATTENTION: N'essayez en aucun cas de réparer vous-même
ADVERTENCIA: No debe intentar, bajo ningún pretexto, reparar el
FEHLERSUCHE
PROBLEMEN OPLOSSEN
Als zich een probleem voordoet, controleer dan eerst de punten op de
onderstaande lijst voor u het apparaat in reparatie geeft. Kunt u het
probleem niet oplossen aan de hand van deze aanwijzingen, neem dan
contact op met uw leverancier of serviceorganisatie.
WAARSCHUWING: Probeer in geen geval het apparaat zelf te
repareren want dan vervalt de garantie.
l'appareil, car ceci fait tomber la garantie à échéance.
aparato Vd. mismo, ya que si lo hace, invalidará su garantía.
Wenn ein Fehler auftritt, zuerst die nachstehenden Punkte überprüfen,
bevor das Gerät zur Reparatur gegeben wird. Wenn Sie das Problem
nicht durch Befolgen dieser Ratschläge lösen können, sollten Sie sich
an Ihren Händler oder an Ihr Reparaturzentrum wenden.
WARNHINWEIS: Unter gar keinen Umständen sollten Sie versuchen, das Gerät selbst zu reparieren, weil die Garantie dadurch erlischt.
Ronflement avec adaptateur secteur
Zumbido cuando utiliza el adaptador principal
Brummen bei Benutzung des Netzadapters
Storingen bij het gebruik van een adapter
– Adaptateur inadéquat
• Utilisez un adaptateur de bonne qualité de 3V DC
– El adaptador utilizado no es el adecuado
• Utilice un adaptador de 3 V CC de buena calidad y regulado
– Benutzter Adapter ist ungeeignet
• Einen guten, geregelten 3 V DC-Adapter benutzen
– Ongeschikte adapter
• Gebruik een goede gestabiliseerde 3V DC-adapter
Son insuffisant / aucun son
Sonido bajo/ ausencia de sonido
Schlechter Sound/kein Sound
Zwak geluid/ geen geluid
– Fiche écouteur mal branchée
• Branchez correctement
– El conector de los auriculares no está totalmente insertado
• Inserte completamente el conector
– Kopfhörerstecker nicht ganz eingeschoben
• Stecker ganz einschieben
– De stekker van de hoofdtelefoon is niet goed aangesloten
• Sluit de stekker goed aan
– Volume en position basse
• Augmentez le volume
– El volumen está al mínimo
• Suba el volumen
– Lautstärke ist heruntergedreht
• Lautstärke hochdrehen
– Het volume staat te zacht
• Zet het volume harder
– Tête de platine cassette contaminée
• Nettoyez la tête (voir ENTRETIEN)
– Cabezales del casete sucios
• Limpie los cabezales del casete (vea MANTENIMIENTO)
– Bandkopf verschmutzt
• Bandkopf reinigen (siehe PFLEGE)
– Vuil op de cassettekop
• Maak de cassettekop schoon (zie ONDERHOUD)
Importante interférence / distorsion à la réception radio
Zumbidos de la radio graves /distorsión
Heftiges Brummen/Rauschen des Radios
Aanhoudend ruis of storingen op de radio
– Antenne FM (câble écouteur) pas entièrement étirée
• Etirez entièrement l'antenne FM
– Antena aérea de FM (cable del auricular) no totalmente extendida
• Extienda completamente la antena aérea de FM
– FM-Antenne (Kopfhörerkabel) nicht ganz herausgezogen
• FM-Antenne ganz herausziehen
– Equipement disposé trop près d'un téléviseur, ordinateur, etc.
• Déplacez l'équipement à distance suffisante de tout autre
équipement électrique
– Equipo demasiado cerca de la TV, ordenador, etc.
• Sitúe el equipo lejos de otros dispositivos eléctricos
– Gerät zu nahe an Fernseher, Computer usw.
• Gerät von anderer Elektroausrüstung weg bewegen
– De FM-antenne (snoer van de hoofdtelefoon) is niet helemaal
uitgetrokken
• Trek de FM-antenne helemaal uit
– Pilas descargadas
• Ponga pilas nuevas
– Batterien erschöpft
• Frische Batterien einsetzen
Este producto cumple con las normas de radiointerferencia de la Unión Europea.
Dieses Produkt entspricht den Funkentstörvorschriften der Europäischen Union.
El número de modelo está situado en la parte de su del aparato.
El número de producción está situado en el compartimiento de las pilas.
Die Modellnummer ist auf der Rückseite des Gerätes angeführt.
Die Produktionsnummer befindet sich im Batteriefach.
– Piles à plat
• Insérez de nouvelles piles
Ce produit répond aux normes d'interférence radio de l'Union Européenne.
La référence du modèle se situe à l'arrière de l'équipement
et la référence de production dans le compartiment piles.
– Het apparaat staat te dicht bij een tv, computer enzovoort.
• Zet het apparaat uit de buurt van andere elektrische apparatuur
– De batterijen zijn bijna leeg
• Vervang de batterijen
Dit apparaat voldoet aan de radio-ontstoringseisen van de Europese Unie.
Het typenummer staat op de achterzijde van het apparaat.
Het productienummer bevindt zich in het batterijvakje.
XP AQ 6591/00 A7up7x4 01-02-2000 13:23 Pagina 2
ITALIANO
1
ALIMENTAZIONE
FAST WINDING 5
STOP 9
PLAY (
VOLUME
VO
LU
M
E
104
104
120
120
TUNING
FM/STEREO
indicator
TUNING
FM STEREO
FM
FM 88
88 92
92 96
96 100
100
70
90
AM
53
70
90
AM 53
p
160
160
108
108 MHz
MHz
DC 3V ->+
TAPE
RADIO
OFF
O RA AQ6591
DIO CA
SSETT
AM
10
10 x
x kHz
kHz
M
STER
EO TU
NER
STERE
FM
AM/F
E PLA
YER
source switch •FM•AM•TAPE/RADIO OFF
CK
LO
2
R EL
EA
SE
battery compartment
2x R6/UM3/AA
3
Adaptador de ligação à corrente (não incluído)
A voltagem do adaptador de 3V deve corresponder à voltagem local. A
ficha do adaptador de 3,5 mm com um pino central de 1,3 mm também
deve ser ligada ao pólo negativo -.
• Ligue o adaptador de ligação à corrente à ficha de DC 3V do aparelho
e a uma tomada de corrente.
• Desligue sempre o adaptador quando não o estiver a usar.
Batteria (non inclusa)
• Aprire lo scomparto della batteria ed inserire due batterie alcaline,
tipo R6, UM3 o AA come indicato.
• Togliere le batterie dalla'apparecchio se sono scariche o non devono
essere usate per un lungo periodo di tempo.
• Le batterie contengono delle sostanze chimiche, per cui
dovrete liberarvene in maniera corretta.
Pilhas (não incluídas)
• Abra a tampa do compartimento das pilhas e introduza duas pilhas
alcalinas, tipo R6, UM3 ou AA como indicado.
• Retire as pilhas do aparelho se estiverem gastas ou sem ser usadas
durante muito tempo.
• As pilhas contêm substâncias químicas, por isso devem ser
depositadas em locais próprios.
RICEZIONE DELLA RADIO
1. Collegare la cuffia alla presa p.
2. Impostare il tasto •FM•AM•TAPE/RADIO OFF a FM o AM.
– L'indicatore FM STEREO si accende.
3. Selezionare la stazione utilizzando il controllo TUNING.
RECEPÇÃO RADIO
1. Ligue os auscultadores à tomada p.
2. Coloque o interruptor •FM•AM•TAPE/RADIO OFF na posição FM ou
AM.
– O indicador FM STEREO acende-se.
3. Seleccione a estação utilizando o controlo TUNING (Sintonização).
CK
LO
RELE
AS
E
T
LIF
1
2x
R6/UM3/AA-cells
2
✓
✗
T
LIF
RELE
AS
E
CK
LO
4
Per migliorare la ricezione
FM:
Il cavo della cuffia funziona allo stesso modo dell'antenna FM.
Tenerlo esteso e posizionare opportunamente.
AM:
Usa un'antenna incorporata. Girare l'apparecchio per trovare la
migliore posizione.
3
B
A
B
✗
1
C-120
Para melhorar as condições de recepção
FM:
O fio dos auscultadores funciona como a antena de FM.
Mantenha-o esticado e posicionado correctamente.
AM:
Utiliza a antena incorporada. Rode o aparelho para encontrar a
melhor posição de recepção.
DANSK
STRØMFORSYNING
SUOMI
Έλληνικά
Verkkovirta-adapteri (ei toimituksen mukana)
3V adapterin on oltava paikallisen jännitteen mukainen. 3,5 mm adapterin liittimen 1,3 mm keskinapa on myös liitettävä miinusnapaan -.
• Liitä verkkovirta-adapteri laitteen DC 3V –liittimeen ja pistorasiaan.
• Muista aina irrottaa adapteri verkkovirrasta, kun se ei ole käytössä.
Tροφοδοτικ; ηλεκτρικού δικτύου (δεν συµπαραδίδεται)
Η τάση του τροφοδοτικού 3V πρέπει νααντιστοιχεί στην τοπική
τάση δικτύου. Η κεντρική περ'νη 3,5 mm του τροφοδοτικού
θαπρέπει νασυνδεθεί και στον αρνητικ' π'λο -.
• Συνδέστε το τροφοδοτικ' στην υποδοχή 3V συνεχούς ρεύµατος
της συσκευής και στην πρίζα.
• Tο τροφοδοτικ' θαπρέπει πάντοτε νααποσυνδέεται 'ταν δεν
χρησιµοποιείται.
SVENSKA
NÄTSTRÖMSTILLFÖRSEL
VERKKOSYÖTTÖ
Lysnetadapter (ekstra)
3V adapterens spænding skal svare til den lokale spænding. 3,5 mm
adapterstikkets 1,3 mm midterben skal også tilsluttes minuspolen -.
• Tilslut lysnetadapteren til apparatets DC 3V bøsning og en
stikkontakt.
• Tag altid lysnetadapteren ud af stikkontakten, når den ikke er i brug.
Nätadapter (medföljer ej)
3-voltsadapterns spänning måste motsvara den lokala nätspänningen.
Det 1,3 mm breda mittstiftet i adapterkontakten (3,5 mm) måste anslutas till minuspolen -.
• Sätt i nätadaptern i apparatens 3-voltsuttag och i ett vägguttag.
• Nätadaptern ska alltid vara utdragen när den inte används.
Batteri (ekstra)
• Luk batterirummets dæksel op og isæt to alkaline-batterier, type R6,
UM3 eller AA som angivet.
• Fjern batterierne fra apparatet, når de er opbrugte, eller hvis
apparatet ikke skal anvendes i længere tid.
• Alle batterier indeholder kemikalier og skal derfor
bortkastes på forsvarlig vis.
Batteri (medföljer ej)
• Öppna batteriluckan och lägg i två alkaliska batterier av typ R6,
UM3 eller AA enligt bilden.
• Ta ut batterierna ur apparaten när de är uttjänta eller om de inte ska
användas under en längre tid.
• Batterier innehåller kemiska ämnen och måste därför
kasseras på rätt sätt.
RADIO MODTAGELSE
1. Tilslut hovedtelefonerne til p stikket.
2. Sæt •FM•AM•TAPE/RADIO OFF knappen til FM eller AM.
– FM STEREO viseren lyser op.
3. Vælg stationen ved hjælp af TUNING kontrollen.
RADIOMOTTAGNING
1. Anslut hörlurarna till p-uttaget.
2. Ställ omkopplaren •FM•AM•TAPE/RADIO OFF på FM och AM.
– Då tänds indikatorn FM STEREO.
3. Välj station med ratten markerad TUNING.
For at forbedre modtagelsen
FM:
Hovedtelefonsledningen fungerer som FM antenne. Hold den
trukket ud og sæt derefter til den virker.
AM:
Bruger en indbygget antenne. Drej sættet for at finde den
bedste stilling.
Förbättring av mottagningen
FM:
För detta band fungerar hörlurssladden som antenn. Håll den
sträckt och hitta bäst läge.
AM:
För detta band används en inbyggd antenn. Vrid på radion för
att hitta bäst läge.
Näin parannat kuuluvuutta
FM:
Kuulokkeiden johto toimii FM-antennina. Sijoita radio siten,
että voit pitää johdon suoraksi vedettynä.
Toimii sisäänrakennetun antennin avulla. Käännä vastaanotinta
AM:
eri asentoihin löytääksesi kuuluvuuden kannalta parhaan asennon.
Paristo (ei toimituksen mukana)
• Avaa paristolokero ja asenna kaksi alkaliparistoa, tyyppiä R6, UM3
tai AA, kuvauksen mukaisesti.
• Poista laitteesta paristot, jotka ovat tyhjentyneet tai joita ei tulla
käyttämään pitkähköön aikaan.
• Paristot sisältävät kemiallisia aineita, joten ne on
hävitettävä asianmukaisesti.
RADION KUUNTELU
1. Kytke kuulokkeet p-vastakkeeseen.
2. Aseta •FM•AM•TAPE/RADIO OFF -kytkin kohtaan FM tai AM.
– FM STEREO-merkkivalo syttyy.
3. Valitse asema käyttämällä virityssäädintä TUNING.
4. Regolare il suono coi controlli VOLUME e DBB (Dynamic Bass
Boost).
5. Per spegnere l'apparecchio, premere il tasto •FM•AM•TAPE/RADIO
OFF a TAPE/RADIO OFF.
4. Ajuste o som utilizando os controlos VOLUME e DBB (Dynamic Bass
Boost - Reforço Dinâmico dos Sons Baixos).
5. Para desligar o aparelho coloque o interruptor
•FM•AM•TAPE/RADIO OFF na posição TAPE/RADIO OFF.
4. Tilpas lyden med VOLUME og DBB (Dynamic Bass Boost) kontrollerne.
5. Sluk for sættet ved at trykke på •FM•AM•TAPE/RADIO OFF knappen
til TAPE/RADIO OFF.
4. Ställ in ljuden med rattarna markerade VOLUME och DBB (Dynamic
Bass Boost).
5. För att stänga av radion ställer du omkopplaren
•FM•AM•TAPE/RADIO OFF på TAPE/RADIO OFF.
4. Suorita äänensäätö käyttämällä säätimiä VOLUME ja DBB
(dynaaminen bassokorostus).
5. Kun haluat katkaista laitteen toiminnan, paina kytkin
•FM•AM•TAPE/RADIO OFF asentoon TAPE/ RADIO OFF.
CASSETTE PLAYBACK
1. Collegare la cuffia alla presa p.
2. Impostare il tasto •FM•AM•TAPE/RADIO OFF a TAPE/RADIO OFF.
3. Aprire il portacassette ed inserire una cassetta.
4. Premere il portacassette con leggermente per chiuderlo.
5. Per iniziare il playback, premere 1 2.
6. Regolare il suono con i controlli VOLUME e DBB.
7. Per arrestare il playback premere 9 a questo punto l'apparecchio si
spegne.
8. Per avvolgere rapidamente premete 5. Premere 9 per arrestare l'avanzamento rapido.
– Alla fine di un nastro, i tasti della cassetta vengono rilasciati
automaticamente e l'apparecchio si spegne.
LEITURA DE CASSETES
1. Ligue os auscultadores à tomada p.
2. Coloque o interruptor •FM•AM•TAPE/RADIO OFF na posição
TAPE/RADIO OFF.
3. Abra o compartimento das cassetes e insira uma cassete.
4. Prima ligeiramente o compartimento das cassetes até fechar.
5. Para iniciar a leitura, prima 1 2.
6. Ajuste o som utilizando os controlos VOLUME e DBB.
7. Para interromper a leitura da cassete, prima 9; o aparelho desliga-se.
8. Para avanço rápido, pressione 5. Para interromper a bobinagem rápida, prima 9.
– No fim de uma cassete, a tecla da cassete solta-se automaticamente
e o aparelho desliga-se automaticamente.
CASSETTE PLAYBACK
1. Slut hovedtelefonerne til p stikket.
2. Sæt •FM•AM•TAPE/RADIO OFF knappen til TAPE/RADIO OFF.
3. Luk kassette holderen op og sæt en kassette ind.
4. Tryk kassette holderen let for at lukke den.
5. For at begynde afspilning tryk 1 2.
6. Tilpas lyden med VOLUME og DBB kontrollerne.
7. For at standse playback tryk 9 og der er slukket for sættet.
8. For at køre hurtigt frem tryk på 5. Tryk på 9 for at standse hurtig
spoling.
– Når båndet er spillet til ende, udløses knapperne på
kassettebåndoptageren automatisk, og der slukkes for apparatet.
KASETTIEN KUUNTELU
1. Kytke kuulokkeet p-vastakkeeseen.
2. Aseta kytkin •FM•AM•TAPE/RADIO OFF asentoon
TAPE/ RADIO OFF.
3. Avaa kasettipesä ja työnnä kasetti sisään siten.
4. Paina kasettipesää kevyesti sulkeaksesi sen.
5. Käynnistääksesi nauhan toiston paina 1 2.
6. Suorita äänensäätö käyttämällä säätimiä VOLUME ja DBB.
7. Toiston pysäyttämiseksi paina 9. Tämä kytkee laitteen pois toiminnasta.
8. Pikakelaamiseksi paina 5. Pikakelauksen pysäyttämiskesi paina 9.
– Kasetin lopussa kasettinäppäimet vapautuvat automaattisesti ja
laitteen toiminta katkaistaan.
Manutenzione (vedere fig. 4)
• Pulire ogni mese le parti A e B con un batuffolo di cotone imbevuto
nell'alcool o con un nastro di pulizia. Usare un panno soffice ed
inumidito per rimuovere polvere e sporco. Non usare benzene o
agenti corrosivi per la pulizia dell'apparecchio.
• Non usare nastri C-120.
• Non esporre l'apparecchio a pioggia, umidità, sabbia o calore
eccessivo, ad esempio nell'abitacolo di vetture parcheggiate alla luce
diretta del sole.
Manutenção (ver fig. 4)
• Limpe os componentes A e B todos os meses com uma cotonete
humedecida em álcool, ou fazendo a reprodução de uma fita de
limpeza.
• Utilize um pano macio humedecido para limpar o pó e a sujidade.
Não utilize benzeno ou produtos corrosivos para limpar o aparelho.
• Não utilize cassetes C-120.
• Não exponha o aparelho ou as cassetes à chuva, humidade, areia ou
a calor excessivo como por ex. em veículos estacionados
directamente ao sol.
SPELNING AV KASSETTER
1. Anslut hörlurarna till uttaget p.
2. Ställ omkopplaren •FM•AM•TAPE/RADIO OFF på TAPE/RADIO
OFF.
3. Öppna kassettfacket och sätt i en kassett.
4. Tryck lätt på kassettfacket så att det stänger sig.
5. För att starta uppspelningen, tryck på 1 2.
6. Ställ in ljudet med rattarna markerade VOLUME och DBB.
7. För att avbryta uppspelning, tryck på 9 så stänger kassettspelaren
av sig.
8. För snabbspolning, tryck på 5. Tryck på 9 för att avbryta snabbspolningen.
– I slutet av bandet kommer kassettknapparna upp av sig själva och
apparaten stängs av.
INFORMAZIONI GENERALI
BELTCLIP
LIGAÇÃO À CORRENTE
La tensione dell'adattatore a 3V deve corrispondere alla tensione locale. Il piedino centrale della spina di 1,3 mm dell'adattatore di 3,5 mm
deve essere anche collegato al polo negativo -.
• Collegare l'adattatore di rete alla presa di 3V CC dell'apparecchio ed
alla presa della parete.
• Scollegare sempre l'adattatore di rete quando non è in uso.
Adattatore di rete (non incluso)
•OFF/ON•DBB
PORTUGUÊS
INFORMAÇÕES GERAIS
Vedligeholdelse (se fig. 4)
• Rens telerne A og B hver måned med en vatpind, der er fugtet med
sprit, eller ved at spille et rensekassettebånd én gang helt igennem.
• Støv og snavs fjernes fra apparatet med en blød, fugtig klud. Anvend
aldrig rengøringsmidler, der indeholder benzen eller ætsende midler, da
disse kan beskadige apparatet.
• Brug ikke C-120 kassettebånd.
• Undgå at udsætte apparatet eller kassettebånd for regn, fugtighed,
sand eller for stor varme, f.eks. ved at efterlade det/dem i en bil
parkeret i solen.
GENERELLE OPLYSNINGER
Underhåll (se fig. 4)
• Gör rent delarna A och B en gång i månaden med en bomullstopp
doppad i sprit eller genom att spela ett rengöringsband.
• Använd en mjuk fuktig trasa för att torka av damm eller smuts.
Använd inte bensen eller frätande ämnen för att göra ren apparaten.
• Använd inte band av typ C-120.
• Utsätt inte apparaten för regn, fuktighet, sand eller för hög värme
t.ex. i en bil parkerad i direkt solljus.
ALLMÄN INFORMATION
Huolto (kuva 4)
• Puhdista osat A ja B kerran kuukaudessa spriihin kostutetulla
pumpulipuikolla tai toistamalla puhdistuskasetti.
• Käytä pehmeää, kosteaa kangaspalasta pölyn ja lian pyyhkimiseen.
Älä käytä benseesiä tai syövyttäviä aineita laitteen puhdistukseen.
• Älä käytä C-120-kasetteja.
• Älä alista laitetta ja kasetteja sateelle tai koskeudelle ja varo, että
niihin ei pääse hiekkaa ja että niihin ei kohdistu liiallista kuumuutta,
esim. auringonvaloon pysäköidyssä autossa.
YLEISIÄ TIETOJA
Accessori (compresi)
1 x Clip per la cintura, 1 x Cuffie stereofoniche (AY3651).
Acessórios (incluídos)
1 x Mola de cinto, 1 x Auscultadores estereofónicos (AY3651).
Tilbehør (medfølger)
1 x Bælteklips, 1 x Stereo-hovedtelefon (AY3651).
Tillbehör (medföljer)
1 x Bältesklämma, 1 x Stereohörlurar (AY3651).
Lisävarusteet (sisällytettynä toimitukseen)
1 x Vyöpidin, 1 x Stereokuulokkeet (AY3651).
Come usare il clip per la cintura (vedere fig. 3)
1. Per attaccarlo, mettete la guancetta (sul retro del clip per la cintura)
in posizione tale che entri nel buco per il clip per la cintura 1.
2. Premete il clip per la cintura 2 e girate 3 su LOCK come indicato
sull'apparecchio.
3. Per staccarlo, sollevate il clip senza forzare e mettetelo su RELEASE
come indicato sull'apparecchio.
Usando a mola de cinto (ver fig. 3)
1. Para prender, coloque agarra sombreada (localizada no fundo da mola
de cinto) de modo a que ela se ajuste no buraco da mola de cinto 1.
2. Pressione a mola de cinto 2 e rode 3 para LOCK, como indicado
no aparelho.
3. Para soltar, erga ligeiramente e rode a mola para RELEASE, como
indicado no aparelho.
Brug af bælteklipsen (se fig. 3)
1. Påsætning foregår ved at placere det formede greb (bag på klipsen)
således at det passer ind i bælteklipshullet 1.
2. Bevæg bælteklipsen ned 2 og dreje 3 for at LOCK (fastlåse) den,
som vist på apparatet.
3. Klipsen tages af ved forsigtigt at løfte og dreje den for at RELEASE
(udløse) som vist på apparatet.
Vyöpitimen käyttö (kuva 3)
1. Aseta muotoiltu kiinnitin (löydettävissä vyöpidikkeen takaa)
kiinnityksen suorittamiseksi niin että se osuu vyöpidikkeen reikään 1.
2. Työnnä vyöpidintä alas 2 ja käännä pidin 3 lukitusasentoon LOCK
laitteen osoituksen mukaisesti.
3. Irrottaminen tapahtuu pidintä kevyesti nostamalla ja kääntämällä
asentoon RELEASE laitteen osoituksen mukaisesti.
Quando usate le cuffie usate la testa
Sicurezza dell'ascolto:
Tenete il volume a livello moderato. L'uso di un volume alto può
danneggiarvi l'udito!
Sicurezza nel traffico:
Non usate le cuffie mentre guidate o andate in bicicletta, perché
potreste provocare un incidente!
Use a sua cabeça quando usa auscultadores
Segurança auditiva:
Ouça com um volume moderado. O uso com volume elevado pode
prejudicar a sua audição!
Segurança rodoviária:
Não use auscultadores quando conduz ou anda de bicicleta uma vez que
pode causar um acidente!
Brug hovedet når du bruger hovedtelefon
Beskyttelse af hørelsen:
Brug moderat lydstyrke - ved højere lydstyrke risikerer du at beskadige
din hørelse.
Sikkerhed i trafikken:
Lad være med at bruge hovedtelefon når du kører bil eller cykler - du
risikerer at forvolde en ulykke.
Bältesklämmans användning (se fig. 3)
1. För att montera den, placera den formade klämman
(på bältesklämmans baksida) så att den passar in i bältesklämmans
hål 1.
2. Skjut bältesklämman nedåt 2 och vrid 3 till LOCK såsom visas på
apparaten.
3. För att ta loss den, lyft försiktigt bort den och vrid klämman till
RELEASE såsom visas på apparaten.
Nota ambientale
• Il materiale d'imballaggio può essere separato in due tipi: cartoni
(scatolone) e polietilene (buste). Osservare i regolamenti locali
riguardanti lo smaltimento di questi materiali d'imballaggio.
• Informarsi sui regolamenti locali per quanto riguarda il riciclaggio del
vecchio apparecchio.
Nota relativa ao ambiente
• A embalagem pode ser separada em dois materiais: cartão (a caixa)
e polietileno (os sacos). Queira observar as regulamentações locais
relativas à eliminação destes materiais da embalagem.
• Informe-se sobre regulamentações locais que possam afectar a
reciclagem do aparelho.
Miljøinformation:
• Der er ikke brugt nogle overflødige materialer i apparatets
emballage, så det er let at adskille emballagen i to
hovedbestanddele: almindeligt pap og plastic. Man bedes venligst
overholde de lokale regler for bortkastning af disse
indpakningsmaterialer.
• Indhent oplysninger om de lokale regler for bortskaffelse af det
gamle apparat til genbrug.
Miljöanmärkning:
• Vi har hållit mängden förpackningsmaterial till ett minimum och
gjort det enkelt att källsortera i två kategorier, nämligen papp och
plast. Följ anvisningarna från din kommun beträffande kassering av
dessa förpackningsmaterial.
• Hör dig för vad som gäller i din kommun beträffande inlämning av
gamla apparater för återvinning.
Ympäristöä koskeva huomautus
• Pakkaus voidaan erottaa kahdeksi materiaaliksi: pahvi (laatikko) ja
polyeteeni (pussit). Noudata paikallisia säännöksiä näiden
pakkausmateriaalien hävittämiseen nähden.
• Ota selvää paikallisista säännöksistä käytöstä poistettava laite
kierrätettäessä.
INDIVIDUAZIONE DEI MALFUNZIONAMENTI
Se si verifica un difetto, controllare i punti indicati qui di seguito prima di
portare l'apparecchio per riparazione. Se non si riesce a rimediare il problema seguendo questi suggerimenti, consultare il rivenditore o il centro
di assistenza.
AVVERTENZA: In nessuna circostanza bisogna tentare di riparare
la'apparecchio a se stesi, ciò invaliderebbe la garanzia.
RESOLUÇÃO DE PROBLEMAS
Se ocorrer uma falha, verifique primeiro os pontos abaixo assinalados
antes de mandar reparar o aparelho. Se não conseguir resolver o problema seguindo estes pontos, consulte o seu vendedor ou serviço de
assistência.
ATENÇÃO: Em nenhuma circunstância deve tentar você próprio
reparar o aparelho porque isso invalidará a garantia.
FEJLFINDING
Hvis der skulle opstå en fejl, bedes man venligst først kontrollere
nedenstående punkter, før man sender apparatet til reparation. Hvis
problemet ikke kan afhjælpes ved at følge disse råd, skal man søge
hjælp hos forhandleren eller servicecentret.
ADVARSEL: Forsøg under ingen omstændigheder selv at reparere
apparatet, da garantien derved bortfalder.
FELSÖKNING
Om det uppstår ett fel ska du först gå genom tipsen nedan innan du tar
apparaten för reparation. Om du inte kan lösa ett problem med hjälp av
råden nedan bör du vända dig till butiken eller en serviceverkstad.
VARNING: Försök under inga omständigheter att reparera apparaten själv. Då gäller inte garantin längre.
VIANHAKU
Mahdollisen vian ilmetessä tarkista ensin alla esitetyt seikat ennen
laitteen viemistä korjattavaksi. Jos et pysty ratkaisemaan ongelmaa
näitä vihjeitä noudattamalla, ota yhteys myyntiliikkeeseen tai huoltokeskukseen.
VAROITUS: Älä missään tapauksessa ryhdy korjaamaan laitetta
itse, muuten takuu mitätöidään.
Ronzio quando si usa l'adattatore di rete
Zumbido quando utiliza o adaptador
Brum ved anvendelse af lysnetadapter
– L'adattatore usato non è adatto
• Usare un adattatore di buona qualità di 3V CC
– O adaptador usado é inadequado
• Use um adaptador regulado para 3V de boa qualidade
– Den anvendte adapter er ikke egnet
• Brug en reguleret 3V DC adapter af god kvalitet
Scarso suono/assenza suono
Mau som / Sem som
Dårlig lyd/ ingen lyd
– La spina della cuffia non è stata inserita tutta
• Inserire tuta la spina
– A ficha dos auscultadores não está completamente introduzida
• Introduza completamente a ficha
– Hovedtelefonstikket er ikke sat helt i
• Sæt hovedtelefonstikket helt ind
– Il volume abbassato
• Alzare il volume
– O volume está baixo
• Suba o volume
– Lydstyrken er indstillet for lavt
• Skru op for lyden
– Testina del nastro sporca
• Pulire la testina del nastro (vedi MANUTENZIONE)
– A cabeça do gravador está suja
• Limpe a cabeça do gravador (Ver MANUTENÇÃO)
– Hovedet er snavset
• Rens hovedet (se VEDLIGEHOLDELSE)
Severo ronzio radio/ distorsione
Forte zumbido do rádio / distorção
Kraftig radiobrum/støj
– Antenna FM (cavo cuffia) non allungata tutta
• Allungare completamente l'antenna FM
– A antena FM (fio dos auscultadores) não está completamente esticada
• Estique completamente a antena FM
– FM-antenne (hovedtelefonledning) er ikke trukket helt ud
• Træk FM-antennen helt ud
– L'apparecchio troppo vicino alla TV, computer, ecc.
• Muovere l'apparecchio distante da altri attrezzi elettrici
– O aparelho está muito perto da TV, computador, etc.
• Afaste o aparelho de outros equipamentos eléctricos
– Apparatet står for tæt ved et TV-apparat, en computer osv.
• Flyt apparatet væk fra andet elektrisk udstyr
– Batterie deboli
• Inserire nuove batterie
Questo prodotto è conforme ai requisiti dell'Unione Europea sulle
interferenze radio.
Il numero del modello si trova sul retro dell'apparecchio.
Il numero di produzione si trova nel comparto delle batterie.
– Pilhas fracas
• Introduza pilhas novas
Este produto está de acordo com os requisitos relativos a interferência
de rádio da União Europeia.
O número do modelo está localizado na parte traseira do aparelho.
O número de produção está localizado no compartimento das pilhas.
– Batterier er opbrugte
• Sæt nye batterier i
Dette apparat opfylder EU-kravene vedrørende radiointerferens.
Modelnummeret befinder sig på bagsiden af apparatet.
Produktionsnummeret befinder sig i batterirummet.
Använd huvudet när du använder hörlurar
Hörselsäkerhet:
Lyssna på medelmåttig volym. Hög volym kan skada din hörsel!
Trafiksäkerhet:
Använd inte hörlurar när du kör bil eller cyklar, det kan leda till en
olycka!
Brum vid användning av nätadapter
– Den använda adapter lämpar sig inte
• Använd en reglerad 3-voltdadapter av god kvalitet
Dåligt ljud/ inget ljud
– Hörlurarna sitter inte i ordentligt
• Sätt i proppen ordentligt
– Volymen är nervriden
• Vrid upp volymen
– Spelhuvudet smutsigt
• Gör ren spelhuvudet (se UNDERHÅLL)
Allvarligt radiobrum/förvrängt ljud
– FM-antennen (hörlurssladden) ej helt utdragen
• Dra ut FM-antennen helt
– Apparaten står för nära TV, dator etc.
• Flytta bort apparaten från annan elutrustning
– Batterierna svaga
• Sätt i nya batterier
Denna produkt uppfyller föreskrifterna angående radiostörningar i
Europeiska gemenskapen.
Modellnumret är lokaliserat på apparatens baksida.
Tillverkningsnumret är lokaliserat i batterifacket.
Käytä järkeäsi kuulokkeita käyttäessäsi
Kuulon suojelemiseksi
Kuuntele tasolla, jolla ääni ei ole liian voimakas. Liian voimakas ääni
voi vaurioittaa kuuloasi.
Turvallisuus liikenteessä
Älä käytä kuulokkeita autoa ajaessasi tai pyöräillessäsi onnettomuuden
välttämiseksi:
Hurinaa verkkovirran adapateria käytettäessä
– Käytetty adapteri on sopimaton
• Käytä korkealaatuista, asetusten mukaista 3V DC adapteria
Heikko ääni/ ei ääntä
– Kuulokkeiden liitintä ei ole asennettu kunnolla
• Asenna liitin kunnolla
– Äänenvoimakkuus on käännetty alas
• Käännä äänenvoimakkuus kuuluvaksi
– Nauhapää on likainen
• Puhdista nauha (katso jaksoa HUOLTOTOIMET)
Häiritsevä radion hurina/särinä
– FM-antennia (kuulokkeiden johto) ei ole vedetty täyteen pituuteensa
• Vedä FM-antenni täyteen pituuteensa
ΠΑΡΟΧΗ ΡΕΥΜΑΤΟΣ
Μπαταρίες (δεν συµπαραδίδονται)
• Ανοίξτε το καπάκι της θήκης µπαταριών και τοποθετήστε δύο
αλκαλικές µπαταρίες, τύπου R6, UM3 ή ΑΑ, µε τον ενδεδειγµένο
τρ'πο.
• Αφαιρέστε τις µπαταρίες απ' τη συσκευή 'ταν έχουν αδειάσει ή
'ταν δεν πρ'κειται ναχρησιµοποιηθούν γιαµεγάλο χρονικ'
διάστηµα.
• Oι µπαταρίες περιέχουν χηµικές ουσίες, γι' αυτ η αποκοµιδή
τους θαπρέπει ναγίνεται µε υπεύθυνο τρπο.
ΛΗΨΗ ΡΑ∆IΟΦΩΝΟΥ
1. Συνδέστε τα ακουστικά στην υποδοχή p.
2. Βάλτε τον διακ'πτη •FM•AM•TAPE/RADIO OFF στη θέση FM
ή AM.
– Θα ανάψει η ένδειξη FM STEREO.
3. Επιλέξτε τον σταθµ' χρησιµοποιώντας το ρυθµιστικ'
TUNING (συντονισµ'ς).
Για καλήτερη λήψη
FM:
Το καλώδιο των ακουστικών χρησιµεύει ως κεραία για
τα FM. Κρατάτε το καλώδιο ξετυλιγµένο και βάλτε το
στην ανάλογη θέση.
ΑΜ:
Χρησιµοποιείται η ενσωµατωµένη κεραία. Γυρίστε τη
συσκευή για να βρείτε την καλύτερη θέση.
4. Ρυθµίστε τον ήχο µε τα ρυθµιστικά VOLUME (ένταση) και
DBB (Dynamic Bass Boost - ενίσχυση µπάσων).
5. Για να θέσετε τη συσκευή εκτ'ς λειτουργίας, βάλτε τον
διακ'πτη •FM•AM•TAPE/RADIO OFF στη θέση TAPE/RADIO
OFF.
ΠΑIΞIΜΟ ΚΑΣΕΤΑΣ
1. Συνδέστε τα ακουστικά στην υποδοχή p.
2. Βάλτε τον διακ'πτη •FM•AM•TAPE/RADIO OFF στη θέση
TAPE/RADIO OFF.
3. Ανοίξτε την υποδοχή της κασέτας και τοποθετήστε µια
κασέτα.
4. Πατήστε το καπάκι της υποδοχής κασέτας ελαφρά για να
κλείσει.
5. Για να βάλετε την κασέτα να παίζει, πατήστε 1 2.
6. Ρυθµίστε τον ήχο µε τα ρυθµιστικά VOLUME και DBB.
7. Για να σταµατήσετε το παίξιµο της κασετας, πατήστε 9.
Η συσκευή θα τεθεί εκτ'ς λειτουργίας.
8. Για γρήγoρη περιέλιξη της κασέτας πρoς τα µπρoστά, πατήστε
5. Πατήστε 9 για να σταµατήσετε το γρήγορο τύλιγµα.
– Στο τέλος της κασέτας, ταπλήκτρατου κασετοφώνου
επανέρχονται στην αρχική τους θέση, και η συσκευή τίθεται
εκτ'ς λειτουργίας.
ΣΥΝΤΗΡΗΣΗ (εικ. 4)
• Kαθαρίζετε κάθε µήνα τα στοιχεία A και B χρησιµοποιώντας
µια µπατονέτα µε βαµβάκι την οποία έχετε υγράνει ελαφρά µε
αλκο'λη, ή παίζοντας µια ειδική κασέτα καθαρισµού.
• Χρησιµοποιήστε ένα µαλακ' υγρ' πανί για να σκουπίσετε τις
σκ'νες και τις ακαθαρσίες. Μη χρησιµοποιείτε βενζ'λιο ή
διαβρωτικά για τον καθαρισµ' της συσκευής.
• Μη χρησιµοποιείτε κασέτες του τύπου C-120.
• Μην εκθέτετε τη συσκευή ή τις κασέτες σε βροχή, υγρασία,
άµµο ή σε υψηλές θερµοκρασίες, για παράδειγµα µέσα σε
αυτοκίνητο παρκαρισµένο στον ήλιο.
ΓΕΝIΚΕΣ ΠΛΗΡΟΦΟΡIΕΣ
Αξεσουάρ (συµπαρεχµενα)
1 x Απoσπώµενo κλιπ ζώνης, 1 x Στερεoφωνικά ακoυστικά
(AY3651).
Χρήση τoυ κλιπ ζώνης (εικ.3)
1. Για να συνδέσετε το κλιπ, τoπoθετήστε τoν εφαρµoστ'
συνδετήρα (πoυ βρίσκεται στo πίσω µέρoς τoυ κλιπ ζώνης)
έτσι, ώστε να εφαρµ'ζει καλά µέσα στην ειδική oπή για τo κλιπ
ζώνης 1.
2. Σπρώξτε τo κλιπ ζώνης πρoς τα κάτω 2 και γυρίστε το 3 στη
θέση LOCK σύµφωνα µε την ένδειξη στη συσκευή.
3. Για να αφαιρέσετε τo κλιπ σηκώστε τo ελαφρά και γυρίστε τo
στη θέση RELEASE σύµφωνα µε την ένδειξη στη συσκευή.
Προσοχή ;ταν χρησιµοποιείτε ακουστικά!
Πρoστασία ακoής: Μην έχετε την ένταση πoλύ ψηλά 'ταν
χρησιµoπoιείτε τα ακoυστικά. Η χρήση ακoυστικών σε υψηλή
ένταση µπoρεί να πρoξενήσει βλάβη στην ακoή σας.
Οδική ασφάλεια: Μη χρησιµoπoιείτε τα ακoυστικά 'ταν οδηγάτε
αυτοκίνητο ή ποδήλατο, υπάρχει κίνδυνoς τρoχαίoυ ατυχήµατoς!
Παρατήρηση σχετικά µε το περιβάλλον
• Η συσκευασία µπορεί να διαχωριστεί σε δύο βασικά υλικά:
χαρτ'νι (κουτί) και πολυαιθυλένιο (σακούλες). Σας
παρακαλούµε να τηρήσετε τους κανονισµούς που ισχύουν
στον τ'πο σας ως προς τη διάθεση αυτών των υλικών
συσκευασίας.
• Σας παρακαλούµε να ζητήσετε πληροφορίες για τους
κανονισµούς που ισχύουν στον τ'πο σας ως προς τη διάθεση
παλαιών συσκευών για ανακύκλωση.
ΕΠIΛΥΣΗ ΠΡΟΒΛΗΜΑΤΩΝ
Στην περίπτωση που αντιµετωπίσετε κάποιο πρ'βληµα, και πριν
πάτε τη συσκευή γιαεπισκευή, ελέγξτε πρώτατασηµείαπου
αναφέρονται παρακάτω. Εάν δεν είστε σε θέση ναλύσετε
κάποιο πρ'βληµαακολουθώντας αυτές τις συµβουλές,
απευθυνθείτε στο κατάστηµααπ' το οποίο αγοράσατε τη
συσκευή ή στο κέντρο τεχνικής εξυπηρέτησης.
ΠΡOΕI∆OΠOIΗΣΗ: Σε καµίαπερίπτωση δεν θαπρέπει
ναπροσπαθήσετε ναεπισκευάσετε µ'νοι σας τη συσκευή, αφού
εάν κάνετε κάτι τέτοιο θαακυρωθεί η εγγύησή σας.
Υπάρχει βοή ;ταν χρησιµοποιείται το τροφοδοτικ; ηλεκτρικού
ρεύµατος
– Χρησιµοποιείται ακατάλληλο τροφοδοτικ
• Χρησιµοποιείτε ένακαλ', εγκεκριµένο τροφοδοτικ' 3V
συνεχούς ρεύµατος
Κακή ποι;τηταήχου / δεν υπάρχει ήχος
– Tο βύσµατων ακουστικών δεν έχει εισαχθεί τελείως
• Εισάγετε τελείως το βύσµα
– Η ένταση έχει ρυθµιστεί σε χαµηλ επίπεδο
• Ανεβάστε την ένταση
– Η κεφαλές του κασετοφώνου είναι λερωµένες
• Καθαρίστε τις κεφαλές (δείτε ΣΥΝTΗΡΗΣΗ)
Iσχυρή βοή / παραµ;ρφωση στο ραδι;φωνο
– ∆εν έχει ξετυλιχθεί τελείως η κεραίατων FM (το καλώδιο
ακουστικών)
• Ξετυλίξτε τελείως την κεραίατων FM
– Laite on asetettu liian lähelle tevevisiota, tietokonetta jne.
• Siirrä laite pois muiden sähkölaitteiden läheisyydestä
– Η συσκευή βρίσκεται πολύ κοντά σε τηλεοπτική συσκευή,
υπολογιστή κλπ.
• Αποµακρύνετε τη συσκευή απ' άλλες ηλεκτρικές συσκευές
– Paristojen teho on alhainen
• Asenna uudet paristot
– Η τάση των µπαταριών είναι χαµηλή
• Tοποθετήστε νέες µπαταρίες
Tämä tuote täyttää Euroopan unionin radiohäiriöiden estämiseksi
asetetut vaatimukset
Τo πρoϊν αυτ πληρoί τις απαιτήσεις της Ευρωπαϊκής Ενωσης
ως πρoς τις ραδιoπαρεµβoλές.
Mallinumero on löydettävissä kelloradion takaosassa.
Tuotantonumero on löydettävissä paristolokerosta.
Ο αριθµς µoντέλoυ βρίσκεται στo κάτω µέρoς της συσκευής.
Ο αριθµς παραγωγής βρίσκεται µέσα στoν χώρo των αταριών.