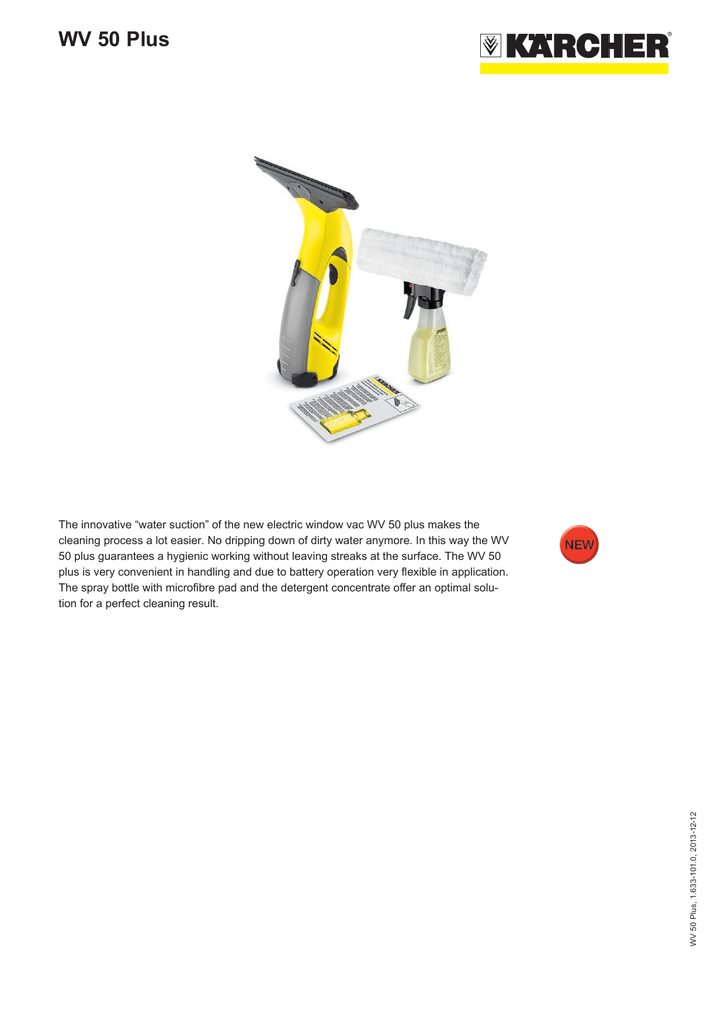 WV 50 Plus
WV 50 Plus, 1.633-101.0, 2013-12-12
The innovative "water suction" of the new electric window vac WV 50 plus makes the
cleaning process a lot easier. No dripping down of dirty water anymore. In this way the WV
50 plus guarantees a hygienic working without leaving streaks at the surface. The WV 50
plus is very convenient in handling and due to battery operation very flexible in application.
The spray bottle with microfibre pad and the detergent concentrate offer an optimal solution for a perfect cleaning result.
WV 50 Plus
Technical data
Order no.
1.633-101.0
EAN
4039784291911
Working width of suction nozzle
mm
280
Waste water container capacity
ml
100
Battery charge time
h
2
Battery run time
min
20
Cleaning performance per battery
charge
Battery voltage
V
3.6
Voltage
V
220–240
Frequency
Hz
50–60
ml
20
Glass cleaner concentrate
Spray bottle with microfibre wiper

Wiper attachment
1x
Suction nozzle, wide
280 mm
Lithium-ion battery


Battery charger
 Included in delivery. WV 50 Plus, 1.633-101.0, 2013-12-12
Equipment
40-60 qm = ca. 20 windows
Accessories for WV 50 Plus
1.633-101.0
1
2
9
10
3
Order no.
Power supplies
WV power supply
Spray bottle
Suction lips
Pull-off lip, wide
1 2.633-107.0
2 2.633-114.0
3 2.633-106.0
4
5
6
Price
8
Description
EU replacement power supply unit for Kärcher window vacuums.
Spray bottle, wiper attachment, microfibre cover and 20 ml
window cleaner concentrate. For streak-free, long-lasting
shine on all water-tight hard surfaces.



Pull-off lip, narrow
4 2.633-005.0
5 2.633-104.0
To replace pull off lips of Window Vacuums. For a streak-free 
finish on all even surfaces - without any dripping.

Nozzles
Suction nozzle, 170 mm
6 2.633-002.0
170mm Nozzle for the Window Vac. Especially designed for
lattice windows and smaller windows.
Extensions
WV extension piece
7 2.633-007.0
Extension set for Window Vac
8 2.633-111.0
Telescopic extension piece set for the Kärcher window vacu
um.
Hip bag
Hip bag WV
9 2.633-006.0
Replacement cloths
Microfibre cleaning cloth
Microfibre pads for WV extension
piece
10 2.633-100.0
11 2.633-109.0


Hip bag for practical storage of Window Vac and spray bottle.

Microfibre cleaning cloth thoroughly cleans all smooth surfac
es.
Microfibre cleaning cloth for the extension piece of the
Kärcher window vacuum. For optimal dirt removal on all

smooth surfaces.
WV 50 Plus, 1.633-101.0, 2013-12-12
 Included in delivery.  Available accessories. 
* Your assessment is very important for improving the work of artificial intelligence, which forms the content of this project