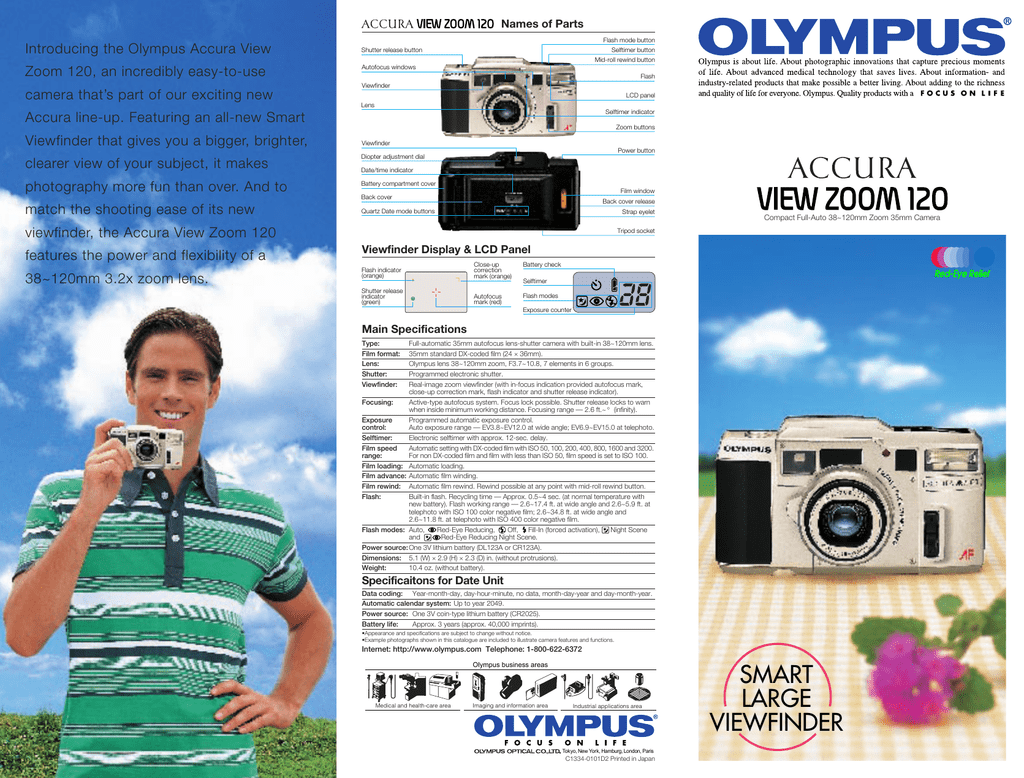 Names of Parts
Introducing the Olympus Accura View
Flash mode button
Selftimer button
Shutter release button
Mid-roll rewind button
Zoom 120, an incredibly easy-to-use
Autofocus windows
Flash
Viewfinder
camera that's part of our exciting new
LCD panel
Lens
Selftimer indicator
Accura line-up. Featuring an all-new Smart
Viewfinder that gives you a bigger, brighter,
Zoom buttons
Viewfinder
Power button
clearer view of your subject, it makes
photography more fun than over. And to
Diopter adjustment dial
Date/time indicator
Battery compartment cover
Film window
Back cover
match the shooting ease of its new
Back cover release
Quartz Date mode buttons
Strap eyelet
viewfinder, the Accura View Zoom 120
features the power and flexibility of a
38~120mm 3.2x zoom lens.
Compact Full-Auto 38~120mm Zoom 35mm Camera
Tripod socket
Viewfinder Display & LCD Panel
Flash indicator
(orange)
Close-up
correction
mark (orange)
Battery check
Shutter release
indicator
(green)
Autofocus
mark (red)
Flash modes
Selftimer
Exposure counter
Main Specifications
Type:
Film format:
Lens:
Shutter:
Viewfinder:
Full-automatic 35mm autofocus lens-shutter camera with built-in 38~120mm lens.
35mm standard DX-coded film (24 × 36mm).
Olympus lens 38~120mm zoom, F3.7~10.8, 7 elements in 6 groups.
Programmed electronic shutter.
Real-image zoom viewfinder (with in-focus indication provided autofocus mark,
close-up correction mark, flash indicator and shutter release indicator).
Focusing:
Active-type autofocus system. Focus lock possible. Shutter release locks to warn
when inside minimum working distance. Focusing range — 2.6 ft.~ ∞ (infinity).
Exposure
Programmed automatic exposure control.
control:
Auto exposure range — EV3.8~EV12.0 at wide angle; EV6.9~EV15.0 at telephoto.
Selftimer:
Electronic selftimer with approx. 12-sec. delay.
Automatic setting with DX-coded film with ISO 50, 100, 200, 400, 800, 1600 and 3200.
Film speed
range:
For non DX-coded film and film with less than ISO 50, film speed is set to ISO 100.
Film loading: Automatic loading.
Film advance: Automatic film winding.
Film rewind: Automatic film rewind. Rewind possible at any point with mid-roll rewind button.
Flash:
Built-in flash. Recycling time — Approx. 0.5~4 sec. (at normal temperature with
new battery). Flash working range — 2.6~17.4 ft. at wide angle and 2.6~5.9 ft. at
telephoto with ISO 100 color negative film; 2.6~34.8 ft. at wide angle and
2.6~11.8 ft. at telephoto with ISO 400 color negative film.
Flash modes: Auto,
Red-Eye Reducing,
Off, Fill-In (forced activation),
Night Scene
and
Red-Eye Reducing Night Scene.
Power source: One 3V lithium battery (DL123A or CR123A).
Dimensions: 5.1 (W) × 2.9 (H) × 2.3 (D) in. (without protrusions).
Weight:
10.4 oz. (without battery).
Specificaitons for Date Unit
Data coding: Year-month-day, day-hour-minute, no data, month-day-year and day-month-year.
Automatic calendar system: Up to year 2049.
Power source: One 3V coin-type lithium battery (CR2025).
Battery life:
Approx. 3 years (approx. 40,000 imprints).
•Appearance and specifications are subject to change without notice.
•Example photographs shown in this catalogue are included to illustrate camera features and functions.
Internet: http://www.olympus.com Telephone: 1-800-622-6372
Olympus business areas
Medical and health-care area
Imaging and information area
Industrial applications area
Tokyo, New York, Hamburg, London, Paris
C1334-0101D2 Printed in Japan
SMART
LARGE
VIEWFINDER
A Revolution in
Shooting Ease
SMART VIEWFINDER
ZOOM LENS
FLASH FREEDOM
38~120mm 3.2x Zoom
Auto Flash Mode
Shooting ease is further enhanced by the power and
Intelligent variable-power flash fires automatically in
flexibility of a 38~120mm 3.2x zoom lens. High-
low-light and provides soft-flash illumination when
performance aspherical lens elements assure super-
your subject is close.
sharp imaging, and a precision autofocus system
Red-Eye Reducing Flash Mode
provides spot-on focusing accuracy.
Suppresses unsightly 'red-eye' by helping your
subject's eyes adjust to the bright light of the flash.
*Results may vary depending on subject's eye color and exposure to pre-flash.
Fill-In Flash Mode
Fires the flash with every shot, assuring correct
Big, bright, clear view assures easy framing
exposure in high-contrast lighting conditions.
Big, Bright and Beautiful
Framing is super-easy because the new Smart
120mm
Viewfinder provides a bright, clear, real-image view
that is approximately twice as large as the view
70mm
offered by our conventional viewfinders. Illuminated
indicators superimposed on the viewfinder image
dioptric correction lets you adjust viewfinder focus to
Without Flash
Flash Off Mode
provide visual confirmation of focusing accuracy,
flash readiness and shutter release. In addition,
With Fill-in Flash Mode
For available-light shooting, or when you are
38mm
in a location where flash photography is
prohibited.
suit your personal preference.
Flash Indicator (orange)
Close-Up Correction Mark
(orange)
Lights when the flash is
ready to fire.
Lights when the subject is
close up.
Shutter Release Indicator
(green)
Autofocus Mark (red)
Lights while the shutter is
being released.
Blinks on and off if the
subject is out of focus.
Night Scene/Red-Eye Reducing
Night Scene Flash Mode
At night, these modes ensure that lights
in the background show up beautifully.
Electronic Selftimer
A built-in, 12-second electronic selftimer
makes it easy to join in the photo fun!

* Your assessment is very important for improving the work of artificial intelligence, which forms the content of this project