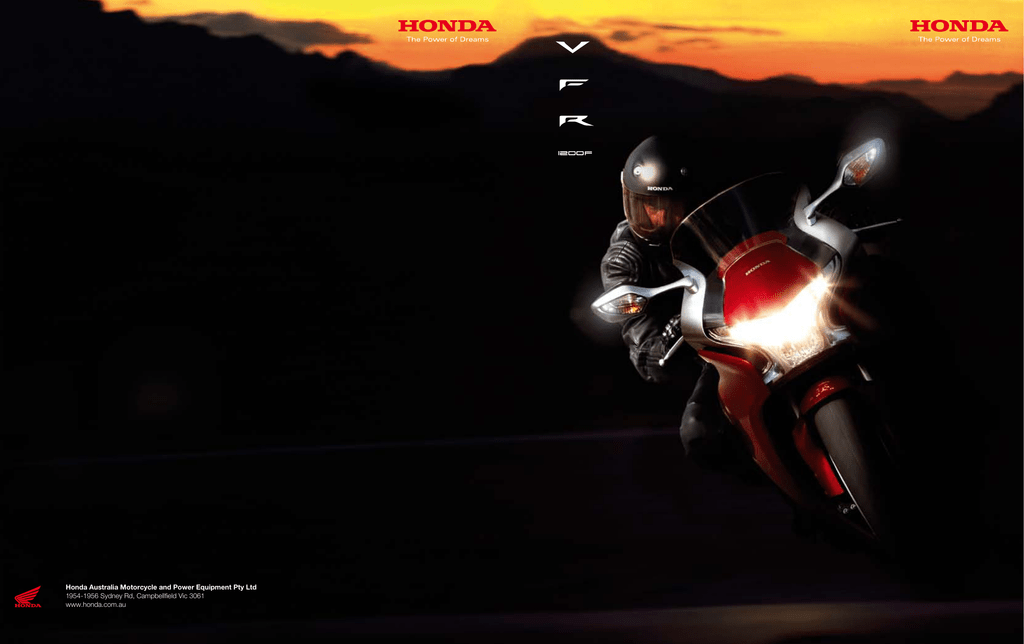 Honda Australia Motorcycle and Power Equipment Pty Ltd
1954-1956 Sydney Rd, Campbellfield Vic 3061
www.honda.com.au
Experience the ultimate Honda.
The ultimate fusion
of beauty and function.
A narrow waist and sculpted
ergonomics for a perfect fit.
Exhilarating Honda V4 performance. Instant power with every twist of
the throttle. There is something utterly compelling about the V4 engine of
the new Honda VFR1200F. A remarkable blend of raw power, never-ending
torque and advanced mass centralisation. All expressed in the beat and
feel that only a V4 configuration from Honda can deliver.
The technology used to achieve this is at once both simple and highly
complex in its execution. For example, by completely redesigning the
engine layout, Honda were able to produce a shorter engine that allowed
them more freedom when positioning it within the frame. This enabled
the creation of near perfect weight distribution.
The innovation of a new 28o phased shift crankshaft was simple but
very effective - reducing the vibration associated with a traditional V4
configuration, but retaing the distinctive linear power delivery and
physical sensation that V4 owners know and love. The closed crankcase
and UNICAM transmission come from the RC212V MotoGP motorcycle
and motocross race machines, while the unique voice of the new
exhaust speaks a language to stir the soul.
The unique cylinder layout of the
Honda VFR1200F also creates a
narrow 'wasp-like' waist, giving the
rider the sensation of sitting more in
than on the bike. The rider feels a
oneness with the machine because
of the feedback it provides and the
control it gives. The V4 layout has two
asymmetrical pairs of cylinders: a wider
pair at the front, and a narrower pair at
the rear. It is this unique layout, coupled
with the 1-2-4-3 firing order, which
produces the distinctive pulsing V4
note sound of the new VFR1200F.
A revolution in transmission technology. For unrivaled response and feel.
There is no doubting the practical advantages of a shaft drive: reliability
and ease of maintenance. But what of the instant thrill of a traditional chain
drive? Be prepared for something of a surprise: this is a shaft drive that
performs with the instant response and power transmission of a chain
drive. The moment you open the VFR1200F's 'throttle-by-wire' system
you will experience razor-sharp throttle feedback and acceleration.
The bike's maneuverability and ease
of handling is excellent. Shown in
detail on the left, the new swing-arm
uses an offset pivot allowing the shaft
to be mounted further forward in the
frame. This compact layout contributes
to stability at high speed, better
cornering and improved traction control.
In addition, a sliding constant velocity
joint at the rear of the shaft means
the drive is always responsive and
there's no time lag between throttle
twist and acceleration.
Propeller shaft
Swing arm
Constant velocity joint
Offset pivot
Yoke joint
Pinion gear
A masterpiece
of engineering art.
Designed to be one of a kind.
Discover a new level of instinctive control. Keeping you firmly on the
road is a Pro-Link rear shock absorber with adjustable rebound damping.
A slipper clutch ensures firm footing even during the most energetic
downshifts. The new VFR1200F also features six-piston callipers and
320mm discs at the front to deliver phenomenal braking.
Make your VFR1200F truly your own. The ultimate accessories
for the ultimate Honda. Honda Genuine Accessories has developed
a comprehensive range of optional equipment exclusively for the
new VFR1200F.
Aerodynamic panniers mount directly onto the bike's integrated pannier
mounting points. A high quality top box and fitted tank bag are also
available. A luxurious Alcantara seat adds a distinctive and stylish touch.
Your VFR1200F, your choice.
Superior looks,
premium colours.
Colour: Seal Silver Metallic
Colour: Candy Prominence Red
Design, build and finish. Perfect in every way. Each component of
the VFR1200F has been meticulously considered and works in harmony
with every other component.
The sculpted shape of the multi-layer fairing has a functional role:
it both optimises heat management for engine and rider cooling, while
the aerodynamic air flow helps to increase directional stability. This in
turn contributes to the machine's superb road manners and composure,
even on the most demanding and rewarding roads.
VFR1200F TECHNICAL SPECIFICATIONS
Engine Liquid-cooled 4-stroke UNICAM 76° V-4
Displacement 1,237 cm³
Bore × Stroke 81 × 60 mm
Compression Ratio 12 : 1
Carburation PGM-FI electronic fuel injection
Ignition System Computer-controlled digital
transistorised with electronic advance
Starter Electric
Transmission 6-speed
Final Drive Shaft
Dimensions (L×W×H) 2,250 × 755 × 1,220 mm
Wheelbase 1,545 mm
Seat Height 815 mm
Ground Clearance 125 mm
Fuel Tank Capacity 18.5 litres
Suspension Front 43 mm cartridge-type telescopic fork
with stepless preload adjustment, 120 mm axle travel
Suspension Rear Pro-Link with gas-charged damper,
25-step (*stepless remote-controlled hydraulic) preload and
stepless rebound damping adjustment, 130 mm axle travel
Wheels Front 5-spoke hollow gravity die cast aluminium
Wheels Rear 7-spoke gravity die cast aluminium
Tyres Front 120/70 ZR17M/C (58W)
Tyres Rear 190/55 ZR17M/C (75W)
Brakes Front 320 mm dual floating hydraulic disc with
two 6-piston calipers, C-ABS and sintered metal pads
Brakes Rear 276 mm hydraulic disc with 2-piston caliper,
C-ABS and sintered metal pads
Frame Diamond; aluminium twin-spar
Caster Angle 25.5°
Trail 101 mm
Kerb Weight 267 kg
All specifications are provisional and subject to change without notice.
The above mentioned technical data are general data (ED-type).
Please speak to your Honda dealer for local information.

* Your assessment is very important for improving the work of artificial intelligence, which forms the content of this project