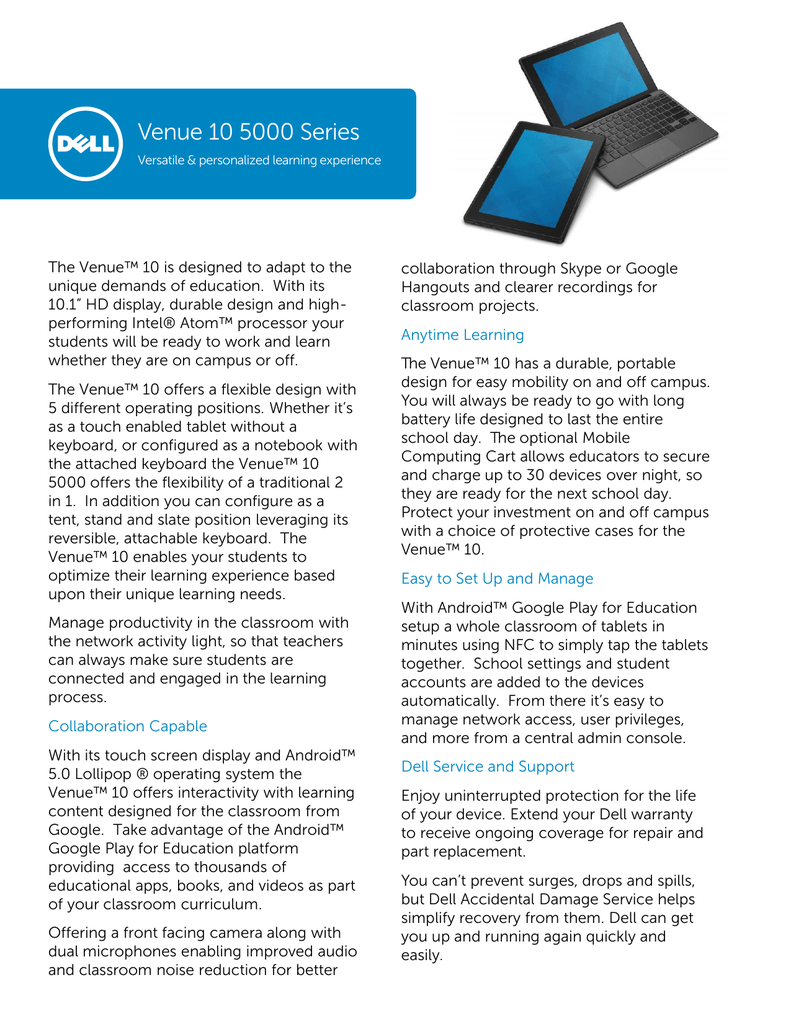 Venue 10 5000 Series
Versatile & personalized learning experience
The Venue™ 10 is designed to adapt to the
unique demands of education. With its
10.1" HD display, durable design and highperforming Intel® Atom™ processor your
students will be ready to work and learn
whether they are on campus or off.
The Venue™ 10 offers a flexible design with
5 different operating positions. Whether it's
as a touch enabled tablet without a
keyboard, or configured as a notebook with
the attached keyboard the Venue™ 10
5000 offers the flexibility of a traditional 2
in 1. In addition you can configure as a
tent, stand and slate position leveraging its
reversible, attachable keyboard. The
Venue™ 10 enables your students to
optimize their learning experience based
upon their unique learning needs.
Manage productivity in the classroom with
the network activity light, so that teachers
can always make sure students are
connected and engaged in the learning
process.
Collaboration Capable
With its touch screen display and Android™
5.0 Lollipop ® operating system the
Venue™ 10 offers interactivity with learning
content designed for the classroom from
Google. Take advantage of the Android™
Google Play for Education platform
providing access to thousands of
educational apps, books, and videos as part
of your classroom curriculum.
Offering a front facing camera along with
dual microphones enabling improved audio
and classroom noise reduction for better
collaboration through Skype or Google
Hangouts and clearer recordings for
classroom projects.
Anytime Learning
The Venue™ 10 has a durable, portable
design for easy mobility on and off campus.
You will always be ready to go with long
battery life designed to last the entire
school day. The optional Mobile
Computing Cart allows educators to secure
and charge up to 30 devices over night, so
they are ready for the next school day.
Protect your investment on and off campus
with a choice of protective cases for the
Venue™ 10.
Easy to Set Up and Manage
With Android™ Google Play for Education
setup a whole classroom of tablets in
minutes using NFC to simply tap the tablets
together. School settings and student
accounts are added to the devices
automatically. From there it's easy to
manage network access, user privileges,
and more from a central admin console.
Dell Service and Support
Enjoy uninterrupted protection for the life
of your device. Extend your Dell warranty
to receive ongoing coverage for repair and
part replacement.
You can't prevent surges, drops and spills,
but Dell Accidental Damage Service helps
simplify recovery from them. Dell can get
you up and running again quickly and
easily.
Feature
Technical Specifications
Model
Display
Venue 10 5000 (Model # 5050)
Processors
Intel® Atom™ processor Z3735F (up to 1.83GHz Quad-core)
Operating System
Android™ 5.0. Lollipop®
10.1" 1280x800 HD
Android Google Play for Education (GP4E)
Memory
2GB DDR3L-RS 1333MHz
Storage
16GB or 32GB eMMC Solid State Storage
Graphics
Intel HD Graphics (Integrated Graphics)
Audio
Dual mics, Stereo speakers
Wireless
2x2 802.11n with Miracast
NFC
Mobile Broadband
Dell Wireless™ 5810E LTE Mobile Broadband Card
Cameras
Integrated 1.2MP front / 5MP back; 720 p video at 30 FPS
Security
Security Cable lock – Noble Lock
Ports and Connectors
Full-size USB
Micro HDMI
BT 4.0
GPS (with LTE)
Proximity (with LTE)
Accelerometer
Gyroscope
e-Compass
Dimensions
Width: 10.34" / 262.6mm
Depth: 0.39"/ 9.9mm
Height (front/back): 6.92"/175.8mm
Battery
32Whr Lithium Ion battery, 9.25 hours
Weight
656.9g (1.45lb)
Power Adaptor
10 Watt AC adapter (micro USB charging), 6 ft cord
SECURE AND CHARGE
Dell Mobile Computing Cart
LAPTOP EXPERIENCE
Dell Venue Keyboard
• Stores and charges up to 30
tablets
• Locking steel doors keep tablets
secure
• Efficiently charges to save energy
and charge devices faster
• Comfortably-sized Chiclet key
keyboard with touch pad
• Custom designed for Venue 10
• Closes like a laptop, and allows use
in 4 modes
• Snaps-in place
• Android-compliant keyboard
EASY PROTECTION
Dell Protective Case
PROTECTION AND EASY VIEWING
Dell Venue Rotating Folio
• Protects tablet back and sides
• Allows keyboard to be attached
FPO
• Folds back into a hand-free stand which
allows rotating your Venue to portrait or
landscape views
• Front cover easily detaches with magnets
to allow use with Venue Keyboard
• Stylish Folio Case
* Important Information
GB means 1 billion bytes and TB equals 1 trillion bytes; significant system memory may be used to support graphics, depending on system memory size and other factors.
Miracast Wireless Technology: Requires a compatible media adapter (sold separately) and an HDMI-enabled display.
Subject to service provider's broadband subscription and coverage area; additional charges apply.
The stated Watt Hour (WHr) is not an indication of battery life.
Weights vary depending on configuration and manufacturing variability
Limited Hardware Warranty: For copy of Ltd Hardware Warranty, write Dell USA LP, Attn: Warranties, One Dell Way, Round Rock, TX 78682 or see www.dell.com/warranty.
Accidental Damage Service: Service excludes theft, loss, and damage due to fire, flood or other acts of nature, or intentional damage. Customer may be required to return unit to Dell.
Limit of 2 replacement tablets in a consecutive 12 month period during the service contract term. For complete details, visit Dell.com/servicecontracts.
Copyright 2014 Dell Inc. All rights reserved. Venue is a trademark of Dell Inc. Intel and Atom are trademarks or registered trademarks of Intel Corporation or its subsidiaries in the United
States of America and other countries. Android and Jellybean are registered trademarks of Google Corporation. Other trademarks or trade names may be used in this document to refer
FPO
to either the entities claiming the marks and names or their products. Dell disclaims proprietary interest in the marks and names of others. Reproduction in any manner whatsoever
without express written permission from Dell Inc. is strictly forbidden.

* Your assessment is very important for improving the work of artificial intelligence, which forms the content of this project