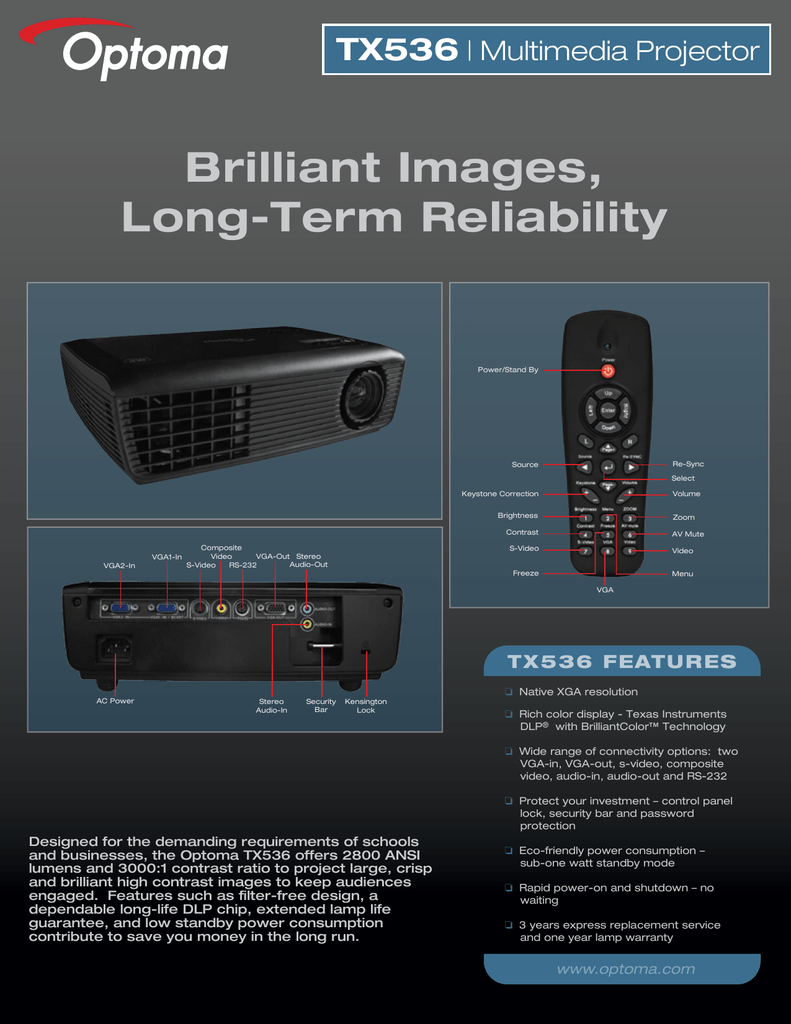 TX536 | Multimedia Projector
Brilliant Images,
Long-Term Reliability
Power/Stand By
Re-Sync
Source
Select
Volume
Keystone Correction
Brightness
Zoom
Contrast
VGA1-In
VGA2-In
Composite
VGA-Out Stereo
Video
Audio-Out
RS-232
S-Video
AV Mute
S-Video
Video
Freeze
Menu
VGA
T X536 F EATURES
AC Power
Stereo
Audio-In
Security
Bar
Kensington
Lock
❏ Native XGA resolution
❏ Rich color display - Texas Instruments
DLP® with BrilliantColor™ Technology
❏ Wide range of connectivity options: two
VGA-in, VGA-out, s-video, composite
video, audio-in, audio-out and RS-232
❏ Protect your investment – control panel
lock, security bar and password
protection
Designed for the demanding requirements of schools
and businesses, the Optoma TX536 offers 2800 ANSI
lumens and 3000:1 contrast ratio to project large, crisp
and brilliant high contrast images to keep audiences
engaged. Features such as filter-free design, a
dependable long-life DLP chip, extended lamp life
guarantee, and low standby power consumption
contribute to save you money in the long run.
❏ Eco-friendly power consumption –
sub-one watt standby mode
❏ Rapid power-on and shutdown – no
waiting
❏ 3 years express replacement service
and one year lamp warranty
www.optoma.com
TX536 | Multimedia Projector
Projection Distance/Image Size
Display Technology:
Single 0.55" DMD DLP® Technology by Texas Instruments
Resolution:
Native XGA (1024 x 768)
Maximum Resolution:
UXGA (1600 x 1200)
Maximum Diagonal
(Inches)
Minimum Diagonal
(Inches)
6
42
38
Brightness (Typical):
2800 ANSI Lumens
8
56
51
Contrast Ratio:
3000:1 (Full On/Full Off)
10
71
64
Lamp Type:
185W UHP
77
Lamp Life (STD/Bright)*:
Estimated at 4000/3000 Hours
Throw Ratio:
1.95 to 2.15:1 (Distance/Width)
Image Size (Diagonal):
22.9" to 300" (0.58 to 7.62 m)
Projection Distance:
3.28' to 32.8' (1.0 to 10 m)
Noise Level (STD/Bright):
28dB/30dB
Remote Control:
IR Remote Control
Computer Compatibility:
UXGA, WXGA, SXGA+, SVGA, XGA, SVGA, VGA Resized, VESA, PC and
Macintosh Compatible
Video Compatibility:
NTSC, PAL, SECAM, SDTV (480i), EDTV (480p), HDTV (720p, 1080i/p)
Aspect Ratio:
4:3 Native, 16:9 & 16:10 Compatible
Projection Lens:
F=2.41~2.55, f=21.8~23.98 mm, 1.1x Manual Zoom and Focus
Offset:
115%
Monitor Loop Through:
D-Sub 15-Pin VGA Output (Functional in Both Normal and Standby Modes)
User Controls:
Complete On-Screen Menu in 23 Languages
Audio:
2-Watt Speaker
Keystone Correction:
± 40° Vertical
Vertical Refresh Rate:
24 to 85 Hz
Horizontal Scan Rate:
15.3 to 91.1 KHz
Power Supply:
AC Input 100-240V, 50-60Hz, Auto-Switching
Power Consumption:
255 Watts (Bright), 230 Watts (STD), <1 Watt (Standby)
Weight:
5 lbs (2.27 kg)
Dimensions (W x H x D):
11.28" x 3.98" x 7.6" (287 x 101 x 193 mm)
Operating Temperature:
41° to 95°F (5° to 40°C), 85% Max Humidity, Adjustable Fan Speed for High
Altitude Application
Displayable Colors:
1.07 Billion
Projection Method:
Front, Rear, Ceiling Mount, Table Top
Uniformity:
85%
Projection Distance
(Feet)
85
12
14
99
90
16
113
102
18
127
115
Control Panel
Keystone
Correction
Power LED
Power/
Standby
Lamp LED
Menu
Temp LED
Re-Sync
Select
Four
Directional
Keys
Source
Keystone
Correction
Optional Accessories
Lamp:
BL-FU185A
Remote:
BR-3043N
VGA Cable (1.8m):
BC-VGVGXX02
Power Cord (1m):
BC-PUPIXY01
Security:
Kensington® Lock, Keypad Lock, Security Bar
Power Cord (11m):
BC-PUPIXY11
I/O Connectors:
Composite Cable (1.8m):
BC-COCOXX02
Two VGA-In, VGA-Out, S-Video, Composite Video, Stereo Audio-In, Stereo
Audio-Out and RS-232
VGA to Component Adaptor:
BC-VGCRXY00
Standard Accessories:
Wireless Dongle:
BI-EXTGB
AC Power Cord, VGA to VGA Cable, Remote Control, Batteries for
Remote, Carrying Case, Lens Cap, Quick Start Card, CD-ROM User's
Manual and Warranty Card
Ceiling Mount:
BM-5001U
Optional Accessories:
Ceiling Mount, VGA Cable, S-Video Cable, Composite Video Cable,
RS-232 Cable and Panoview Series Screens
Carrying Case:
BK-4006
Warranty:
Three Years Optoma Express Replacement Service, One Year on Lamp
100" Matte White 4:3 Manual Pull-Down Screen:
DS-3100PMG+
UPC:
796435 41 139 8
Data-TX536-002-0310
Specifications
www.optoma.com
*Lamp life is dependent upon many factors, including lamp mode, display mode, usage, environmental conditions and more. Lamp brightness can decrease over time.
NO FILTER
REQUIRED
All Specifications are subject to change without notice. ©2010 Optoma Technology, Inc. DLP® and the DLP logo are
registered trademarks of Texas Instraments. All other names mentioned herein are property of their respective owners.