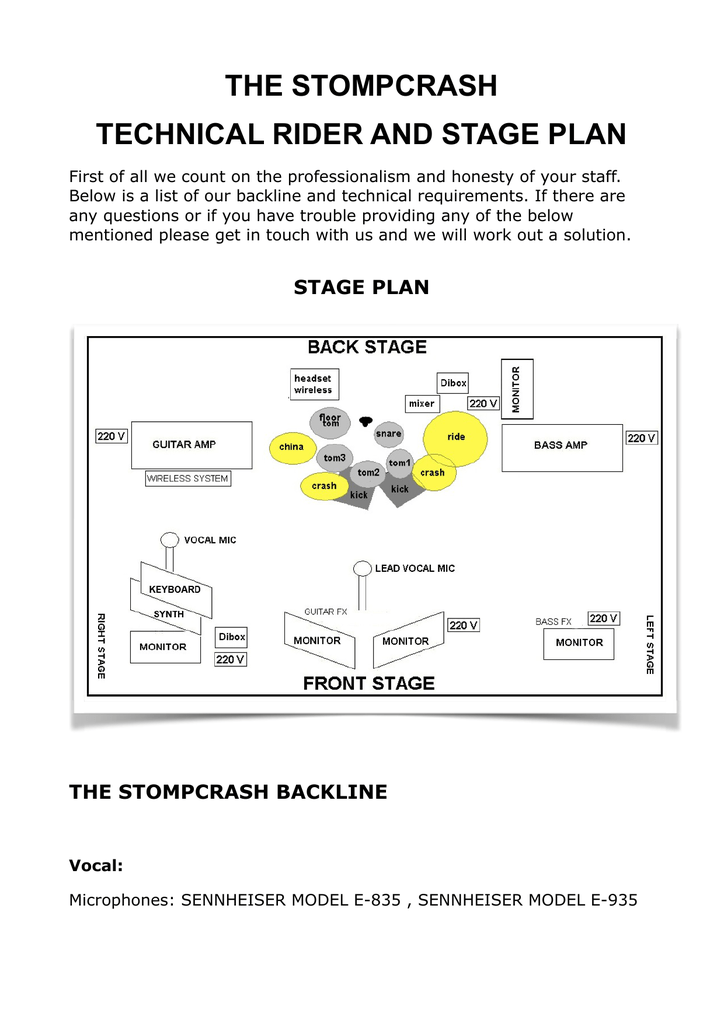 THE STOMPCRASH
TECHNICAL RIDER AND STAGE PLAN
First of all we count on the professionalism and honesty of your staff.
Below is a list of our backline and technical requirements. If there are
any questions or if you have trouble providing any of the below
mentioned please get in touch with us and we will work out a solution.
STAGE PLAN
!
THE STOMPCRASH BACKLINE
!
Vocal:
Microphones: SENNHEISER MODEL E-835 , SENNHEISER MODEL E-935
!
Guitar:
Amp: VOX AC-30
Effects: Line 6 POD X3 Live
Samson AirLine Wireless System
Bass
Amp: AMPEG SVT4, AMPEG cabinet 1x20, 4x15
Effects: Line 6 POD X3
Drums
Mapex Mars Pro 7 piece drum set: 2x22"x18" bass drum
12",13",14" tom tom
16"x16" floor tom
14"x5,5" snare
Cymbals: Alchemy
2 power crash, 1 ride, 1 hi hat, 2 china.
Headset Wireless
Behringer XENYX 802 Mixer (2 XLR imputs,8 imputs total) Ipod/Laptop
!
The backline needs depend on the touring plan and the contract.
If the band is travelling without backline, the following list
"Backline/Technical needs" has to be provided by the venue:
!
BACKLINE TECHNICAL NEEDS
A well sized PA system provided for the concert room with a sufficient
power.
A qualified sound engineer,stage technician and lights technician.
Minimum n° 3 monitors with a good audio quality and a good audio
power. (It is very important that the singer and the drummer each have
their own monitors speakers with separate mixes).
DIboxes and possibility to send the backing tracks from the main mixer
to drummer's mixer Complete drumkit with hardware: 1 or 2 bass drum,
2 or 3 toms, 1 floor tom ,1 snare Cymbal set:1 hi-hat, 1 ride, 2 crash, 1
china.
Double pedal, drum throne.
Good audio quality bass amp (head+cabinet or combo).(e.g. Ampeg,
Gallien- Krueger,Markbass...)
Good quality guitar amp.(E.g. VOX, ORANGE, MARSHALL)
N°1 microphone for backing vocals with good audio quality (e.g. Shure,
AKG,Beyerdynamics....).
220 V line connection in front of the stage and on the left of the drums
(see stage plan) Adeguate lighting system
Appropriate timing for the soundcheck.
OTHER: Backstage:
A dressing room with seats and a large mirror.
Food and drinks:
One vegetarian hot meal (no meat).
3 hot meals
Water for stage and backstage
Beer and other drinks (energy drinks,fruit juices...)
Merchandise:
A table with a small light or candles for our merchandise
Advertising and promotion:
If you need posters, flyers, logos, pictures etc please contact us.
CONTACT THE STOMPCRASH:
Mobile: 0039 335 8123362
E mail: thegrave@thestompcrash.com
!
!
!
!
!
!
!
!
!
!

* Your assessment is very important for improving the work of artificial intelligence, which forms the content of this project