Not all toy haulers are created equal.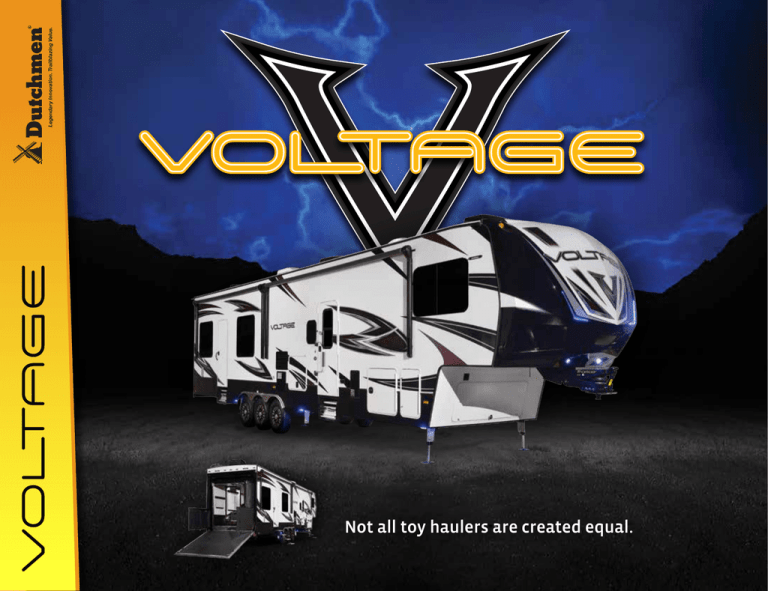 Not all toy haulers are created equal.
toy haulers by dutchmen
fingertip control
FIRST
IN CLASS
Quiet, cool air conditioning
with three individual zones
let you enjoy pleasant
temperatures wherever you
may relax.
sound everywhere
THE
THE VOLTAGE
VOLTAGE
Voltage packs four zones
of entertainment with four
LED TVs, including one in the
garage and one outside. The
living room features a sound
bar with subwoofer.
There's a reason Voltage is the most popular toy hauler
in its class. Our designers held nothing back when it came to
equipping the Voltage with feature-rich amenities and ample
amounts of storage. Tall ceilings, a spacious executive bedroom
and a gourmet kitchen with quartz countertops set Voltage
apart from all the others. It's truly first in class.
the daily massage
With controls at your side,
let the rigors of the day be
worked out in your heated
massage furniture.
living the
DREAM
Don't settle for less. Polished stainless-steel appliances not only add
sleek style to your kitchen but also offer residential-sized storage space
for the chef needing unlimited ingredient options.
➤ 12 or 18 cu. ft. stainless-steel
refrigerator with pantry
➤ Full-sized convection microwave
with rotating tray
➤ Full-sized 21" stainless-steel oven
➤ Hardwood cabinetry
➤ 3-burner range with
upgraded burner
➤ Quartz countertops
➤ Ample counter top space
➤ LED lighted back splash
Voltage 3895 | Hazel
toy haulers by dutchmen
Voltage 3970 | Raven
ZERO-GRAVITY
RAMP DOOR
Raise and lower the ramp door with just one finger. MORryde's Zero-Gravity
ramp door handles as if the door is weightless, creating the safest ramp
door in the industry. Now with an electric locking system and a re-designed
hinging system, setup and teardown are easier than ever.
Voltage 3970 | Hazel
EASY-TO-LOAD
Voltage owners love our cavernous cargo
areas with pass-through storage capability.
SLEEP SOUNDLY
Your memory foam mattress molds to the contours of your
body, relieving pressure during sleep for complete comfort.
Meanwhile, ample storage completes the master suite.
Voltage 4105 | Hazel
Voltage 3895 | Hazel
Voltage 3970
PAINT PACKAGES
With Voltage's numerous exterior paint options,
you can choose the perfect look to match your
taste or your truck. For more details, visit
dutchmen.com/voltage/paint-packages or
contact your local dealership.
INTERIOR DÉCOR CHOICES
Hazel ULTIMATE COMFORT
After a day of hitting the trails, relax with the comfort of
residential furniture and the luxury of built-in heated massage,
LED lighting and charging stations.
BATHROOM LUXURY
A recessed shower tub, generous
countertop space and a vessel
bowl sink offer the convenience
you need after a long day of play.
Raven Stone
PASS THRU
STORAGE
PASS THRU
STORAGE
STEP
STEP
NEO-ANGLE
SHOWER
ZERO GRAVITY
RAMP DOOR
NIGHT
STAND
TV
HAPPIJAC BUNK
BED WITH ROLL
OVER SOFAS
HAPPIJAC
POWER BUNK
STOW-AWAY
ISLAND
40"
TV
O/H
OPTIONAL
OUTSIDE ENTERTAINMENT
PASS THRU
STORAGE
18' AWNING
REFER/
PANTRY
16' AWNING
STEP
NIGHT
STAND
60" X 80"
QUEEN BED
(HINGED TOP)
ENT. CENTER
W/ 40" TV
NEO-ANGLE
SHOWER
VOLTAGE FIFTH WHEEL | 3818
Ext. Length: 35' 11" Ext. Height: 13' 1" Average Shipping Weight: 13,140 Sleeps: 7
Ext. Length: 43' 10" Ext. Height: 13' 4" Average Shipping Weight: 15,278 Sleeps: 8
14'
MICRO
OHC
32" TV
STOWABLE
TABLE
PANTRY
OHC
HAPPIJAC BUNK
BED WITH ROLL
OVER SOFAS
NIGHTSTAND
OHC
40" TV
OHC
13' AWNING
OPTIONAL
OUTSIDE ENTERTAINMENT
21' AWNING
OPTIONAL
OUTSIDE ENTERTAINMENT
16' AWNING
VOLTAGE FIFTH WHEEL | 3914
Ext. Length: 42' 11" Ext. Height: 13' 3" Average Shipping Weight: 15,880 Sleeps: 7
Ext. Length: 43' 10" Ext. Height: 13' 4" Average Shipping Weight: 16,100 Sleeps: 7
MICRO
12'
GASOLINE PUMP STATION
TV OHC/DRESSER
ZERO GRAVITY
RAMP DOOR
32" TV
TWIN BED
LOFT
HAPPIJAC BUNK
BED WITH ROLL
OVER SOFAS
STEREO
CLOSET
STOWABLE
TABLE
PANTRY
WARDROBE
CLOSET
W/D
PRE
P
HAPPIJAC BUNK
BED WITH ROLL
OVER SOFAS
TUB/
SHWR
STOWABLE
TABLE
16' AWNING
OPTIONAL
OUTSIDE ENTERTAINMENT
TUB/
SHWR
14' AWNING
72 X 80
KING BED
WARDROBE
CLOSET
CLOSET
TV OHC/DRESSER
OHC
REFER
10' AWNING
40" TV / FIREPLACE
46" TV / FIREPLACE
40 x 48
TWIN BED
LOFT
OHC
72 x 80
KING BED
GLASS PATIO DOORS
GASOLINE PUMP STATION
32" TV
ZERO GRAVITY
RAMP DOOR
WARDROBE
CLOSET
MICRO
VOLTAGE FIFTH WHEEL | 3895
11'
72 x 80
KING BED
W/STORAGE
TV OHC/DRESSER
REFER
10' AWNING
29-1/2" X 54"
TUB/SHOWER
LINEN
LOFT
ZERO GRAVITY
RAMP DOOR
60 X 80
QUEEN BED
W/STORAGE
STOWABLE
TABLE
W/D
PRE
P
40 X 88
TWIN BED
LOFT
HAPPIJAC BUNK
BED WITH ROLL
OVER SOFAS
NIGHTSTAND
OHC
LINEN
32" TV
OHC
29 1/2 x 54
TUB/SHOWER
TV/FIREPLACE
ZERO GRAVITY
RAMP DOOR
GASOLINE PUMP STATION
WARDROBE WARDROBE
OHC
GLASS PATIO DOORS
REFER
GASOLINE PUMP STATION
PANTRY
12' 6"
NIGHT
STAND
PASS THRU
STORAGE
18' AWNING
VOLTAGE FIFTH WHEEL | 3200
46" TV / FIREPLACE
MICRO
REFER
18' AWNING
VOLTAGE FIFTH WHEEL | 3970
VOLTAGE FIFTH WHEEL | 3990
Ext. Length: 43' 10" Ext. Height: 13' 4" Average Shipping Weight: 16,171 Sleeps: 7
Ext. Length: 43' 10" Ext. Height: 13' 4" Average Shipping Weight: 16,257 Sleeps: 7
18.0 CF
REFER
12' 6"
GASOLINE PUMP STATION
ZERO GRAVITY
RAMP DOOR
TV/FIREPLACE
40 X 88
TWIN BED
LOFT
29 1/2 X 54
SHOWER
KING BED
WARDROBE
CLOSET
PANTRY
HAPPIJAC BUNK
BED WITH ROLL
OVER SOFAS
OHC
MICRO
TV OHC/DRESSER
OUTSIDE ENTERTAINMENT
AND REFER
13' AWNING
SIDE PATIO
18' AWNING
VOLTAGE FIFTH WHEEL | 4150
Ext. Length: 44' 1" Ext. Height: 13' 4" Average Shipping Weight: 16,464 Sleeps: 7
W/D
PRE
P
toy haulers by dutchmen
STEP
MICRO
OPTIONAL
OUTSIDE ENTERTAINMENT
DRESSER WARD
W/D
PRE
P
8' AWNING
CHAIR
WARD
STOWABLE
TABLE
TV OHC
ENT.
CENTER
W/ 40" TV
MICRO
OPT
OPT
CHAIR
60" X 80"
QUEEN BED
(HINGED TOP)
RECLINING SOFA SEATING
O/H
OHC
C
OH
REFER
18'
GASOLINE PUMP STATION
NIGHT
STAND
STEP
STEP
STEP
WARDROBE
STEP
GLASS PATIO DOORS
HAPPIJAC BUNK
BED WITH ROLL
OVER SOFAS
DRESSER
OHC
ZERO GRAVITY
RAMP DOOR
WARDROBE
STOWABLE
TABLE
PANTRY
OPT
GARAGE OHC WITH 22" TV
GASOLINE PUMP STATION
60 X 72 SLIDING
GLASS PATIO DOORS
RECLINING SOFA SEATING
GARAGE OH'D CABINET
10'
DISCLAIMER: Product information is as accurate as possible as of the brochure publication date. All features,
floorplans and specifications in this brochure are subject to change without notice. Please consult
Dutchmen's website at www.Dutchmen.com for current product information and specifications. Tow Vehicle
Disclaimer. CAUTION: Owners of Dutchmen recreational vehicles are solely responsible for the selection and
proper use of tow vehicles. All customers should consult with a motor vehicle manufacturer or their dealer
concerning the purchase and use of suitable tow vehicles for Dutchmen products. Dutchmen disclaims any
liability or damages suffered as a result of the selection, operation, use or misuse of a tow vehicle. DUTCHMEN'S
LIMITED WARRANTY DOES NOT COVER DAMAGE TO THE RECREATIONAL VEHICLE OR THE TOW VEHICLE AS A RESULT
OF THE SELECTION, OPERATION, USE OR MISUSE OF THE TOW VEHICLE. REFERENCE DUTCHMEN MANUFACTURING
OWNERS MANUAL FOR LIMITED WARRANTY DETAILS.
voltage standards and options
MANDATORY FEATURES
12 cu. ft. Four-door refrigerator (3200, 3818)
12v tank heater with interior switches
18 Cu. Ft. Four-door refrigerator (3895, 3914, 3970, 3990, 4150)
2nd 15,000-btu a/c in the bedroom,
ducted with thermostat sensor
2nd awning over garage entrance door
6-point hydraulic auto-leveling system
Central vacuum with tools and dust pan
Exterior entertainment center with led
television in lockable cabinet
In command control system by jensen
MORryde cre 3000 suspension
Nitrofill (nitrogen-filled tires)
Onan 5.5-Kilowatt gas generator
Trailair tri-glide 21,000 pin box
LUXURY INTERIOR PACKAGE
40-46" Led main television
Aluminum cabinet doors (select models)
Articulating tv bracket in main living area
Atwood 10-gal. Dsi water heater with 19.7-Gph recovery
Atwood 3-burner range and range cover
Bottle opener
Dual bedroom night stands with electrical outlets
Full-sized convection microwave
with rotating tray
Full-sized stainless steel oven
Galley power fan with rain sensor
Led puck lighting
Correct standards and options?
MCD roller shades in main living area
One-piece fiberglass shower with seat (select models)
Pendant lighting
Quartz countertops by samsung
Residential convection microwave oven
Residential duvet covers
Residential furniture with led lighting and heated/massaging seats
Residential memory foam mattress
Residential pull out faucet
Satellite prep in every television location
Under bed storage with gas struts
Unified wiring standard w/color & number codes
Upgraded back splash with led lighting
Yamaha sound bar with internal subwoofer
and bluetooth capability
EXTERIOR PACKAGE
1" thick metal slam latch baggage doors
16" aluminum wheels
50' power cord with indicator lights
50-amp service
7,000-lb. Axles with ultra lube
7,040-lb. Load range e-rated hd tires
Aluminum wheel well covers
Black tank flush
Collapsible exterior ladder
Dual gas tanks (40 and 30 gal.)
Exterior convenience center with hidden water connections
Frameless windows
Full-size 30" entry door with screen and gas strut
Ground effects light package
Large electric awning
MORryde zero gravity ramp door
Omni directional tv antenna with cable,
satellite, and am fm booster
Painted front cap
Fuel pump station with timer switch
Quad entry steps
Sewer hose storage container
Solar prep
Spare tire with carrier
Tinted safety-glass frameless windows
Upgraded graphics
Water heater bypass
OPTIONS
13,500 BTU Garage A/C with Power Management system
Back up camera system
Bathroom Power Fan with Rain Sensor and Thermostat
Garage Power Fan with Rain Sensor and Thermostat
Ramp Door Patio System with Entry Steps and Awning
Three Seasons Patio Door
Voltage Happi Jack Electric Bed and Roll
Over Sofa System w/Table
Removable Edged Cargo Carpet
G Range Tires
Dual Pane Safety Glass Windows
Voltage Chair (1)
Voltage Logo Deck Chairs (2 per box)
GARAGE FEATURES
2,500-lb. Tie-downs
22" diamond plate
5' Safety-glass patio door (select models)
Indoor/outdoor speakers (2) on/off switch
Insulated heat and a/c ducts
Kenwood touch-screen stereo
Led television
Metal ram air vents (2)
Night shades
Privacy curtain with tie-back (select models)
Tuffply gas- and oil-resistant flooring
Upgraded wood entrance door with glass insert (select models)
Wall-to-wall dovetail storage
Washer/dryer prep (select models)
CUSTOM FIVE-COLOR, FULL-BODY PAINT OPTIONS
Black and blue paint
Black and burgundy paint
Black and green paint
Black and orange paint
Black and red paint
Black and yellow paint
Earth tone and burgundy paint
Earth tone and burnt orange
Gel-coat glass upgrade (included)
voltage specifications Correct specifications?
DIMENSIONS
WEIGHTS (LBS.)
TANKS (GALS.)
FLOORPLAN
*EXTERIOR TRAVEL
LENGTH
EXTERIOR
WIDTH
EXTERIOR HEIGHT
(WITH A/C)
**AVERAGE
SHIPPING WEIGHT
DRY HITCH
WEIGHT
CARGO
CARRYING CAPACITY
***FRESH WATER
CAPACITY
GREY
WATER
CAPACITY
BLACK
WATER
CAPACITY
3200
3818
3895
3914
3970
3990
4150
35' 11"
43' 10"
42' 11"
43' 10"
43' 10"
43' 10"
44' 1"
100"
100"
100"
100"
100"
100"
100"
13' 1"
13' 4"
13' 3"
13' 4"
13' 4"
13' 4"
13' 4"
13,140
15,278
15,880
16,100
16,171
16,257
16,464
2,628
3,484
3,493
3,333
3,530
3,414
3,824
3,360
4,722
4,120
3,900
3,829
3,743
3,563
160
160
160
160
160
160
160
75
75
107
107
90
90
107
45
45
90
45
45
90
83
*Length is defined as the distance from the centerline of hitch pin/coupler to rear bumper of trailer. **Our weights represent how most units are built, inclusive of many commonly-ordered options. ***Fresh water capacity includes water heater capacity.
FIRST CLASS
IN
300
STRONG
NATION WIDE DEALER NETWORK
More than 300 Dutchmen dealers across
North America and our industry-leading
service center in Goshen, Indiana, combine
for your peace of mind before, during and
after the sale. Rest assured no matter where
your travels take you, the best-resourced
RV manufacturing company in the world is
behind you all the way.
Scan this QR Code for a
360° view
of the Voltage interior.
Dutchmen—A North American Campground Classic.
www.dutchmen.com
Few manufacturers have built RVs for 25+ years, and only one
Visit us online to see all of the Dutchmen brands,
has set the standard for innovation AND value. Dutchmen IS
innovative models and spacious floor plans.
"A North American Campground Classic."
MORE STANDARD FEATURES
MORE VALUE
At Dutchmen, quality is our standard.
Every single Dutchmen RV that comes off the
line receives its own pre-delivery inspection.
Typically, a competitor performs random
inspections, meaning you won't find this
commitment to quality anywhere else.
Your local dealer
Dutchmen RVs turn more heads on the lot and in the campground than any other. Why? While other
manufacturers offer features as options, Dutchmen tends to make those same features standard.
Call it "bang for the buck," "more for your money," or simply "more value." We've built a reputation
for bringing RV owners more standard features for less money for more than 25 years . . . and it's a
reputation we plan to keep.
PO BOX 2000 • 2164 Caragana Court • Goshen, Indiana 46527 • Sales: 574.537.0600 • www.dutchmen.com
VOL-HM0216-25.5K
From giving advice to servicing products, we consider
our loyal dealers the best resource for learning about
Dutchmen products.

* Your assessment is very important for improving the work of artificial intelligence, which forms the content of this project