Philips B120E/37 User manual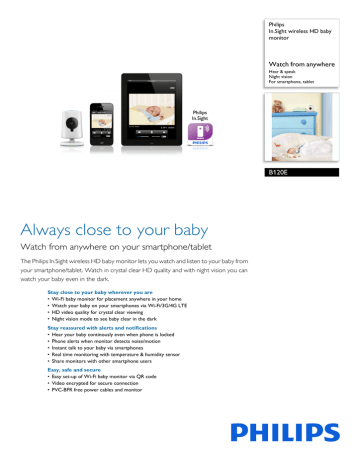 Philips
In.Sight wireless HD baby
monitor
Watch from anywhere
Hear & speak
Night vision
For smartphone, tablet
B120E
Always close to your baby
Watch from anywhere on your smartphone/tablet
The Philips In.Sight wireless HD baby monitor lets you watch and listen to your baby from
your smartphone/tablet. Watch in crystal clear HD quality and with night vision you can
watch your baby even in the dark.
Stay close to your baby wherever you are
• Wi-Fi baby monitor for placement anywhere in your home
• Watch your baby on your smartphones via Wi-Fi/3G/4G LTE
• HD video quality for crystal clear viewing
• Night vision mode to see baby clear in the dark
Stay reassured with alerts and notifications
• Hear your baby continously even when phone is locked
• Phone alerts when monitor detects noise/motion
• Instant talk to your baby via smartphones
• Real time monitoring with temperature & humidity sensor
• Share monitors with other smartphone users
Easy, safe and secure
• Easy set-up of Wi-Fi baby monitor via QR code
• Video encrypted for secure connection
• PVC-BFR free power cables and monitor
B120E/37
In.Sight wireless HD baby monitor
Watch from anywhere Hear & speak, Night vision, For smartphone, tablet
Highlights
Wi-Fi enabled baby monitor
Have ultimate peace of mind with In.Sight
wireless baby monitor. It connects to Wi-Fi
802.11 bgn networks. Place the monitor right
in your baby room, you can watch and hear
your baby right from your smartphones
wherever you are.
Watch your baby via WiFi/3G/4G
In.Sight wireless HD baby monitor allow you
to watch your baby on your smartphones
wherever you are. Once you have set up your
In.Sight wireless baby monitor, you can access
the video stream from your smartphones
anywhere via Wi-Fi, 3G or 4G LTE networks.
There's no limit to where and how you view
your loved ones.
Continous audio streaming
In.Sight wireless HD baby monitor streams
audio continously even when your
smartphones is locked or when you are
docking or charging your smartphones.
Easy set-up via QR code
Set-up is simple with the app. The app will
generate a QR code for your home Wi-Fi
settings. With the QR code, the monitor will
automatically pair with your Wi-Fi network,
easily and instantly.
times. In.Sight wireless monitor uses a unique
encryption key each time it makes a
connection, providing you a highly secure
connection each time you look at your loved
ones.
HD video quality
Instant talk via smartphones
With In.Sight wireless HD baby monitor, you
can talk to your baby anytime you want. Simply
press "talk" on your smartphones and sing her
a nursery rhyme. Watch as she falls asleep in
your soothing voice.
In.Sight wireless HD baby monitor allow you
to watch your baby in vivid detail. View videos
in high definition 720p quality. The "720" refers
to the number of horizontal lines of resolution
on the screen. The "p" stands for progressive
scan or the sequential appearance of the lines
in each frame. With 720p resolution, videos
are sharper and more true-to-life.
Night vision mode
Encrypted direct networking
Night vision mode allows you to see your
baby's lovely face in the dark. Infrared light
goes on for the monitor to capture clear black
and white video when it is dark. Night vision
mode switches on and off automatically, or you
can adjust it manually.
In.Sight wireless monitor uses highly secure
encryption to provide you with privacy at all
PVC and BFR-free
In.Sight wireless HD baby monitor is free from
brominated flame retardant (BFR) and
polyvinyl chloride (PVC). It adheres to the
stringent safefy standards for infant utensils
and is absolutely baby-proof, safe and ecofriendly.
Multi-user mode
Share monitors with your spouse, family,
friends and even your baby sitters. The app lets
you share each monitor with two other users
so that they have access to live videos and
sound via their smartphones as well. You can
even upgrade the app to share the monitor
with up to 16 users.
Noise and motion alerts
It's impossible to predict when something
might happen to your baby. In.Sight wireless
HD baby monitor keeps watching with
adjustable noise and motion detection. You
will be alerted anytime noise or motion is
detected. Automatically receive push
notifications on your smartphones when the
monitor detects motion or noise.
Temperature & humidity sensor
Temperature and humidity sensors on In.Sight
wireless HD baby monitor show temperature
and humidity level on your smartphones. The
humidity sensor measures humidity level, for
instance, detecting dry air that may irritate
baby's throat. The app will even alert you when
the temperature is too high/low.
B120E/37
In.Sight wireless HD baby monitor
Watch from anywhere Hear & speak, Night vision, For smartphone, tablet
Specifications
Lens & Sensor
•
•
•
•
•
•
•
•
Sensor: 720p HD video image sensor
Aperture: F2.8
Digital zoom: 2x digital
Focus mode: Fixed
Ambient light sensor: Yes, day/night mode
Night mode: Infra-Red
IR control: via App
IR range: 4 meters
Video Quality
•
•
•
•
•
HD/VGA/QVGA streaming
Resolution: HD (1280 x 720p) at 30 fps
Formats: H.264 video compression
White Balance: Automatic white balance
Exposure: Automatic exposure control
Features
•
•
•
•
•
•
•
•
•
Wi-Fi: 802.11 a/ b/ n
Motion detection
Noise detection
Direction adjustable base
LED indicator
Reset button
Screw holes: Yes, 1
Temperature measurement: -10 – 50 °C
Humidity measurement: 20 – 90%
Software
•
•
•
•
Installation: via App
Automatic App update
Web browser support
System supported: iOS4.3 or above, Android 2.3
or above
• iPad compatibility: iPad 2, iPad mini, iPad (3rd
generation)
• iPhone compatibility: iPhone 4S, iPhone 5, iPhone
3GS
• iPod compatibility: iPod Touch 4th generation & up
• Android phone compatibility: Philips recommends
Samsung Galaxy 3 performance phones or better
Accessories included
•
•
•
•
•
Extra wall mount
USB power adapter
USB cable: Yes, 2.5 m
Screws / wall anchors: 1
Quick Start Guide
Input and Output
•
•
•
•
Audio: 2-way, parent talk back
Microphone: High-senstitive, Mono
Bulit-in speaker
USB: Mini-USB port
Minimum Requirements
• Windows: Windows 7, Internet Explorer 9.0,
Chrome 20.0, Firefox
• MAC: MACINTOSH 10.6, Safari 5.1.7, Chome
21.0, Firefox
Dimensions
• Packaging dimensions (W x H x D):
158 x 160 x 70 mm
• Product dimensions (W x H x D):
66.2 x 104 x 66.2 mm
•
Issue date 2015-04-13
© 2015 Koninklijke Philips N.V.
All Rights reserved.
Version: 2.0.4
Specifications are subject to change without notice.
Trademarks are the property of Koninklijke Philips N.V.
or their respective owners.
12 NC: 8670 001 05559
UPC: 6 09585 23534 2
www.philips.com
* Viewing live video over your home Wi-Fi network using the In.Sight
wireless home monitor is free and unrestricted. Viewing live video
remotely (either over an external Wi-Fi network or 3G network) is
also free for unlimited sessions, but subject to a limit of 5 minutes
per session.
* Longer remote viewing session times and other premium features
are available for purchase from the App. These conditions are
subject to change.

* Your assessment is very important for improving the work of artificial intelligence, which forms the content of this project