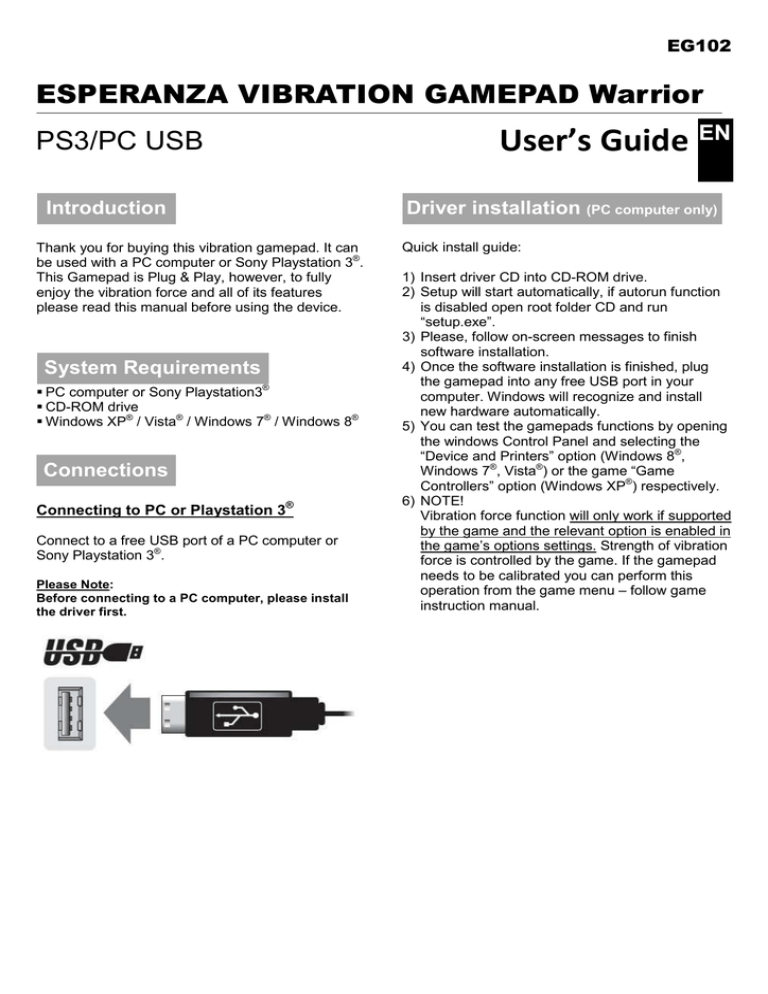 EG102
ESPERANZA VIBRATION GAMEPAD Warrior
PS3/PC USB
Introduction
Thank you for buying this vibration gamepad. It can
be used with a PC computer or Sony Playstation 3®.
This Gamepad is Plug & Play, however, to fully
enjoy the vibration force and all of its features
please read this manual before using the device.
System Requirements
PC computer or Sony Playstation3®
CD-ROM drive
Windows XP® / Vista® / Windows 7® / Windows 8®
Connections
Connecting to PC or Playstation 3®
Connect to a free USB port of a PC computer or
Sony Playstation 3®.
Please Note:
Before connecting to a PC computer, please install
the driver first.
User's Guide EN
Driver installation (PC computer only)
Quick install guide:
1) Insert driver CD into CD-ROM drive.
2) Setup will start automatically, if autorun function
is disabled open root folder CD and run
"setup.exe".
3) Please, follow on-screen messages to finish
software installation.
4) Once the software installation is finished, plug
the gamepad into any free USB port in your
computer. Windows will recognize and install
new hardware automatically.
5) You can test the gamepads functions by opening
the windows Control Panel and selecting the
"Device and Printers" option (Windows 8®,
Windows 7®, Vista®) or the game "Game
Controllers" option (Windows XP®) respectively.
6) NOTE!
Vibration force function will only work if supported
by the game and the relevant option is enabled in
the game's options settings. Strength of vibration
force is controlled by the game. If the gamepad
needs to be calibrated you can perform this
operation from the game menu – follow game
instruction manual.

* Your assessment is very important for improving the work of artificial intelligence, which forms the content of this project