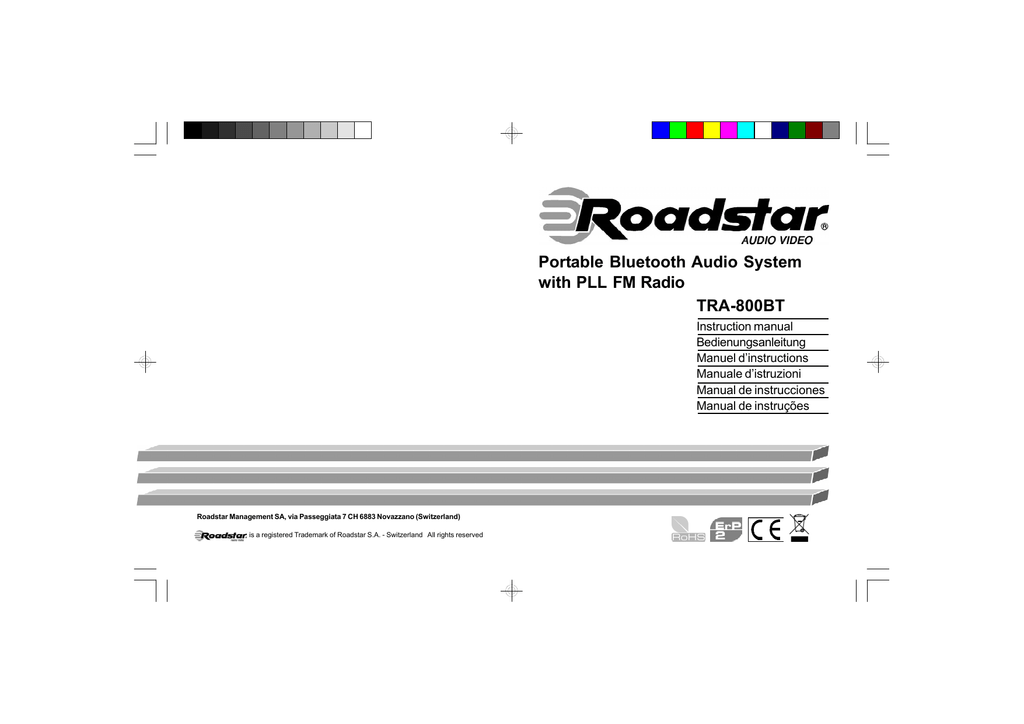 Portable Bluetooth Audio System
with PLL FM Radio
TRA-800BT
Instruction manual
Bedienungsanleitung
Manuel d'instructions
Manuale d'istruzioni
Manual de instrucciones
Manual de instruções
Roadstar Management SA, via Passeggiata 7 CH 6883 Novazzano (Switzerland)
is a registered Trademark of Roadstar S.A. - Switzerland All rights reserved
INDEX
English
Deutsch
Français
Italiano
Español
Português
TRA-800BT
Page
Seite
Page
Pagina
Página
Pagina
1
7
13
19
25
31
8
10
8
9
7
1
12
• Your new unit was manufactured and
assembled under strict ROADSTAR quality
control.
Thank-you for purchasing our product for your
music enjoyment.
Before operating the unit, please read this
instruction manual carefully. Keep it also handy
for further future references.
• Votre nouvel appareil a été fabriqué et monté en
étant soumis aux nombreaux tests ROADSTAR.
Nous espérons que cet appareil vous donnera
entière satisfaction.
Avant de vous adonner à ces activités, veuillez
lire attentivement ce manuel d'instructions.
Conservez-le à portée de main à fin de référence
ultérieure.
• Vuestro nuevo sistema ha sido construido
según las normas estrictas de control de
calidad ROADSTAR.
Le felicitamos y le damos las gracias por su
elección de este aparado. Por favor leer el
manual antes de poner en funcionamiento el
equipo y guardar esta documentación en case
de que se necesite nuevamente.
• Ihr neues Gerät wurde unter Beachtung der strengen
ROADSTAR-Qualitätsvorschriften gefertigt.
Wir danken Ihnen für den Kauf unseres Produktes und
wünschen Ihnen optimalen Hörgenuss. Bitte lesen
Sie diese Bedienungsanleitung durch, und heben Sie
sie auf, um jederzeit darin nachschlagen zu können.
• Il vostro nuovo apparecchio é stato prodotto ed
assemblato sotto lo stretto controllo di qualità
ROADSTAR.
Vi ringraziamo di aver acquistato un nostro prodotto
per il vostro piacere d'ascolto.
Prima di procedere all'utilizzo dell'apparecchio, leggete
attentamente il manuale d'istruzioni e tenetelo sempre
a portata di mano per futuri riferimenti.
•
Seu novo aparelho foi construido e montado sob o
estrito controle de qualidade da ROADSTAR.
Agradecemos por ter comprado nosso produto para a
sua diversão.
Antes de usar esta unidade é necessário ler com
atençâo este manual de instruções pare que possa
ser usada apropriadamente; mantenha o manual ao
seu alcance para outras informações.
6
13
11
2
3
4
5
English
1
WARNINGS
The exclamation point within the triangle is a warning sign alerting the user of
important instructions accompanying the product.
The lightening flash with arrowhead symbol within the triangle is a warning sign
alerting the user of "dangerous voltage" inside the unit.
To reduce the risk of electric shock, do not remove the cover. No user serviceable
parts inside the unit. Refer all servicing to qualified personnel.
This unit operates on 230V ~ 50Hz. If the unit is not used for a long period of time,
remove the plug from the AC mains.
This unit must not be exposed to moisture or rain.
The power switch in this unit is mounted on the secondary circuit and does not
disconnect the whole unit from the mains in OFF position.
Ensure all connections are properly made before operating the unit.
This unit should be positioned so that it is properly ventilated. Avoid placing it,
for example, close to curtains, on the carpet or in a built-in installation such as
a bookcase.
Do not expose this unit to direct sunlight or heat radiating sources.
Correct Disposal of This Product
(Waste Electrical & Electronic Equipment)
This marking shown on the product or its literature, indicates that it should not
be disposed with other household wastes at the end of its working life. To prevent
possible harm to the environment or human health from uncontrolled waste disposal,
please separate this from other types of wastes and recycle it responsibly to
promote the sustainable reuse of material resources. Household users should
contact either the retailer where they purchased this product, or their local government
office, for details of where and how they can take this item for environmentally
safe recycling.
Business users should contact their supplier and check the terms and conditions
of the purchase contract. This product should not be mixed with other commercial
wastes for disposal.
2
English
TRA-800BT
PORTABLE AUDIO SYSTEM WITH FM DIGITAL PLL RADIO
TABLE OF CONTENTS
•
•
•
•
LOCATION OF CONTROLS
POWER SUPPLY
AC POWER
SPECIFICATIONS
LOCATION OF CONTROLS
1. EXTERNAL AC ADAPTER
2. SOURCE BUTTON
3. GRAPHIC EQWUALIZER DISPLAY
4. BLUETOOTH PAIRING BUTTON
5. LCD DISPLAY
6. VOLUME BUTTONS
7. SCAN / CLOCK SETTINGS
8. TUNING BUTTONS
9. MEMORY BUTTON
10. PLAY / PAUSE BUTTON
11. (USB CHARGER ONLY)
12. LINE-IN
13. STAND-BY ON / OFF BUTTON
POWERSUPPLY
This unit operates with a built-in Li-Po rechargeable battery or from a
English
3
main supply of 230V ~ 50Hz when connected the external AC Adapter
(1). Connect the AC power adapter to the AC household main outlet,
the red LED will light up. Ensure that the voltage is as indicated on the
rating plate on the rear of the unit.
STATUS
FULLY CHARGED
CHARGING
LOW BATTERY
BATTERY INDICATOR
NO LIGHT
RED LIGHT
FLASHING RED LIGHT
NOTE: Charge the unit at least once a month to maintain the internal
battery integrity even when not in use.
SETTINGTHECORRECTTIME
1.
2.
2.
3.
3.
Switch OFF the unit by pressing teh ON / OFF button (13).
Keep pressed the Scan / Clock button (7) for three seconds.
Press the TUNE+ or - (8) button to advance hour
Press shortly the Scan / Clock button (7) again.
Press the TUNE + or - (8) button to advance MINUTE until the
correct time is displayed.
4. Press shortly the Scan / Clock button (7) to complete the setting
operation.
4
English
LISTENINGTOTHERADIO
1. Press shortly the ON/OFF/AUTO (13) button to switch the Radio
ON .
2. Press 3 seconds the Scan / Clock button (7) to start the Radio autotuning function (the unit will store automatically the strongest
stations).
3. Adjust the VOLUME Control (15) to a comfortable listening level.
5. To listen the desired Radio stations, short press MEMORY button (9)
to enter in the stored station, then press TUNE + or - (8) to select
the desired Radio station.
6. To search manually a Radio station, when in RADIO mode press
the TUNE + or TUNE - (8) button sequentially until the desired
frequency is displayed. If the TUNE buttons are pressed for more
than 2 seconds, the Radio start searcing the station automathically.
6. To store manually the desired station in the memory, tune the
station first then keep pressed the MEMORY button (9) three
seconds. The Display show the Memory number, then press the
TUNE + or - (8) to select the desired memory number, then press
shortly the MEMORY button (9) to store the station.
7. To listen the stored stations, refer to the chapter 5.
English
5
AUX-IN
Connect any external Audio analogue source to the 3,5mm input jack
AUX-IN in the rear side (12), then press the Source button to select
AUX-IN to listen the Audio.
TUNE+/TUNE-BUTTONS
In RADIO mode, these buttons works as TUNING. During Bluetooth
playback, when pressed they change the track of the music played
on MP3 Audio source device.
6
English
until teh bluetooth symbols appear in the display.
Switch ON the Bluetooth function of your player, then start searching
the Bluetooth name "TRA-800BT".
If the above name is not sieplayed in your Bluetooth device, press the
Pair button (4) until it compare. In case if the player ask the Password
number, enter "0000".
NOTE: This unit has a "Energy Saving Circuit" that switch OFF
automatically after 120 minutes when has no sound from Bluetooth
or AUX-In mode.
SPECIFICATIONS
PLAY/PAUSEBUTTON
FM Band:
To be used when the unit is paired to some Bluetooth device. Press
this button to put in PAUSE or PLAY the player.
SOURCEBUTTON
Press the SOURCE button to select RADIO / AUX-IN or BLUETOOTH
MODE.
BLUETOOTH PAIRING
Before start the pairing process, switch ON the unit by pressing the
POWER button (13). Press the SOURCE button (2) to select Bluetooth
87.5 to 108 MHz
Power Supply:
Internal Li-Ion Battery or 230VAC, 50 Hz
Consumption:
6W
Design and specifications are subject to change without notice.
Deutsch
7
SICHERHEITSHINWEISE
Das Ausrufszeichen im Dreieck weist den Benutzer auf wichtige Bedienungsund Wartungsanweisungen (Service) in diesem Handbuch hin, die unbedingt
zu befolgen sind.
Das Blitzsymbol im Dreieck weist den Benutzer auf "gefährliche Spannungen"
an einigen freiliegenden Bauteilen im Innem des Gerätes hin.
Um die Gefahr elektrischer Schläge auszuschliessen, Gehäuse auf keinen Fall
abnehmen. Im Innem befinden sich keine vom Benutzer selbst instandsetz-baren
Teile. Reparaturen dürfen nur von einer autorisierten Fachwerkstatt durchgeführt
werden.
Dieses Gerät ist für 230V ~ 50Hz Netzspannung ausgelegt. Bei längerer
Nichtbenutzung des Geräts ziehen Sie den Stecker aus der Steckdose.
Setzen Sie das Gerät weder Feuchtigkeit noch Regen aus.
Der EIN-Schalter dieses Geräts ist an den Sekundärschaltkreis ange-schlossen.
Seine Abschaltung unterbricht die Hauptstromzufuhr des Geräts nichts.
Schalten Sie das System erst dann ein, wenn Sie alle Verbindungen genau
geprüft haben.
Stellen Sie das Gerät so auf, dass immer eine ungestörte Frischluftzufuhr
sichergestellt ist. Es ist zum beispiel keinesfalls auf Teppiche und in der Nähe
von Gardinen zu stellen oder in Bücherregale einzubauen.
Setzen Sie das Gerät weder direkter Sonneneinstrahlung noch Wärmequellen
aus.
Korrekte Entsorgung dieses Produkts (Elektromüll)
Die Kennzeichnung auf dem Produkt bzw. auf der dazugehörigen Literatur
gibt an, dass es nach seiner Lebensdauer nicht zusammen mit dem normalen
HaushaltsmüIl entsorgt werden darf. Entsorgen Sie dieses Gerat bitte
getrennt von anderen Abfallen, um der Umwelt bzw. der menschlichen
Gesundheit nicht durch unkontrollierte Müllbeseitigung zu schaden.
Recyceln Sie das Gerät, um die nachhaltige Wiederverwertung von stofflichen
Ressourcen zu fördern.
Private Nutzer sollten den Händler, bei dem das Produkt gekauft wurde,
oder die zuständigen Behörden kontaktieren, um in Erfahrung zu bringen,
wie sie das Gerät auf umweltfreundliche Weise recyceln können.
Gewerbliche Nutzer sollten sich an Ihren Lieferanten wenden und die
Bedingungen des Verkaufsvertrags konsultieren. Dieses Produkt darf nicht
zusammen mit anderem Gewerbemüll entsorgt werden.
8
Deutsch
TRA-800BT
TRAGBARES AUDIO-SYSTEM MIT UKW PLL DIGITAL RADIO
INHALT
• ANORDNUNG DER BEDIENELEMENTE
• POWER SUPPLY
• TECHNISCHE DATEN
LAGE DER ÜBERWACHUNG
1 . EXTERNES NETZTEIL
2 . SOURCE-TASTE
3 . GRAFISCHE DISPLAY EQUALIZER
4 . BLUETOOTH-VERBINDUNGS-BUTTON
5 . LCD DISPLAY
6 . LAUTSTÄRKETASTEN
7 . SCAN / UHREINSTELLUNGEN
8 . TASTEN TUNING + / 9 . MEMORY BUTTON
10 . PLAY / PAUSE
11 . (NUR USB LADEGERÄT)
12 . LINE - IN
13 . STAND- BY ON / OFF BUTTON
POWER SUPPLY
Dieses Gerät arbeitet mit einem eingebauten Li -Po -Akku oder mit
einem Stromnetz von 230V ~ 50Hz , wenn der externe AC Netzadapter
Deutsch
9
10
Deutsch
(1) verbunden ist. Stecken Sie das Netzteil in die Steckdose, dann
leuchtet die rote LED. Stellen Sie sicher, dass die Spannung, wie es
auf dem Typenschild auf der Rückseite des Gerätes angegeben
stimmt.
RADIO HÖREN
STATUS
2 . Drücken Sie 3 Sekunden, die Scan / Clock -Taste (7), um die RadioAutotuning-Funktion (das Gerät soppt automatisch bei gut
empfangenden Sendern) zu starten.
VOLL AUFGELADEN
LADEN
LOW BATTERY
BATTERIEANZEIGE
KEIN LICHT
ROT LIGHT
BLINKENDES ROTES LICHT
HINWEIS : LADEN SIE DAS GERÄT MINDESTENS EINMAL IM
MONAT, UM DEN INTERNEN AKKU LÄNGER BENUTZEN ZU
KÖNNEN, SOGAR WENN SIE ES NICHT IN GEBRAUCH HABEN.
EINSTELLUNG DER RICHTIGEN UHRZEIT
1 . Schalten Sie das Gerät durch Drücken ON / OFF-Taste (13).
2 . Drücke Sie die Scan / Clock -Taste (7) drei Sekunden lang.
2 . Drücken Sie die TUNE + oder - Taste (8) um eine Stunde
vorzustellen.
3 . Drücken Sie kurz die Scan / Clock-Taste (7).
3 . Drücken Sie die TUNE + oder - (8), um MINUTEN vorzustellen
solange bis die richtige Zeit angezeigt wird.
4 . Drücken Sie kurz die Scan / Clock-Taste (7), um die Einstellung
abzuschließen.
1 . Drücken Sie kurz die EIN / AUS / AUTO Taste (13) , um das Radio
einzuschalten.
3 . Stellen Sie den Lautstärkeregler (15) auf eine angenehme
Lautstärke.
5 . Um den gewünschten Radiosender zu hören, drücken Sie kurz die
Taste MEMORY (9) um den gespeicherten Sender zu speichern und
drücken Sie TUNE + oder - (8), um den gewünschten Senderplatz
auszuwählen.
6 . Für die manuelle Suche eines Radiosenders, im RADIO-Modus die
Taste TUNE + oder TUNE - Taste (8) nacheinander drücken bis die
gewünschte Frequenz angezeigt wird. Wenn Sie die TUNE -Taste
länger als 2 Sekunden drücken, startet das Radio automatisch die
Sendersuche.
6 . Zum manuellen Speichern der gewünschten Sender, zuerst die
MEMORY- Taste (9) drei Sekunden lang drücken. Das Display zeigt
die Memory-Nummer, durch drücken der TUNE + oder - (8), die
gewünschte Nummer auszuwählen , dann drücken Sie kurz die Taste
MEMORY (9), um den Sender zu speichern.
Deutsch
11
7 . Um die gespeicherten Sender zu hören , auf das Kapitel 5
verweisen.
AUX -IN
Schließen Sie eine externen Audio Analog Quelle per 3,5 mm Eingang AUX -IN an der Rückseite an (12) , durch drücken der SourceTaste bis zur Auswahl AUX -IN , um die Audiodatei anhören .
TUNE + / TUNE - Tasten
Im Radio-Modus , funktioniert diese Tasten als TUNING . Während der
Bluetooth
Wiedergabe verändern sie die Spur der gespielten Musik auf MP3
Audio Quellgerät
wenn Sie diese drücken .
12
Deutsch
BLUETOOTH-VERBINDUNG
Bevor der Verbindungs –Prozess starten kann , schalten Sie das Gerät
durch Drücken der POWER-Taste (13 ) ein. Drücken Sie die Taste
SOURCE (2) Bluetooth wählen bis das Bluetooth Symbole in der
Anzeige zu sehen ist.
Schalten Sie die Bluetooth-Funktion Ihres Handys/MP3-Player/etc.
ein, dann starten Sie die Suche nachdem Bluetooth-Namen "TRA800BT" .
Wenn Sie den oben genannten Namen mit Ihrem Bluetooth-Gerät
gefunden haben, drücken Sie die Taste Pair (4 ), bis sie zu verbunden
sind. Im Fall, das Ihr Gerät nach einem Passwort fragt, geben Sie
"0000" ein.
HINWEIS: Dieses Gerät verfügt über ein "Energy Saving Circuit",
das sich automatisch nach 120 Minuten ausschaltet, wenn kein
Ton im Bluetooth oder AUX -In-Modus ankommt .
PLAY / PAUSE
TECHNISCHE DATEN
Zu verwenden, wenn das Gerät mit einem gewissen Bluetooth -Gerät
gekoppelt wird. Drücken Sie diese Taste, um in die Musik zu
unterbrechen und wieder zu starten.
FM BAND:
STROMVERSORGUNG:
SOURCE-TASTE
VERBRAUCH:
Drücken Sie die SOURCE -Taste, um zwischen RADIO / AUX -IN oder
Bluetooth zu wählen.
DESIGN UND TECHNISCHE DATEN KÖNNEN OHNE VORHERIGER
ANKÜNDIGUNG GEÄNDERT WERDEN.
87.5 BIS 108 MHZ
INTERNER LI -ION-AKKU ODER
230VAC, 50 HZ
6W
Français
13
ATTENTION
Le symbole "point d'exclamation" à l'intérieur d'un triangle avertit l'utilisateur
que d'importantes instructions d'utilisation et de maintenance sont contenues
dans le mode d'emploi.
Le symbole "éclair" à l'intérieur d'un triangle sert à avertir l'utilisateur de la présence
du courant à l'intérieur du l'appareil qui pourrait constituer un risque.
Afin de minimiser les risques, ne pas ouvrir le boîtier ni ôter le dos de l'appareil. En
casedepanne, faites appelauxtechniciens qualifiés pour les réparations. L'appareil
ne renferme aucune pièce reparable par l'utilisateur.
Cet appareil a été conçu pour une tension d'alimentation de 230V ~ 50Hz.
Débranchez la prise de courant quand on prévoit de ne pas utiliser l'appareil
pendant un certain temps.
L'unité ne doit pas être exposée à l'humidité ou à la pluie.
L'interrupteur d'allumage de cet appareil est monté sur des circuits secondaires
et il ne débranche pas l'appareil tout entier lorsqu'on l'éteint.
Mettez l'appareil sous tension seulement après avoir vérifié que tous les
raccordements soient corrects.
L'appareil doit être gardé dans un endroit suffisamment ventilé. Ne le gardez
jamais par exemple près des rideaux, sur un tapis ou dans des meubles, tels
qu'une bibliothèque.
L'appareil ne doit pas être exposé à la lumière directe du soleil ou à des sources
de chaleur.
Installez votre pile en veillant à respecter la correcte polarité.
Comment éliminer ce produit (déchets d'équipements électriques et électroniques)
Ce symbole sur le produit ou sa documentation indique qu'il ne doit pas
être éliminé en fin de vie avec les autres déchets ménagers. L'élimination
incontrôlée des déchets pouvant porter préjudice a l'environnement ou a la
santé humaine, veuillez le séparer des autres types de déchets et le recycler
de façon responsable. Vous favoriserez ainsi la réutilisation durable des
ressources matérielles. Les particuliers sont invites a contacter le distributeur
leur ayant vendu le produit ou a se renseigner auprès de leur mairie pour
savoir ou et comment ils peuvent se débarrasser de ce produit afin qu'il
soit recyclé en respectant l'environnement. Les entreprises sont invitées a
contacter leurs fournisseurs et a consulter les conditions de leur contrat
de vente. Ce produit ne doit pas être éliminé avec les autres déchets
commerciaux.
14
Français
TRA-800BT
SYSTÈME AUDIO PORTATIF AVEC BLUETOOTH, HORLOGE ET
RADIO FM NUMÉRIQUE PLL
TABLE DES MATIÈRES
• EMPLACEMENT DES COMMANDES
• ALIMENTATION
• CARACTÉRISTIQUES
DESCRIPTION DU PRODUIT
1 . ALIMENTATION EXTERNE ADAPTATEUR AC-230V
2 . TOUCHE SOURCE (RADIO / BLUETOOTH / AUX -IN)
3 . EGALISEUR GRAPHIQUE
4 . TOUCHE D'APPAIRAGE BLUETOOTH
5 . ECRAN LCD
6 . BOUTONS DE VOLUME + ET 7 . TOUCHE SCAN RADIO / HORLOGE
8 . TOUCHE SYNTONISATION RADIO
9 . TOUCHE DE MÉMOIRE
10 . TOUCHE PLAY / PAUSE
11 . USB (SEULEMENT POUR LA CHARGE)
12. ENTREE AUX-IN
13 . TOUCHE MARCHÉ ARRÊT
ALIMENTATION
Cet appareil utilise une batterie rechargeable Li -Po ou une alimentation
Français
15
16
Français
externe par adaptateur connecté au secteur 230V ~ 50Hz. Connectez
l' adaptateur à la prise de courant de la maison, le indicateur rouge
s'allume . Assurez-vous que la tension correspond à celle indiquée sur
la plaque à l'arrière de l' adaptateur.
5 . Appuyez brièvement sur le touche Scan / Clock (7) pour terminer
l'opération de réglage.
INDICATEUR DE BATTERIE
ÉCOUTE DE LA RADIO
STATUT:
INDICATEUR:
CHARGÉ
ROUGE
VOYANT DE LA BATTERIE
SANS LUMIERE
LUMIÈRE DE CHARGE
CLIGNOTEMENT ROUGE
NOTE : CHARGEMENT DE L'UNITÉ AU MOINS UNE FOIS PAR MOIS
POUR MAINTENIR L'INTÉGRITÉ DE LA BATTERIE INTERNE , MÊME
LORSQU'IL N'EST PAS USE .
RÉGLAGE DE L'HORLOGE
1 . Eteignez l'appareil en appuyant sur le touche POWER (13).
2 . Appuyez et maintenez enfoncé le touche Scan / Clock (7) pendant
trois secondes.
2 . Appuyez sur le touche TUNING + ou - ( 8) pour faire avancer l'horloge
3 . Appuyez brièvement sur le touche SCAN / Clock (7).
4 . Appuyez sur le touche TUNING + ou - (8 ) pour faire avancer minutes
jusqu'à ce que l' heure correcte s'affiche .
1 . Appuyez brièvement sur le touche POWER pour allumer la radio
(13).
2 . Appuyez la fonction auto-memorisation de la radio (l ' unité stocke
dans l' ordre sequentiels automatiquement les stations les plus
puissantes).
3 . Réglez la commande de VOLUME (15) à un niveau d'écoute
confortable .
5 . Pour écouter vos stations radio, appuyez brièvement sur le bouton
MEMORY (9) pour accéder au menu des stations enregistrées , appuyez
sur TUNING + ou - (8) pour sélectionner la station de radio souhaitée.
6 . Pour rechercher manuellement une station de radio, le mode Radio
appuyez sur TUNING + ou TUNING - bouton (8 ) jusqu'à ce que la
fréquence souhaitée soit affichée. Si vous appuyez sur la touche TUNE
pendant plus de 2 secondes, la radio commence à chercher la station
de radio automatiquement.
7 . Pour mémoriser manuellement la station, première syntonisez la
station, puis maintenez enfoncé le bouton MEMORY ( 9 ) trois
secondes. L'écran affiche le numéro de préréglage, puis appuyez sur
Français
17
la touche TUNE + ou - (8) pour sélectionner le numéro de présélection
que vous voulez, puis appuyez brièvement sur le bouton MEMORY (9)
pour mémoriser la station .
8 . Pour écouter des stations enregistrées, reportez-vous au chapitre 5
AUX-IN
Connectez n'importe quelle source analogique pour l'audio a la prise
3.5mm AUX-IN à l'arrière (12), puis appuyez sur le touche Source et
sélectionnez AUX-IN pour entendre le audio .
18
Français
DISPOSITIFS DE COUPLAGE BLUETOOTH
Avant de commencer le processus d'appairage, alluméz l' appareil
avec le touche POWER (13). Ensuite, appuyez sur la touché source (2)
pour sélectionner Bluetooth lorsque le symbole Bluetooth apparaît sur
l'écran LCD.
Activez la fonction Bluetooth de votre lecteur, puis lancer la recherche
pour le nom de Bluetooth "TRA- 800BT".
Si le nom ci-dessus ne s'affiche pas dans votre appareil Bluetooth,
appuyez sur le bouton Pair (4) jusqu'à ce qu'ils s'accouplent . Dans le
cas où le lecteur devait demander le nombre de mot de passe , entrez
"0000".
TOUCHES DE RÉGLAGE "TUNING" + O En mode radio, ces touches fonctionnent comme syntonisation. lors de
la lecture de musique via Bluetooth,
lorsqu'il est pressé changer la piste de la musique reproduit par le
lecteur audio pour MP3.
NOTE : CET APPAREIL EST ÉQUIPÉ D'UN "CIRCUIT DE
ÉCONOMIE D'ÉNERGIE" QUI ÉTEINT AUTOMATIQUEMENT
APRÈS 120 MINUTES QUI N'A PAS SON DE OU AUX- EN MODE
BLUETOOTH .
PLAY / PAUSE
CARACTÉRISTIQUES
A utiliser lorsque l'appareil est couplée certains périphériques Bluetooth.
Appuyez ce touche pour mettre en pause ou redémarrer le lecteur .
SOURCE
BANDE FM:
87,5 À 108 MHZ
SOURCE D'ALIMENTATION: BATTERIE LITHIUM -ION INTERNE
RECHARGEABLE OU 230 V , 50 HZ
CONSOMMATION:
6W
Appuyez sur le bouton source pour sélectionner la modalité Radio /
AUX - IN ou Bluetooth.
CONCEPTION ET LES CARACTÉRISTIQUES SONT SUJETS À
CHANGEMENT SANS PRÉAVIS.
Italiano
19
ATTENZIONE
Il punto di esclamazione all'interno di un triangolo avverte l'utente che il libretto
d'istruzioni contiene delle importanti istruzioni per l'uso e la manutenzione.
Il simbolo del fulmine all'interno di un triangolo avverte l'utente della presenza
di una pericolosa tensione all'interno dell'apparecchio.
Per ridurre i rischi di scosse elettriche, non aprire l'apparecchio. L'apparecchio
non contiene parti riparabili dall'utente. In caso di guasto fare appello a tecnici
qualificati per le riparazioni.
Questo apparecchio è stato progettato per funzionare a 230V ~ 50Hz. Se non
si intende utilizzare l'apparecchio per un lungo periodo di tempo, rimuovere la
spina dalla presa di corrente.
Non esporre l'apparecchio alla pioggia o all'umidità.
L'interruttore di alimentazione di questo apparecchio è montato sul circuito
secondario e non disconnette completamente l'apparecchio quando viene spento.
Utilizzare l'apparecchio solo dopo aver verificato che tutte le connessioni siano
state eseguite correttamente.
Posizionare l'apparecchio in un luogo sufficientemente ventilato. Evitare di
sistemarlo vicino a tende, sul tappeto o all'interno di un mobile quale, ad esempio,
una libreria.
Non esporre l'apparecchio alla luce diretta del sole o a fonti di calore.
Noi. Roadstar Italia Spa
Viale Matteotti 39
I-22012 Cernobbio (Como)
Dichiariamo:
Che il modello RADIOSVEGLIADIGITALE CLR-2620 della Roadstar è prodotto in conformità
al D.M. no. 548 datato 28/08/95 (G.U. no. 301 datata 28/12/95) e, in particolare, è in conformità
alle prescrizioni dell'articolo 2 comma 1.
Corretto smaltimento del prodotto - (rifiuti elettrici ed elettronici)
II marchio riportato sul prodotto e sulla sua documentazione indica che il prodotto
non deve essere smaltito con altri rifiuti domestici al termine del ciclo di vita.
Per evitare eventuali danni all'ambiente o alla salute causati dall'inopportuno
smaltimento dei rifiuti, si invita l'utente a separare questo prodotto da altri tipi
di rifiuti e di riciclarlo in maniera responsabile per favorire il riutilizzo sostenibile
delle risorse materiali.
Gli utenti domestici sono invitati a contattare il rivenditore presso il quale e stato
acquistato il prodotto a l'ufficio locale preposto per tutte le informazioni relative
alla raccolta differenziata e al riciclaggio per questo tipo di prodotto.
Gli utenti aziendali sono invitati a contattare il proprio fornitore e verificare i termini
e le condizioni del contratto di acquisto. Questo prodotto non deve essere smaltito
unitamente ad altri rifiuti commerciali.
20
Italiano
TRA-800BT
SISTEMA AUDIO BLUETOOTH PORTATILE CON RADIO DIGITALE
FM PLL E OROLOGIO INDICE
• POSIZIONE DEI COMANDI
• ALIMENTAZIONE
• CARATTERISTICHE
DESCRIZIONE COMANDI DEL PRODOTTO
1 . ALIMENTATORE AC-230V ESTERNO
2 . TASTO SORGENTE (RADIO / BLUETOOTH / AUX-IN)
3 . EQUALIZATORE GRAFICO
4 . TASTO ACCOPPIAMENTO BLUETOOTH
5 . DISPLAY LCD
6 . PULSANTI VOLUME
7 TASTO SCANSIONE RADIO / OROLOGIO
8 . TASTO SINTONIA RADIO
9 . TASTO MEMORIA
10 . TASTO PLAY / PAUSE
11 . ( USB SOLO CARICA )
12 . INGRESSO AUX-IN
13 . TASTO ACCENSIONE / SPEGNIMENTO
ALIMENTAZIONE
Questo apparecchio funziona con una batteria integrata ricaricabile
Li- Po oppure tramite un alimentatore esterno collegato alla presa
Italiano
21
principale di 230V ~ 50Hz. Collegare l'adattatore di alimentazione
CA alla presa principale alternata della corrente domestica, il LED
rosso si accende. Assicurarsi che la tensione corrisponda a quella
indicata sulla targhetta sul retro dell'alimentatore .
INDICATORE DI STATO DELLA BATTERIA
STATO:
INDICATORE:
COMPLETAMENTE CARICA
NESSUNA LUCE
CARICA
LUCE ROSSA
BATTERIA SCARICA
LUCE ROSSA LAMPEGGIANTE
NOTA : CARICARE L'APPARECCHIO ALMENO UNA VOLTA AL
MESE PER MANTENERE L'INTEGRITÀ DELLA BATTERIA INTERNA,
ANCHE QUANDO NON È IN USO .
IMPOSTAZIONE DELL'ORA ESATTA
1 . Spegnere l'apparecchio premendo il pulsante POWER (13) .
2 . Tenere premuto il pulsante Scansione / Orologio (7) per tre secondi
2 . Premere il tasto SINTONIA + o - (8) per avanzare all'ora
3 . Premere di nuovo brevemente il pulsante Scansione / Orologio
(7) .
3 . Premere il tasto SINTONIA + o - (8) per avanzare minuto fino a
quando viene visualizzata l'ora corretta.
4 . Premere brevemente il pulsante Scansione / Orologio (7) per
completare l'operazione di impostazione .
22
Italiano
ASCOLTARE LA RADIO
1 . Premere brevemente il tasto POWER per accendere la Radio (13).
2 . Premere per 3 secondi il pulsante Scansione / Orologio (7) per
avviare la funzione di auto-memorizzazione delle stazioni Radio (l'
apparecchio memorizza in sequenza automaticamente le stazioni
più forti ) .
3 . Regolare il controllo VOLUME (15) ad un livello di ascolto
confortevole .
5 . Per ascoltare le stazioni radio desiderate , premere brevemente
il tasto MEMORY ( 9) per entrare nel menu delle stazioni memorizzate,
quindi premere SINTONIA + o - (8) per selezionare la stazione radio
desiderata .
6 . Per cercare manualmente una stazione radio, in modalità RADIO
premere il tasto SINTONIA + o SINTONIA - tasto (8) in sequenza fino
a quando viene visualizzata la frequenza desiderata. Se si premono
i tasti SINTONIA per più di 2 secondi, la radio inizia a cercare la
stazione radio automaticamente.
6 . Per memorizzare manualmente la stazione desiderata, sintonizzare
prima la stazione quindi tenere premuto il tasto MEMORY (9) tre
secondi. Il display visualizza il numero di memoria, quindi premere
il SINTONIA + o - (8) per selezionare il numero di memoria desiderato,
Italiano
23
quindi premere brevemente il pulsante MEMORY (9) per memorizzare
la stazione .
7 . Per ascoltare le stazioni memorizzate , fare riferimento al capitolo
numero 5.
AUX -IN
Collegare qualsiasi sorgente analogica audio esterna al connettore
da 3,5 mm di ingresso AUX -IN nella parte posteriore (12), quindi
premere il tasto Source e selezionare AUX -IN per ascoltare l' audio
24
Italiano
ACCOPPIAMENTO DISPOSITIVI BLUETOOTH
Prima di avviare il processo di accoppiamento, accendere
l'apparecchio premendo il tasto POWER (13 ). Premere poi il tasto
SORGENTE (2) per selezionare Bluetooth fino quando il simbolo
bluetooth appare sul display .
Attivare la funzione Bluetooth del vostro lettore, poi iniziare la
cercare il nome Bluetooth "TRA-800BT" .
Se il nome di cui sopra non è visualizzato nel vostro dispositivo
Bluetooth, premere il pulsante Pair (4) fino a quando si accoppieranno.
Nel caso in cui il lettore dovesse chiedere il numero di password,
immettere "0000" .
TASTI SINTONIA + O In modalità RADIO, questi tasti funzionano come SINTONIA . durante
la riproduzione di brani tramite Bluetooth,
quando premuti cambiano la traccia della musica riprodotta sul
dispositivo sorgente di audio MP3 .
NOTA: QUESTO APPARECCHIO È DOTATO DI UN "CIRCUITO DI
RISPARMIO ENERGETICO" CHE SPEGNE AUTOMATICAMENTE
DOPO 120 MINUTI IN CUI NON VIENE RIPRODOTTO NESSUN
SUONO QUANDO IN MODALITÀ BLUETOOTH O AUX -IN .
PLAY / PAUSE
SPECIFICHE
Da utilizzare quando l'apparecchio è aaccoppiato a qualche dispositivo
Bluetooth. premere
questo tasto per mettere in pausa o far ripartire il lettore.
Banda FM :
Alimentazione:
da 87,5 a 108 MHz
interna, batteria agli ioni di litio o 230
VAC , 50 Hz
Consumo: 6W
TASTO SORGENTE
Specifiche soggette a variazioni senza preavviso.
Premere il tasto sorgente per selezionare la modalità RADIO / AUX
- IN o BLUETOOTH.