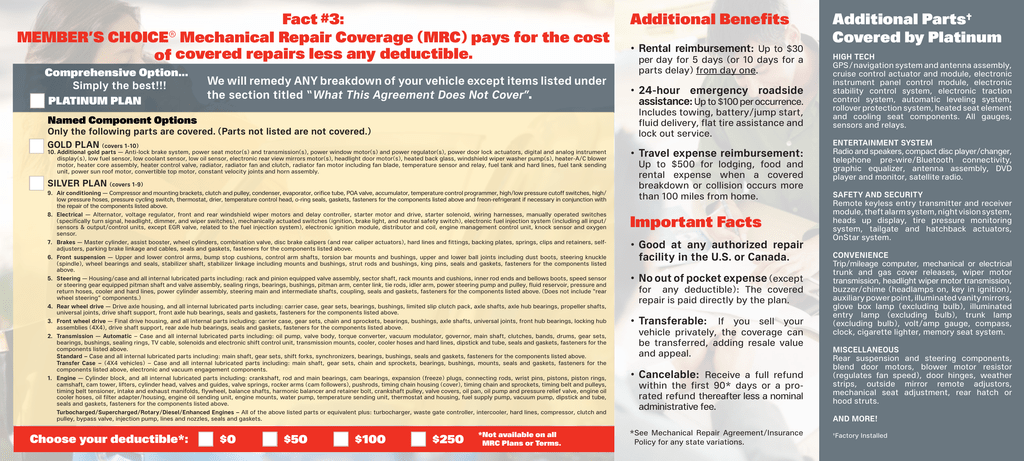 Fact #3:
Member's Choice® Mechanical Repair Coverage (MRC) pays for the cost
of covered repairs less any deductible.
Comprehensive Option...
Simply the best!!!
PLATINUM PLAN
We will remedy ANY breakdown of your vehicle except items listed under
the section titled "What This Agreement Does Not Cover".
Only the following parts are covered. (Parts not listed are not covered.)
GOLD PLAN (covers 1-10)
10. Additional gold parts — Anti-lock brake system, power seat motor(s) and transmission(s), power window motor(s) and power regulator(s), power door lock actuators, digital and analog instrument
display(s), low fuel sensor, low coolant sensor, low oil sensor, electronic rear view mirrors motor(s), headlight door motor(s), heated back glass, windshield wiper washer pump(s), heater-A/C blower
motor, heater core assembly, heater control valve, radiator, radiator fan and clutch, radiator fan motor including fan blade, temperature sensor and relay, fuel tank and hard lines, fuel tank sending
unit, power sun roof motor, convertible top motor, constant velocity joints and horn assembly.
SILVER PLAN (covers 1-9)
9. Air conditioning — Compressor and mounting brackets, clutch and pulley, condenser, evaporator, orifice tube, POA valve, accumulator, temperature control programmer, high/low pressure cutoff switches, high/
low pressure hoses, pressure cycling switch, thermostat, drier, temperature control head, o-ring seals, g
­ askets, ­fasteners for the c
­ omponents listed above and freon-refrigerant if necessary in conjunction with
the repair of the components listed above.
8. Electrical — Alternator, voltage regulator, front and rear windshield wiper motors and delay controller, starter motor and drive, starter solenoid, wiring harnesses, ­manually ­operated switches
(specifically turn signal, headlight, dimmer, and wiper switches), mechanically actuated switches (ignition, brake light, and ­neutral safety switch), electronic fuel injection system (including all input/
sensors & output/control units, except EGR valve, related to the fuel injection system), electronic ignition module, distributor and coil, engine management control unit, knock sensor and oxygen
sensor.
7. Brakes — Master cylinder, assist booster, wheel cylinders, combination valve, disc brake calipers (and rear caliper actuators), hard lines and fittings, ­backing plates, springs, clips and retainers, selfadjusters, parking brake linkage and cables, seals and gaskets, fasteners for the components l­isted above.
6. Front suspension — Upper and lower control arms, bump stop cushions, control arm shafts, ­torsion bar mounts and bushings, upper and lower ball joints including dust boots, steering knuckle
(spindle), wheel bearings and seals, ­stabilizer shaft, ­stabilizer linkage including mounts and bushings, strut rods and bushings, king pins, seals and gaskets, fasteners for the ­components ­listed
above.
5. Steering — Housing/case and all internal lubricated parts including: rack and pinion equipped valve assembly, sector shaft, rack mounts and cushions, inner rod ends and bellows boots, speed sensor
or steering gear equipped pitman shaft and valve assembly, sealing rings, bearings, ­bushings, ­pitman arm, center link, tie rods, idler arm, power steering pump and pulley, fluid reservoir, pressure and
return hoses, cooler and hard lines, power cylinder assembly, steering main and intermediate shafts, coupling, seals and gaskets, fasteners for the components listed above. (Does not include "rear
wheel steering" ­components.)
4. Rear wheel drive — Drive axle housing, and all internal lubricated parts including: carrier case, gear sets, bearings, bushings, limited slip clutch pack, axle shafts, axle hub bearings, propeller shafts,
universal joints, drive shaft support, front axle hub bearings, seals and gaskets, fasteners for the components l­isted above.
3. Front wheel drive — Final drive housing, and all internal parts including: carrier case, gear sets, chain and sprockets, bearings, bushings, axle shafts, universal joints, front hub bearings, locking hub
assemblies (4X4), drive shaft support, rear axle hub b
­ earings, seals and gaskets, fasteners for the components listed above.
2. Transmission — Automatic – Case and all internal lubricated parts including: oil pump, valve body, torque converter, vacuum modulator, governor, main shaft, clutches, bands, drums, gear sets,
bearings, bushings, sealing rings, TV cable, solenoids and electronic shift control unit, transmission mounts, ­cooler, cooler hoses and hard lines, ­dipstick and tube, seals and gaskets, fasteners for the
components listed above.
Standard – Case and all internal lubricated parts including: main shaft, gear sets, shift forks, synchronizers, bearings, bushings, s
­ eals and gaskets, fasteners for the components listed above.
Transfer Case – (4X4 vehicles) – Case and all internal lubricated parts including: main shaft, gear sets, chain and sprockets, bearings, bushings, mounts, seals and gaskets, fasteners for the
components listed above, electronic and vacuum engagement components.
1. Engine — Cylinder block, and all internal lubricated parts including: crankshaft, rod and main bearings, cam bearings, ­expansion (freeze) plugs, connecting rods, wrist pins, pistons, piston rings,
camshaft, cam tower, lifters, cylinder head, valves and guides, valve springs, rocker arms (cam followers), pushrods, timing chain housing (cover), timing chain and sprockets, timing belt and pulleys,
­timing belt tensioner, intake and exhaust manifolds, flywheel, balance shafts, harmonic balancer and retainer bolt, crankshaft pulley, valve covers, oil pan, oil pump and ­pressure relief valve, engine oil
cooler hoses, oil filter adapter/housing, engine oil sending unit, engine mounts, water pump, temperature ­sending unit, ­thermostat and housing, fuel supply pump, vacuum pump, dipstick and tube,
seals and gaskets, fasteners for the ­components listed above.
Turbocharged/Supercharged/Rotary/Diesel/Enhanced Engines – All of the above listed parts or equivalent plus: turbocharger, waste gate ­controller, intercooler, hard lines, compressor, clutch and
pulley, bypass valve, injection pump, lines and nozzles, seals and gaskets.
$O
$5O
$10O
•Rental reimbursement: Up to $30
per day for 5 days (or 10 days for a
parts delay) from day one.
•24-hour emergency roadside
assistance: Up to $100 per occurrence.
Includes towing, battery/jump start,
fluid delivery, flat tire assistance and
lock out service.
Named Component Options
Choose your deductible*:
Additional Benefits
$25O
*Not available on all
MRC Plans or Terms.
•Travel expense reimbursement:
Up to $500 for lodging, food and
rental expense when a covered
breakdown or collision occurs more
than 100 miles from home.
Important Facts
•Good at any authorized repair
facility in the U.S. or Canada.
•No out of pocket expense (except
for any deductible): The covered
repair is paid directly by the plan.
•Transferable:
If you sell your
vehicle privately, the coverage can
be transferred, adding resale value
and appeal.
•Cancelable: Receive a full refund
within the first 90* days or a prorated refund thereafter less a nominal
administrative fee.
Additional Parts†
Covered by Platinum
HIGH TECH
GPS / navigation system and antenna assembly,
cruise control actuator and module, electronic
instrument panel control module, electronic
stability control system, electronic traction
control system, automatic leveling system,
rollover protection system, heated seat element
and cooling seat components. All gauges,
sensors and relays.
ENTERTAINMENT SYSTEM
Radio and speakers, compact disc player/changer,
telephone pre-wire/Bluetooth connectivity,
graphic equalizer, antenna assembly, DVD
player and monitor, satellite radio.
SAFETY AND SECURITY
Remote keyless entry transmitter and receiver
module, theft alarm system, night vision system,
heads up display, tire pressure monitoring
system, tailgate and hatchback actuators,
OnStar system.
CONVENIENCE
Trip/mileage computer, mechanical or electrical
trunk and gas cover releases, wiper motor
transmission, headlight wiper motor transmission,
buzzer/chime (headlamps on, key in ignition),
auxiliary power point, illuminated vanity mirrors,
glove box lamp (excluding bulb), illuminated
entry lamp (excluding bulb), trunk lamp
(excluding bulb), volt/amp gauge, compass,
clock, cigarette lighter, memory seat system.
MISCELLANEOUS
Rear suspension and steering components,
blend door motors, blower motor resistor
(regulates fan speed), door hinges, weather
strips, outside mirror remote adjustors,
mechanical seat adjustment, rear hatch or
hood struts.
AND MORE!
*See Mechanical Repair Agreement/Insurance
Policy for any state variations.
†Factory Installed
FACT #4
FACT #2
Things to Consider
What the agreement
does not cover.
Repairs can be expensive.
• Normal maintenance services and
Below are examples of estimated
dealership retail costs:
parts. Examples: Batteries, filters,
lubricants, fluids, refrigerants, hoses,
belts, wiper blades, brake pads,
shoes, rotors or drums, suspension
alignment, engine tune-up, wheels,
shock absorbers, exhaust, friction
clutch, EGR valve, etc.
• Body structure and parts, trim,
moldings, glass, light bulbs,
upholstery, paint, etc.
• Aftermarket equipment, components,
systems or accessories not installed
by the manufacturer
• Costs incurred to improve operating
performance as result of normal
wear and tear where a failure has
not occurred.
• Abuse, misuse and lack
customary maintenance.
of
This brochure is intended to provide only a summary
of the Mechanical Repair Agreement/Insurance
Policy. We encourage our members to read the
contract for specifics on coverages, exclusions and
limitations.
•
•
•
•
•
•
•
•
•
•
•
•
•
•
•
•
Engine Replacement Transmission Trans overhaul A/C compressor Alternator ABS module
Head gasket
Rear main seal
Rack and pinion Fuel pump
Transfer case
Rear hub bearings
Power window motor
Heater evaporator
Oxygen sensor
Engine Control Module
$5,000
$3,000
$1,700
$ 700
$ 550
$ 900
$ 1,100
$ 600
$ 700
$ 700
$ 850
$ 400
$ 350
$ 900
$ 200
$ 700
Lock-in Repair Costs:
MRC allows you to limit your cost
of unexpected breakdowns to the
Agreement Charge, plus any applicable
deductible.
Mechanical Repair Coverage
The
unexpected
happens.
Help Provide Peace of Mind:
Even if your vehicle does not have
a covered breakdown during the
Agreement's term, the purchase of
MRC was still a wise decision.
FACT #1
As your vehicle gets older,
the risk and cost of repairs
likely increases.
$$$
Reduce Risk:
Remember, unexpected breakdowns
can negatively impact your family's
budget and credit rating. MRC can help
eliminate this risk.
C
O
S
T
Time
vs.
Cost of Repairs
$
Mechanical Repair Coverage
Made available
by your credit union and
CUNA Mutual Group
Be
Prepared.
TIME (IN YEARS)
MEMBER'S CHOICE ® Mechanical Repair Coverage is made
available to you by CUNA Mutual Insurance Agency, Inc.,
and is provided and administered by:
State
Florida, Louisiana, Oklahoma &Wisconsin
Company
Automotive Warranty Services of Florida, Inc.
Florida License #60023
California
Virginia Surety Company, Inc.
All other states
Consumer Program Administrator, Inc.
All located at 175 West Jackson Blvd., Chicago, Illinois 60604
In those states where MEMBER'S CHOICE Mechanical
Repair Coverage is offered as insurance (form AUTOCARE46 MBI), it is underwritten by Virginia Surety Company,
Inc., Chicago, Illinois.
®
FOR IDAHO RESIDENTS:
NOTICE TO CONSUMER
THIS IS AN ADVERTISEMENT OR OFFER TO SELL A MOTOR VEHICLE SERVICE CONTRACT.
THE SENDER OF THIS COMMUNICATION IS NOT THE MOTOR VEHICLE MANUFACTURER
OF YOUR VEHICLE OR A LICENSED IDAHO AUTOMOBILE DEALER NOR AFFILIATED WITH
A MOTOR VEHICLE MANUFACTURER OR IDAHO AUTOMOBILE DEALER.
IMRC52 MRC-0510-8FOB
4-Year / 50,000 Mile
Factory Warranty
3-Year / 36,000 Mile
Factory Warranty
For illustration purposes only.