No category
SETTING UP THE NINTENDO WII DISPLAY OPTIONS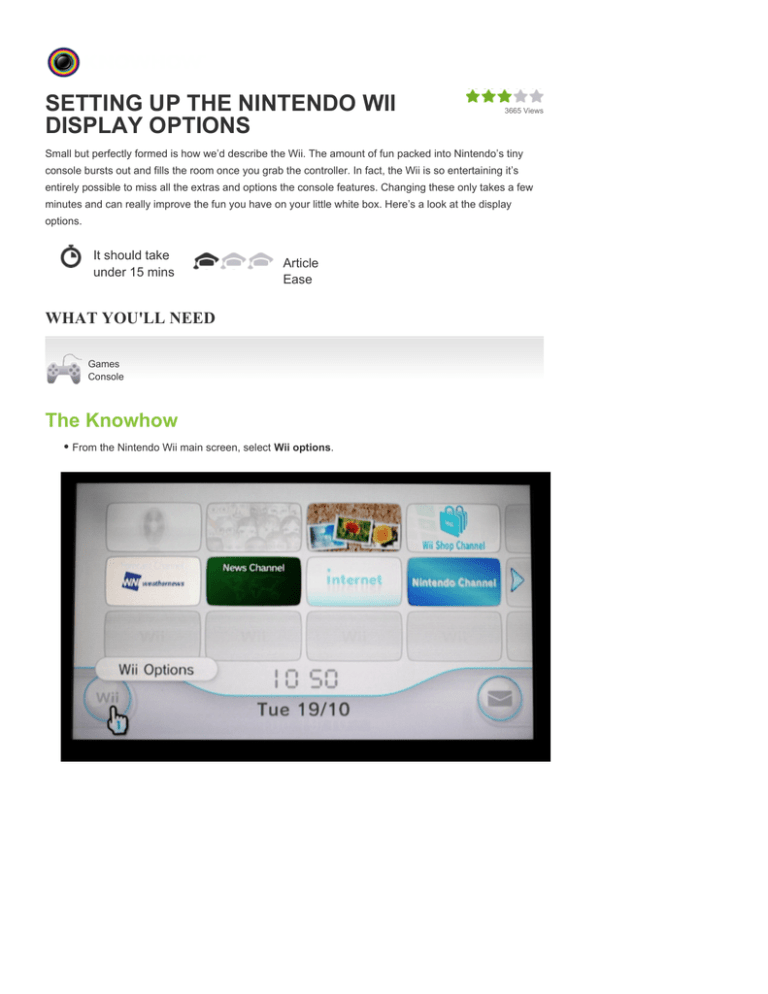 SETTING UP THE NINTENDO WII
DISPLAY OPTIONS
Rating
3out
of 5
3665
Views
Small but perfectly formed is how we'd describe the Wii. The amount of fun packed into Nintendo's tiny
console bursts out and fills the room once you grab the controller. In fact, the Wii is so entertaining it's
entirely possible to miss all the extras and options the console features. Changing these only takes a few
minutes and can really improve the fun you have on your little white box. Here's a look at the display
options.
It should take
under 15 mins
1
Article
Ease
WHAT YOU'LL NEED
Games
Console
The Knowhow
From the Nintendo Wii main screen, select Wii options.
On the next scren, select Wii Settings.
Once on the Wii System Settings screen, select Screen.
From here all the display options can be changed.
Widescreen Settings lets you adjust the display to best match your television: Standard 4:3 or
Widescreen 16:9.
Screen Position: Some models of television centre their display slightly differently to others. Using
this you can alter the screen so you get the fullest possible picture.
Screen Burn-in Reduction. Sometimes, an image can become burnt into a television screen if it
remains static for too long. This isn't a problem with many modern sets, as they have built-in measures
to stop it, but it is recommended that you play with this option on as a preventative measure.
TV Type. Depending on the age of your television, you will need to select different options.
50 Hz select this if you have an older TV
60 Hz select this is your TV is new
EDTV\HDTV for this you will need a Nintendo Wii component cable, available to buy separately. This
option and cable provide the best picture quality on the Nintendo Wii. With a few changes, you can
make sure you're getting the most eye-catching visuals the Wii can deliver. Have fun!

* Your assessment is very important for improving the work of artificial intelligence, which forms the content of this project