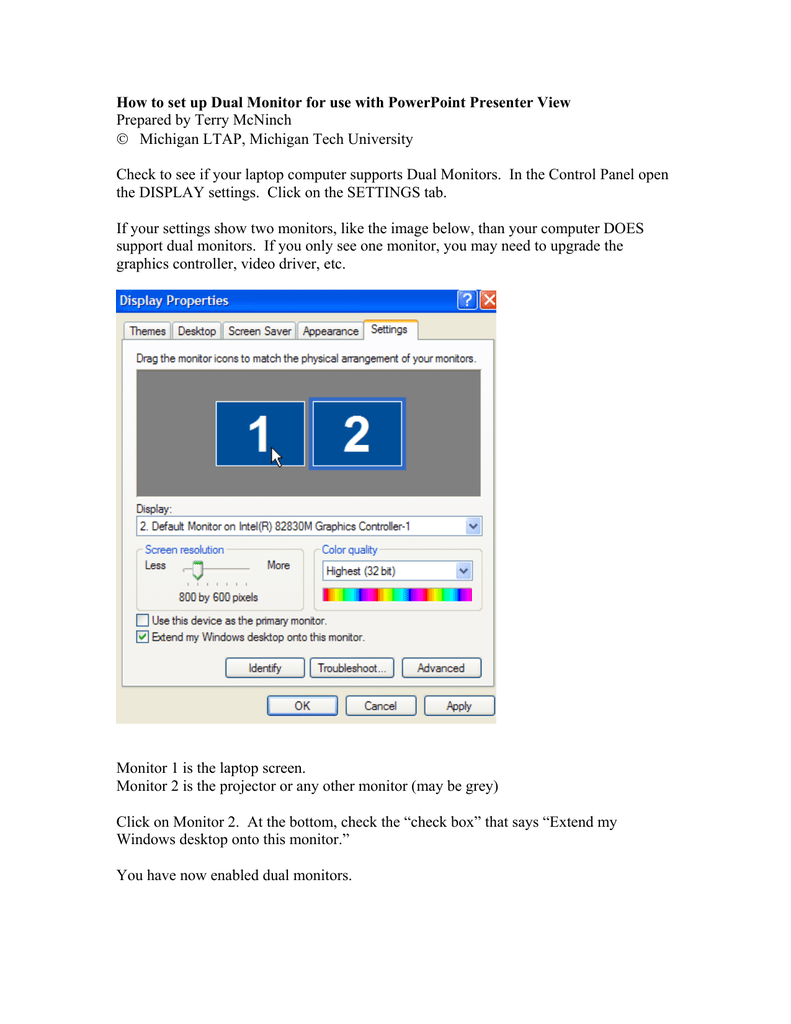 How to set up Dual Monitor for use with PowerPoint Presenter View
Prepared by Terry McNinch
© Michigan LTAP, Michigan Tech University
Check to see if your laptop computer supports Dual Monitors. In the Control Panel open
the DISPLAY settings. Click on the SETTINGS tab.
If your settings show two monitors, like the image below, than your computer DOES
support dual monitors. If you only see one monitor, you may need to upgrade the
graphics controller, video driver, etc.
Monitor 1 is the laptop screen.
Monitor 2 is the projector or any other monitor (may be grey)
Click on Monitor 2. At the bottom, check the "check box" that says "Extend my
Windows desktop onto this monitor."
You have now enabled dual monitors.
You may also need to change a setting in your laptop's Graphic Controller Properties.
Those settings are hardware specific, and will look something like the image below.
Next, open up your PowerPoint 2002 & 2003 Presentation. Under the Slide Show top
line menu, select SET UP SHOW. The Set Up dialog screen appears. Check the check
box for PRESENTER VIEW. Change "Display Slide Show On:" to Monitor 2.

* Your assessment is very important for improving the work of artificial intelligence, which forms the content of this project