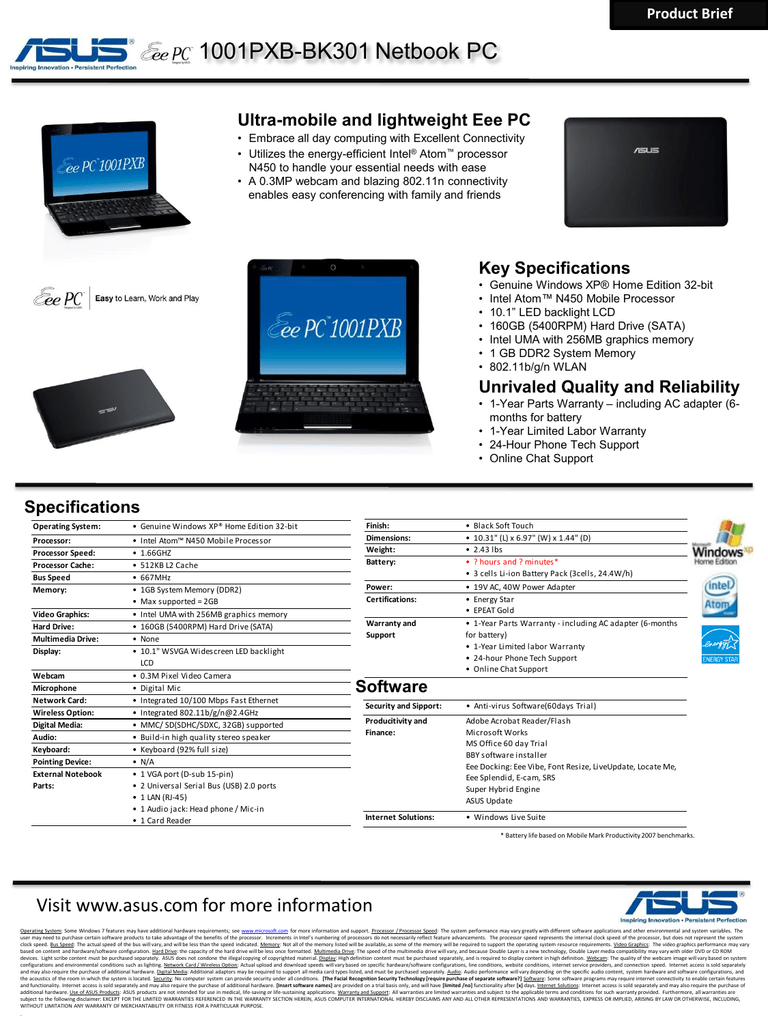 Product Brief
1001PXB-BK301 Netbook PC
Ultra-mobile and lightweight Eee PC
• Embrace all day computing with Excellent Connectivity
• Utilizes the energy-efficient Intel® Atom™ processor
N450 to handle your essential needs with ease
• A 0.3MP webcam and blazing 802.11n connectivity
enables easy conferencing with family and friends
Key Specifications
•
•
•
•
•
•
•
Genuine Windows XP® Home Edition 32-bit
Intel Atom™ N450 Mobile Processor
10.1" LED backlight LCD
160GB (5400RPM) Hard Drive (SATA)
Intel UMA with 256MB graphics memory
1 GB DDR2 System Memory
802.11b/g/n WLAN
Unrivaled Quality and Reliability
• 1-Year Parts Warranty – including AC adapter (6months for battery
• 1-Year Limited Labor Warranty
• 24-Hour Phone Tech Support
• Online Chat Support
Specifications
Operating System:
• Genuine Windows XP® Home Edition 32-bit
Processor:
Processor Speed:
Processor Cache:
Bus Speed
Memory:
•
•
•
•
•
•
•
•
•
•
Video Graphics:
Hard Drive:
Multimedia Drive:
Display:
Webcam
Microphone
Network Card:
Wireless Option:
Digital Media:
Audio:
Keyboard:
Pointing Device:
External Notebook
Parts:
•
•
•
•
•
•
•
•
•
•
•
•
•
Intel Atom™ N450 Mobile Processor
1.66GHZ
512KB L2 Cache
667MHz
1GB System Memory (DDR2)
Max supported = 2GB
Intel UMA with 256MB graphics memory
160GB (5400RPM) Hard Drive (SATA)
None
10.1" WSVGA Widescreen LED backlight
LCD
0.3M Pixel Video Camera
Digital Mic
Integrated 10/100 Mbps Fast Ethernet
Integrated 802.11b/g/[email protected]
MMC/ SD(SDHC/SDXC, 32GB) supported
Build-in high quality stereo speaker
Keyboard (92% full size)
N/A
1 VGA port (D-sub 15-pin)
2 Universal Serial Bus (USB) 2.0 ports
1 LAN (RJ-45)
1 Audio jack: Head phone / Mic-in
1 Card Reader
Finish:
Dimensions:
Weight:
Battery:
•
•
•
•
•
Power:
Certifications:
• 19V AC, 40W Power Adapter
• Energy Star
• EPEAT Gold
• 1-Year Parts Warranty - including AC adapter (6-months
for battery)
• 1-Year Limited labor Warranty
• 24-hour Phone Tech Support
• Online Chat Support
Warranty and
Support
Black Soft Touch
10.31" (L) x 6.97" (W) x 1.44" (D)
2.43 lbs
? hours and ? minutes*
3 cells Li-ion Battery Pack (3cells, 24.4W/h)
Software
Security and Sipport:
• Anti-virus Software(60days Trial)
Producitivity and
Finance:
Adobe Acrobat Reader/Flash
Microsoft Works
MS Office 60 day Trial
BBY software installer
Eee Docking: Eee Vibe, Font Resize, LiveUpdate, Locate Me,
Eee Splendid, E-cam, SRS
Super Hybrid Engine
ASUS Update
Internet Solutions:
• Windows Live Suite
* Battery life based on Mobile Mark Productivity 2007 benchmarks.
Visit www.asus.com for more information
Operating System: Some Windows 7 features may have additional hardware requirements; see www.microsoft.com for more information and support. Processor / Processor Speed: The system performance may vary greatly with different software applications and other environmental and system variables. The
user may need to purchase certain software products to take advantage of the benefits of the processor. Increments in Intel's numbering of processors do not necessarily reflect feature advancements. The processor speed represents the internal clock speed of the processor, but does not represent the system
clock speed. Bus Speed: The actual speed of the bus will vary, and will be less than the speed indicated. Memory: Not all of the memory listed will be available, as some of the memory will be required to support the operating system resource requirements. Video Graphics: The video graphics performance may vary
based on content and hardware/software configuration. Hard Drive: the capacity of the hard drive will be less once formatted. Multimedia Drive: The speed of the multimedia drive will vary, and because Double Layer is a new technology, Double Layer media compatibility may vary with older DVD or CD ROM
devices. Light scribe content must be purchased separately. ASUS does not condone the illegal copying of copyrighted material. Display: High definition content must be purchased separately, and is required to display content in high definition. Webcam: The quality of the webcam image will vary based on system
configurations and environmental conditions such as lighting. Network Card / Wireless Option: Actual upload and download speeds will vary based on specific hardware/software configurations, line conditions, website conditions, internet service providers, and connection speed. Internet access is sold separately
and may also require the purchase of additional hardware. Digital Media: Additional adaptors may be required to support all media card types listed, and must be purchased separately. Audio: Audio performance will vary depending on the specific audio content, system hardware and software configurations, and
the acoustics of the room in which the system is located. Security: No computer system can provide security under all conditions. [The Facial Recognition Security Technology [require purchase of separate software?] Software: Some software programs may require internet connectivity to enable certain features
and functionality. Internet access is sold separately and may also require the purchase of additional hardware. [Insert software names] are provided on a trial basis only, and will have [limited /no] functionality after [x] days. Internet Solutions: Internet access is sold separately and may also require the purchase of
additional hardware. Use of ASUS Products: ASUS products are not intended for use in medical, life-saving or life-sustaining applications. Warranty and Support: All warranties are limited warranties and subject to the applicable terms and conditions for such warranty provided. Furthermore, all warranties are
subject to the following disclaimer: EXCEPT FOR THE LIMITED WARRANTIES REFERENCED IN THE WARRANTY SECTION HEREIN, ASUS COMPUTER INTERNATIONAL HEREBY DISCLAIMS ANY AND ALL OTHER REPRESENTATIONS AND WARRANTIES, EXPRESS OR IMPLIED, ARISING BY LAW OR OTHERWISE, INCLUDING,
WITHOUT LIMITATION ANY WARRANTY OF MERCHANTABILITY OR FITNESS FOR A PARTICULAR PURPOSE.
.

* Your assessment is very important for improving the work of artificial intelligence, which forms the content of this project