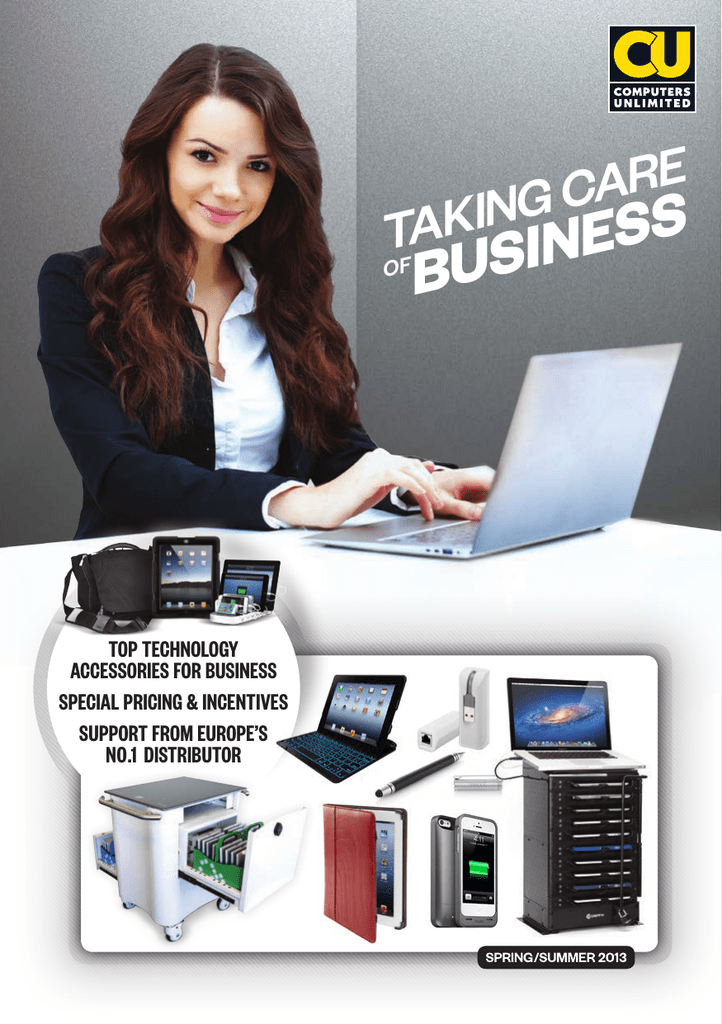 E
R
A
C
G
N
I
K
S
A
S
T
E
SIN
OF
BU
TOP TECHNOLOGY
ACCESSORIES FOR BUSINESS
SPECIAL PRICING & INCENTIVES
SUPPORT FROM EUROPE'S
NO.1 DISTRIBUTOR
Computers Unlimited
Welcome to a special selection of Computers
Unlimited products, picked and priced just
for the business sector. These essential
accessories all help protect and perfect the
investment all types of businesses have made
in technology – from portable devices to
projectors and even data itself.
As well as offering exclusive access to many of
the big brands on these pages, here at CU we
provide so much more:
• Special business pricing
• Marketing money and assets – including
samples & event support
• Sales incentives and targets for your teams
• 28 years of product knowledge & expertise
• Access to a team of product specialists
We look forward to working with you!
Tony Scully - Director of Sales
4 iPad & Tablets
8 Software solutions
11 Accessories Other
14 Tablets
20 Security
21 Bags & Sleeves
22 Chargers & dashboard mounts
23 Desktop & Laptop Drives
24 Power
25 Protection
CU has a dedicated team of specialists who are ready to deal with any enquiries
you may have, be they from this catalogue or any aspect of your trading account.
To order call 020 8358 9578 or visit www.unlimited.com/rz
iPAD & TABLETS
MULTI -SYNCING, CHARGING & STORAGE
Tablets are a brilliant business tool, but
not much use if their batteries run out!
Keeping them topped up with plenty
of power - and the latest versions of
all the content they need – is easily
and securely achieved with Griffin's
acclaimed docking solutions.
From the five-device Powerdock 5
up to the class-sized Multidock, Griffin
makes it easy to simultaneously charge
and even synchronise multiple iPads.
Its cable range offers further flexibility,
while the Kiosk stand is perfect for
offering easy access to tablet content
without any security fears.
4
MULTIDOCK 10 BAY
20 & 30 BAY
AVAILABLE
POWERDOCK 5
£458.33
£62.49
The modular charge/sync/
security solution that's easy
to use and easy to scale.
• Charge multiple iPad
devices at once
• LEDs indicate charge status
for each iPad
• Sync your apps, media and
other content through iTunes
Space-saving countertop
charging and storage for up
to 5 iPad tablets
• Store and charge 5 iPad
tablets even in their cases
• Charge any Apple device with
USB connector
• Cables not included
• Illuminated power status light
• 10 watts (5 volts DC @ 2.1
amps) for each charging bay
GRIGA23149
0/1/19
GRIGC35538
1/1/0
All prices exclude VAT.
iPAD & TABLETS
MULTI -SYNCING, CHARGING & STORAGE
KIOSK STAND
Secure display mount for all
iPad models
• Easy access to the
Multi-Touch display
• Tough enough to stand up
to intense everyday use
• Encloses your iPad within an
impact-resistant
polycarbonate housing
£120.83
GRIGC35242/Deskstanding
0/4/0
33
£183.
GRIGC35308/Floorstanding
1/1/0
All prices exclude VAT.
USB TO LIGHTNING
CABLE - 3 METER
The wait is over! Made for
iPhone-certified charge/sync
cables for your new iPhone,
iPod touch or iPad.
• Full-size USB Type-A
connection to your computer
• Lightning Connector to
your device
• Use with Griffin PowerBlock
and PowerJolt chargers
• Made for iPhone-certified
£20.83
GRIGC36633
4/48/0
5
iPAD & TABLETS
MULTI -SYNCING, CHARGING & STORAGE
With tablets becoming one of the most
popular business technology purchases,
the challenge comes to keep that
considerable investment safe and to
maximise its usability.
Lock 'n' Charge's unique range
of charging, security and transport
solutions meet that challenge, neatly
allowing you to secure, store, power-up
and move multiple tablets at once. You
can simultaneously sync content, too.
Already a popular choice in large and
small companies around the world, the
Lock 'n' Charge line-up is now available
in the UK exclusively from CU.
iQ 8 WALL CAGE
FOR iPAD
Designed to store, charge and
secure 16 iPad devices.
• Efficient syncing
• More power
• Extremely portable
• Includes 16 High Speed USB
Cables (30 pin)
• Style meets functionality
£1,415.83
LNCLNC7016UK
1/1/12
6
iQ 16 CART FOR IPAD
Efficient syncing. More power.
Extremely portable.
• Includes 16 High Speed
USB Cables
• Transporting and storing
is easier
• Lock it down with the heavy
duty anchor kit
• 2.1 amp power
• Extremely portable
£1,582.50
LNCLNC7009UKEU
1/0/1
iQ TRAVELLER
FOR iPAD
IQ16 SCB SYNC
STATION
£1,415.83
£832.50
Sync, charge and transport up
to 16 iPad devices.
• Sync and charge up to
16 iPad devices at once
• Strong and durable
• Internal foam protection
• Includes one iQ 16 SCB
Sync Stations
LNCLNC7100UKEU
1/1/16
Sync and charge up to 16 iPad
or iOS devices simultaneously.
Comes with two baskets.
• iPad and iOS compatible
• Hand held portability
• Multiple simultaneous syncing
• Mass charging for iPad devices
• Strong and durable steel
construction
LNC7000UKEUiQ16SCB
64/8/8
All prices exclude VAT.
iPAD & TABLETS
MULTI -SYNCING, CHARGING & STORAGE
KEY LOCK 'N' CHARGE FACTS
Protecting your iPads in cases? Great!
Any of the iPad cases featured in this
brochure – even the ultra-rugged Griffin
Survivor (below) – can be kept on as you
charge, secure and synchronise the
tablets in your Lock 'n' Charge unit.
From wheeled units to wall-mountable
designs and a trolley case option, you
can easily put Lock 'n' Charge units
exactly where you want them.
Removable iPad
carry baskets make
it easy to get your
charged iPads
where they're needed.
Heavy-duty, durable
and secure design.
l
iQ 32 SYNC CHARGE
CART FOR iPAD
Sync, charge, secure and
transport up to 32 iPad devices.
• Sync and charge up to 32 iPad
devices at once
• Removable iPad carrying
baskets
• Includes two iQ 16 SCB
Sync Stations
• Designed to be mobile
• Strong and durable
£2,415.83
LNCLNC7006UK
1/1/1
All prices exclude VAT.
l
l
l
7
SOFTWARE SOLUTIONS
ASSET MANAGEMENT & BACK-UP
Powerful asset manager brings
order to digital workflows
Award-winning and cost effective
back-up software for businesses
PORTFOLIO SERVER 11
Dramatically change organisational
efficiency with a simple digital asset
management solution. Portfolio Server™
saves the average user 2.5 hours a week
by centralising—and then visualising—
extensive libraries for quick search and
sharing. No more time wasted searching
the network, browsing folders, consulting
co-workers, and loading discs.
RETROSPECT V10/V8
The latest versions of Retrospect - v10
for Mac and v8 for Windows – protect
data on servers and desktop/laptop
computers from hard drive and computer
failure, accidental deletion, user error,
theft, fire, flood, earthquakes, and other
natural and unnatural disasters!
Find files fast
Portfolio Server includes web-based and
desktop client applications that make
finding your files a snap.
Find rich media files quickly and
efficiently by searching a single location
that immediately provides visual results.
Preview images and play video files
without downloading or opening another
application—no additional desktop
software required.
Other key features & benefits
• Drag and drop into any application
• Organise and collaborate.
• Track Rights Management and
important file details
• Edit Portfolio Server metadata in other
applications, including Adobe Creative
Suite and Microsoft Office
• Quickly get right file format for the job
8
What's new in Retrospect?
• Back up offsite to the cloud, tape or
portable hard drives
• Powerful client that allows end-user
backup and restore on demand
• At least 50% faster backing up and
restoring data
• Fully supports Windows 8 and Mac 10
operating systems
• Restore to different Windows hardware
with Dissimilar Hardware add-on
Just how cost effective is Retrospect?
Retrospect is easy to use, easy to deploy
and excellent value for money Just one
license covers an entire network!
All prices exclude VAT.
SOFTWARE SOLUTIONS
CONNECT, COMMUNICATE & COLLABORATE
Universal, cross-platform solution
to simply manage Macs & PCs
Connect, communicate and
collaborate securely - worldwide
PARALLELS MANAGEMENT SUITE
for Microsoft SCCM
KERIO SAMEPAGE
A social collaboration platform
connecting people with their projects,
conversations and files.
Parallels has won Awards for its range of
software solutions that allow Mac users
to seamlessly run Windows software without rebooting. Now it's extending that
expertise to the enterprise with the
first plug-in in the Parallels Management
Suite, Parallels Management: - Mac for
Microsoft System Center Configuration
Manager (SCCM).
Macs are a reality in most businesses
today, and they need to be managed.
Whether to extend current SCCM
infrastructure or consolidate multiple
systems to reduce redundancy and save
money, Parallels can help.
Parallels, the leader in making
Windows and Mac work together,
understands Apple technologies and
the needs of IT teams who manage a
mixed Microsoft and Apple environment.
Discover more from CU today.
All prices exclude VAT.
KERIO CONNECT
Cross platform email, calendars
and contacts for the mobile workforce with easy migration from Microsoft.
KERIO OPERATOR
Using VoIP, offers advanced phone
features typically associated with
enterprise phone systems including
conference calls, CRM integration, call
forwarding, ,voicemail to email, and call
queues. The Kerio Operator Softphone
app for Apple and Android devices lets
users take their office phone on-the-go.
KERIO CONTROL
Unified threat management and network
intelligence, including application layer
firewall, Intrusion Prevention, anti-virus
protection, password guessing protection,
web content filter, and P2P Eliminator.
9
visit www.unlimited.com
ABT-EMEA-SC-Mag-Full-Page-032213-outlined.indd 1
2013-03-22 12:01 PM
ACCESSORIES OTHER
SHARE, STORE AND MORE
Kanex products help you get more
from both current and 'legacy'
technology. They offer simple and
affordable solutions to everyday
needs to share and store information
- whether visually in a business
presentation or directly to devices.
The ATV Pro protects investment
in older, VGA-based projectors by
updating them for today's world; just
add an Apple TV for simple sharing
of rich content and full AirPlay
integration. The meDrive, meanwhile,
allows fast, secure file sharing, while
DualRole boosts USB connectivity
and mySpot gives you instant wi-fi!
ATV PRO
ATV Pro allows a VGA projector
to use Apple AirPlay mirroring
from an iPad to Apple TV.
• Enables anyone to easily
connect, view and share info
• Educators ability to keep
audiences engaged and
connected
• No need for external power
or additional power cords
£41.62
KANATVPRO
1/36/0
All prices exclude VAT.
MYSPOT WIFI ACCESS
POINT
mySpot is a travel-sized solution
designed for travellers who
experience weak or no Wifi
signals.
• Setup your own private,
unclogged Wifi network
• Protect and secure your
connection by adding a
password
• Compact all-in-one design
£48.98
KANWIFIPOINT/
12/48/
DUALROLE
The DualRole is a perfect
companion for MacBook Pro or
Air users who need additional
USB 3.0 ports for instant
connection to peripherals and
to connect to a secure wired
network
• Adds three SuperSpeed USB 3
ports for fast transfer speed
• Small compact design for travel
• Compatible with USB 3.0, 2.0
& 1.1 devices
£49.
99
meDRIVE
A file server for iOS or Mac OS X
devices built on WebDAV
and Bonjour.
• Create local cloud storage for
local network users
• Easily share and access files
between iOS devices or Mac
• Plug in a USB drive to
expand storage
£66.66
KANIOSWEBDAV
1/24/0
KANUSB3GBITX
6/24/3000
11
ACCESSORIES OTHER
SHARE, STORE AND MORE
CABLEBOX
Key solution for your cable
management needs without the
need to unplug anything first.
• Designed to fit almost every
size power strip
• Stow away the surplus cable
lengths and close the lid
• Extra space for the cords,
adapters, etc.
£24.96
BLGCB01WHEU/White
BLGCB01BLEU/Black
-/6/144
Manages your cables in a simple
and fun way by keeping cables
accessible and organised.
• Quick to fasten holding cables
in a convenient and compact
bundle
• Cable can be partially
extended, loop by loop
• Entire cord can be released
at once
£8.29
BLGCCSMEU/Green/Grey
BLGCCLGEU/Grey
SUMO
An elegant cable management
tool to prevent cables from
dropping off the edge of your desk.
• Micro-suction pads underneath
for even further grip
• Cables remain in place and
weighed down
• 2 grooves for cables to be
placed underneath
SYNCABLE – MICRO USB
BLGS0WHEU/White
BLGSOBLEU/Black
-/40/240
TLTMICDATABLT/
TLTMICDATARDT/
TLTMICDATAGT/
TLTMICDATABKT/
6/24/-
£8.29
12
CABLECLIP
Charge your mobile device via
any USB power source, such as
a USB car charger, PC or laptop.
• No messy cable management
with one foot cable length
• Sync your mobile device with
your PC or laptop
• Transfer data such as music
and video
£10.82
CABLEDROP
Gently grasps your power and
peripheral cords so they do not
fall off your desk every time you
unplug your laptop.
• Use hidden under ledges,
furniture legs or walls
• Peel adhesive and apply
CableDrop to desired surface
• Cable is temporarily held yet
easily removed or extended
£8.29
MINIDOCK LIGHTNING
Your device sits upright in
the MiniDock while it charges
directly into the wall socket.
•Available in 30 pin and
lightning Apple connector
•Light weight, perfect for travel
•Free up surfaces or
tabletop space
£24.96
BLGMDUKL/Black
20/100/12
BLGCDBLEU/Black
BLGCDWHEU/White
1/100/40
ZAGGKEYS
PROFOLIO PLUS
Protect your tablet and take
your work and play everywhere
you go with Profolio Plus.
• Backlit keys in severn different
colour options
• Full coverage protection (front
and back)
• Secure magnetic closure
£83.32
ZAGUFOLPROBLKLIT101
5/10/-
All prices exclude VAT.
Circle the globe with one charger
Lighten your luggage with the Twelve South PlugBug World
e globe with
one charger
uggage with the Twelve South PlugBug World
er
us
et
lers.
and
s"
Converts any MacBook Power Adapter
into dual charger. Power up laptop plus
iPhone/iPad/iPad mini from one outlet
Includes five international snap-on
plugs that cover every major country –
just pack what you need
Includes five international snap-on
plugs that cover every major country –
just pack what you need
Doubles as a stand-alone USB charger
for iPhone/iPad/iPad mini – wherever
you are in the world
Doubles as a stand-alone USB charger
for iPhone/iPad/iPad mini – wherever
you are in the world
Praise for PlugBug World
"Worldwide power for all your devices in
"A really handy gadget for regular travellers.
one tiny box – an ideal space-saving
At last, you can charge your MacBook and
travel companion"
your phone together without any fuss"
iCreate
Mac Format
"I'm always looking for a way to lighten my
"Worldwide power for all your devices in
burden on long trips; this handy accessory
one tiny box – an ideal space-saving
would be a welcome sight in
travel companion"
my overstuffed carry-on."
iCreate
Mashable
Praise for PlugBug World
Available now from Apple Store
"I'm always looking for a way to lighten my
burden on long trips; this handy accessory
would be a welcome sight in
my overstuffed carry-on."
Mashable
Available now from Apple Store
Charge, secure, sync
& move all your iPads!
Meet the smart iQ 32 Cart
ide
A worldwss
busine now
r–
bestselleable
il
a
v
a
in UK!
Discover how Lock 'n' Charge is already helping hundreds
of big and small businesses around the world:
www.lockncharge.com/category/testimonials
ACCESSORIES OTHER
SHARE, STORE AND MORE
LABELWRITER 450
TURBO
A much faster print speed for
professionals who demand
quicker output.
• Up to 71 labels per minute
• Uses thermal printing technology
• Conserve power with new
"sleep mode"
£115.07
ESSS0838860/
1/6/-
CARDSCAN EXECUTIVE
Capture, consolidate, sort,
search and use all your contact
information in one simple-touse system.
• Accurately scans and reads
business cards in seconds
• Consolidates all your contact
data using drag-and-drop
• Categorise contacts, search,
sort, de-dupe, print labels and
much more
£208.
00
ELEVATOR
LAPTOP STAND
Lift your laptop to a comfortable
viewing height and reclaim your
desktop.
• Elevates laptop screen 5.5"
• Keeps laptop cool with 360
degrees of air circulation
• Fits all laptops - Mac or PC
£29.16
GRIGC16034/
6/24/-
Quickly connect and disconnect
all peripherals. Easily eliminate
desktop cable clutter.
• Fully integrated ports, no setup
• Sturdy, rubberized cradle for
precision fit
• Quick connect and disconnect
of peripherals
£54.16
HDSHD02VB11MBA - 11''
33
£58.
HDSHD02VB13MBA - 13''
1/4/192
All prices exclude VAT.
A new, dual-purpose stylus for
the iPad and Android tablets.
• Looks and feels like a pen –
and is a pen
• Premium craftsmanship
• Bamboo experience: Stylus
& Apps
• Combined stylus and
inking pen
• Ideal tool for writing, drawing
or doodling
£28.00
ESSS0929140
1/6/--
DOCKING STATION
FOR MACBOOK AIR
WACOM BAMBOO
STYLUS DUO
WACCS110/Black
1/20/-
PLUG BUG WORLD
10W USB iPad/iPhone charger
+ MacBook plug attachment.
Charge two devices at once.
• Creates a dual charger for
MacBook + iPad and iPhone
• Converts any MacBook Power
Adapter into an international
charger
• Includes five AC plugs to fit
most global electrical outlets
• Compatible with all Apple
MagSafe Power Adapters
£33.32
HIRISE FOR MACBOOK
A height-adjustable stand
that elevates your laptop to a
comfortable desktop position.
• Raises MacBook up to your ideal ergonomic viewing height
• Aligns MacBook with external display
• Pairs with a full-size keyboard and mouse for easy
home setup
£49.99
TWS121222
3/6/-
TWS121211
6/24/-
15
TABLETS
iPAD 4, 3, 2
Cygnett has spent 10 years crafting
accessories to protect and perfect
digital products. Every Cygnett case
and screen protector comes with a
lifetime guarantee, as well as unique
blend of form and function.
However and wherever you want
to use your Apple iPad or iPad Mini,
Cygnett has a practical yet stylish
way to protect and present it. Our
picks include a keyboard case for
enhanced productivity, extra-strong
shielded cases, multi-view models,
and high-quality screen protection to
see off everyday dust and scratches.
For iPad 2, 3, 4
For iPad 2, 3, 4 and iPad mini
For iPad 2, 3, 4
For iPad 2, 3, 4 and iPad mini
LAVISH CONNECT
WITH BLUETOOTH
KEYBOARD
ARMOUR FOLIO
FOR iPAD MINI
LAVISH FOLIO
ANTI-GLARE / ANTI
FINGERPRINT SCREEN
PROTECTION
Folio case with removable
Bluetooth keyboard for
New iPad.
• Includes magnetically
attached removable
Bluetooth keyboard
• Protects your New iPad from
drops and scratches
£45.82
CYGCY0715CILAV/Black
82
£45.
CYGCY0735CILAV/Sandstone
10/20/0
16
Armour is an extra strong shield
that protects your iPad from
knocks and scratches.
• Flexi-view stand
• Highly protective
• Folio style
£20.79
CYGCY0988CIARM/Black
CYGCYO989CIARM/Purple
CYGCYO766CIARM/Black - iPad
10/20/0
Folio case with multi-view stand
• Converts from a slim folio case
to reveal three viewing angles
• Beautifully crafted & elegantly
designed to protect your
New iPad
• Concealed magnets keep the
case securely closed
£33.29
CYGCY0706CILAV/Black
13
£29.
CYGCY0727CILAV/Sandstone
CYGCY0726CILAV/Purple
10/20/-
Quality screen protector for
New iPad and iPad Mini
available in Clear.
• Durable screen protector for
long term protection
• Protective shield guards
against dust and scratches
• Does not interfere with
touchscreen responsiveness
£8.29
CYGCY0972CSOPT/iPad Mini
CYGCY0725CSCLR/iPad
20/80/0
All prices exclude VAT.
TABLETS
iPAD 4, 3, 2
Griffin's award-winning accessories
have offered smarter ways to
enhance tech since 1992. Its latest
range of iPad protection includes
designs such as the Survivor - built
to meet exacting military standards,
making it perfect for more heavyduty iPad users in business. Its
perfect partner is the Harness Kit.
Also clever is the AIrStrap, which
makes it comfortable, easy, and safe
to use your iPad single-handed.
The Intellicase, meanwhile,
is flexible to position, plus has
automatic wake/sleep functionality.
For iPad 2, 3, 4
For iPad 2, 3, 4
For iPad 2, 3, 4
For iPad 2, 3, 4
SURVIVOR
INTELLICASE
SURVIVOR HARNESS
KIT FOR IPAD2/3/4
AIRSTRAP 2 FOR iPAD
The perfect case for your iPad 2,
3 and 4 no matter where
you're heading.
• Various colours available
• Integral Display shield deflects
wind and rain
• Rigid internal frame protects
against shocks and drops
• Sealed ports block blown
sand and dust
£45.82
GRIGB351082
4/12/0
All prices exclude VAT.
Folio stand, easy to grip with
automatic wake-up closure.
• Various colours available
• Hard-shell polycarbonate case
protects your iPad
• Cover folds into 2-position
(upright or inclined) workstand
• Wakes your iPad when you
open it, sleeps when closed
£29.16
GRIGB037452
4/24/0
Combines protection and
carrying in a versatile case
solution that keeps your iPad
close at hand when used with a
Survivor case.
• Work-ready harness and case
system for iPad
• Snug hand straps for one
handed use on the go
• Padded shoulder strap with
4 D-ring connection points
£29.16
GRIXB35646/Black
1/24/-
Easy and comfortable to use
your iPad 2/3 with one hand,
with its built-in safety strap.
• Built-in safety strap gives
you a secure grip on your iPad
• Structured frame protects
edges, controls, camera
and connectors
• Wide neoprene strap hugs your
hand for additional security
£24.99
GRIGB03814
4/24/0
17
TABLETS
iPAD
Maroo understands what the
average iPad goes through; its
unique range of cases securely
protect the tablet, but don't
stop it being easy to use.
Its patented Safe Guard
(SG) Bumper technology
protects your iPad if it's
dropped in the open position,
plus offers corner protection, too.
Maroo cases are made from highquality, durable leather, with neat
features including smart-magnet
functionality, scratch-protecting
interiors and easy-carry designs.
For iPad 2, 3, 4
For iPad 2, 3, 4 and iPad mini
For iPad 2, 3, 4 and iPad mini
For iPad 2, 3, 4 and iPad mini
ROTO PANGO
RIMU
SADDLE BROWN
Made from quality leather, Roto
has the quality that makes you
proud to show it off.
• SG Bumper technology
• Easy carry hand strap
• Interior pocket for notes
and business cards
£33.
32
MROM103X/Roto/Red
MROM102X/Moko/Black
4/24/576
18
Maroo durability and quality of
design, in genuine leather.
• SG Bumper Technology
• Back camera cut out
• Smart magnet functionality
£29.
FROM
13
MROMM400 - iPad mini
66
MROM313 - iPad
4/24/576
£41.
Stand out with a Rimu leather
case for the iPad 2, 3 and 4.
• SG Bumper technology
• Back camera cut out
• Smart magnet functionality
£29.
FROM
13
MROMM401 - iPad mini
66
MROM314 - iPad
£41.
4/24/576
Built from high quality, durable
leather, Maroo's new Saddle
Brown iPad case is perfect for
business users
• Interior pocket for notes and
business cards
• Smart magnet functionality
• Includes camera cutout
£29.
FROM
13
MROMM1BR - iPad mini
From
66
MROMI4BR - iPad
4/24/576
£41.
All prices exclude VAT.
TABLETS
iPAD 4, 3, 2
STM's continuing mission is to
produce more comfortable, secure
and stylish means of transporting
digital gear.
The STM cases here - for both
Apple and Samsung tablets –
combine durable, thoughtful design
with neat features. The Skinny range
is a particulalry effective way of
protecting business investments in
tablets without adding bulk, while the
Grip adds yet more functionality.
There's a good selection of STM
styles, sizes and colours to choose
from, too.
SKINNY FOR SAMSUNG
TAB 2 10.1
Sleek hard shell back and front
flap protect your Samsung Tab
2 10.1 from scratches.
• Lightweight, slim and
protective construction
• Snap in, hard shell back with
soft lining
From £26.66
STMSTM222031J01/Black
STMSTM222031J11/Berry
10/20/-
All prices exclude VAT.
For iPad 2, 3, 4 and iPad mini
For iPad 2, 3, 4 and iPad mini
For iPad 2, 3, 4 and iPad mini
SKINNY
Sleek hard shell back and
magnetic on/off front flap
protects your iPad 3.
GRIP
JACKET
Auto on and off front cover
Lightweight, slim and
protective construction
• Easy to access device ports
and control buttons
•
•
From £33.32
STMDP219221/Pink
STMDP219220/Blue
STMDP219201/Black
STMDP219211/Berry
10/20/-
Carry and protect iPads with
the Grip, a sleek folio with two
kickstand positions.
• Auto on-and-off front cover
wakes up and sleeps the iPad
• Lightweight, slim and
protective construction for a
comfortable carry
• Snap in, hard shell back
with soft
From £37.49
STMDP219520/Blue
STMDP219511/Berry
STMDP219501/Black
10/20/-
You can travel fast and light
with your slim and elegant
laptop bag.
• Super soft interior lining
cradles your MacBook
• Zippered front pocket for cables
• Custom fit iPhone pocket for
quick and easy access
£20.82
STMDP213801/Black/Green
STMDP21422/Chocolate
63
£16.
STMDP21393/Black
STMDP21392/Chocolate
1/20/-
19
TABLETS
iPAD & iPAD MINI
Award-winning accessory
manufacturer, Incipio, has a
smart solution to protect
almost every brand and size
of digital device.
Durability and usability
are bywords across
its range, with the
use of patented
tough materials including Incipio's own
Plextonium - offering
exceptional protection
without adding bulk.
The Flagship Folio is a
business bestseller here.
For iPad mini
For iPad 2, 3, 4 and iPad mini
For iPad 2, 3, 4
NGP FOR
iPAD MINI LEXINGTON FOR
iPAD AND iPAD MINI
FLAGSHIP FOLIO
£16.63
£29.12
An impact resistant semi-rigid
NGP soft shell case for your iPad
mini from Incipio.
• Semi-rigid, shock absorbing
NGP material
• Wrap around design for easy
installation
• Snug fit ensures protection
INCIPAD302/Black
INCIPAD303/Grey
INCIPAD304/Pink
8/48/0
20
Made for those who want to look
sophisticated, yet stylish.
• Easy-to-use belt buckle design
offers viewing and typing mode
• Utilises New iPad's automatic
sleep mode when closed
• Cover closes securely with
unique belt buckle
INCIPAD275/Black
INCIPAD276EDU/Grey
96
£24.
INCIPAD308/Blue - iPad mini
INCIPAD309/Red- iPad mini
4/48/0
Designed for an Executive
lifestyle, this robust hardcover
case enjoys a carbon-fibre
finish with innovative brushed
aluminium clasp/stand.
• Offers up 8 angles for viewing
or typing
• Superior protection from
bumps and scratches
• Utilises iPad's automatic sleep
mode when cover is closed
£49.96
INCIPAD290/Black
4/48/0
All prices exclude VAT.
TABLETS
IPAD & SAMSUNG
FLORENCE
PORTFOLIO BLACK
Simple and thin elegant design
with magnetic closure for iPad.
• Integrated 2 position
folding cover
• Energy-saving sleep
function activator
• Soft velvet lining with light
protective layer
£83.33
ULTRA SLIM BLACK
Thin leather case. It is perfect
for those who prefer zero bulk.
• Light zero bulk protective layer
• Soft velvet lining with stitching
along opening
• Energy-saving sleep function
activator
£41.66
SNATHD056EU
(Available in Brown)
SNABEU0619
(Available in Brown)
PIATTO FOLIOSAMSUNG GALAXY
TAB 2
Tablet folio case made of
eco-leather designed for
Samsung Galaxy Tab 2.
• Multiple stand-up system for
best typing and viewing angles
• MagLocker, Magnetic closure
on the back to lock the front flap
£24.99
TUCTABPS210B/Blue
TUCTABPS27/Black
TUCTABPS27B/Blue
TUCTABPS27F/Fucsia
4/32/0
EXECUTIVE SLEEVE
BLACK
Premium leather Executive
Sleeve dresses up your iPad or
any similar size tablet.
• Leather portfolio pouch design
• Soft velvet lining with light
protective layer
• Secure flap with magnetic
closure
£91.66
SNATHD059EU
(Available in Brown)
RADICE
A multi-purpose case made
of thermoformed lycra for
tablet PCs.
• Hand strap for when you're
on the go
• Closure with reversible zipper
• Interior slip-proof elastic belts
£20.82
TUCTABRA7/7"/Black
£22.49
TUCTABRA8/8"/Black
£24.99
TUCTABRA10/10"/Black
4/32/0
UNICA
Universal booklet case for 10"
tablet PCs with elastic
fastening. Ultra-slim and
lightweight design.
• Interior slip-proof elastic belts
• Soft scratch-proof interior
• Pen/stylus loop
£16.66
TCTABU10/Black
TUCTABRA7/7"/Black
TUCTABU7R/Red
TUCTABU7W/White
4/32/0
Available in 7" & 10"
TUCANO
YOUNGSTER
A universal fabric pouch for
any tablet PC up to 10 inches.
External pockets for accessories.
• Converts into a portrait
or landscape stand
• External zipped pockets
for accessories
• Micro-fibre sponge to clean
your screen
£24.99
TUCTABY10
4/32/256
Available in 7" & 10"
All prices exclude VAT.
21
SECURITY
SAFE AND SOUND
Any business is a hot tech-theft
target, so are you secure? "Love
it - lock it!" is the Maclocks mantra,
and something the security specialist
has been helping computer owners
practice since 1986.
Maclocks also believes that
although technology theft is ugly,
the products to prevent it don't
have to be. So its range includes
slimmer security cables, suitably
light MacBook Air protection, iMac
tethering that doesn't detract from
design and a clever lock-down iPad
kiosk option.
For iPad 2, 3, 4
For iMac
SPACE ENCLOSURE
KIOSK FOR iPAD2/3/4 HIGH SECURITY PLATE
FOR iMAC
The iPad "Space" lockable Kiosk
secures the iPad against theft
and is tamper-resistant.
• A perfect all-inclusive iPad
security kiosk
• Can be mounted to wall or
stand while being charged
• All Wi-Fi, Blue-tooth and
3G radio frequencies are
uninterrupted
£108.33
MCL101B224SENB
0/20/480
22
High iMac security swivel plate
lock provides outstanding
theft + safety protection for
your iMac.
• Designed specifically for iMac
• Prevents accidental
knock over
• No adhesive or alteration
to iMac
• Masterkeyed, 360 degree
swivel plate + cable free
£83.33
MCLCL88
0/50/3000
LOCK + SECURITY CASE
BUNDLE FOR MB AIR 13"
Lock and Security Case Bundle
for your MacBook Air.
• An anti-theft accessory as
cool as your MacBook Air
• Incorporates a skin/cover for
you to protect your computer
and keep it locked!
• 6-foot cable lock included Flexible, light and stylish
£58.33
MCLMBA11BUN
0/48/432
UNIVERSAL SECURITY
CABLE
This best seller protects
MacBooks, MacBook pros,
iMacs + other notebooks
against theft.
• A 6-foot loop-ended
security cable
• Made from galvanised steel
with peripheral security trap
• Slimmer than standard cables
on the market today
£29.16
MCLNG15
0/80/1280
All prices exclude VAT.
BAGS & SLEEVES
LAPTOP PROTECTION
Portability is obviously the major
reason for choosing laptop rather
than desktop computers, but how
are you protecting your technology
on its travels? CU offers a range of
laptop bags and sleeves designed
to suit different sizes of laptop - and
different styles of user!
From simple non-slip sleeves
to protect laptops from everyday
scratches and scrapes, up to bags
and backpacks that can comfortably
hold tech, files and much more,
we have excellent options from big
brands. Here are some highlights!
Available for 13" & 15" MacBook Pro
and 11" and 13" MacBook Air
NEW ELEMENTS FOR
MACBOOK PRO
A new neoprene sleeve from
Tucano designed for the
MacBook Pro.
Furnished with Tucano's
Anti-Slip System
• Carry on it's own or as a
complete protection system
• Rugged 4mm neoprene
•
£24.99
TUCBFEMB13/
TUCBFEMB13B/
TUCBFEMB13SL/
0/10/0
All prices exclude VAT.
Available in Blue and Red
Available in 13" (Medium) & 15" (Large)
SECOND SKIN
CHARGE UP FOR
MACBOOK PRO & AIR
VELO 2
Second Skin neoprene sleeve for
MacBook Pro/Air 13" with access
to the MagSafe power port.
• Instant access to the
MacBook's MagSafe power port
• Flat stitching for optimum grip
and perfect adherence to
the MacBook
£20.82
TUCBFCUPMB11/11"
TUCBFCUPMB13/13"
TUCBFCUPMB15/15"
4/40/240
Designed to comfortably carry
a laptop and tablet with room
to spare.
• Comes in Medium (15")
and Small (13")
• Main flap secured with two
quick release buckles
• Interior zipped compartment
for further security
£58.32
STMSTM112025M01/Black/13"
STMSTM112025M14/Grey/13"
STMSTM112025M25/Blue/13"
0/10/0
IMPULSE BACKPACK 15"
Dedicated technology
compartment to store and
protect your laptop and tablet.
• Main technology compartment
protects laptop and tablet
• Secondary pocket for
paperwork, books etc.
• Luggage pass-through for
wheeled bag
• Side utility pockets for water
bottle or umbrella
£62.49
STMSTM111024P14/Grey
STMSTM111024P01/ Black
0/10/0
23
IN CAR ACCESSORIES
CHARGERS & DASHBOARD MOUNTS
GRIFFIN WINDOW
MOUNT HANDSFREE
Your smartphone gets the
best seat in the car with Griffin
Window Mount.
• Super-grip clear cling base
• Optional adhesive dashboard
mount included
• Cling base is washable for
unlimited usage
£16.66
GRIRE22068/
4/48/-
GRIFFIN
POWERJOLT DUAL
Twice the charging capacity
(thanks to twin USB ports) for
iPad, iPod, iPhone and other
USB devices.
• 12 volt charger for iPad, iPod,
iPhone, tablets, and other
USB devices
• Includes dock cable for iPad
iPod/iPhone
• SmartFuse protects against
surges, with no blown fuses
to replace
£16.
66
GRIFFIN POWERJOLT SE
LIGHTNING
GRIFFIN FLAT AUDIO
AUX CABLE
£20.82
£10.82
A low-profile dash or console
adapter that plugs into your
car's 12 volt accessory outlet.
• Auto charger for iPad, iPhone,
and iPod
• Input voltage range: 12 to 16
volts DC at 2 amps
• Output power: 10 watts (5 volts
DC at 2.1 amps)
GRIGC36547/
4/48/-
Premium audio cable for MP3
players, smartphones, tablets
and other audio devices.
• Premium flat cable, 3 ft. long
• Allows you to use glove
compartment auxiliary audio
port
• Also use to connect phones/
iPads/players to audio systems
GRIGC17103/
4/48/-
GRIGC23139/Black
4/48/-
TYLT CAPIO NFC
CAR MOUNT
Using a patented sticky
technology, the Capio securely
holds smartphones in place.
• Elegant design for modern cars
• Patented stick pad and suction
cup for mounting
• 2 sets of support arms for
extra security and stability
• NFC support for hassle-free
set-up
£24.99
TLTCAPIONFCT/
6/24/-
24
TYLT BAND
CAR CHARGER
TYLT Y-CHARGE
4.2AMP
TYLT Y-CHARGE
2.1AMP
£24.99
£16.66
The Band Car Charger's 2.1
Amps allows for superfast
charging of any tablet or 2
smart phones.
• 60cm cable ensures your
device rests in a convenient
location
• Additional USB port included
for charging a second device
Higher-capacity dual charger
can fast-charge 2 tablets or
smartphones at once.
• Y-design routes the USB cables
to the left and right
• Dual USB ports included for
charging a second device
• Rapidly charge 2 smartphones
or tablets simultaneously
TLTMICBANDGT/Green
TLTMICBANDBKT/Black
TLTMICBANDBLT/Blue
TLTMICBANDRDT/Red
6/24/-
TLTYCHG42GT/Green
TLTYCHG42BKT/Black
TLTYCHG42BLT/Blue
TLTYCHG42RDT/Red
6/24/-
£29.16
Y-Charge takes the bullet style
charger to a whole new level with
its compact and sleek design.
• Y-design routes the USB cables
to the left and right
• Dual USB ports included for
charging a second device
• Rapidly charge any tablet or 2
smartphones simultaneously
TLTYCHGRDT/Red
TLTYCHGGT/Green
TLTYCHGBLT/Blue
TLTYCHGBKT/Black
6/24/All prices exclude VAT.
STORAGE
DESKTOP & LAPTOP DRIVES
MY BOOK
THUNDERBOLT DUO
DUAL DRIVE STORAGE
WITH RAID
My Book Thunderbolt delivers
the optimum fusion of
performance and capacity.
• Revolutionary Thunderbolt
technology
• Dual-drive storage system with
user-selectable RAID 0/1
8TB £516.63
WDCWDBUSK0080JSLEESN
63
WDCWDBUSK0060JSLEESN
29
WDCWDBUSK0040JSLEESN
1/2/48
6TB £416.
4TB £358.
MY BOOK STUDIO
USB3.0
Hard drive features blazing
fast USB 3.0 performance and
massive capacity.
• Premium performance for Mac
with ultra-fast USB 3.0
• High-capacity storage for all
the chapters of your digital life
All prices exclude VAT.
MY PASSPORT MAC
USB3.0
Features an ultra-fast USB
3.0 interface for blazing-fast
transfer rates.•
• Ultra-fast USB 3.0 interface
• Sleek, compact design with
plenty of storage
• Compatible with Apple Time
Machine
2TB £104.13
WDCWDBZYL0020BSLEESN
96
WDCWDBGCH0010BSLEESN
13
WDCWDBLUZ5000ASLEESN
1/6/114
1TB £74.
500GB £54.
MY PASSPORT EDGE
FOR MAC
High capacity in an ultra-slim,
all-metal design featuring
blazing-fast USB 3.0
connectivity.
• Ultra-slim, all-metal design
with plenty of storage
• Blazing-fast data transfers with
USB 3.0 interface
• Compatibility with Apple
Time Machine
500GB £62.46
WDCWDBJBH5000ABKEESN
1/6/684
MY PASSPORT
STUDIO BLACK
My Passport Studio comes
standard with two super-fast
FireWire 800 ports and big
capacity.
• The drive is powered by the
FireWire or USB port
1TB and 2TB capacities
• Register your drive, set drive
timer, run diagnostics
2TB £149.96
WDCWDBS8P0020BBKEESN
1/6/504
4TB £183.29
WDCWDBCPZ0040HALEESN/
96
WDCWDBCPZ0030HALEESN/
29
WDCWDBCPZ0020HALEESN/
63
WDCWDBCPZ0010HALEESN/
1/4/180
3TB £124
2TB £108.
1TB £91.
25
POWER
SMARTPHONE & TABLET CHARGING
GRIFFIN POWERBLOCK
LIGHTNING FOR iPOD/
iPHONE/iPAD
Lightning wall charger for iPad,
iPhone or iPod with UK and EU
adapters.
• 2Amp lightning connector
• Dock cable can be used
separately
• Cable length 1 metre (3.5')
• Works with any AC power
source from 100 to 240 volts
• Energy saving device
MOPHIE
JUICE PACK AIR
A lightweight, 1700mAh
protective battery case made
for iPhone 5.
• Protects from every day wear
and tear
• Simultaneously charge your
iPhone and juice pack
• Toggle between charging and
standby with the flip of a switch
£74.
96
£24.99
MOP2385JPAIP5BLKI/
4/16/-
MOPHIE JUICE
PACK UNIVERSAL
POWERSTATION 2ND
GENERATION
MOPHIE JUICE PACK
POWERSTATION PRO
MOPHIE
JUICE PACK HELIUM
Ultra-thin, 1500mAh protective
battery case made for iPhone 5.
• Elegant, thin design easily fits
into any pocket or handbag
• LED Power Indicator
mirco USB cable included
£58.29
MOP2375JPHIP5MBLKI/
5/20/-
MOPHIE JUICE PACK
POWERSTATION DUO
Quick-charge external battery
compatible with any generation
of iPod, iPhone and iPad.
• Charge two devices
simultaneously
• Special high-output battery
allows for ultra fast charging
• Capable of switching between
500 mAH, 1A and 2.1A charge
£66.66
GRIGA37439
4/48/0
Quick charge external battery
made for smartphones, tablets
and more.
• Special high-output battery
allows for ultra-fast charging
• Capable of switching between
500 mAh, 1A and 2.1A charge
• Charge virtually any USB
device in the world
£58.
32
MOP2027JPUPWRSTION2/Black
1/6/-
26
Keep your gadgets running for
days without needing a "real"
recharge.
• Automatically switches
between iPod, iPhone and iPad
• High output battery will charge
very quickly
£74.99
MOP2028JPUPWRSTIONPRO/
1/5/-
TYLT ENERGI FOR
iPHONE 5
A sleek protective case with a
built-in battery, which doubles
your standard battery l ife
• Rechargeable 2,500mAh
internal battery
• Stylish case easily slides out of
exterior charging case
• Lightning connector
£70.82
TLTIP5PCRD2T/Red
TLTIP5PCG2T/Green
TLTIP5PCBL2T/Blue
6/24/-
TYLT POWERPLANT
Capable of fully charging your
smartphone from dead to full
battery twice off of a single charge.
• Available in Micro USB and
Apple Lightning versions
• 5200mAh battery pack with
dual outputs
• Up to 14 hours of additional
talk time
• Charge two devices
simultaneously
£49.99
TLTUPPLANT2T/Black
6/24/-
All prices exclude VAT.
PROTECTION
CASES & COVERS
CYGNETT AEROGRIP
FEEL FOR iPHONE 5
Slim fit, hard case with soft
texture finish includes side grip,
protection for edges of your
iPhone.
• Snap-on design
• Slim fit and soft feel
• Includes screen protector
£12.46
CYGCY0830CPAEG/Purple
CYGCY0831CPAEG/Green
CYGCY0829CPAEG/Black/Green
CYGCY0832CPAEG/White
25/100/-
INCIPIO FEATHER FOR
iPHONE 5
High density, ultra-light
Plextonium frame for the new
iPhone 5.
• Incipio's best-selling ultra-light
design weighs just 0.5 ounces
• Sleek, low profile protection
• A rigid plextonium frames hold
strucutre and prevents dents
£16.
INCIPH807/Blue
INCIPH806/Pink
INCIPH809/Grey
INCIPH805/Black
8/96/-
All prices exclude VAT.
CYGNETT FLIPFIBER
FOR SAMSUNG
GALAXY S4
Sleek FlipFiber features
a deluxe, microfibre that
seamlessly wraps around your
Galaxy S4.
• Uber-slim, counter-sunk
card holder
• Take calls with the cover closed
• Includes a screen protector
£16.63
CYGCY1192CXFIB/Grey
10/60/-
TWELVE SOUTH
SURFACEPAD FOR
iPHONE 5
SurfacePad for iPhone is a
new breed of protection, a
lightweight leather jacket.
• Wrap iPhone in a luxury Napa
leather jacket
• Watch videos and FaceTime
hands-free with built-in stand
• Shield iPhone from scratches
and scrapes
£24.99
TWS121229/White
TWS121230/Red
TWS121228/Black
6/36/-
CYGNETT LAVISH FOR
SAMSUNG GALAXY S4
Encases your S4 in a protective
layer of microfiber and durable,
high-quality leather-feel
material.
• Boardroom style or landscape
stand view
• Easy access to all functions
• Includes a screen protector
£16.63
CYGCY1193CXLAV/Black
10/60/-
CYGNETT
URBANSHIELD FOR
iPHONE 5
Precision-machined, slim and
high performance, it protects
against scratches.
• 3 choices of look
• Pocket friendly slim fit
• Raised edges to protect your
iPhone
£20.79
CYGCY0860CPURB/Carbon
£16.63
CYGCY0858CPURB/Black
CYGCY0859CPURB/Silver
25/100/-
CYGNETT 360DEGREE
PRIVACY SCREEN
PROTECTOR FOR
iPHONE 5
GRIFFIN SURVIVOR
£16.63
£26.16
Features a micro-louver design
to prevent others viewing your
screen from any angle.
• The hi-tech shield includes a
complex four-layer design
• Matte finish for easy glide, antiglare, and protection from dust,
fingerprints and scratches
• Includes a premium microfiber
cloth and screen cleaning wipe
Built from the inside out to
protect your iPhone from
extreme conditions.
• US Military tested case
• Integral Display shield
deflects
wind and rain
• Rigid internal frame protects
against shocks and drops
• Sealed ports block
blown sand and dust
• Multi-position clip attaches
securely to pack strap or belt
CYGCY1017CSPRI/
50/200/-
GRIGB356772
0/48/4-
27
Adobe Creative Cloud
now built for business.
Adobe® Creative Cloud™ for teams is an ongoing membership that provides
businesses or workgroups with access to any of the Adobe Creative Suite® 6
desktop applications, plus much much more...
• Get the world's best tools at a more affordable price: Download and install the latest versions
of any CS6 applications you want, plus a host of additional tools and services.
• Publish apps and websites: Break down the barriers to getting your content out to the
world. With Creative Cloud, customers can also deliver stunning digital publications to iPad,
all without having to write a line of code.
• Stay up to date: Get upgrades to all new versions upon release, as well as new features and
services as they become available.
www.unlimited.com/adobe
* Selling Creative Cloud for Teams is via the new Value Incetive Plan licensing program whcih can only
be sold by Certified or higher resellers. Contact CU today to find out how to become a Certified reseller.