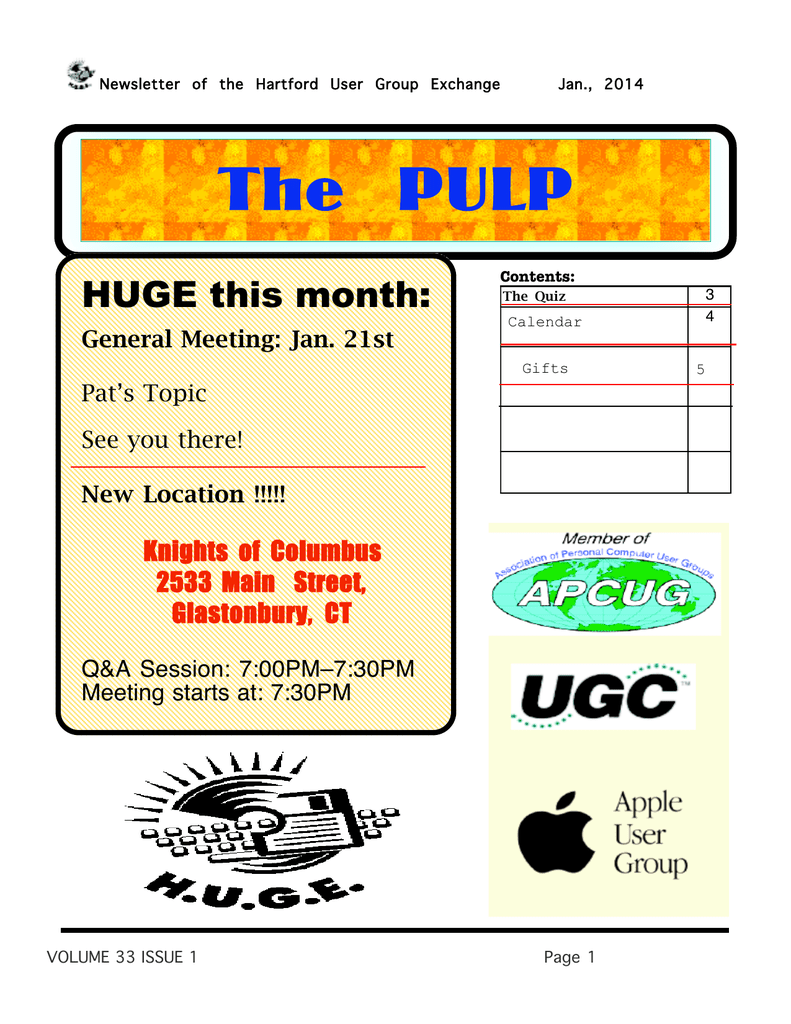 Newsletter of the Hartford User Group Exchange
Jan., 2014
The PULP
HUGE this month:
General Meeting: Jan. 21st
Contents:
Calendar
Gifts
Pat's Topic
See you there!
New Location !!!!!
Knights of Columbus
2533 Main Street,
Glastonbury, CT
Q&A Session: 7:00PM–7:30PM
Meeting starts at: 7:30PM
VOLUME 33 ISSUE 1
3
4
The Quiz
Page 1
5
Newsletter of the Hartford User Group Exchange
Jan., 2014
The PULP is published monthly by and for members of the Hartford User
Group Exchange, Inc. (HUGE). HUGE is a nonprofit organization whose
aim is to provide an exchange of information between users of personal
computers. The PULP is not in any way affiliated with any computer
manufacturer or software company. Original, uncopyrighted articles
appearing in the PULP may be reproduced without prior permission by
other nonprofit groups. Please give credit to the author and the PULP, and
send a copy to HUGE. The opinions and views herein are those of the
authors and not necessarily those of HUGE. Damages caused by use or
abuse of information appearing in the PULP are the sole responsibility of
the user of the information. We reserve the right to edit or reject any articles
submitted for publication in the PULP. Trademarks used in this
publication belong to the respective owners of those trademarks.
MEETING LOCATION
Knights of Columbus
2533 Main Street
Glastonbury, CT
Editor's Corner
This month the topic is Pat with my thanks.
Instead of the regular PULP here are some 'geek' gift
ideas that you didn't get to see because of the
weather.
In the news: Researchers are in the process of using
3d printers to create human tissue. So far one group
has created a liver 500 microns thick (a piece of
paper is 100 microns) and have it live for 40 days.
They're a ways from being able to create one for
transplant.
Ever wonder what your dog is thinking? Ever see the
movie "UP"? Researchers in Scandinavia are working
on a gadget tat translates brain activity to human
speech using a Raspberry Pi. Here's a link:
http://www.nomorewoof.com/
Apple has turned iBeacon on in its stores and can
now collect payment information directly from your
iPhone. But it can also provide product information
while you are in the store.
Among the multitude of things collected by
the NSA is information on the users of 'World
of Warcraft'. I wonder if they're also watching
'Farmville' and 'Words with Friends'?
Researchers have stated that older Mac
webcams can spy without activating the
(green warning) light.
Target. Stay tuned. 'nough said.
Stuart Rabinowitz
Editor
Here is the appropriate copyright citation and a link to the
full text. articles from "Tidbits"
http://creativecommons.org/licenses/by-nc-nd/3.0/
VOLUME 33 ISSUE 1
Page 2
Newsletter of the Hartford User Group Exchange
Jan., 2014
A Little Computer Quiz
by Stuart Rabinowitz
Answers to Dec., 2013 Quiz
The trivia and minutiae of the computer
related world. The answers will appear next
month or you can submit an answer sheet at
the General Meeting. Good Luck.
1 What was the first cellular phone to include
telephone and PDA features in one device
(aka -- a smartphone)?
2 When was it released?
3 Who was the only cellular carrier?
4 How much did it cost?
5 What was the first cell phone to be called a
"Smartphone"?
VOLUME 33 ISSUE 1
1 By now many of you have heard of Siri (Apple's
iOS voice assistant), who provides the voice?
A Susan Bennett, a voiceover actress
2 Who was the employer?
A She was originally hired by ScanSoft (acquired
by Nuance)
3 Last month (Nov. 2013) the person that led the
IBM engineering team that developed the IBM
PC passed away. What was his name?
A William Lowe led the team of 12 engineers
4 What was the code name of the project?
A Project Chess
5 What was the code name for the PC?
A Acorn
Page 3
Newsletter of the Hartford User Group Exchange
PULP Staff
Editor
Distribution
Stuart Rabinowitz
George Carbonell
Officers & SIG Leaders
President:
Vice President
Secretary:
Treasurer:
Director at Large:
Web Manager:
George Carbonell
Stuart Rabinowitz
Ted Bade
Charles Gagliardi
Richard Sztaba
Bob Bonato
Membership:
Integrated SIG:
Richard Sztaba
Stuart Rabinowitz
Jan., 2014
Membership: Anyone may become a
member. Dues are $12 per year and include a
one-year subscription to The Pulp as well as
access to the HUGE Public Domain disk
libraries. Meeting topics, times and places can
be found on page 1 of this issue.
860.568–0492
860.633–9038
860.643–0430
860.233–6054
860.633–9038
george.carbonell@comcast.net
s.e.rabinowitz@att.net
tbade@cox.net
epencil@att.net
richer1@aol.com
wmaster@huge.org
richer1@aol.com
s.e.rabinowitz@att.net
January 2014
Sunday
Monday
Tuesday
Wednesday
Thursday
1
Friday
Saturday
2
1920 Issac
Asimov born
3
4
1977 Apple
incorporates
5
6
7
8
9
10
11
12
13
14
15
16
17
18
1997 HAL 9000
operational
19
1983 IIe and Lisa
introduced
20
21
22
23
General
Meeting
7 PM
26
VOLUME 33 ISSUE 1
27
24
1984 Macintosh
introduced
28
29
30
Page 4
31
25
Gifts 2013
The Explorer is a small ball equipped with several
small cameras that can be thrown into unseen
spaces to broadcast video back to the user.
Available only to law enforcement.
http://bounceimaging.com/
ShutterBall
http://www.myshutterball.com/
In the year of the Selfie, a bluetooth shutter with easel to hold the
phone. $25
Swivl
$200 for iPhone, iPad & Android next year
http://www.swivl.com/
Use an electronic
marker (which can be
held or worn around
your neck) and a
swiveling iPhone mount
to act as a robotic
cameraman.
Hövding is a revolutionary bicycle helmet designed for
the modern cyclist. Also a discrete chameleon that easily
becomes part of your outfit using the changeable shell.
€399
http://www.hovding.com/en/how_it_works?/en/how
Samsung 1TB 1.8-in,
miniSATA (mSATA)
format SSD $650
Available next year.
LEDwholesalers LED Flexible
color changing Strip
$2/ft indoor
$3/ft outdoor
http://www.amazon.com/Ledwholesalers-Changing-Flexible-Yourself-Controller/dp/B0040FJ27S/ref=sr_1_1?
ie=UTF8&qid=1354367442&sr=8-1&keywords=LED+Wholesalers
Deluxe Electronic Breadboard Menorah Kit
http://shop.evilmadscientist.com/component/content/article/672
$18
WeMo Switch
WEMO NOW WORKS
WITH ANDROID AND
IOS SMART DEVICES
TURN YOUR
ELECTRONICS ON OR
OFF
FROM ANYWHERE OVER WI-FI, 3G OR 4G
$50
http://www.belkin.com/us/F7C027-Belkin/p/P-F7C027/
No-Power Holiday Lights
http://www.instructables.com/id/No-Power-Holiday-Lights/
Electronic Pets in a Jar
http://www.thinkgeek.com/product/e70c/
http://www.thinkgeek.com/product/eb56/
Concepts Space Invaders Wind-Up Toy (Set of 2)
$15
http://www.wayfair.com/Diamond-Selects-50Fifty-Concepts-Space-Invaders-Wind-Up-Toy-5515497-WKV1206.html
SHARKK® 5 in 1 Card Reader Connects Cameras,
USB, & Memory Cards To iPad and iPad2 and The
New iPad 3rd Generation (ONLY WORKS WITH
PICTURE FILES) $15
http://www.amazon.com/SHARKK®-Connects-Cameras-Generation-PICTURE/dp/B0068RKK18/
ref=sr_1_1?s=electronics&ie=UTF8&qid=1386811127&sr=1-1&keywords=iphone+sd+card+reader
Welcome to zoomMediaPlus!
Not yet for sale $50
http://www.zoommediaplus.com/
Complete
Cleaning Kit
Never again do you
have to fret over
keyboard stains or
smudges all over
your display. $25
http://www.moshimonde.com/product/cleaning-kit.aspx
ChargeCard
Made possible by funding from the Kickstarter community, this credit cardshaped USB charging cable conveniently fits in your wallet, because we all know
that the best charger is the one you have on you. Designed and manufactured in
California, ChargeCard comes in iPhone 4/4s, iPhone 5/5s/5c, and Micro USB
varieties. $25
http://www.hellonomad.com/
Dream Arcades Kegerator 60 -- $4,999
http://www.dreamarcades.com/tables.shtml
A full keg refrigerator with three taps inside of a big multi-game arcade machine with a 60-inch
screen. More than 140 games are included, with expansion packs available for purchase, and
support emulators grows your gaming potential exponentially for old-school arcade games.
Roominate
Think of this like a smart dollhouse, only instead of a prefabbed Dream Condo,
your little engineer in training gets to design and build the whole thing herself.
Starts at $30
http://www.roominatetoy.com/young-inventors/
ArmorBox Kido
http://www.i-blason.com/armorbox-kido-cases.html
$25
The Curb doesn't look like much, just a piece of plastic designed to prop
up the back of your MacBook to increase airflow, dissipate heat, and
extend the life of your computer's battery. Its shape allows for two
different elevation heights. Ships in October. $13
http://www.thinkbym.com/pages/curb
The in 1 For iphone 5 combines a sleek design with functional multi tools in one case. The in 1 protects
your iphone while also offering a useful tool-set. The tools which are included are:
•
blue pen, red pen, polycarbonate casing, phillips screwdriver, flat-head screwdriver, kickstand, nail
file, tweezers, scissors, toothpick, & TSA compliant $45
http://www.in1case.com/product_p/i-phone-5-clear.htm
DoorBot is a doorbell equipped with a small camera, a microphone and a speaker, and connects wirelessly
to your mobile device. When somebody rings the doorbell, an app on your iOS or Android device notifies
you, lets you see who is there, and allows you to speak to them. You can wire DoorBot to an existing doorbell so that it will ping your smartphone and ring your actual
doorbell at the same time; it gets power from the doorbell wiring. Otherwise, just hang it and let it run it off its
internal battery. $200
For an additional $150, you can pair your DoorBot with Lockitron, which lets you wirelessly unlock the door
as well.
http://www.getdoorbot.com/
https://lockitron.com/preorder
PrintrBot Simple: $399 assembled; kit $299
http://printrbot.com/
Handheld 3d printer $99
3DOODLER
Can be mounted on CNC arm or Lego
Mindstorm
http://www.the3doodler.com/
Kanex
Need a keyboard for your Mac, iPad, iPhone, and iPod touch? The $69 MultiSync keyboard has got you covered. This versatile accessory connects to your
Mac via USB and connects with up to three iOS devices via Bluetooth.
Logitech Bluetooth Easy-Switch Keyboard
K811 $100
Yo u can pair t he key b o ard w it h up t o 3 A pple dev ices and quickly sw it ch b et w een t hem
w it h t he press o f a b ut t o n. St art t y ping o n y o ur Mac, t hen inst ant ly sw it ch t o o ne o f y o ur
o t her dev ices including iPad, iPho ne o r ev en A pple TV .
http://www.logitech.com/en-us/product/illuminated-keyboard-for-mac-ipad-iphone?crid=26
mLogic
The $100 500 GB mBack is being touted as "the first zero-footprint hard drive
for iMac"—it attaches to the back of your iMac or Apple Display, 1 TB & 2 TB
The mBack by mLogic is an external hard drive that stays out of sight, attached
to the two-inch hole cut into the back of the iMac stand. A notch at the bottom
of the mBack allows you to run the power cable through the same hole. A short
USB 3.0 cable is in the box connects the drive to one of the USB ports on the
rear of the iMac or display. $99 (500 GB), $149 1 TB
http://www.mlogic.com/products/mback
Interactive Plush Monkey
It connects to your cell phone via
headphone jack. Put the phone on
speaker, the Interactive Plush Monkey
moves his body and "speaks" in time
with the person on the other end. Or
use the Interactive Plush Monkey as a
speaker for your MP3 player. Connect
the device via headphone jack and
watch him "sing along" to your favorite
tunes. $50
http://www.sharperimage.com/si/view/product/Interactive-Plush-Monkey/201786?trail=
Credit Card Lightbulb
Product Features
•
•
•
•
Small plastic lightbulb
folds flat for storing in
your wallet
Flip up for LED light
Same size as a credit
card, but a bit thicker
Batteries included
1 -- $2.50
2 -- $3.75
http://www.thinkgeek.com/product/cbd4/?pfm=Search&t=credit%20card%20lightbulb
Orée
The Orée Touch Slab is a Multi-Touch trackpad, like Apple's own model, but this
one is actually made of either maple or walnut. Yes, as in kinds of wood. No, we
don't know how it works either, but it's lovely. The downsides? Right now, it's
selling only in Europe, and it costs €150.
There is also a keyboard.
Wacom
The $79 Bamboo Pad is a wireless touchpad that lets you navigate on your
Mac using gestures, or use a stylus to write and doodle. Just plug in the
included USB dongle, and the Bamboo Pad works wirelessly. (A wired
USB version of the device sells for just $49.)
Text
PNY
The StorEdge memory card slips into your MacBook's SD-card-reader slot to
"dramatically" expand your laptop's storage capacity. A 64 GB module is $100;
doubling that doubles the price.
Spark USB Drive
Lights up when in use & magnetic case
to put on the fridge (etc.)
8 GB $10
16 GB $15
http://www.2leef.com/store/product/spark_usb_drive/
http://www.memorex.com/en-us/Digital-Storage/USB-Flash-Drives/
Canvas Prints from EasyCanvasPrints
Your photo on canvas
http://www.easycanvasprints.com/
3 for $99
The Snowmous slips onto the bottom of the iMac's body, putting the
headphone jack and one of its USB ports right in front. It is a
Kickstarter project.
http://www.kickstarter.com/projects/136389194/snowmous-access-io?ref=live
Logitech's $70 Ultrathin Touch Mouse T631 for Mac is a wireless input
device that complements Apple's various MacBook models. Designed for
travel, it's thin enough to slip into your computer bag without adding much
bulk, and the touch surface on top lets you take advantage of OS X's MultiTouch gestures. Like Logitech's Easy-Switch keyboards, the T631 can pair
with two computers at once, letting you easily switch between them.
http://www.logitech.com/en-us/product/ultrathin-touch-mouse-t631?crid=7
QuickerTek has introduced the latest in its EyeBattery line of
external power sources. This one is a $300 version optimized to
give MacBook users 4 extra hours of use when they're not connected
to an electrical outlet.
http://www.quickertek.com/batteries.html
GRIP&SHOOT
Wirelessly co nt ro l y o ur pho ne
w it h just o ne hand!
Reduces shaky v ideo and
f at ig ue.
Sy st em Includes:
1
2 Shoot er Cases
( iPho ne 5 / 5 S & 4 S)
2
Bluet o o t h Sm art Grip
3
Grip A dapt er
4
Leat her Carry ing Po uch
5
Wrist Lany ard
http://www.gripandshoot.com/index.html
http://uncovermac.com/
A guitar with a 3D printed body
$3,000
http://cubify.com/products/guitars/
The Wireless Range Extender
(DAP-1320) extends your
existing wireless network
coverage with the push of a
button, delivering up to
300Mbps for whole-home
coverage. Ideal for hard-toreach areas like basements,
upstairs bedrooms or outdoor
areas, the compact Wireless
Range Extender gives you
performance where you need
it most. Simply plug the
DAP-1320 into a wall socket
within range of your current
wireless signal, and instantly
expand your home network
to the furthest corners of
your home. $40
http://www.dlink.com/us/en/home-solutions/connect/access-points-range-extenders-andbridges/dap-1320-wireless-range-extender
SpareOne GSM Emergency Mobile Cellular Phone, 850/1900 MHz
$100 Runs on AA battery for 15 years (10 hours talk)
http://www.amazon.com/gp/product/B008AM3KJI/ref=pd_lpo_k2_dp_sr_2?
pf_rd_p=1535523722&pf_rd_s=lpo-topstripe-1&pf_rd_t=201&pf_rd_i=B008B291SQ&pf_rd_m=ATVPDKIKX0DER&pf_rd_r=0KFVVRYQG79DMH7
TT1PG
SimpleScan DP mobile scanner ($199) offers double-sided scanning
with an optical resolution of 300dpi. The versatile mobile scanner can
be deployed in three distinct configurations. It offers a scan speed of
10 pages per minute (PPM) when scanning in black and white, and
4ppm in color. The SimpleScan DP mobile scanner is fully USBpowered, and is available in black and white.
https://simplescan.com/simplescandp.jsp#sthash.C2RXxKq3.dpbs
Honeywell Voice-Controlled Smart Thermostat -- $349
The simple
command "Hello,
thermostat,'
allows you to
ask the
thermostat to
make it warmer
or cooler by a
speciflc number
of degrees.
Honeywell
promises to add
more voice
commands; all
voice
recognition is
handled in the
cloud. Coming
December.
http://www.amazon.com/Honeywell-RTH9590WF1003-Wi-Fi-Thermostat-Control/dp/B00EJIYUUU
OffGrid Solar
Backpack
The Of f Grid So lar
Backpack is o ur
m o st v ersat ile b ag .
The so lar po cket is
rem o v ab le and can
b e at t ached t o
o t her b ag s o r
any t hing else as it
charg es. Besides
charg ing all y o ur
handheld
elect ro nics, it has
1 ,5 0 0 cub ic inches
o f st o rag e space
( appx. 4 w at t
peak) , a padded
lapt o p sleev e,
int eg rat ed pho ne
po uch and plent y o f
o t her po cket s.
$229
http://www.voltaicsystems.com/offgrid.shtml
The Mocoro Robotic Fur Ball Vacuum Cleaner finds all the dust on
your floors every 15 minutes for up to three hours. $70+
http://www.japantrendshop.com/mocoro-robotic-fur-ball-vacuumcleaner-p-1611.html
Bracer of Battery Life +2
•
•
•
•
Battery charger in a wearable
wristband
Charge your batteries while
using your device
Great for long travel days - by
train, plane, or automobile
$30
http://www.thinkgeek.com/product/ceca/
Justand
The $99 Justand v2 turns
your iPad or iPad mini into
a document scanner,
positioning the tablet above
a book or document in order
to capture a clean, detailed
image of the page using the
iPad's camera. For an extra
$40, you can add an
"electronic module" that
includes a USB port to
power the iPad, as well as a
flexible light to better
illuminate the book or
document.
http://ipaddocumentcamera.com/pages/justand-v2
Ergotron
An ergonomic-accessory company has debuted two Apple-oriented products. Both
are metal arms that attach to your desk and can easily be raised or lowered
depending on whether you wish to stand or sit with your Mac laptop or desktop
computer.
The Workfit-P ($329) is designed to
hold a laptop and an input device.
http://www.ergotron.com/
ProductsDetails/tabid/65/PRDID/772/
language/en-US/Default.aspx
The WorkFit-A ($649) holds an iMac
securely while providing a large
desktop surface and a keyboard/
mouse/trackpad platform.
http://www.ergotron.com/ProductsDetails/
tabid/65/PRDID/771/language/en-US/
Default.aspx
Easy-Macro Camera Phone Lens Cover from Easy-Macro
Direct price: $15 | Retail price: $15
Slips over t he
camera lens on
almost any phone,
according t o t he
company, it can
handle up t o a 10in. iPad or Android
t ablet -- and
magnifles t he
subject up t o four
t imes.
http://easy-macro.com/
Belkin
The $60 YourType
Bluetooth Wireless
Keypad adds 28
keys to your Mac,
including several
function keys,
documentnavigation
controls, and a full
numeric keypad
ideal for dataentry and
accounting
functions. The
aluminum
accessory is a
perfect match for
your Apple
Wireless keyboard.
http://www.belkin.com/us/F8T067/p/P-F8T067/
Tetris Stackable LED Desk Lamp$40
http://www.thinkgeek.com/product/f034/?srp=1
iRecorder iPhone Speaker -- $50
http://fancy.com/things/489567344138394397/iRecorder-iPhone-Speaker#
Bare Conductive Electric Paint
$10
http://www.bareconductive.com/
Flashback iPhone Case
$16
Stylus Feather $6
http://www.urbanoutfitters.com/urban/catalog/
productdetail.jsp?
id=29548294&parentid=A_MEDIA_GADGETS
Pressy brings back simplicity to your
phone. Plug into headphone jack & perform
your favorite and most common actions
with a simple, intuitive physical button. $27
http://get.pressybutton.com/
Coin is a connected device that can hold
and behave like the cards you already
carry. Coin works with your debit cards,
credit cards, gift cards, loyalty cards and
membership cards. Instead of carrying
several cards you carry one Coin. Multiple
accounts and information all in one place.
$100
https://onlycoin.com/
Nantucket Lapreader
$80
http://www.levenger.com/Collections-5/Carezza-Collection-344/Nantucket-Lapreader-Core-7555.aspx
Contour Roam2 waterproof video camera $200
http://store.contour.com/ae/us/cameras/contourroam-2/invt/1800
Shark With Frickin' Laser Pointer
$13
http://www.thinkgeek.com/product/f2eb/?pfm=Search&t=shark%20with%20frickin%27%20laser%20pointer
Trifield 100XE EMF Meter -Magnetic, Electric, and Radio/
microwave Detection All in One
Package Omni-directional electric
and magnetic sensitivity Handheld portability and simplicity,,
$150
http://www.amazon.com/Trifield-100XEEMF-Meter/dp/B00050WQ1G/ref=sr_1_1?
ie=UTF8&qid=1382991264&sr=8-1&keywor
ds=emf+meter
BoostSolar
The solar-powered backup battery pack that will fully charge most smartphones twice and can
also charge tablets. $99.99
http://www.etoncorp.com/en/productdisplay/boostsolar
LEGO® Builder Case for iPhone 5 and iPhone 5s
$40
http://www.belkin.com/us/F8W283-Belkin/p/P-F8W283/
Kee Desk Phone Dock | $150
MediaShair Wireless Media Hub w/SD/USB Input
& Built-in Power Station $100
http://www.iogear.com/product/GWFRSDU/
Sound pOp
$30
http://www.audiosource.net/products/sound-pop/overview/
U See Tablet Magnifier is an iPad stand that lets you use your tablet
like a magnifying glass. £179
http://therapy-box.co.uk/prdetails.aspx?id=124
The Leap Motion Controller
Plugs in to your Mac or PC
With just your hands and fingers in the air – swipe, pinch, wave, and grab for just $80
https://www.leapmotion.com/
Leap Motion Controller
$79.99
Windows 8 users who lack a touch screen—actually everyone with Windows 7
or MacOS who lacks a touch screen: get ready to put your fingers and hands
to work. Leap Motion is a revolutionary little device measuring only 3-by-1
inches that plugs into a USB port and sits just in front of your keyboard. It
has a 150-degree view of everything above it so you can use your hands and
fingers to gesture control everything on screen. The device will even have its
own app store.
AutoExec Wheelmate Steering Wheel
Attachable Work Surface Tray
Convert
your
steering
wheel into
an
ergonomic
work
surface for
writing,
light
computing,
or just
taking a
lunch break.
$20 - $25
http://www.amazon.com/AutoExec-Wheelmate-Steering-Attachable-Surface/dp/B00E1D1GY6
ReVolt 12W + 12W is a dual-USB-port car charger -- $25
Google Chromecast
$35.00
http://www.google.com/intl/en/chrome/devices/chromecast/#netflix
Parrot Flower Power Wireless Plant Monitor
Flower Power pops into Mom's actual ‡owerpot and monitors whether her plant
needs more water, a different temperature or more light. The wireless wand
parses the data it collects by connecting to an app with a database of more than
6,000 plants. $60
http://www.amazon.com/Parrot-Flower-Power-Wireless-Monitor/dp/B00FOM2Y6W?tag=laptop-magazine-20
SanDisk unveils wireless flash drive $50
http://www.sandisk.com/connect/
Magisto - Magical Video Editor
By SightEra Technologies Ltd
http://www.magisto.com/
Magisto is a fun and easy way to automatically edit videos and
photos and share them with your friends and family. Magisto will
turn your video and photos into beautiful edited movies, complete
with music and effects, in minutes. Free
Mainframe2: Run software apps in a Web browser
Targeting the massive market of companies still transitioning
to the cloud for their enterprise apps, Mainframe2 offers a
cloud platform that enterprises can use to run any software
apps in a Web browser with no plugins or changes in code. It's
an ambitious pursuit, if only because the company lists Citrix,
VMware, and Microsoft among its competitors.
http://www.mainframe2.com/
Now you can use your iPhone to open wide and say ahhhhh! The Kinsa smart
thermometer plugs into the audio jack of your phone; stick the other end under your
tongue, and it immediately relays your vital health information to an app on the phone.
Kinsa hasn't yet released pricing or shipping information.
https://www.kinsahealth.com/
YesVideo -- Starts at $14.99
Converts tapes, film, or photos to digital content
Big Hugs Elmo
$50
Kohler Moxie Showerhead + Wireless Speaker
$199.99MSRP$149.25Amazon
Shower singers have some accompaniment with the Kohler Moxie. A 1.5-watt
Bluetooth speaker plugs into an accompanying showerhead to play up to seven hours
of music, podcasts, or whatever else you want from the device you pair with the
speaker.
The iPad Musical Shower Curtain.
Shower curtain with built-in speakers and a waterproof pocket for any tablet of
smartphone $40
http://www.hammacher.com/Product/Default.aspx?sku=83858
Fuel3D handheld scanner, a point-and-shoot 3D
imaging system that captures extremely high
resolution mesh and color information of objects
http://www.fuel-3d.com/
http://www.kickstarter.com/projects/
45699157/fuel3d-a-handheld-3d-scannerfor-less-than-1000
The $30 Excel Skin is a silicone keyboard cover, colorcoded so that users can use their Mac's shortcuts
without having to vainly search their memories. It's also
handy for protecting your keyboard from dust, water, or
anything else that might spill into the cracks.
ViewSonic TD2340 Touch-Enabled Monitor
It's a projected capacitive multitouch display, so you can do things on it such as
rotate, zoom, and pull up the Charms bar with a swipe of your fingers. It's a
contortionist that you set up in orientations ranging from flat to portrait. The
TD2340 uses an IPS panel with 1920-by-1080-pixel HD resolution for excellent
image quality, and it includes built-in stereo speakers that pack a decent punch.
Price: $591
MOGA Pro Controller
$50
MOGA Pocket Controller
$30
SECRETS
HandBrake
A database of hidden settings for Mac OS X
The open source video transcoder
http://handbrake.fr/
http://secrets.blacktree.com/
MacX YouTube Downloader
Free Download Videos from YouTube on Mac OS
http://www.macxdvd.com/free-youtube-video-downloader-mac/
Audacity® is free, open source, cross-platform
software for recording and editing sounds.
http://audacity.sourceforge.net/
StorageStatus monitors attached storage devices and provides relevant state
information and notifications. Using this information, it is possible to watch for
unusual activity (such as devices unnecessarily becoming active), which can hamper
battery life. $3
https://itunes.apple.com/us/app/id686794795?mt=12
Launcher 2.0
Nulana's Launcher (free app) supports a number of different options
that make accessing your apps and documents easier, including the
ability to write your own scripts that perform complex actions and is
compatible with OS X Mavericks and Retina displays.
http://www.nulana.com/launcher/
MacDockThe MacDock is a hub for all your Apple-based
peripherals. Just plug it into your MacBook, and you can instantly
connect your iPhone, iPad, an external monitor, and an external hard
drive.
http://www.kickstarter.com/projects/1710259441/new-macbook-docking-station
MacDock
It can play music in all the
popular audio formats from
a microSD card (a 2GB
card is included). There are
controls for play and
pause, moving tracks
forward or back, and
adjusting the volume.
Available in pink, black,
light green, yellow and
white for $34.
http://thekubeplayer.com/index.cfm?method=main.productInfoSpecifications
iTwinConnect
$99MSRP$99.00Amazon Marketplace
Stealing away for a few minutes on your computer in a café can mean plenty gets
stolen from you, like sensitive information, documents, and whatever else the free
Wi-Fi has opened to your neighbors. But with the iTwin Connect, whatever's on
your laptop is just as secure when it's out as when it's at home. The built-in VPN
service also allows for file-sharing, remote desktop, and Windows network and
printer sharing.
iTwinConnect!
$129 one-time fee
iTwin looks like it's got USB on both ends but these are two halves of the same
device. Plug one into a PC, the other half into a remote PC, and voilà—instant
secure connection between the two without a VPN server. It's a great way to do
secure file/printer/network sharing and remote access, with no monthly extra
costs.
Text
http://www.cyberguys.com/product-details/?productid=60719&rH=1930
$70
iPhone SLRMount
$249
http://photojojo.com/store/awesomeness/iphone-slr-mount/
Carson Optical HookUpz LensMag -- $14.95
http://www.amazon.com/Carson-HookUpz-LensMag-Lenses-ML-515/dp/B00BP5TD66
10x and 15x Magnifying Macro-Lenses
Asus VivoMouse
This funky peripheral is a slim,
sleek hybrid of a wireless
optical mouse, a trackpad, and a
remote control. Using its disclike trackpad, you can do things
like scroll, pinch to zoom, and
even swipe to call up the
Charms bar in Windows 8.
The remote function could
come into play when you want
to impress an audience. Hold
the device by its base and use
your thumb on the trackpad to
scroll through Web demos or
PowerPoint presentations.
Price: As yet unknown;
PowerPot V, which lets you charge your iPhone by filling a
pot with water, placing the pot over a heat source—such as
an open fire—and letting the resulting steam generate
electricity to charge your phone. $149
Every Day Carry (EDC) tools: Pry bar, screwdrivers, precision tweezers, waterproof
lighter and titanium key ring. All items weigh less than two ounces combined. $54
http://store.kaufmann-mercantile.com/collections/exclusively-kaufmann-mercantile/products/edc-kit
Restoration Hardware iPhone Gramophone | $250
Specimen 50-Watt Tube Amp | $3250
Giant Coffee Table Touchscreen Computer -- $7,000
2-in-1 iPotty WithActivity Seat for iPad
$39.99
Corsair Voyager or Seagate Wireless Plus
Wi-Fi hard drive $180 - $200
http://www.corsair.com/voyager-air
http://www.seagate.com/external-hard-drives/portable-hard-drives/wireless/
wireless-plus/
BlueLounge
Finding a place to charge your
iPhone 5 or fifth-generation
iPod touch just got easier,
thanks to $40 MiniDock, now
available in a Lightningconnector version. The
MiniDock's USB plug couples
with the USB port on Apple's
diminutive iPhone charger,
giving you a convenient and
compact charging dock that sits
snug against the wall—no cable
messes here. It's a nice
arrangement for travel
charging or for keeping your
countertop clear of wires.
Carson Optical
The $19 LensMag is actually
a two-pack of magnifying
lenses for the iPhone 5
camera. Both lenses, one 10x
and the other 15x, attach to
your phone by magnet,
allowing you to see and shoot
pictures from farther away
(or as it will appear, closer
up).
http://
www.carsonoptical.com/
Magnifiers/Other/ML-515/
Details/Video/
Seidio
The $30 Innotraveler
Universal Car Mount
attaches to the inside of
your car's windshield,
letting you mount your
iPhone for easy access—
say, for GPS guidance—
while you're on the road.
http://www.seidioonline.com/
innotraveler-universal-car-mount-p/
mwg05l.htm
http://www.startech.com/HDD/Duplicators/SATAHard-Drive-HDD-Duplicator-Dock-eSATAUSB~SATDOCK22RE
http://www.startech.com/HDD/Duplicators/
USB-1-to-2-Standalone-Flash-Drive-DuplicatorEraser~USBDUP12
$90
$200
GolfSense Glove
The GolfSense gadget attaches to almost any golf glove to detect the acceleration, velocity, tempo,
position, and posture of the device and club by calculating sensor data at sample rates of more
than 1,000 times per second.
http://www.golfsense.me/pages/pro#a1
SoundPockets
The Freedom (iPhone 5; $40)
is made from rigid
polycarbonate plastic and
features a special
compartment on the back
designed to hold your
earbuds using one of two
"caddies"—one for regular
earbuds, and the other for the
in-ear type.
The Freedom is available in
white, green, orange, pink,
purple, red, blue or black.