Hama 00046667 Owner's manual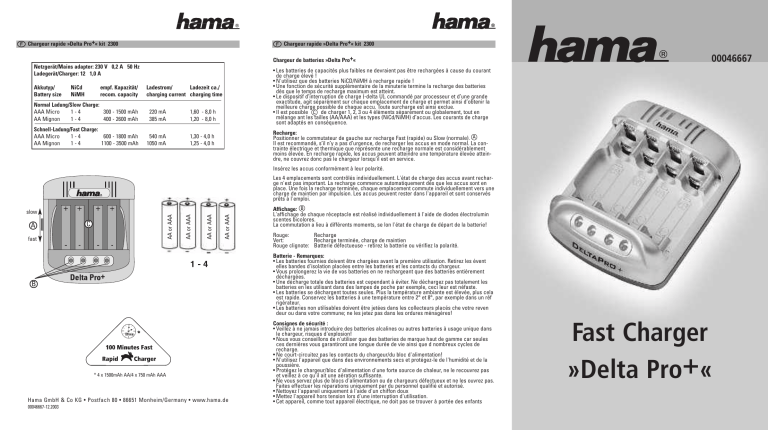 ¬ Chargeur rapide »Delta Pro+« kit 2300
¬ Chargeur rapide »Delta Pro+« kit 2300
Chargeur de batteries »Delta Pro+«
Netzgerät/Mains adapter: 230 V 0,2 A 50 Hz
Ladegerät/Charger: 12 1,0 A
Akkutyp/
Battery size
NiCd
NiMH
empf. Kapazität/
recom. capacity
• Les batteries de capacités plus faibles ne devraient pas être rechargées à cause du courant
de charge élevé !
• N'utilisez que des batteries NiCD/NiMH à recharge rapide !
• Une fonction de sécurité supplémentaire de la minuterie termine la recharge des batteries
dès que le temps de recharge maximum est atteint.
• Le dispositif d'interruption de charge (-delta U), commandé par processeur et d'une grande
exactitude, agit séparément sur chaque emplacement de charge et permet ainsi d'obtenir la
meilleure charge possible de chaque accu. Toute surcharge est ainsi exclue.
• Il est possible C de charger 1, 2, 3 ou 4 éléments séparément ou globalement, tout en
mélange ant les tailles (AA/AAA) et les types (NiCd/NiMH) d'accus. Les courants de charge
sont adaptés en conséquence.
Ladestrom/
Ladezeit ca./
charging current charging time
Normal Ladung/Slow Charge:
AAA Micro
1-4
300 - 1500 mAh
AA Mignon
1-4
400 - 2600 mAh
220 mA
385 mA
1,60 - 8,0 h
1,20 - 8,0 h
Schnell-Ladung/Fast Charge:
AAA Micro
1-4
600 - 1800 mAh
AA Mignon
1-4
1100 - 3500 mAh
540 mA
1050 mA
1,30 - 4,0 h
1,25 - 4,0 h
00046667
Recharge:
Positionner le commutateur de gauche sur recharge Fast (rapide) ou Slow (normale). A
Il est recommandé, s'il n'y a pas d'urgence, de recharger les accus en mode normal. La contrainte électrique et thermique que représente une recharge normale est considérablement
moins élevée. En recharge rapide, les accus peuvent atteindre une température élevée atteindre, ne couvrez donc pas le chargeur lorsqu'il est en service.
Insérez les accus conformément à leur polarité.
fast
AA or AAA
C
AA or AAA
A
AA or AAA
slow
AA or AAA
Les 4 emplacements sont contrôlés individuellement. L'état de charge des accus avant recharge n'est pas important. La recharge commence automatiquement dès que les accus sont en
place. Une fois la recharge terminée, chaque emplacement commute individuellement vers une
charge de maintien par impulsion. Les accus peuvent rester dans l'appareil et sont conservés
prêts à l'emploi.
Rouge:
Recharge
Vert:
Recharge terminée, charge de maintien
Rouge clignote: Batterie défectueuse - retirez la batterie ou vérifiez la polarité.
Batterie - Remarques:
• Les batteries fournies doivent être chargées avant la première utilisation. Retirez les évent
elles bandes d'isolation placées entre les batteries et les contacts du chargeur.
• Vous prolongerez la vie de vos batteries en ne rechargeant que des batteries entièrement
déchargées.
• Une décharge totale des batteries est cependant à éviter. Ne déchargez pas totalement les
batteries en les utilisant dans des lampes de poche par exemple, ceci leur est néfaste.
• Les batteries se déchargent toutes seules. Plus la température ambiante est élevée, plus cela
est rapide. Conservez les batteries à une température entre 2° et 8°, par exemple dans un réf
rigérateur.
• Les batteries non utilisables doivent être jetées dans les collecteurs placés che votre reven
deur ou dans votre commune; ne les jetez pas dans les ordures ménagères!
B
* 4 x 1500mAh AA/4 x 750 mAh AAA
Hama GmbH & Co KG • Postfach 80 • 86651 Monheim/Germany • www.hama.de
00046667-12.2003
Affichage: B
L'affichage de chaque réceptacle est réalisé individuellement à l'aide de diodes électrolumin
scentes bicolores.
La commutation a lieu à différents moments, se lon l'état de charge de départ de la batterie!
Consignes de sécurité :
• Veillez à ne jamais introduire des batteries alcalines ou autres batteries à usage unique dans
le chargeur, risques d'explosion!
• Nous vous conseillons de n'utiliser que des batteries de marque haut de gamme car seules
ces dernières vous garantiront une longue durée de vie ainsi que d nombreux cycles de
recharge.
• Ne court-circuitez pas les contacts du chargeur/du bloc d'alimentation!
• N'utilisez l'appareil que dans des environnements secs et protégez-le de l'humidité et de la
poussière.
• Protégez le chargeur/bloc d'alimentation d'une forte source de chaleur, ne le recouvrez pas
et veillez à ce qu'il ait une aération suffisante.
• Ne vous servez plus de blocs d'alimentation ou de chargeurs défectueux et ne les ouvrez pas.
Faites effectuer les réparations uniquement par du personnel qualifié et autorisé.
• Nettoyez l'appareil uniquement à l'aide d'un chiffon doux
• Mettez l'appareil hors tension lors d'une interruption d'utilisation.
• Cet appareil, comme tout appareil électrique, ne doit pas se trouver à portée des enfants
Fast Charger
»Delta Pro+«
Netzgerät/Mains adapter: 230 V 0,2 A 50 Hz
Ladegerät/Charger: 12 1,0 A
NiCd
NiMH
empf. Kapazität/
recom. capacity
Ladestrom/
Ladezeit ca./
charging current charging time
1,60 - 8,0 h
1,20 - 8,0 h
Schnell-Ladung/Fast Charge:
AAA Micro
1-4
600 - 1800 mAh
AA Mignon
1-4
1100 - 3500 mAh
540 mA
1050 mA
1,30 - 4,0 h
1,25 - 4,0 h
A
AA or AAA
slow
C
fast
AA or AAA
220 mA
385 mA
AA or AAA
Normal Ladung/Slow Charge:
AAA Micro
1-4
300 - 1500 mAh
AA Mignon
1-4
400 - 2600 mAh
AA or AAA
Akkutyp/
Battery size
l Akku Schnell-Ladegerät »Delta Pro+«
L Battery Fast Charger »Delta Pro+«
Akku Ladegerät »Delta Pro+« inkl. 4 Hochleistungsakkus AA 2300 mAh NiMH
Battery Fast Charger »Delta Pro+«
• Akkus mit geringerer Kapazität als in der Tabelle angegeben, sollten aufgrund des hohen
Ladestroms nicht geladen werden!
• Nur schnellladefähige NiCD/NiMH Akkus verwenden!
• Zusätzliche Timer Sicherheitsfunktion beendet die Aufladung der Akkus sicherheitshalber bei
überschreitungen der max. Ladezeit.
• Durch die exakte, prozessorgesteuerte -Δ U Ladeabschaltung jedes einzelnen Ladeschachtes
wird jeder Akku individuell auf die optimale Ladung gebracht. C Eine Überladung der Akkus
wird dadurch vermieden.
• Dadurch können 1, 2, 3 oder 4 Zellen einzeln oder gemeinsam geladen werden und dabei auch
unterschiedliche Größen (AA/AAA) und Typen (NiCd/NiMH) gemischt werden. Die Ladeströme
werden entsprechend angepasst.
• Due to the high charging current, do not use batteries with a lower capacity!
• Use only quick-charge NiCD/NiMH batteries!
• An additional safety timer shuts off the charger if the maximum charging time is exceeded.
Laden:
Schalter an der linken Seite entsprechend auf Fast (Schnell)- oder Slow (Normal)- Ladung
einstellen. A Wenn kein Zeitdruck besteht ist zur Schonung der Akkus eine Normal Ladung
zu empfehlen. Die Strom- und Wärmebelastung für die Akkus ist bei Normal Ladung wesentlich
geringer. Bei Schnell Ladung können die Akkus eine hohe Temperatur erreichen, deshalb
Gerät beim Laden nicht abdecken!
Charging:
Set the switch on the left side to fast or slow charge depending on your needs. A If time is available, the slow charge is recommended as it helps preserve the battery's life. The current and
heat load on the batteries is significantly lower in the normal charge setting. The fast charge can
cause the batteries to heat up high, which means the device should never be covered while
charging!
Akkus polrichtig einlegen.
Insert the batteries in the correct direction.
Jeder der 4 Ladeschächte wird einzeln überwacht. Der Ladezustand des Akkus vor der Aufladung ist ohne Bedeutung. Nach Einlegen der Akkus beginnt sofort automatisch der Ladevorgang. Zur Beendigung des Ladevorgangs schaltet das Gerät jeden Ladeschacht einzeln auf
Impuls-Erhaltungsladung um. Die Akkus können im Gerät verbleiben und werden dadurch einsatzbereit gehalten.
Each of the 4 charging compartments is monitored separately. The charging status of the battery
before charging is unimportant. Once the batteries are inserted, charging begins automatically.
After charging is finished, the charger automatically switches each compartment separately to
trickle charge. Batteries can stay in the charger and remain ready for use.
Anzeige: B
Jeder Ladeschacht wird einzeln angezeigt über zweifarbige Leuchtdioden. Je nach AkkuAnfangszustand erfolgt die Umschaltung auf Ladungsende unterschiedlich!
Indicator: B
Each charging compartment is indicated separately by two-coloured LEDs.
Compartments switch to finished at different times depending on the charging status of the batteries!
Rot:
Grün:
Blinkt Rot:
Ladung
Ladung beendet, Erhaltungsladung
Akku defekt - entsorgen oder Akku nicht polrichtig eingelegt.
Akku - Hinweise:
• Beiliegende Akkus sollten vor Erstgebrauch aufgeladen werden. Eventuell vorhandene Isolierstreifen zwischen Akkus und Ladegerät bitte entfernen.
• nur völlig entladene Akkus neu aufladen, erhöht die Lebensdauer der Akkus
• Tiefentladung sollte bei Akkus vermieden werden. Akkus nicht restlos z.B. mit Taschenlampen
entladen, dies zerstört sie.
• Akkus entladen sich selbst. Je wärmer die Umgebungstemperatur um so schneller. Akkus bei
2 bis 8 Grad lagern, z.B. im Kühlschrank.
• Unbrauchbare Akkus gehören in die Sammelbehälter des Handels oder der Gemeinden, nicht
in den Hausmüll!
B
* 4 x 1500mAh AA/4 x 750 mAh AAA
• A precise, process-controlled -Delta U shutoff for each charging slot ensures that each
battery is charged to its optimal level. It also prevents the batteries from overcharging.
• 1, 2, 3 or 4 batteries can be charged C either individually or together and with a
combination of different sizes (AA/AAA) and types (NiCd/NiMH). The charging current is
adjusted accor dingly.
Sicherheitshinweise:
• Bitte nie alkalische oder herkömmliche Einwegbatterien laden, da bei diesen Explosionsgefahr besteht!
• Wir empfehlen Ihnen, nur hochwertige Markenakkus zu benutzen, da diese eine lange
Funktionsdauer und viele Lade-/Entlade-Zyklen gewährleisten.
• Kontakte von Ladegerät / Netzgerät nicht kurzschließen!
• Gerät nur in trockenen Räumen verwenden, vor Feuchtigkeit und Staub schützen
• Ladegerät/Netzgerät vor starker Hitze schützen, nicht zudecken und für ausreichende
Umlüftung sorgen.
• Defekte Netzgeräte oder Lader nicht mehr benutzen und nicht öffnen.
Reparatur nur durch den autorisierten Fachmann.
• Gerät nur mit trockenen, weichen Tüchern reinigen.
• Bei Nichtgebrauch Gerät vom Netz trennen.
• Dieses Gerät gehört wie alle elektrischen Geräte nicht in Kinderhände.
Red:
Green:
Flashing red:
charging
charged, trickle charge
battery defect; dispose of properly or turn battery so that poles are correct.
Battery directions:
• The included batteries must be charged before they are used for the first time.
Remove any isolating strips between the batteries and charger.
• Only charge batteries when they are completely empty so as to increase their lifespan.
• Totally discharging the batteries should be avoided. Do not completely discharge the batteries
in flashlights for example, or else they will be permanently damaged.
• Batteries discharge by themselves. The rate of discharge is faster the warmer the ambient
temperature is. Store batteries at 2 to 8 degrees (in a refrigerator, for example).
• Unusable batteries belong in the proper store or community collecting bin, not in household
waste!
Safety information:
• Do not charge alkaline batteries or traditional disposable batteries as they could explode!
• We recommend using only high-quality brand-name batteries because only they have a long
service life and can provide several recharge/discharge cycles.
• Do not short-circuit charger/power supply unit contacts!
• Only use the unit in dry rooms and protect it against moisture and dust.
• Protect the charger/power supply unit from heat; do not cover them and ensure sufficient
ventilation.
• Never use or open defective power supply units or chargers. Repair work may only be conducted by an authorized specialist.
• Clean the unit with dry, soft cloths only
• When not in use, disconnect the unit from the power supply.
• Keep this device, as with all electrical devices, out of the reach of children.

* Your assessment is very important for improving the work of artificial intelligence, which forms the content of this project