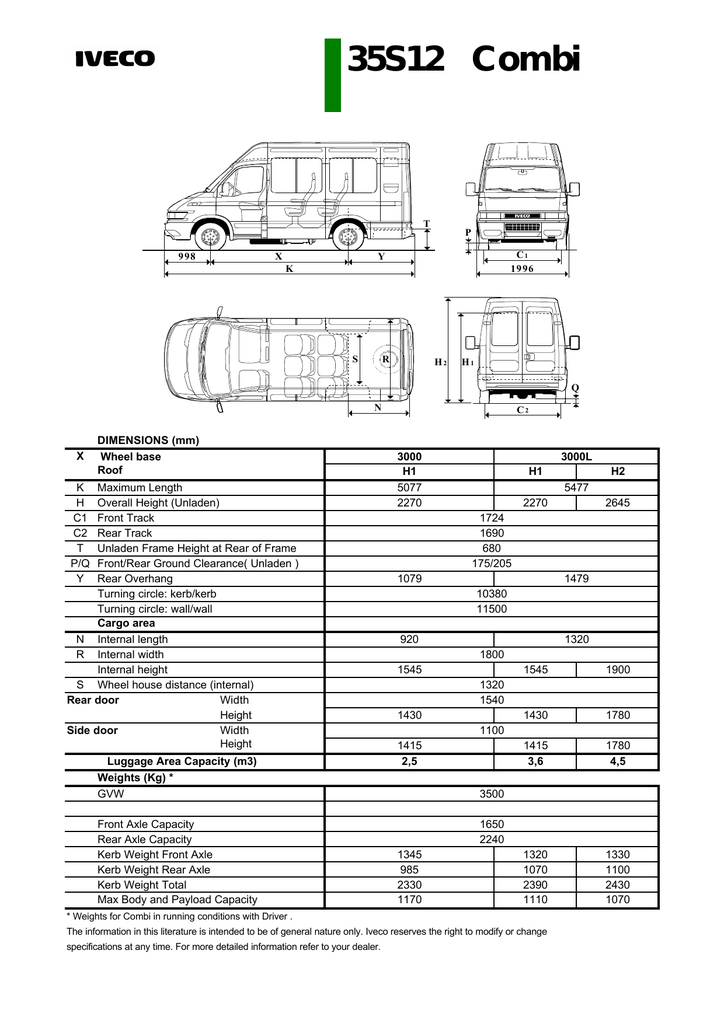 35S12 Combi
T
9 98
X
P
C1
19 96
Y
K
S
R
H2
H1
Q
N
X
DIMENSIONS (mm)
Wheel base
Roof
K
H
C1
C2
T
P/Q
Y
Maximum Length
Overall Height (Unladen)
Front Track
Rear Track
Unladen Frame Height at Rear of Frame
Front/Rear Ground Clearance( Unladen )
Rear Overhang
Turning circle: kerb/kerb
Turning circle: wall/wall
Cargo area
N Internal length
R Internal width
Internal height
S Wheel house distance (internal)
Rear door
Width
Height
Width
Side door
Height
Luggage Area Capacity (m3)
Weights (Kg) *
GVW
Front Axle Capacity
Rear Axle Capacity
Kerb Weight Front Axle
Kerb Weight Rear Axle
Kerb Weight Total
Max Body and Payload Capacity
C2
3000
H1
5077
2270
3000L
H1
5477
2270
2645
1724
1690
680
175/205
1079
1479
10380
11500
920
1320
1800
1545
1545
1900
1430
1780
1415
3,6
1780
4,5
1320
1070
2390
1110
1330
1100
2430
1070
1320
1540
1430
1100
1415
2,5
3500
1650
2240
1345
985
2330
1170
* Weights for Combi in running conditions with Driver .
The information in this literature is intended to be of general nature only. Iveco reserves the right to modify or change
specifications at any time. For more detailed information refer to your dealer.
H2
35S12
Combi
ENGINE
Type F1AE0481B - 4 stroke diesel cycle- Watercooled - 16 valves ( 4 per cilynder ) - DOHC
High Pressure (1600 bar) Unijet ( Common Rail ) direct injection + EDC - Turbocharger and
intercooler + Wastegate - Cast-iron engine block with aluminium cylinder head - Suspended
Oil Sump - Dual mass flywheel.
Immobiliser device actuated by transponder on ignition key. Euro 3
Number of Cylinders
4 In Line
Bore x Stroke
88 mm x 94 mm
Total Displacement
2287 cm3
Maximum Output (EEC Standards 97/21)
85 kW (116 hp)
at 3100-3900 rpm
Maximum Torque (EEC Standards 97/21)
270 Nm ( 27,5 kgm) at 1800-3000 rpm
Green Zone
1500 - 2750 rpm
Exhaust pipe with manifold longitudinally positioned on the right side with stub-pipe outlet
placed within the members.
TRANSMISSION
Five speeds synchromesh manual transmission.Performance rating (with standard
tyres and axle ratio):
Gear
Gear Ratio
Maximum Geared
Gradeability
Speed (Km/h)
at GVW (%)
5,00
24 ( 21 )
36 ( 41 )
1°:
0,78
156 ( 137 )
4 (5)
5°:
Power Take-Off facility for side mounted PTO. Maximum torque output : 120 Nm.
FRAME
C Section steel longitudinal side members
with tapered ends and tubular
cross members.
Number of Cross Members
5
Side Member Height
150
Side Member Width
56
Side Member Thickness
3
CLUTCH
Single dry plate hydraulic.
External Diameter: 235 mm ( 9" ¼ ).
Total Contact Surface: 439 cm2
FRONT AXLE
Independent wheels.
REAR AXLE
Axle Ratio Standard : 3,583
Axle Ratio Standard : 4,10 ( Roof H2 )
SUSPENSION
Front
Independent with transversal parabolic
leaf spring and additional bounce blocks .
Rear
Reinforced single leaf parabolic spring
and additional bumpers
(Anti-roll bar is Standard).
Shock Absorbers
Front ( with Rubber bumper ) and Rear
heavy duty hydraulic telescopic
shock absorbers.
WHEELS / TYRES ( Standard )
Tyres:
225/70 R 15
Wheels:
6 JK - 15H
ELECTRICAL SYSTEM
Battery: 12V - 110 Ah
Alternator: 1540 W (14V - 110A)
(1960W [14V - 140A] optional).
Starter motor output: 2.3 kW.
BRAKING SYSTEM
Disc brakes on front and rear axles.
Brake Dimensions
Front / Rear
Disc Diameter (mm)
276 / 276
Braking Surface (cm2)
272 / 196
Service and Emergency
Dual circuit with vacuum servo.
Pad wear warning light for front and rear
brakes.
Emergency brake built into the service brake
system.
Parking Brake
Manual brake operating on rear wheels.
STEERING
Power steering. Diameter of steering wheel
420 mm, with steering lock. Three piece
steering column with connecting universal
joints.
COMBI
Integral metal body with internal structure
and stiffening ribs including cab and
platform. Roof made of metal sheets.
Body and boxed members treated
with cataphoresis.
Sheet steel load /passengers platform
covered in plastic material.
Internal passenger area, doors and pillars
covered in plastic material .
One-piece windshield ; laminated, reinforced,
safety glass , athermic, coloured.
No 2 front hinged doors with sliding glass.
No 1 right side sliding door with window.
No 1 rear 2-panels door ( opening 180°)
with heated fix windows .
No 4 safety ,coloured , tempered and
athermic side windows ( half sliding)
for passenger's compartment
Unified doors lock - front/side/rear.
Side / rear wide footboard to enter in
passenger/loading compartment.
Front/rear integrated plastic bumpers and
lower all round side plastic panels .
Unified doors lock - front/side/rear.
Sound-proofing and lagging for cab.
Two external plus one internal rear viewmirrors
(EEC regulations). Internal sunvisors.
One roof light and spot for driver compartment, 4
indipendent roof lights for passenger compartment.
Heating and Ventilation
Heating with hot water exchanger.
Four-speed motor driven fan, for windshield and side
windows demisting and defrosting. Possibility of
ventilation with fresh air disconnecting the heating .
Integrated specific air conditioner with air flow
extended to the rear passenger area (option)
Additional heater (option)
Driver's and passenger's seats
Driver: Fabric lining , with side strip in imitation
leather, 3 degree of freedom , safety belt.
Passengers seats: Fabric lining , Headrest
see-through type - 3 fixing point safety belts
Storage pockets placed on rear seats back
2 seats bench type on driver side
2 row of 3 places with single fix seats
Driver Airbag Standard
EQUIPMENT
Spare wheel, liftable, under rear overhang.
70 litre fuel tank, with key lock.
Front recovery eye.

* Your assessment is very important for improving the work of artificial intelligence, which forms the content of this project