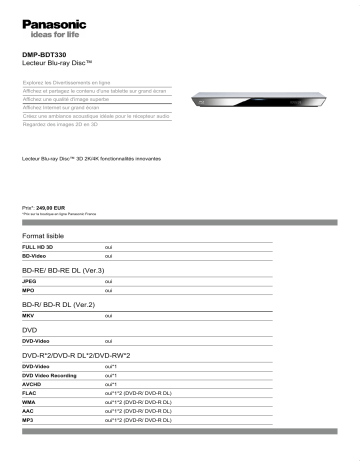 DMP-BDT330
Lecteur Blu-ray Disc™
Explorez les Divertissements en ligne
Affichez et partagez le contenu d'une tablette sur grand écran
Affichez une qualité d'image superbe
Affichez Internet sur grand écran
Créez une ambiance acoustique idéale pour le récepteur audio
Regardez des images 2D en 3D
Lecteur Blu-ray Disc™ 3D 2K/4K fonctionnalités innovantes
Prix*: 249,00 EUR
*Prix sur la boutique en ligne Panasonic France
Format lisible
FULL HD 3D
oui
BD-Video
oui
BD-RE/ BD-RE DL (Ver.3)
JPEG
oui
MPO
oui
BD-R/ BD-R DL (Ver.2)
MKV
oui
DVD
DVD-Video
oui
DVD-R*2/DVD-R DL*2/DVD-RW*2
DVD-Video
oui*1
DVD Video Recording
oui*1
AVCHD
oui*1
FLAC
oui*1*2 (DVD-R/ DVD-R DL)
WMA
oui*1*2 (DVD-R/ DVD-R DL)
AAC
oui*1*2 (DVD-R/ DVD-R DL)
MP3
oui*1*2 (DVD-R/ DVD-R DL)
MKV
oui*1 (DVD-R/ DVD-R DL)
JPEG
oui*1 (DVD-R/ DVD-R DL)
MPO
oui*1 (DVD-R/ DVD-R DL)
+R/ +R DL/ +RW
Video
oui*1
AVCHD
oui*1
CD, CD-R/ -RW
CD-DA
oui, (-RW*3)
FLAC
oui*2, (-RW*3)
WMA
oui*2, (-RW*3)
AAC
oui*2, (-RW*3)
MP3
oui*2, (-RW*3)
MKV
oui, (-RW*3)
JPEG
oui, (-RW*3)
MPO
oui, (-RW*3)
Système audio
Dolby Digital Plus/ Dolby TrueHDoui, Decode and Bitstream Output*4
DTS-HD Master Audio
oui, Decode and Bitstream Output*4
Carte mémoire SD
Lecteur
oui
Format compatible
SD/ SDHC/ SDXC
Lecture
JPEG
oui
MPO
oui
MPEG2
-
AVCHD
oui
MP4
oui
USB
USB Standard
USB 2.0 Haute vitesse
Lecture
FLAC
oui*2
WMA
oui*2
AAC
oui*2
MP3
oui*2
MKV/ MP4
oui
JPEG
oui
MPO
oui
Image Haute Qualité
Processeur de référence chromatique
-
Conversion 2D-3D
oui(BD/ DVD/ CD/ SD Memory Card/ VOD/ USB/ NAS)
Controlleur effets 3D
oui(BD/ DVD/ CD/ SD Memory Card/ VOD/ USB/ NAS)
Couleur profonde
oui
x.v.Colour
oui*6
Son Haute Qualité
Double HDMI
oui
Filtre purificateur de signal HDMISon High Clarity Sound Plus
-
Son digital tube
-
Convertisseur Audio D/A
-
Sortie analogique 7.1
-
Surround Re-Master 96kHz
-
Siumplicité d'utilisation
Moteur de recherche
oui
Télécommande tactile
-
Télécommande smartphone*8
-
VIERA Link (HDAVI Control 5)
-
Réseau
VIERA Connect ([email protected]:
Youtube, Skype, etc.) *9
oui*10
Système sans fil WiFi
Oui (Intégré)
Fonction DLNA(DMP&DMR)
oui
Accès réseau
oui
BD-Live™ *9
oui*12
Port
Sortie HDMI
oui (2)
Sortie vidéo
-
Sortie Optique
oui
Sortie Coaxial
-
Sortie Audio analogique
-
Terminal LAN (Ethernet)
oui(for DLNA, BD-Live™*12, VIERA Connect*10 and Firmware Update)
AUTRES
Signal Video
PAL/ NTSC
Audio S/N
-
Gamme dynamique
-
Alimentation
AC 220-240V, 50Hz
DIMENSIONS, POIDS
Dimensions (L x H x P)*10 [Approx.]
430 x 41 x 181 mm
Poids [envir.]
1.6 kg
NOTE
*1 Discs recorded and finalized on recording devices.
*2 For contents recorded disc media from CDs for your personal use.
*3 Playability may vary depending on the contents, discs and quality of
the recording.
*4 HDMI connection required.
*5 For 4K2K playback a TV with same resolution is required.
*6 This function is effective only when reproducing AVCHD data recorded with x.v.Colour technology. The function cannot be used with BDROM or DVD-ROM discs. HDMI connection is required. x.v.Colour is a
registered trademark.
*7 CD sampling is done at 88.2 kHz. MP3 data can be re-mastered only
on CD.
*8 Compatible with Android™ devices, Ver. 4.2 and above and Miracast
certified. For information on whether the smartphone, etc. supports Miracast, contact the manufacturer of the device.
*9 Requires the device with the App installed and the player to be
connected to the same home network.
*10 Requires broadband Internet service.
*11 With the purchase of Wireless LAN Adaptor DY-WL5.
*12 To enjoy content, you will need to insert an SD card in BBT01 and
BDT500 or USB flash drive in BDT330, BDT230, BDT130/ BDT131 and
BD79 (1GB or more of free space/ sold separately). Requires broadband Internet service.
*13 Using included AC adaptor.
*14 Excluding the projecting parts and the pedestal.
Caractéristiques susceptibles de modifications sans préavis. Les poids
et dimensions sont approximatives.

* Your assessment is very important for improving the work of artificial intelligence, which forms the content of this project